Paid Member Subscriptions integrates with SliceWP allowing you to start and manage your own affiliate program directly from your WordPress website.
SliceWP is a full-fledged affiliates management plugin that allows you to register unlimited affiliates, track referred visits and reward commissions when users register to one of your subscription plans.
Enabling the integration
To enable all Paid Member Subscriptions functionality with SliceWP, navigate to your WordPress administrator dashboard → SliceWP → Settings → Integrations (tab) and turn on the switch next to the Paid Member Subscriptions label.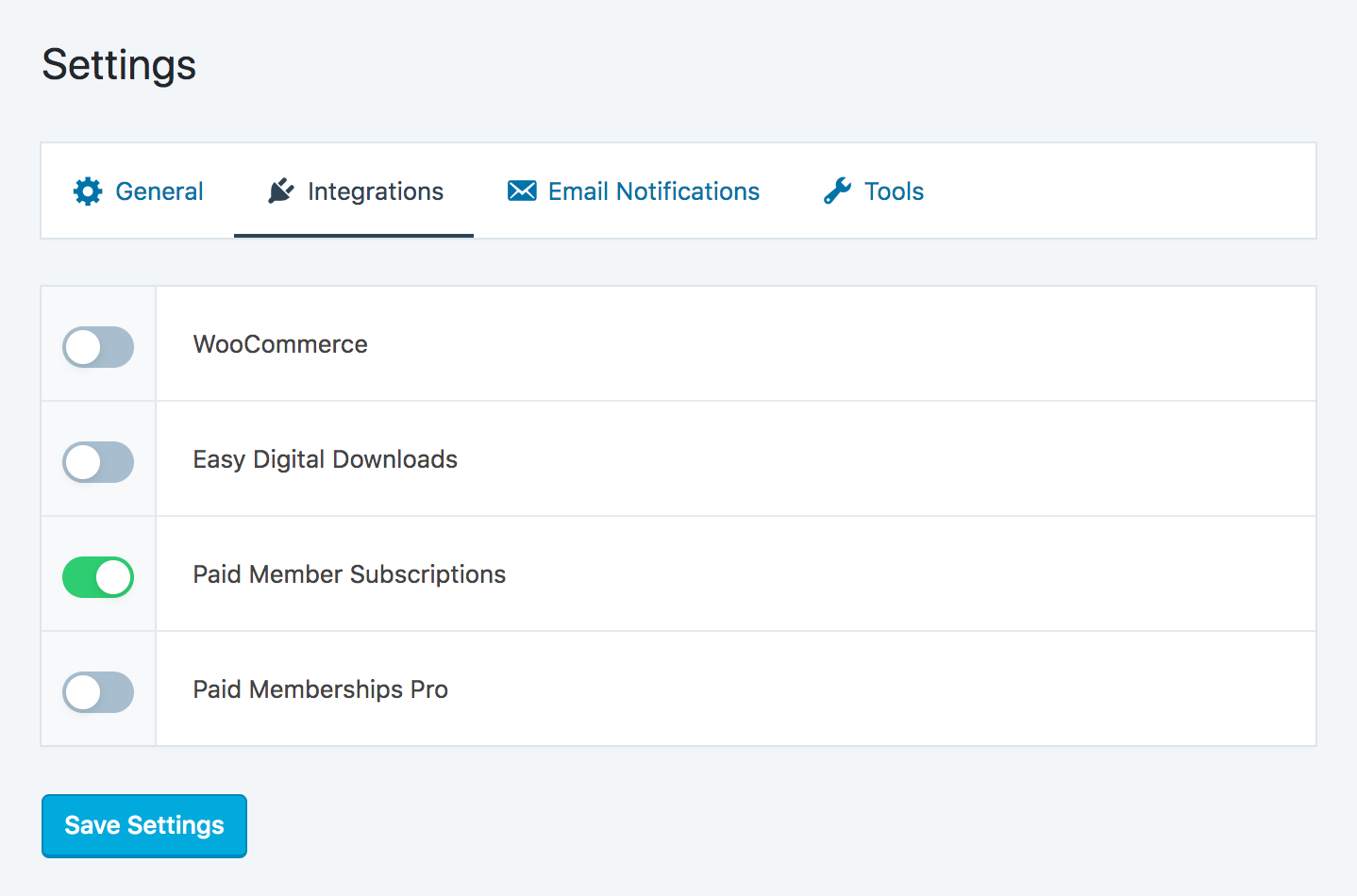 Once the integration is enabled, SliceWP will automatically track visits that your affiliates send to your site. When a referred visitor registers for one of your subscription plans the affiliate will be rewarded a commission.
Commissions in SliceWP are tied to your Paid Member Subscriptions payments, so you'll always know what payment generated the commission and which customer was referred by which affiliate.
Your Paid Member Subscriptions payments will show in SliceWP → Commissions, under the Reference column. Clicking the payment ID shown in this column will lead you to the payment's edit screen in Paid Member Subscriptions.
Important note: Commissions will only be generated on the initial signup payment, and will not be created when recurring payments are recorded.
Setting commission rates for subscriptions
To modify the amount affiliates are rewarded for referred subscriptions, navigate to SliceWP → Settings → General Settings (tab) → Commission Settings (section) → Subscription Rate.
The commission rates can be:
percentage based – the commission's value will be calculated based on the price of the subscription plan's price. For example, if your subscription plan's price is $45, a rate of 20% will lead to a $9 commission.
fixed amount – the commission's value will be the amount entered, whatever the price of the subscription plan the visitor subscribes to. For example, if you set a rate of $10 fixed amount, your subscription plan can be $45, $75 or $100 and your affiliate will always be rewarded $10 commissions.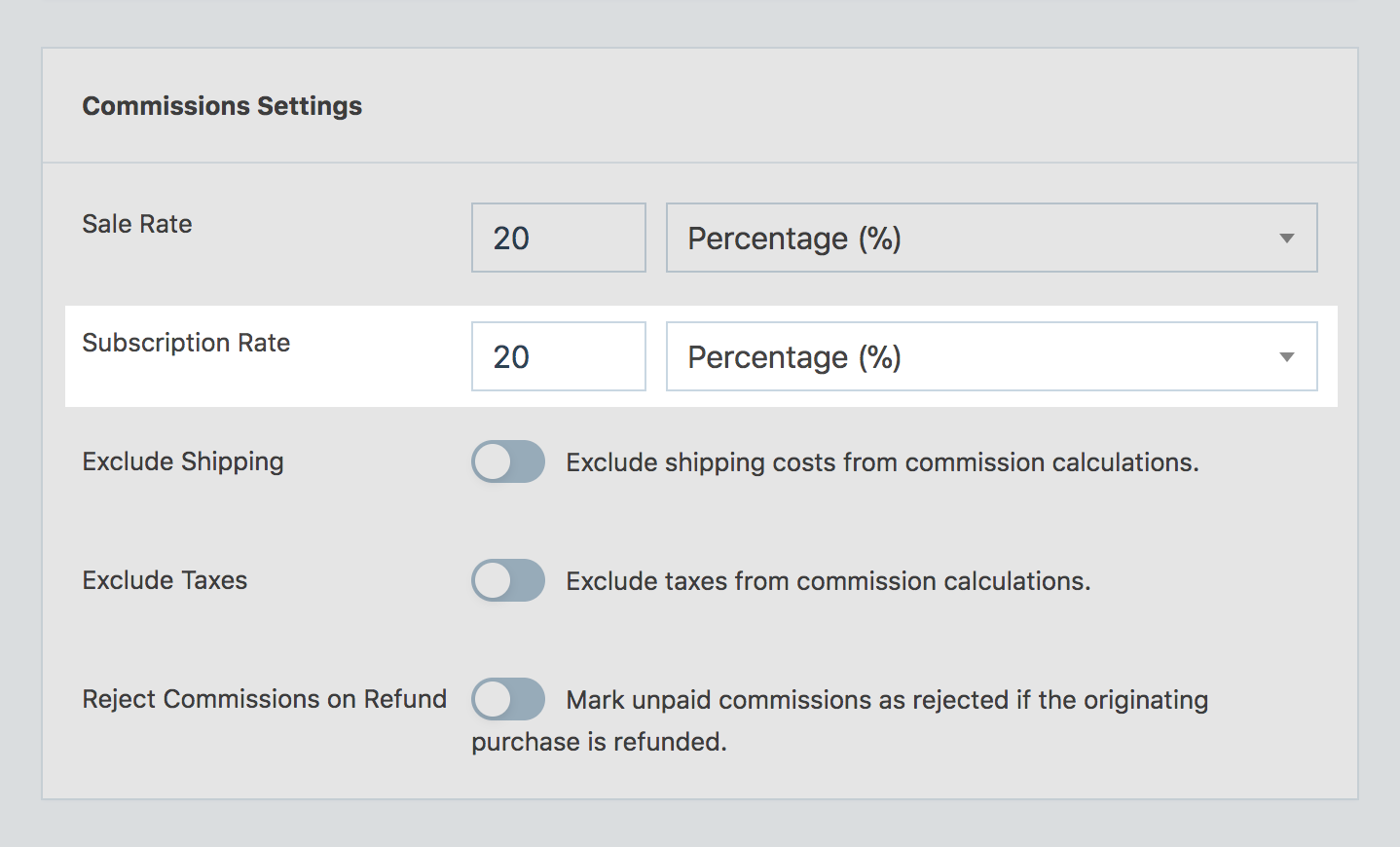 Setting up affiliate coupon tracking
To take advantage of the affiliate coupon code tracking feature you need:
With both add-ons active, to tie an affiliate to a discount code, navigate to Paid Member Subscriptions → Discount Codes and create a new discount code. At the bottom of the Add New Discount form, there should be an input field titled Affiliate Name:

Simply begin typing the name of the affiliate you wish to connect the discount code to and select the affiliate from the list of user accounts displayed.
Any time this discount code is redeemed and a purchase is completed, the connected affiliate will be rewarded a commission.

Paid Member Subscriptions Pro
Accept (recurring) payments, create subscription plans and restrict content on your website. Easily setup a WordPress membership site using Paid Member Subscriptions.
Unlock PRO Features