The Multiple Subscriptions Per Use Add-on for Paid Member Subscriptions Plugin will let you setup multiple subscription level blocks and also will allow members to sign up for more than one subscription plan (one per block).
Note: For the Multiple Subscriptions Per User Add-on to work as expected, you'll need to have already installed Paid Member Subscriptions plugin, created Subscription Plans and also a List of Subcription Plans in case users register without applying to a subscription plan or they want to apply to another one.
Installing and Activating the Add-on
First things first, install the plugin via FTP (copy it inside wp-content/plugins) or install it via the WordPress plugin upload functionality. The Serial Number to activate the add-on can be found in your account.
To activate the add-on go to Paid Member Subscriptions -> Add-ons -> Insert the Serial Number and Save. After you install and activate the add-on a you will be able to add more than one subscription plans to users from the back-end. From the edit panel you can manage your members and the Subscription Plans they applied to.
You can search a specific member by using the search field, filter the table based on the status of the Subscription Plan (All, Active, Expired or Pending) or sort based on the column title (User ID or Username).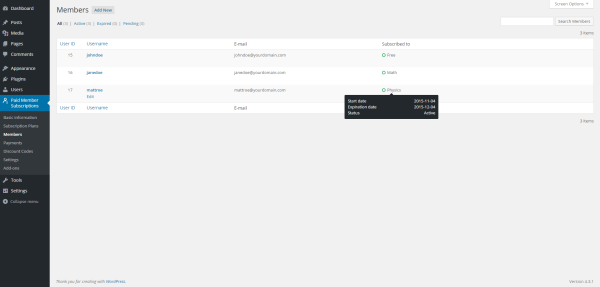 Editing Member's Subscriptions Plans
Subscribed member
You can edit a Subscription Plan or add a new one to a registered member by clicking the Edit link below the username. This will take you to the Edit Member Panel from where you can add a new Subscription Plan by clicking on the "Add New Subscription" button, select the plan and save.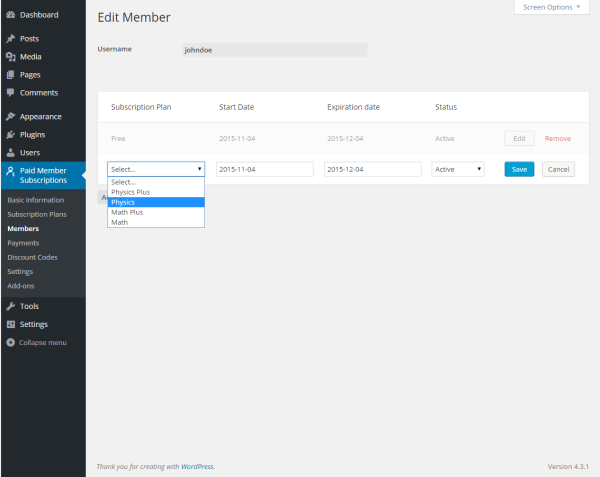 You can edit the Start Date, the Expiration Date and the Status (Active, Canceled, Expired, Pending) of a Subscription Plan and also you can remove it.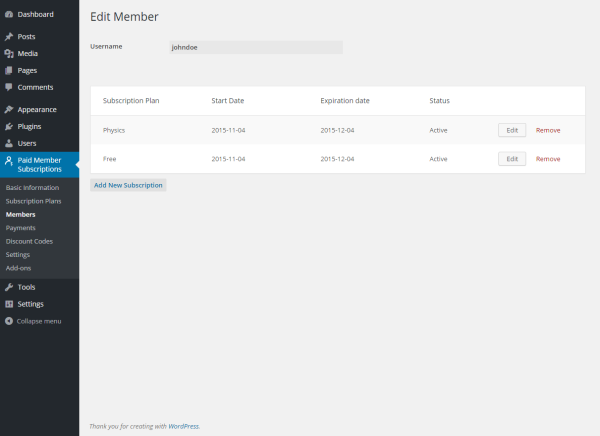 Note: If you Remove all the subscription plans the user will not be considered a member but he will still be a registered user on your website.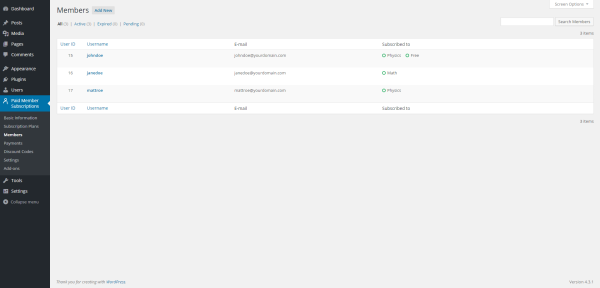 Unsubscribed member
You can add a Subscription plan to a registered user that didn't subscribed yet by clicking on the "Add new" button. This will take you to the Add Member Information to a User panel from where you will be able to select registered users and add a subscription plan. The last step is to confirm and make the registered user a member by clicking on the "Add Member" button.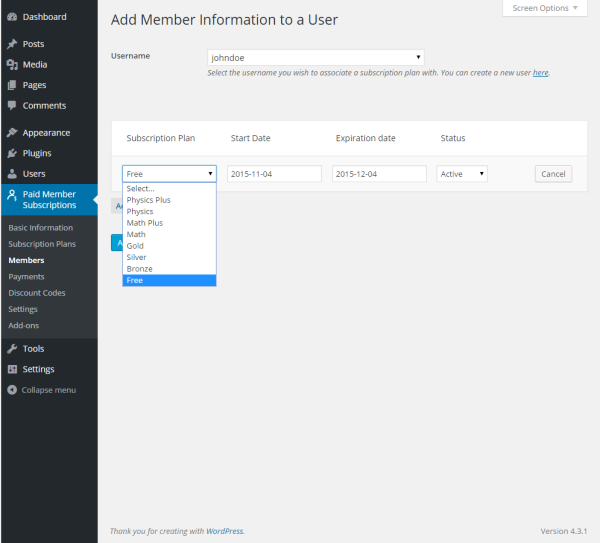 Front-end view
Subscribed member
Registered members can subscribe to a new subscription plan if they access the List of Subcription Plans page. From there they will be able to select another Subscription Plan.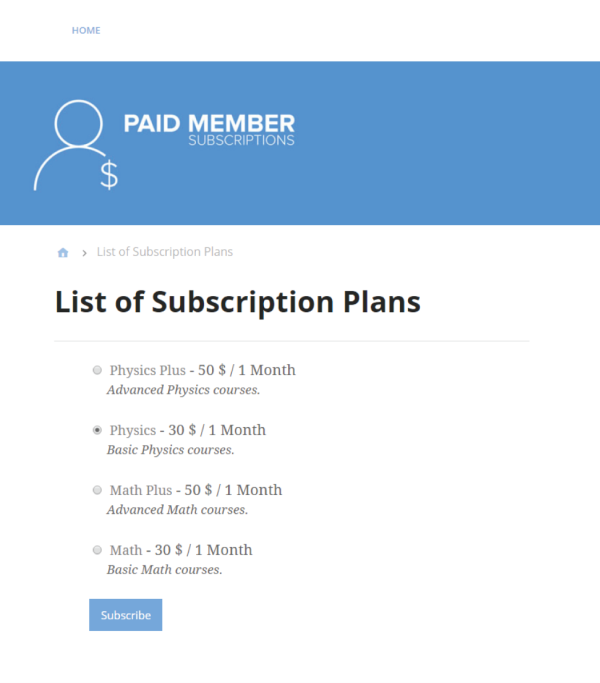 Members can upgrade or cancel any Subscription Plan from their account.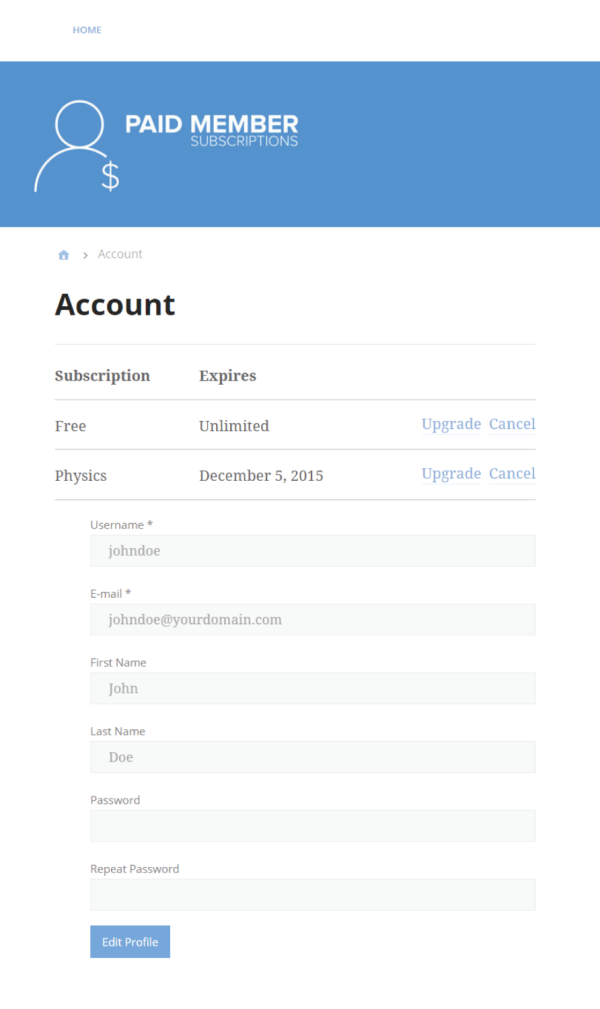 Unsubscribed member
Registered users with no Subscription Plan will be able to subscribe if they access the List of Subcription Plans.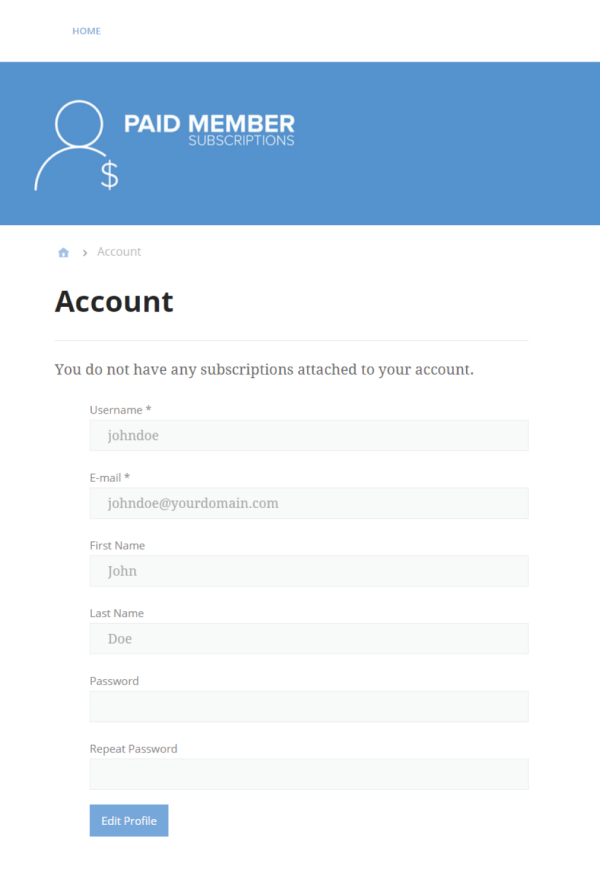 From the list they can choose which Subscription Plan they would like to be part of.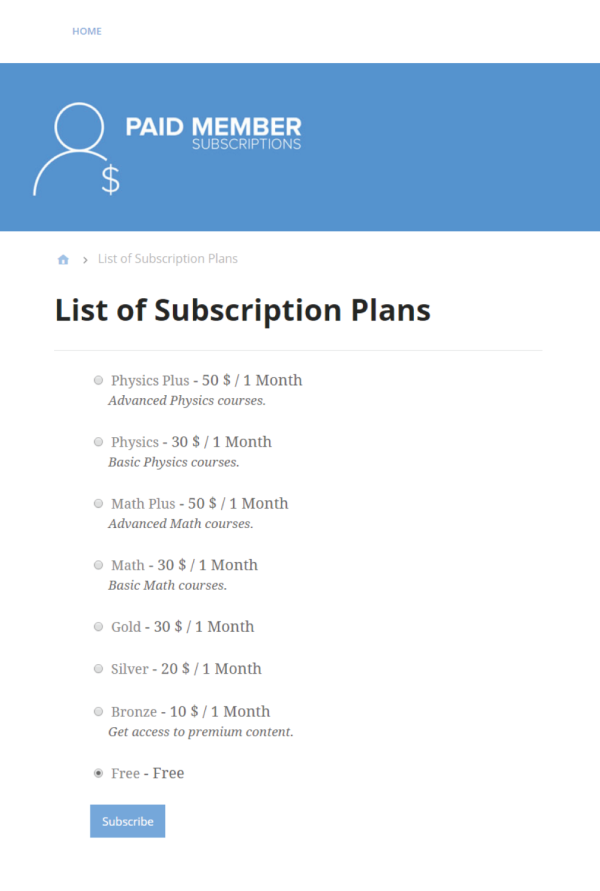 Getting the add-on
Now you're ready to create Multiple Subscription Plans for users with the help of this add-on. Get it now by following the link below.
Get Multiple Subscriptions Per User Add-on for Paid Member Subscriptions Plugin