The Email Reminders add-on allows you to send automated emails to members when certain events are about to, or have already happened (e.g. subscription expires, last login, subscription active).
This is one of the most efficient ways to increase signup rates and improve member retention for your membership site.
Installing and Activating the Add-on
In order to download this plugin, you will need to go to your Cozmoslabs Account, login with the credentials used to purchase Paid Member Subscriptions Pro or Hobbyist and then you will see your available downloads. From there, if you click on the Addons Download button you will be able to download Email Reminders.

After downloading, unzip the downloaded file and copy the contents in the wp-content/plugins directory or just use the Upload Plugin functionality from your Dashboard -> Plugins -> Add New.
Now head over to the Plugins section of the Dashboard and activate the add-on.
Once the add-on is activated, navigate to the Email Reminders tab under the Paid Member Subscriptions menu. From here you'll be able to create your first email reminder.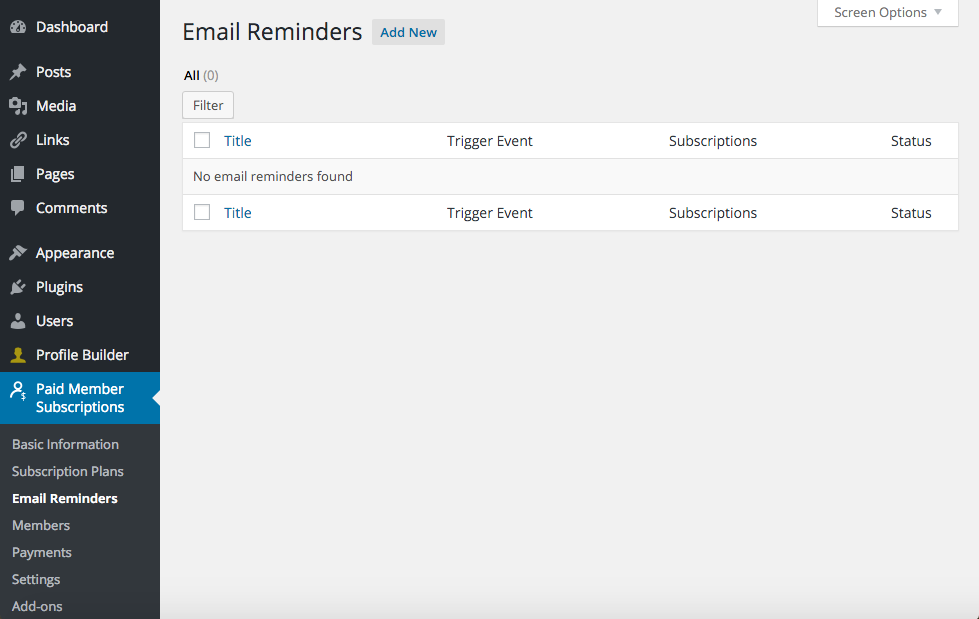 Creating Automated Email Reminders
By clicking the "Add New" button you'll start setting up a new email reminder. The first thing you need to enter is the Email Reminder name.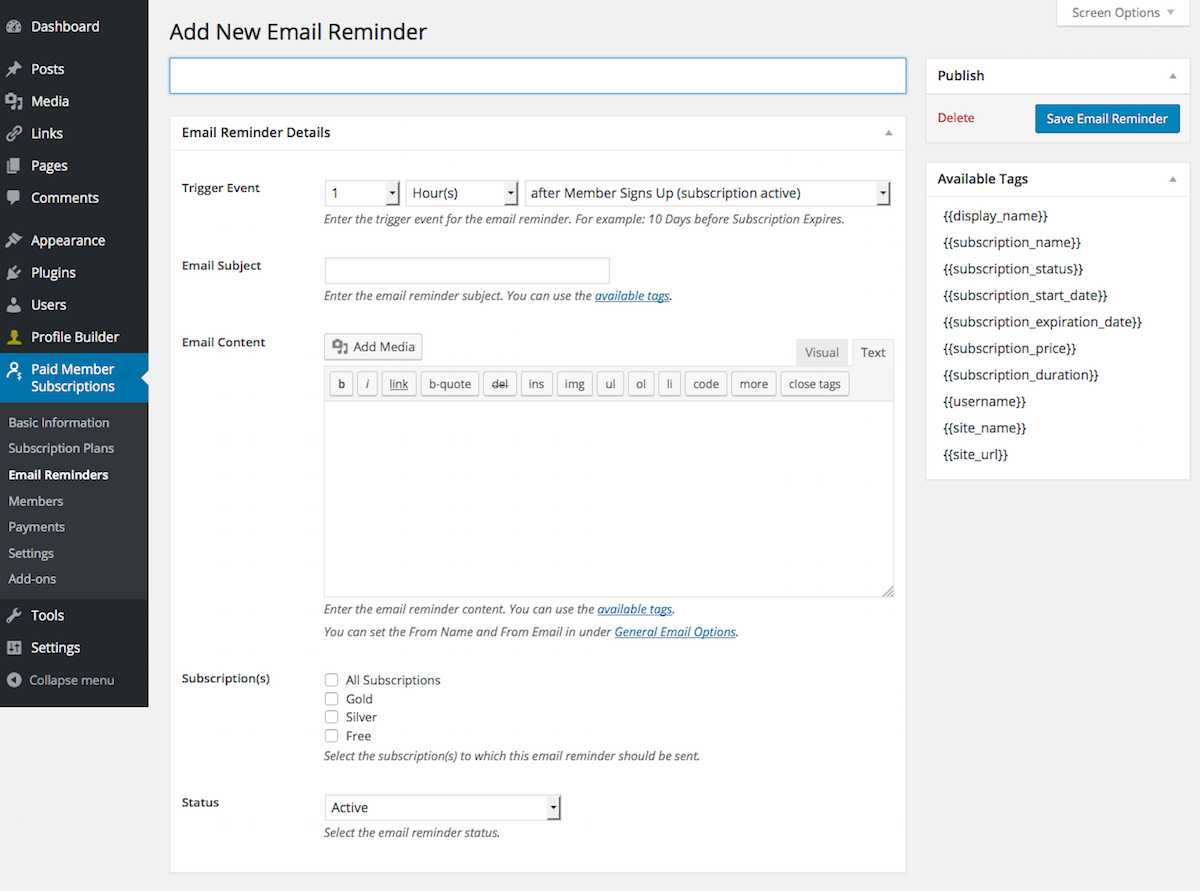 Next, you will need to fill in the email reminder details.
Selecting a Trigger Event
The email reminders can be scheduled to be automatically sent using a trigger event.

There are a number of triggers to choose from:
after Member Signs Up (subscription active) – can be used for up-selling, highlighting premium content etc.
after Member Abandons Signup (subscription pending) – very efficient in increasing member signup rate
before Subscription Expires – used for subscriptions which don't renew automatically
after Subscription Expires
before Subscription Renews Automatically – to let the user know before he's billed again
since Last Login – can be used to increase user engagement and retention
You can also set a certain amount of hours, days, weeks or months for the trigger.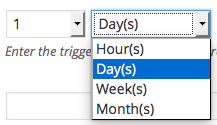 Editing the Email Templates
You'll be asked to enter a subject and content for the email reminder.
You can use the list of Available Tags to include user specific information (like: user display name, subscription name, price or status) in the content or subject of the emails you send.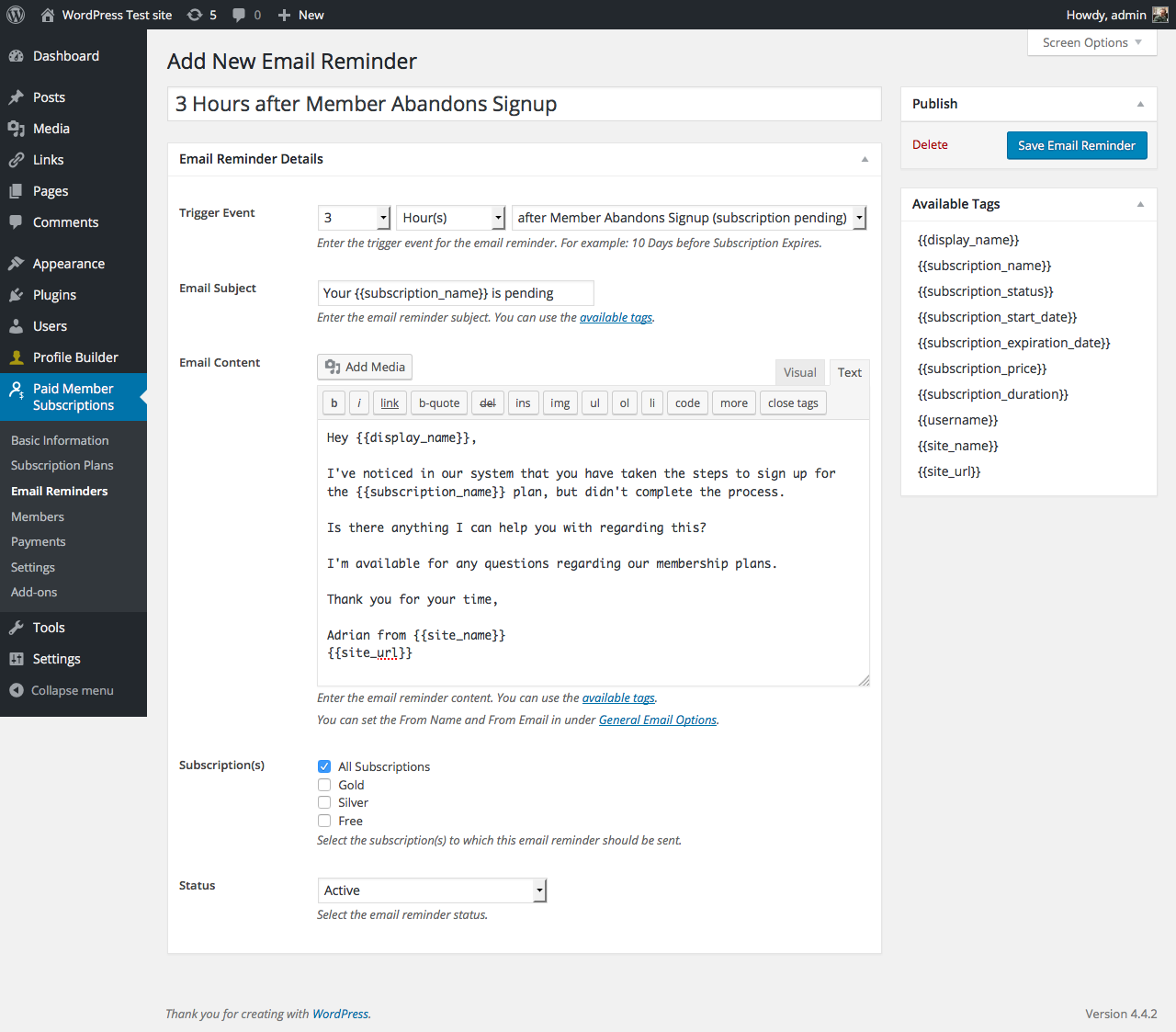 Sending Email Reminders to specific Subscription plans
After composing the email you'll be able to filter which members receive this reminder based on their subscription plan.
You can send the reminder to all members by selecting the "All Subscriptions" option.

Managing Email Reminders
Once you've created at least one reminder, you can review it from the Email Reminders screen.
From there you can view, edit, or delete any of the existing reminders and also change their status (Active/Inactive).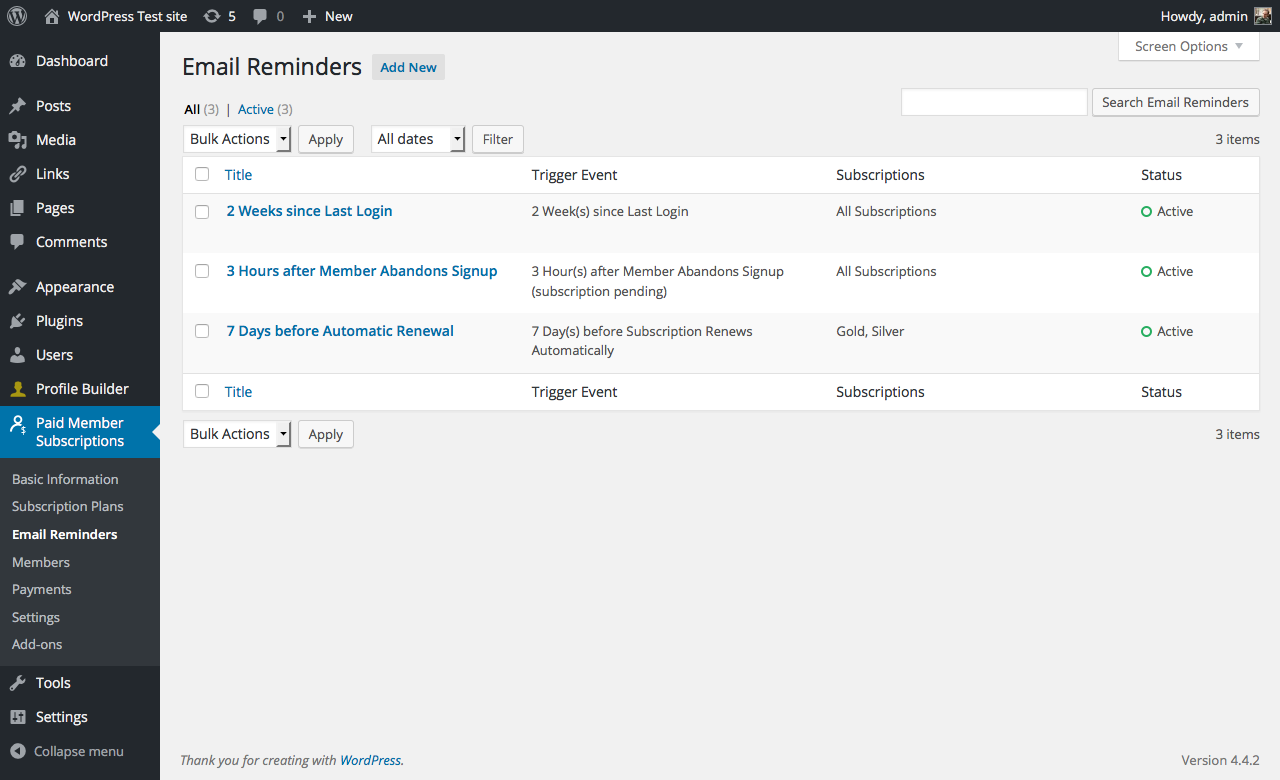 Only "Active" Email Reminders will be sent when the trigger event is met.
Getting the Add-on
This sums up how to set up automated email reminders on your membership site.
Now you're ready to increase your revenue by improving your sign-up rates and member retention, all automated, without taking up any more of your valuable time.
Get the Email Reminders Add-on
Note: For the Email Reminders Add-on to work as expected, you'll need to have already installed the Paid Member Subscriptions plugin.