This Paid Member Subscriptions add-on allows you to accept recurring payments from your members through PayPal Standard.
Note
: According to
PayPal's Announcement
, Instant Payment Notification (IPN) has been/will be updated to https for added security. Because IPN is used for all PayPal payments (recurring included), you will need to ensure that HTTPS is used when posting the message back to PayPal for verification. HTTP postbacks will no longer be supported.
Action by you: An SSL certificate is required by 19 January 2016 for Sandbox testing and by 30 September 2016 for all PayPal transactions. See below for how to add a SSL certificate.
Install and activate
First you need to install and activate the add-on from the Add-ons tab in Paid Member Subscriptions menu.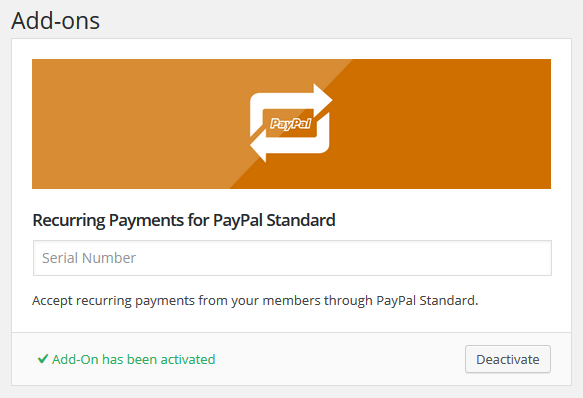 After activating the add-on navigate to Settings -> Payments where you'll find the PayPal Standard payment gateway settings.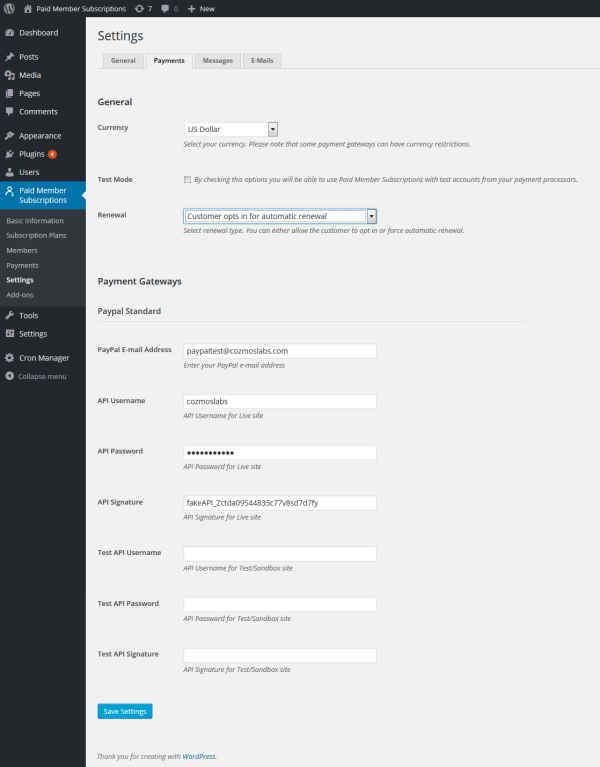 You will be able to select the renewal type. You can either allow the customer to opt in for renewal or force automatic renewal.

Payment Gateway Details
Next you need to fill in your PayPal Standard payment gateway details.
The required details for allowing recurring payments are:
PayPal e-mail address
API username for live site
API password for live site
API Signature for live site
For assistance in obtaining your API credentials please visit this help page from PayPal.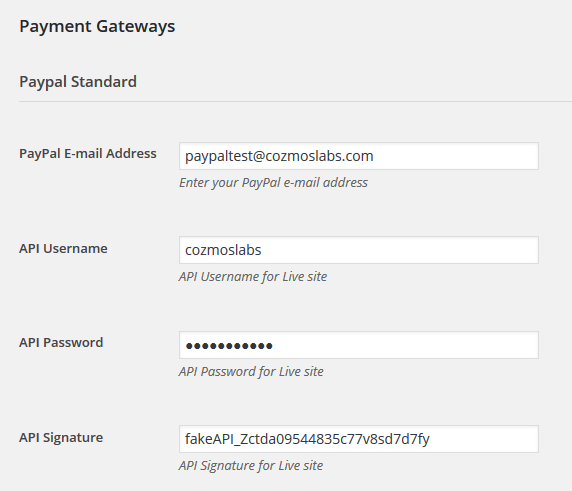 You can also fill in the API Test credentials and use them for testing purposes when setting up recurring payments.
Accepting Recurring Payments
Now that everything is setup, users can sign up for recurring subscription plans on your membership website.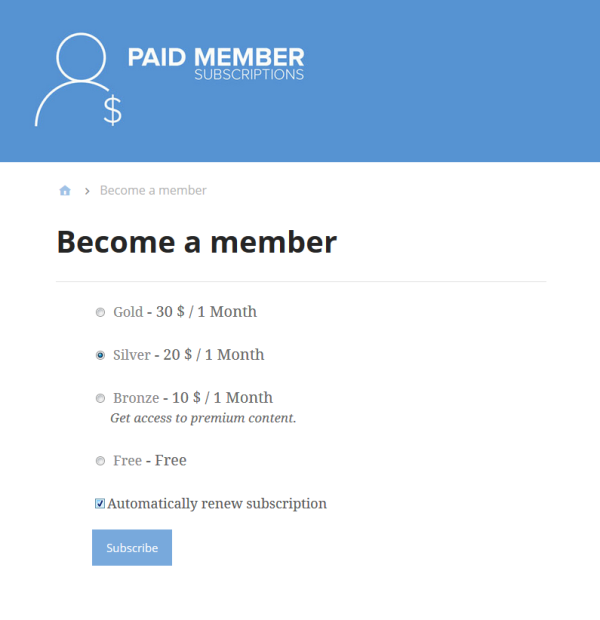 Note: Once the add-on is setup and active, all subscription plans created will be recurring.
Adding an SSL certificate
An SSL certificate is used to establish a secure encrypted connection (HTTPS). PayPal IPN has been/will be updated to https for added security, therefor you'll need to install an SSL certificate on your membership site for accepting recurring payments via PayPal Standard.
You can obtain security certificates for free instead of paying for traditional SSL certificates (which cost ~ 80$+/year) and install them easier using Let's Encrypt. It is a free, automated and open certificate authority that issues domain-validated certificates.
Up until now, the only hosting company we found that offers the ability to install Let's Encrypt certificates in just a couple of clicks directly from the cPanel of your hosting account is Site Ground. Here's a quick tutorial on how to achieve that.
Want to accept recurring payments from your members and gradually increase your revenue?
Get Recurring Payments for PayPal Standard Add-on
Note: For Recurring Payments for PayPal Standard to work as expected, you'll need to have already installed the Paid Member Subscriptions plugin.