Paid Member Subscriptions is a simple to use free WordPress membership plugin.
It gives you the possibility to accept payments, set up different membership levels, restrict content (posts, pages, custom post types) and allow users to login and manage their settings.
Installing Paid Member Subscriptions
Paid Member Subscriptions installs and is activated just like any other WordPress plugin.
Download the plugin zip file
After you download the plugin, you'll be able to choose the way you install it:
Unzip the archive and upload the plugin folder under the /wp-content/plugins directory
Under the Plugins

menu

from your WordPress admin interface, choose Add New -> Upload -> browse and upload your .zip file and then just hit Install Now button

Activate Paid Member Subscriptions
After the installation completes, press Activate Plugin and the plugin will be ready for use.
How to install the Paid Versions
Starting with version 2.5.0 we have changed the way individual Paid Member Subscriptions add-ons are used by simplifying the process and re-packaging all premium Add-ons into 3 different premium versions: Basic, Pro, and Unlimited.
When you login into your Cozmoslabs account you will see two buttons:
1. Main Plugin
2. The button associated with the paid version – e.g if you have the Unlimited version you will see "Unlimited Download".

You need to download the paid version and install it on your site.
In the end, you need to have two plugins installed:
1. Paid Member Subscription – This can be downloaded from the "Main Plugin" button
2. Paid Member Subscription Basic/Pro/Unlimited – This can be downloaded from the " Basic/ Pro/ Unlimited Download" button

Initial Setup
The initial setup of the plugin consists of a few simple steps:
After going through these steps you are ready to sell subscriptions.
Paid users looking for instructions to configure the additional payment gateways, recurring payments or other features that were added through a paid add-on should refer to that add-ons documentation page.
Add-ons list
Setup Wizard
When the plugin is activated for the first time, it will show the Setup Wizard page. The setup page helps you configure the plugin, having the ability to automatically create the membership pages and setting up the PayPal email address. Alongside this, some other useful settings will be presented.
You still need to create your Subscription Plans and set up the Content Restriction options, but the Setup Wizard will give you a nice head start.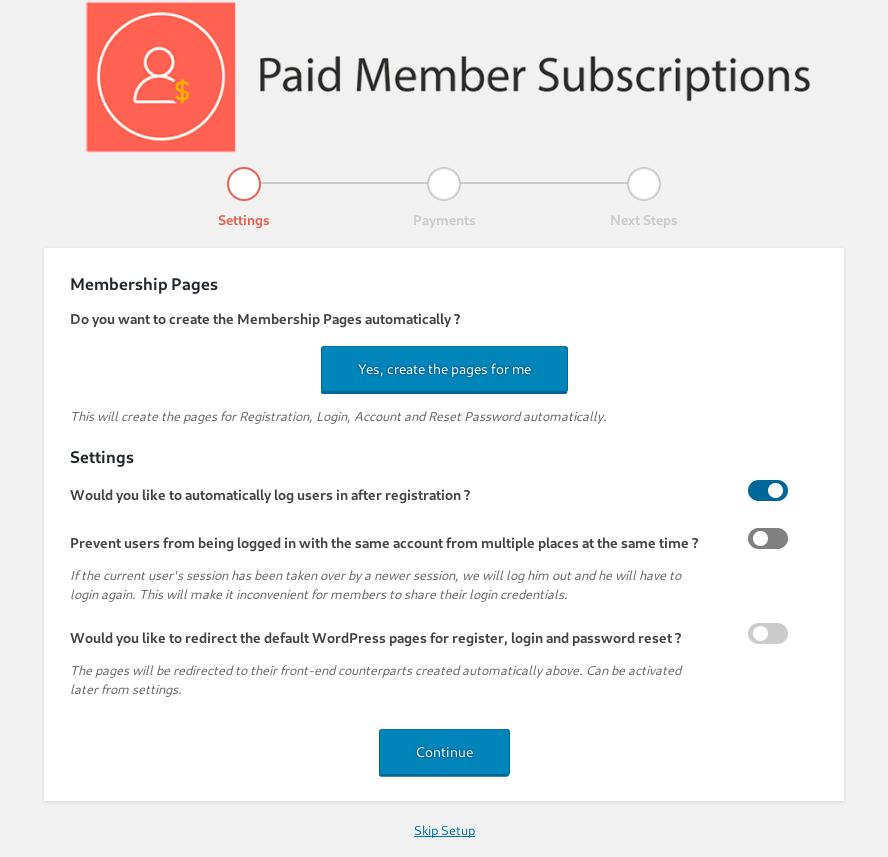 Basic Information
The Basic Information tab gives you an overview of all the Paid Member Subscriptions features and how to best make use of them.
This is a quick start guide on how to create your front-end member registration, login and account management forms, restrict your content and generally get a birds eye view of the plugin capabilities.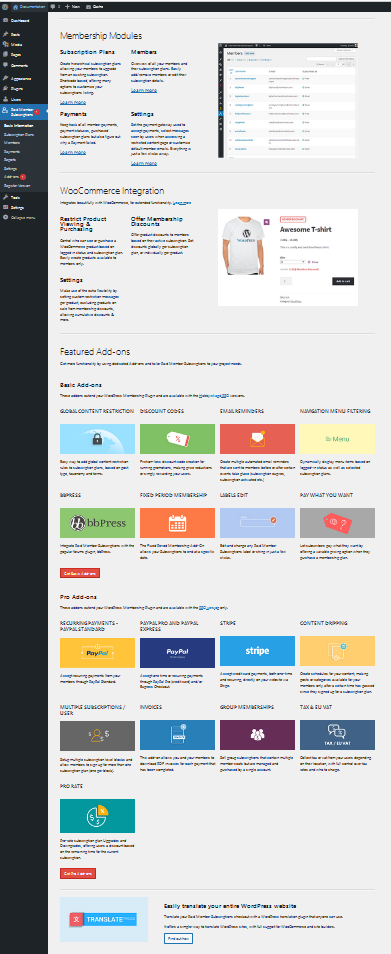 Add Serial Number
If you purchased a Paid Member Subscriptions license, go to the Paid Member Subscriptions -> Register Version page to activate it. The license will let you download updates released for the premium versions and also access premium support.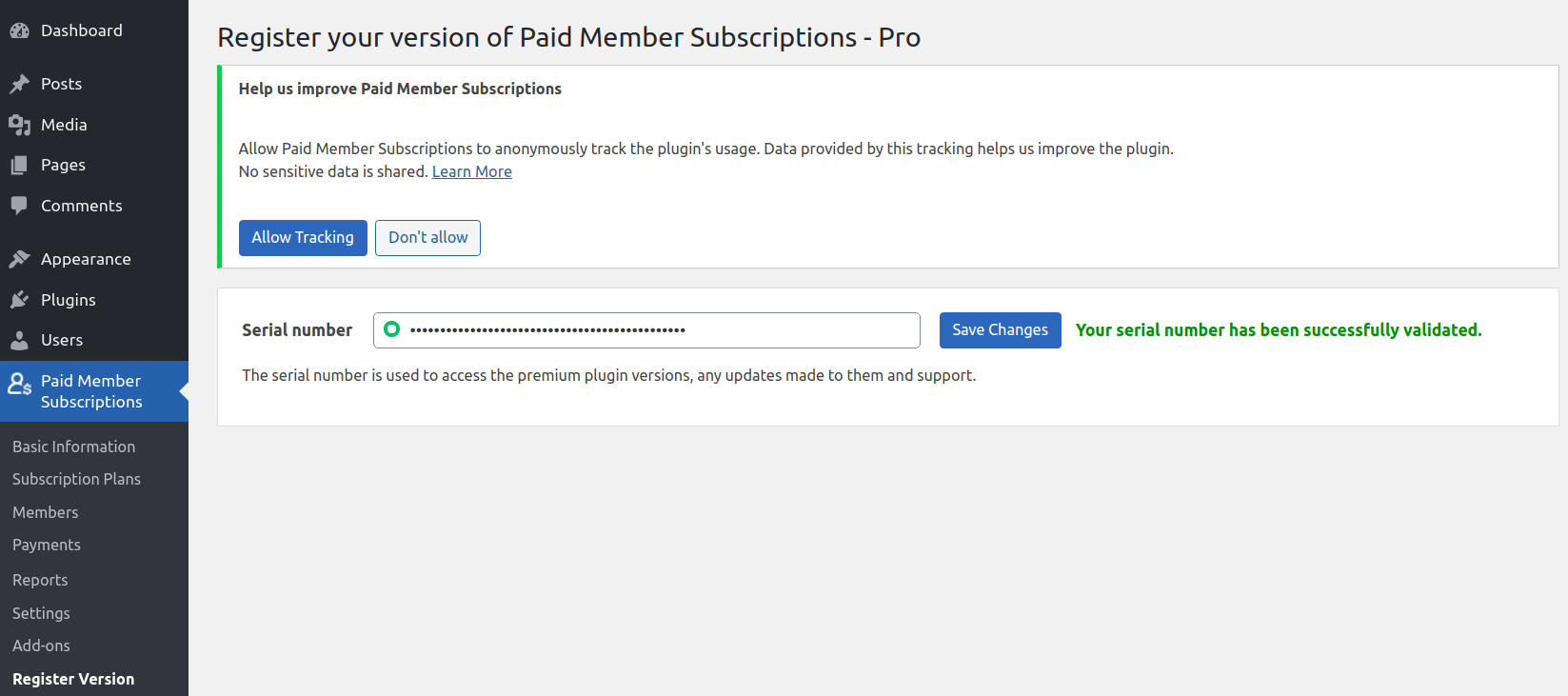 You can download the premium versions after you purchased them from your account page and install them like any other plugin.
After installation you can activate the premium add-ons they contain from the Add-ons Page

Paid Member Subscriptions Pro
Accept (recurring) payments, create subscription plans and restrict content on your website. Easily setup a WordPress membership site using Paid Member Subscriptions.
Unlock PRO Features