Allows you to send Profile Builder's User E-mail Notifications to Multiple E-mail Addresses.
Key Features
By default these Notifications are sent to a single address, the one set under Settings -> General in your WordPress Admin Interface. Using this add-on, you'll be able to add more or different E-mail Addresses, so that all Notifications regarding users will be sent to the list of E-mails you've entered
A new box called Admin E-mails will appear under Profile Builder -> General Settings tab where you'll be able to add Multiple Admin E-mails
Requirements
For this add-on to work as expected you'll also need to have installed:
Profile Builder Free, Hobbyist or Pro – version 2.0.6 or higher
Screenshot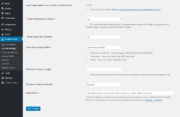 Documentation
Find out more by reading this documentation for the Profile Builder – Multiple Admin E-mails Add-on.