Looking for the best WordPress member directory plugin to showcase the users at your membership site in a public list?
In this post, we go hands-on with 5 great options to help you find the plugin that's right for your unique situation.
Beyond sharing each plugin's key features, we'll also have a look at important criteria like:
Filtering and search options – how much control you and visitors have over finding specific members.
Templating and pagination options – how much control you have over how your member directory looks and what information it includes.
Integrations – what other plugins you can integrate your members' directory with? For example, can you show a user's bbPress post count in your user list?
But first, let's cover a quick rundown on what you can use these plugins for.
Use Cases for a WordPress Member Directory Plugin
Wondering what you can use these plugins for?
With a flexible WordPress member directory plugin, there are a lot of different ways a WordPress member directory can help you. You can create directories for:
As long as you have a flexible WordPress user listing plugin, you'll be able to include your own user roles and member profile fields, along with custom search and filter options.
Now, let's get to the best WordPress member directory plugins…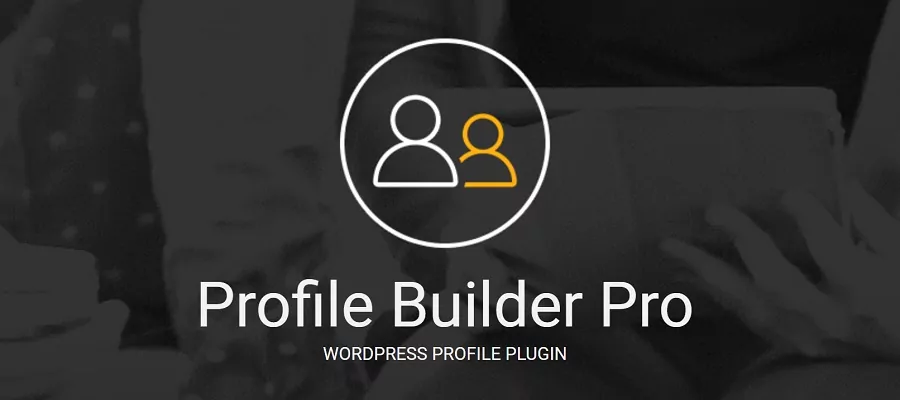 Profile Builder is a user profile plugin that, in addition to helping you create custom user profiles, can also help you display those profiles in a front-end member directory.
One of the nice things about this plugin is that you get a lot of options for which users show up in the membership directory and what information displays for them. Beyond that, you can also create multiple separate directory listings, each with different users.
Key Features
Choose which user roles to include in the listing;
Create multiple user listings, each with their own unique settings and templates;
Use pre-designed templates for displaying the users;
Control which user profile fields can be searched upon;
Built-in templating to give you full control over the output of your list;
Create custom faceted search menus;
Create unlimited membership levels.
Beyond the member directory functionality, you also get other general user profile features like:
Frontend registration forms or login forms and profile editing through the profile page;
Custom fields for user profiles for example phone number;
…plus a lot more.
Filtering and Search Options
Profile Builder is incredibly user-friendly and gives you a few different options to let people search and filter your directory of members.
First, you can add a front-end search box and choose which user custom fields for user profiles are included in the search:
Beyond that, you can also create custom faceted menus to let people filter users: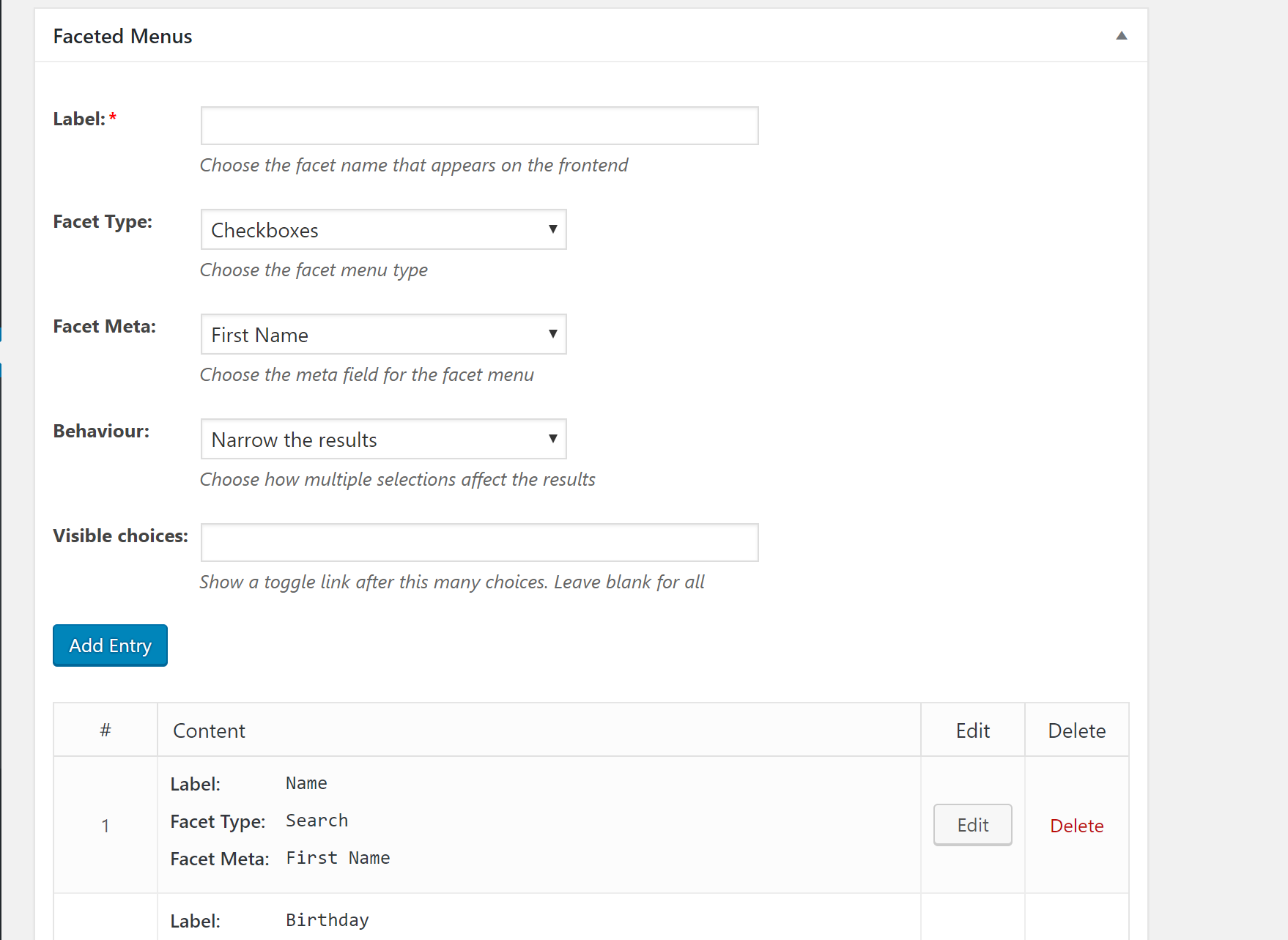 You can also restrict which users are eligible to be displayed in the member directory in the first place by picking which user roles to display. Or, you can also add shortcode parameters to target users by:
Templating and Pagination
Profile Builder offers 5 pre-designed themes for displaying users, both on an all-users page and the single-user pages.

It also includes a detailed in-dashboard templating system that lets you control exactly how users are displayed on both the full member list and individual user pages.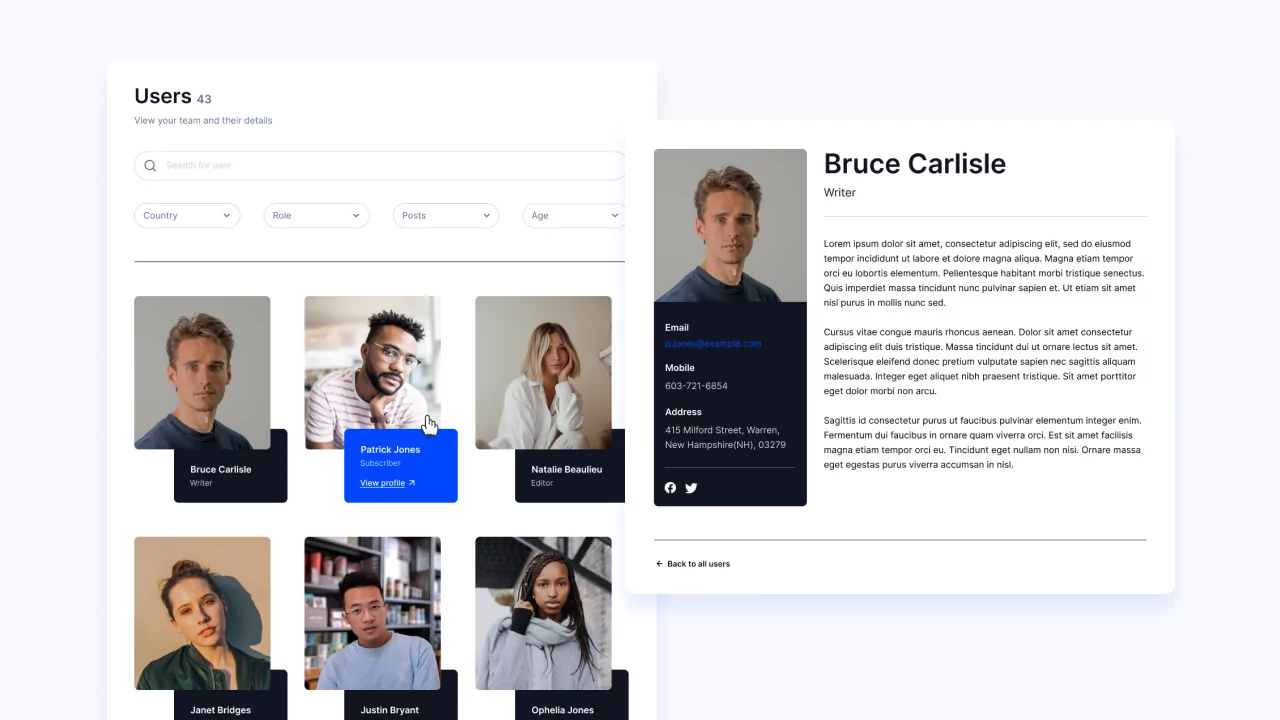 The HTML is automatically updated with your chosen template data so you can easily customize it. Using the tags in the sidebar, you can control all the information that displays for each user, as well as the order in which it is displayed: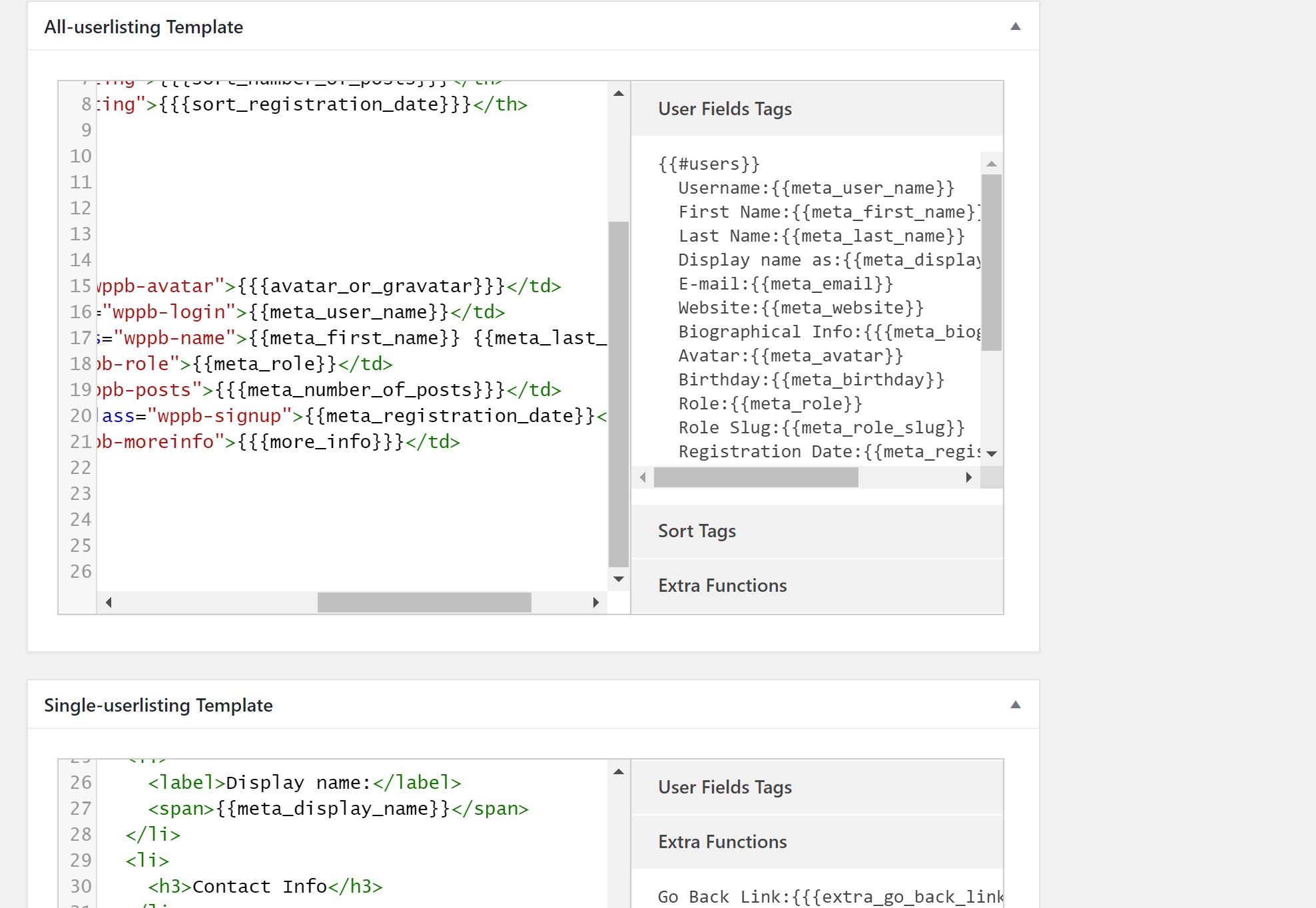 These tags also let you control the search box, faceted menu, pagination, etc.
Speaking of pagination, you can control how many users to display per page, as well as the default sort criteria and order.
Integrations
Profile Builder has integrations with other popular plugins to help you display outside information in your member directory.
For example, if you enable the BuddyPress add-on, you'll get new options to display BuddyPress information in your templates: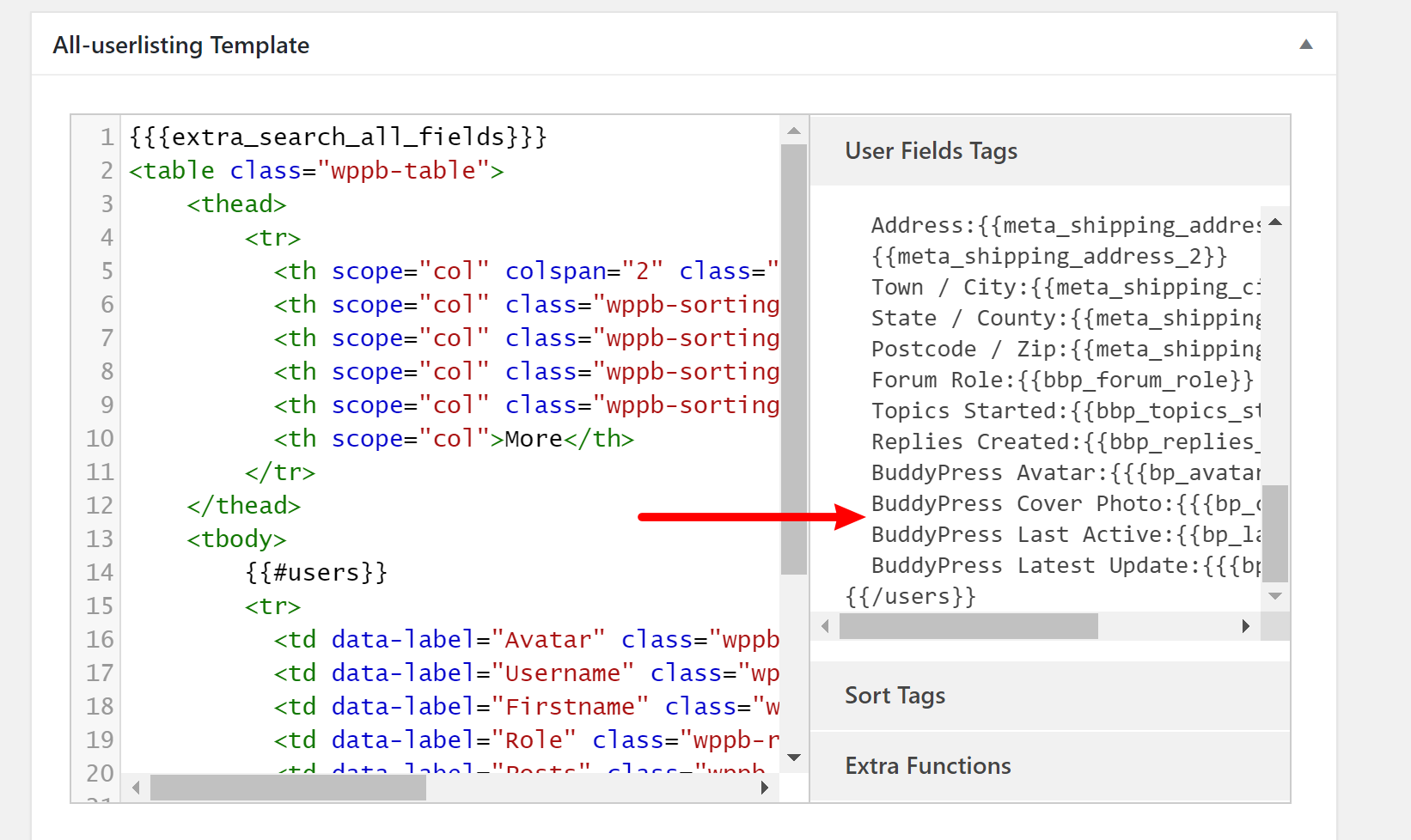 Profile Builder has integrations for:
You'll also be able to include this information in the search or in your faceted menus.
Price
Profile Builder has a free version at WordPress.org, but you'll need the Pro version for access to the member directory functionality.
Check out this detailed documentation for a deeper look at all of the user listing features.

ProfileGrid is a member directory plugin that's also focused on helping you create an active social community. To that second part, you also get features like user groups, friend requests, private messaging, etc.
As for the member directory part, you can easily create member directories for all your users, or for users in specific groups. Or, you also get an overall "Search users" page that lists all your members on a member directory page.
If you like that social functionality, this might be a good option. But it's overkill if you're not planning on creating an actual community.
Key Features
Create one or more user groups, each with its own profile fields and user role from the profile page;
Display member directories for each group;
Social features, like a friend system, private messaging, activity feeds, and more;
Separate "search users" page that lists all members.
How the Member Directory Works
I'll combine the Filtering and Search options and Templating and Pagination subheads for this one because you don't have quite as much flexibility.
There are two kinds of member directories that you can create with ProfileGrid.
First, you get this overall Search Users page, where people can search all your users by keyword and/or filter by group: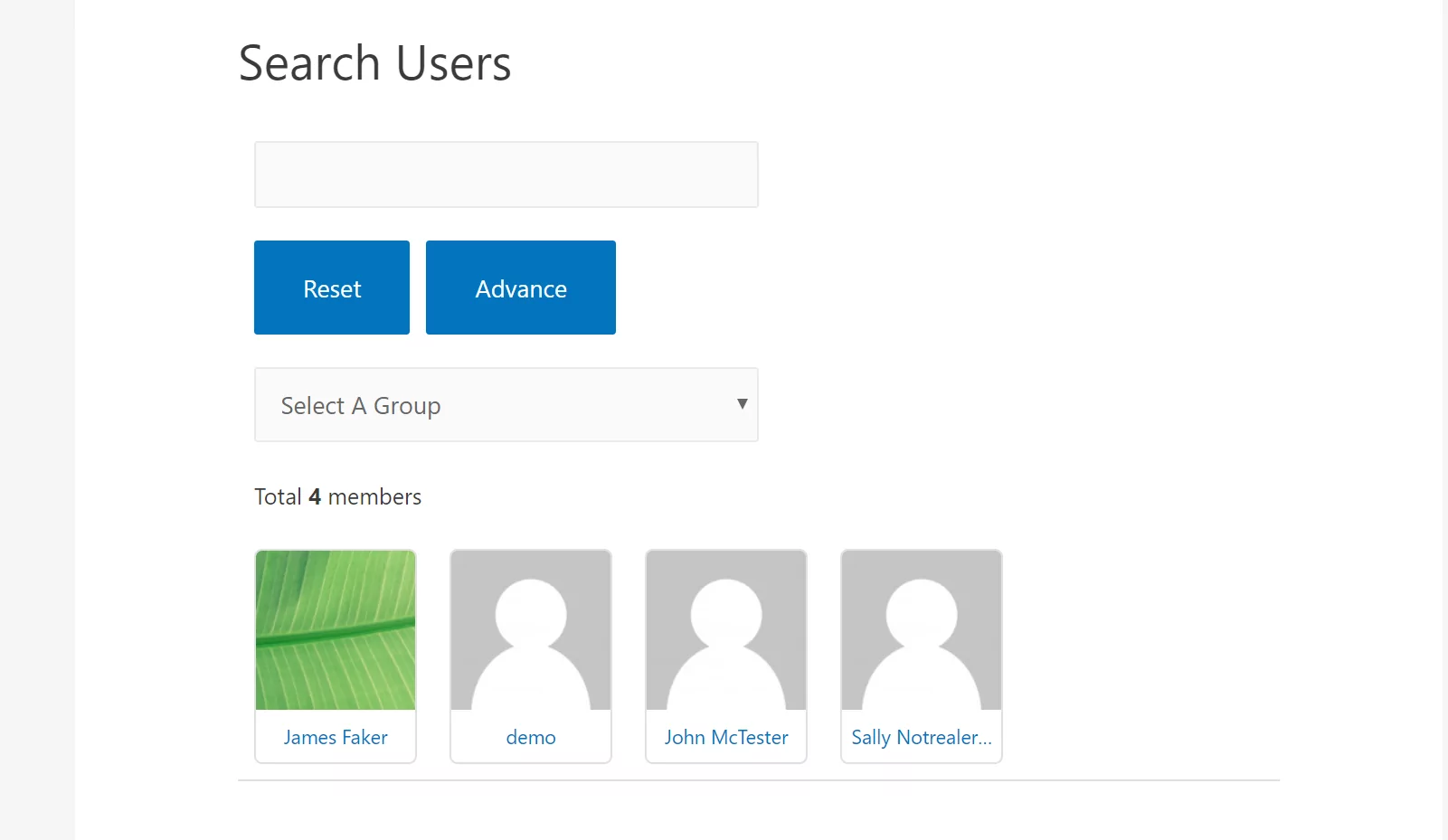 Second, the page for each user group also lists all of the members in that group: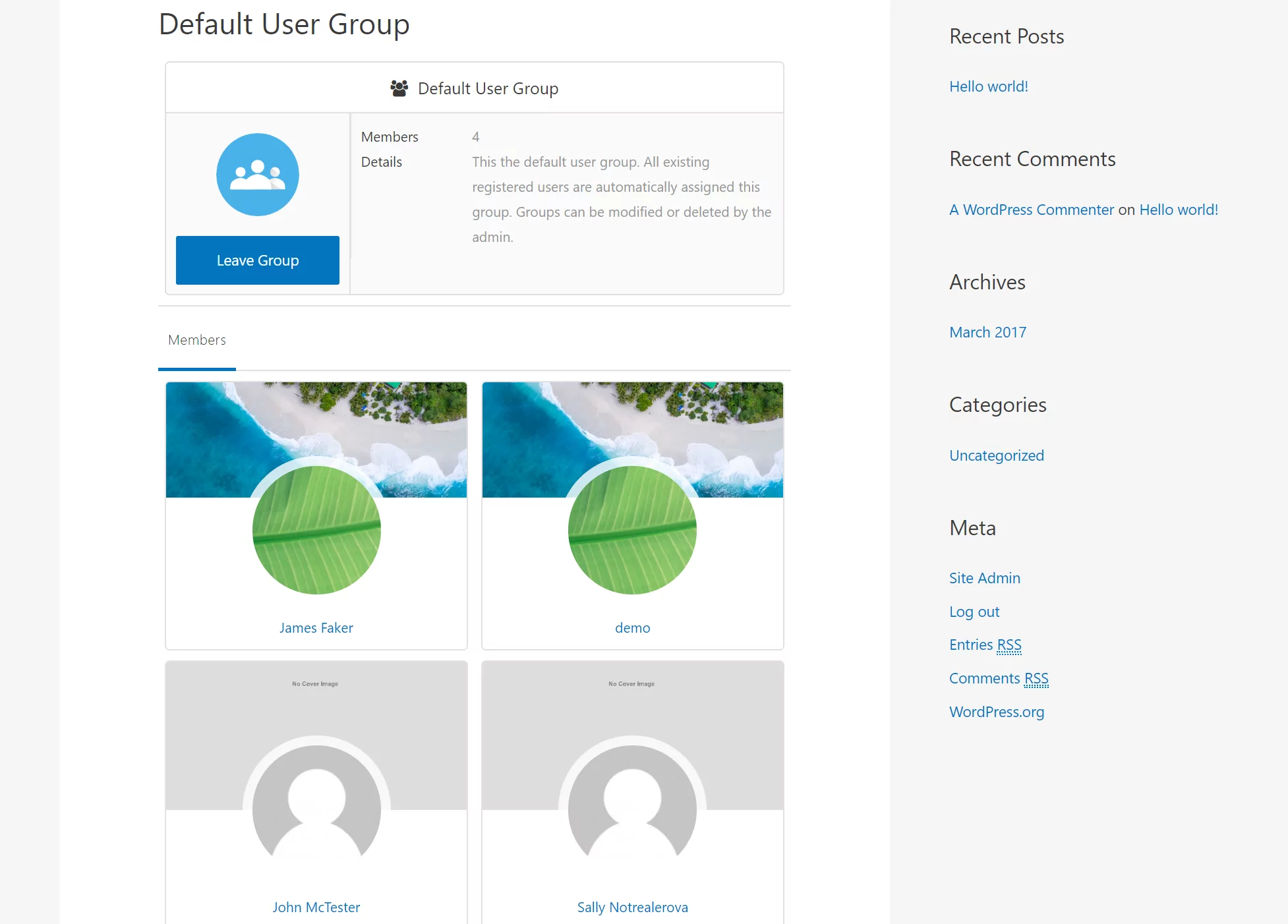 Each user also gets their own detailed profile, which is one of ProfileGrid's strong points.
However, you don't get many options for customizing how these pages work – so you'll need to like the default functionality.
Integrations
ProfileGrid has integrations for WooCommerce and bbPress, but you don't get the same ability to insert data from those plugins into your member directory. It's more about integrating ProfileGrid's profile system with those plugins.
Price
The core ProfileGrid plugin is free at WordPress.org. After that, the Pro version starts at $79.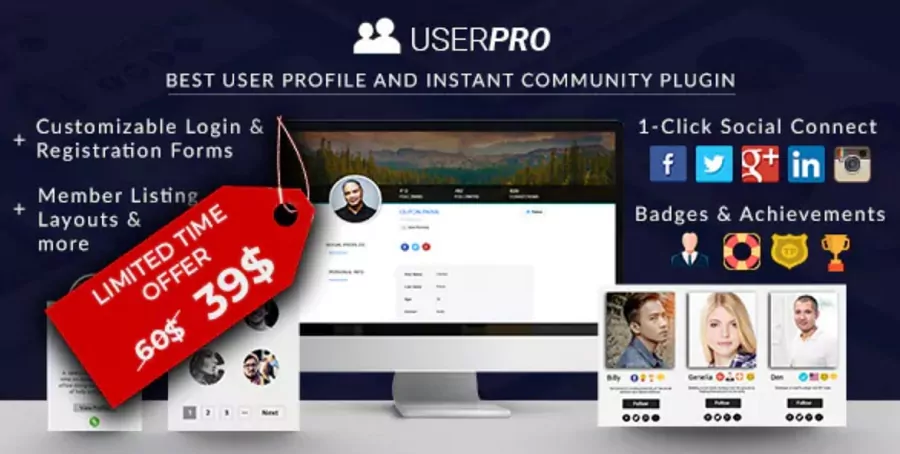 UserPro is a premium WordPress user profile and member directory plugin.
Where this tool does well is the frontend display part. It comes with a few different premade member directory templates that, out of the box, look a little more "fancy". So if you don't want to use your own CSS and like the look of UserPro's templates, that might be one tick in its favor.
However, it's not quite as flexible on the backend when it comes to controlling search and filter options or editing those templates.
Like ProfileGrid, UserPro also comes with a number of social network-type features that, depending on your needs, could either be a positive or a negative.
Key Features
Multiple different pre-made member directory styles;
Add badges and achievements for members;
Social network-type features, like activity feeds;
Integrations with WooCommerce and BuddyPress.
Beyond that, UserPro has lots of general user profile plugin features, like frontend registration forms and custom profile fields.
Filtering and Search options
By default, the UserPro member directory includes a search form at the top where visitors can search by keyword: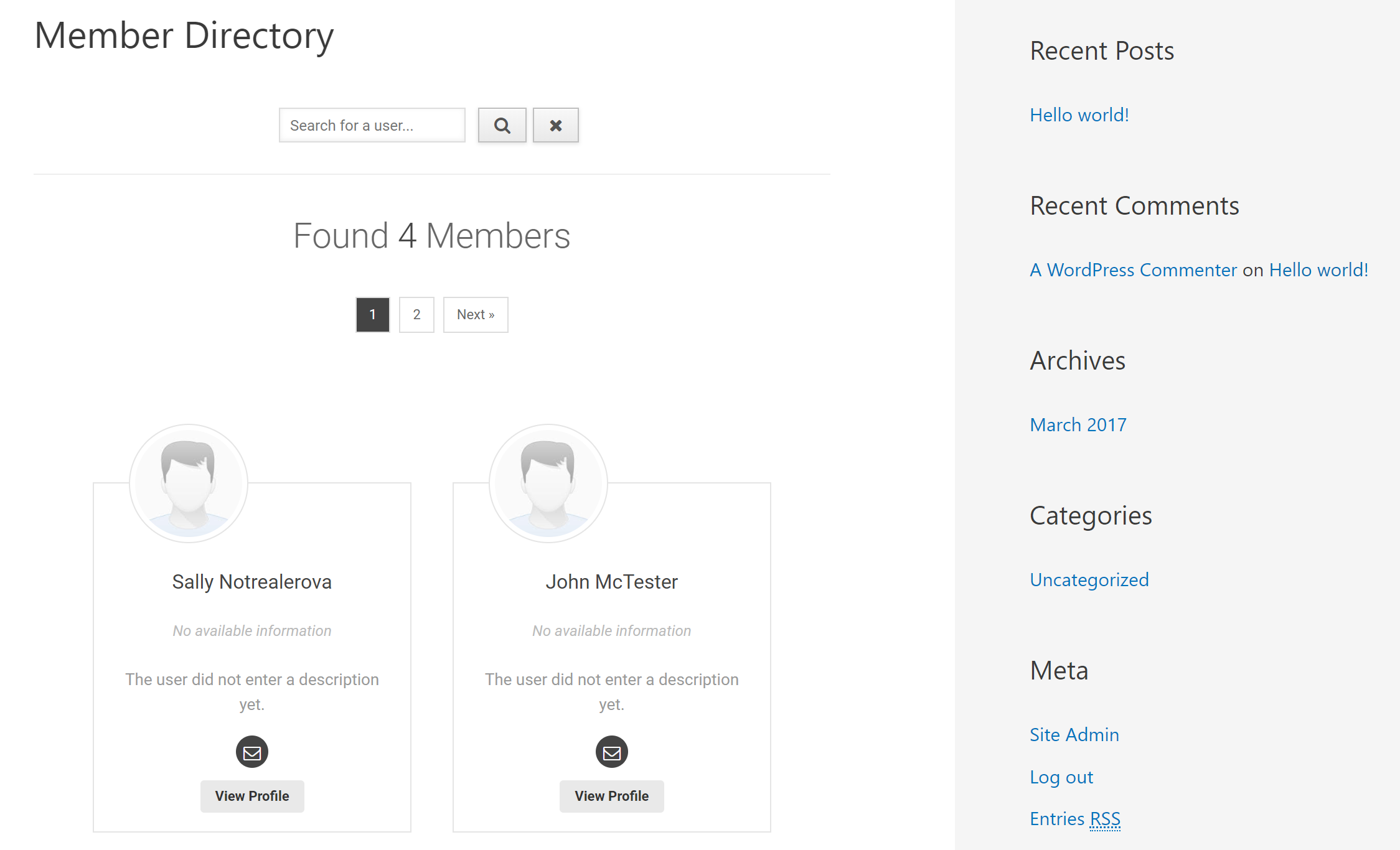 You can also use shortcode parameters to add basic filters.
You'll add additional shortcode parameters to define each filter option, though you don't seem to be able to control how those filters actually work.
Templating and Pagination
UserPro doesn't include its own templating system. Instead, you'll control the look of your member directory using additional shortcode parameters. You can use these to:
Show/hide certain content, like a user's biography
Change the basic layout
Control pagination
Overall, though, you're pretty reliant on the plugin's presets, whereas some of the other member directory plugins let you create your own template from scratch.
Integrations
UserPro has integrations for BuddyPress and WooCommerce to sync profile fields, though there doesn't seem to be an option to show these in the overall member directory.
Price
The core UserPro plugin costs $39 at CodeCanyon. Beyond that, there are also additional add-ons you might need to purchase. For example, the WooCommerce integration will cost you another $14.
As you can probably glean from the name, Simple User Listing is a super simple option for creating a WordPress member directory.
Basically, it gives you a single shortcode that displays a full list of your WordPress website's users. That's it!
To control that shortcode, you can use a variety of parameters.
Filtering and Search options
By default, Simple User List adds a search box to the frontend output, along with the list of users. However, there are no front-end filters.
You do get the option to filter users on the backend with the shortcode parameters, though. You have parameters that let you include/exclude users by:
User role
ID
By meta key (though the WordPress plugin warns you that this is not an efficient database query)
Templating and Pagination
One thing you can't do with this WordPress plugin is control how the outputted list looks from your dashboard. That's actually the developer's intent! Instead of relying on a graphical interface, you'll need to copy the sample theme template part and edit it yourself.
That means, if you want to customize the output, you'll need some PHP/HTML/CSS knowledge. And you'll probably want to do that because this is what it looks like by default: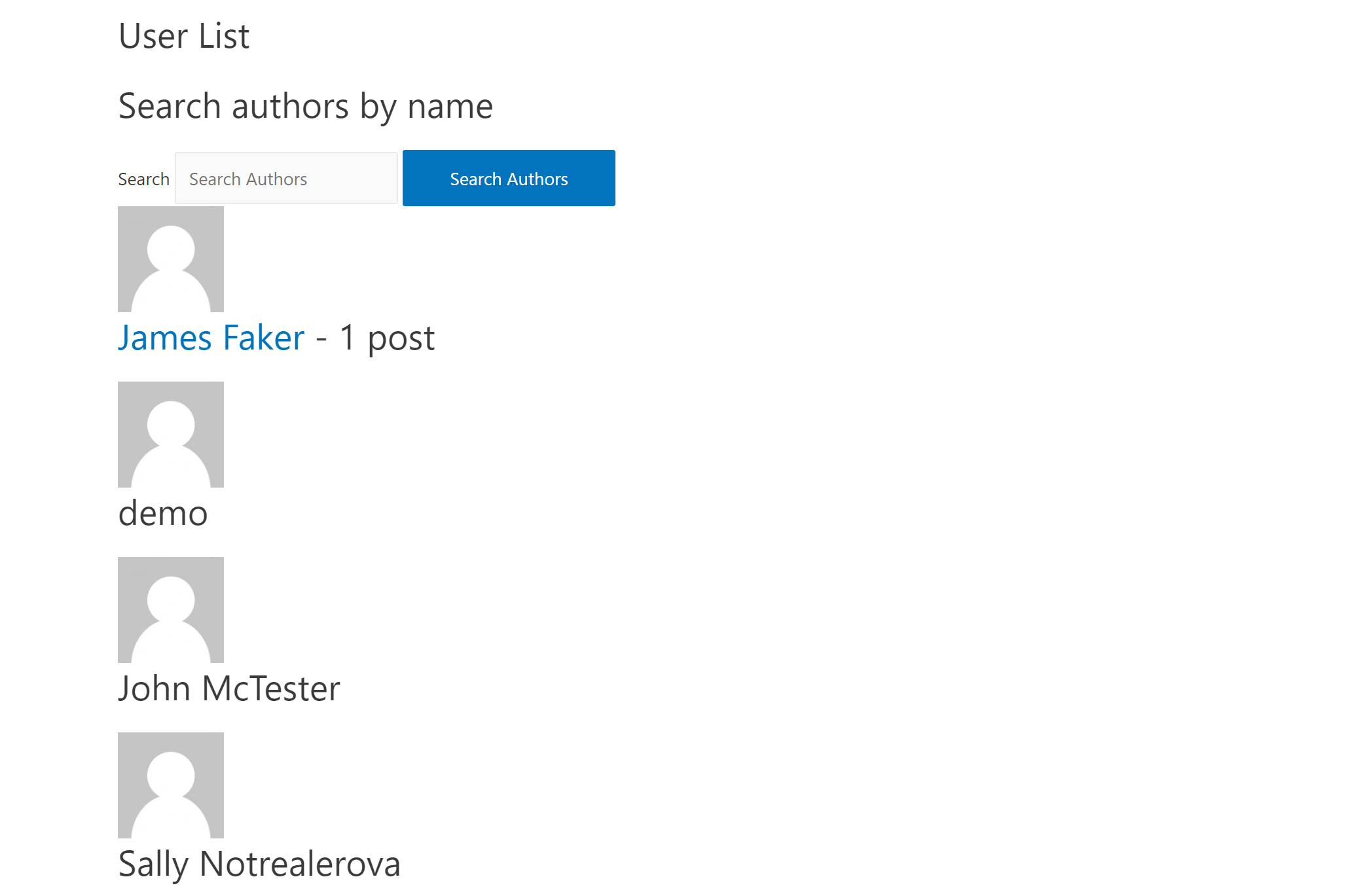 You can control some things – like pagination – via shortcode parameters, though. You'll find shortcode parameters to help you:
Control how many users to display per page;
Choose what to order users by and whether to order them ascendingly or descendingly.
Integrations
Simple User Listing doesn't have any built-in integrations – you'll need to know your way around PHP if you want to try to set something up.
Price
Simple User Listing is 100% free at WordPress.org.

Amr users is a flexible option that's a bit more focused towards technical users and developers. That is, while it gives you a lot of options, it's not always the most beginner-friendly tool.
Beyond the free core version, there are also various premium versions that can tack on more advanced functionality, which gives you a little more flexibility than Simple User Listing if you're willing to pay.
Key Features
Create multiple separate user lists;
Control what information displays in the lists;
Adds a search box by default;
Filtering (with paid add-on);
Integrations with some popular tools.
Filtering and Search Options
By default, amr users adds a front end search box that your visitors can use. You can also add filters, though you'll need the premium extension to do so.
Templating and Pagination
Amr users doesn't give you a full templating system, but it does let you choose which fields to display and their display/sort order: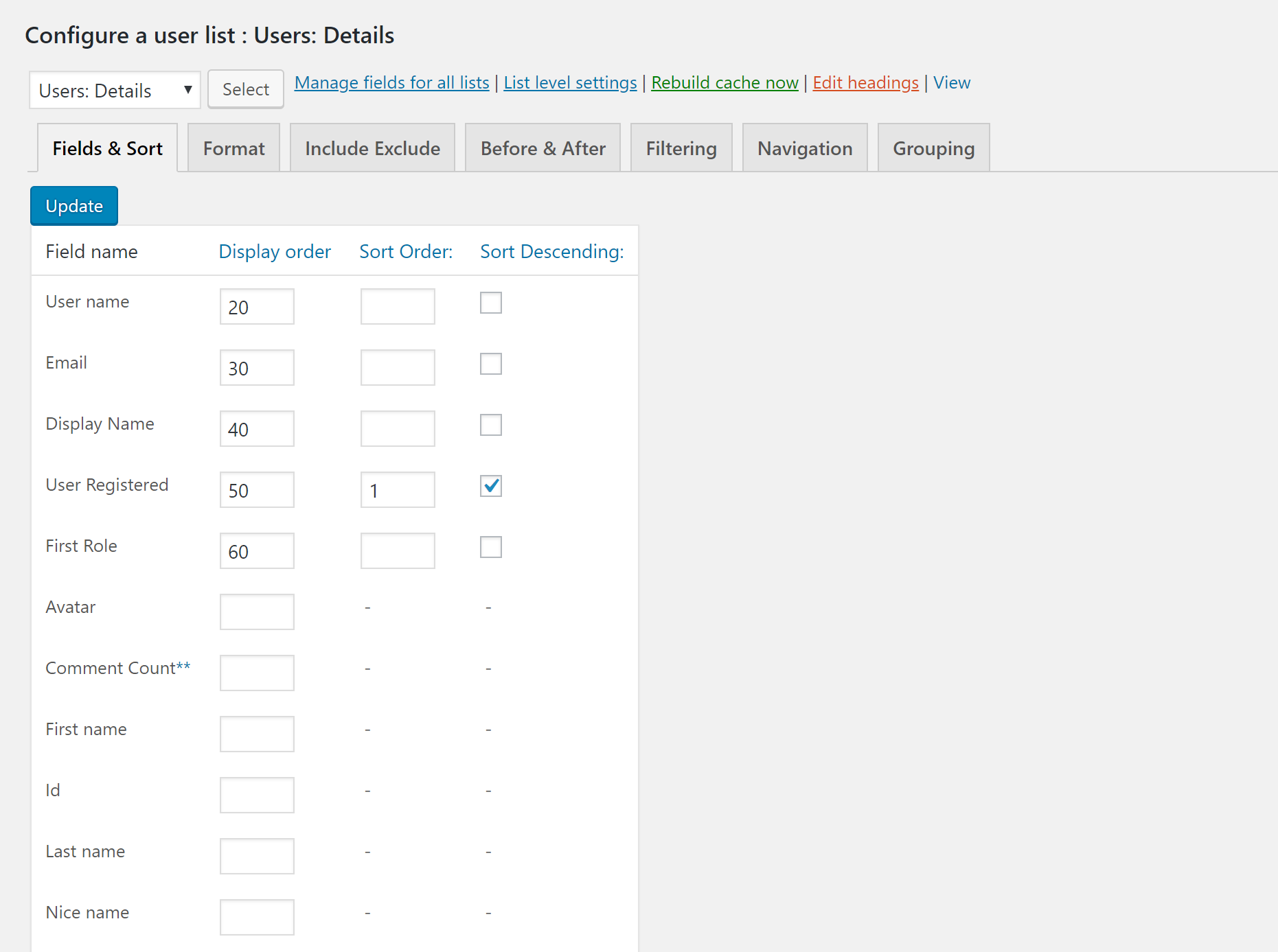 You can also insert information before/after fields.
Beyond that, you can also choose how many users to display per page, as well as whether or not to enable pagination or just show the top X results.
Integrations
Amr users includes a number of paid add-ons that can help you integrate with other plugins like:
BuddyPress
S2 Member
A variety of other WordPress membership plugins
There's no dedicated WooCommerce integration, though.
Price
The core amr users plugin is free. After that, you can purchase "amr users +" for $40, and individual extensions for ~$20 each. Or, you can grab a bundle of all the premium plugins starting at $250.
Find the Best WordPress Member Directory Plugin Today
Have you decided on the best WordPress member directory plugin for your needs? If not, here are our recommendations.
If you specifically want to add a social feel to your member directories, you'll want to look at ProfileGrid or UserPro member directory plugins. Otherwise, those plugins might not be the best options if you don't want all that extra community functionality.
If all you want is a WordPress member directory, you'll want to look at Profile Builder, Simple User Listing, or amr users member directory plugins.
Of those three, Profile Builder is the only one that gives you an in-dashboard templating system from which you have full control over what information to include in your directory and how to display it (including integrations for other plugins like bbPress and WooCommerce).
Beyond that, it gives you the most control over how the search works, along with the option to create your own faceted menus, which is another unique feature.

Profile Builder Pro
The best WordPress member directory plugin to list your members.
Get Profile Builder
Have you tried any other WordPress member directory plugin that we missed? Let us know in the comments bellow.