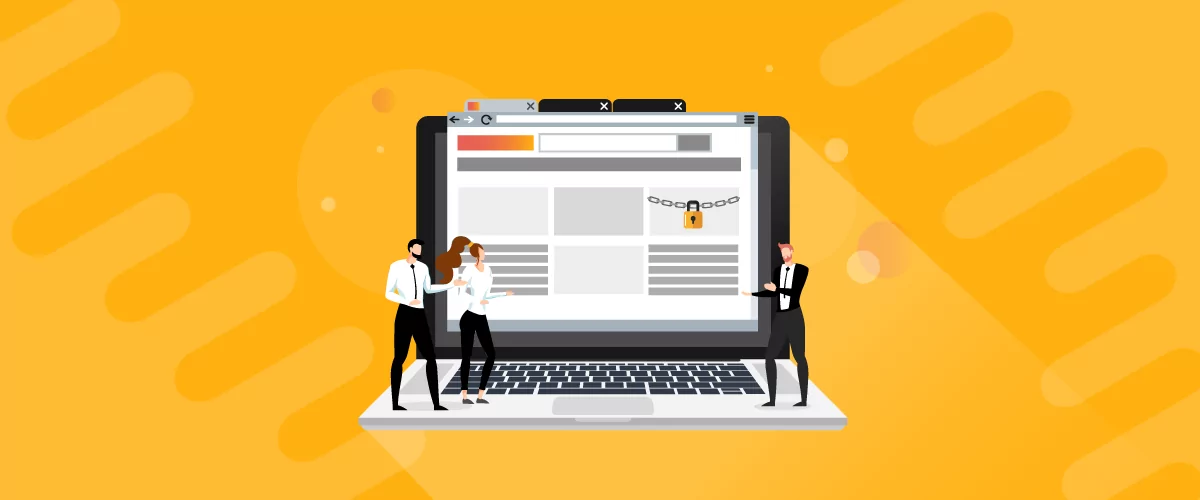 If your WordPress site is designed to serve and engage with a community, you'll need to install a WordPress forum plugin.
Forum plugins add a platform where users can ask questions, provide answers, and join in discussions. It promotes engagement and gives users a sense of being part of a community. You can use it to provide a private service or something more public like Quora or Stack Overflow.
You can also use a WordPress forum plugin to provide customer support for an e-commerce site or technical support for a multisite network, or answer questions about the content in your site, whether that's blog posts, videos, or online courses.
A forum is also great for SEO because your users are constantly generating new content, something Google loves. The more engaged your users are, the better.
So if you want to create your own mini social network for people interested in the content of your site, installing a forum plugin on your WordPress site is the way to go.
In this guide, we'll introduce you to three of the most popular WordPress forum plugins. We'll show you how to set our favorite up, and we'll show you how the Paid Member Subscriptions and Profile Builder Pro plugins can add extra features and make your forum even better.
What Should You Be Looking For in a WordPress Forum Plugin?
A good forum solution will give you flexibility and control. It will let you manage user accounts and create membership plans. You'll be able to create as many discussion boards as you want and have access to an intuitive user interface, with file uploads, activity streams, and sub-forums or topics. It'll be easy to use both in the front-end and backend.
Ideally, you'll be able to restrict comments by the content or by user role. Plugins like Paid Member Subscriptions and Profile Builder Pro let you add features like this to manage your members more effectively and/or monetize your forum.
You also want it to integrate well with your WordPress theme and have a forum layout that fits into your existing site, as well as looking professional and being SEO-friendly.
A dedicated WordPress forum plugin is the best solution for a good discussion board. It's tempting to try using regular comments, or harnessing some of the features of BuddyPress. But for the best forum, you'll need a forum plugin.
So let's take a look at the most popular WordPress forum plugins.
Three of the Best WordPress Forum Plugins
There are plenty of WordPress forum plugins out there, many of them free. Options include Asgaros Forum, CM Answers, WP Symposium Pro, Sabai Discuss, Simple: Press, and more. 
But here we're looking in-depth at three of the best forum plugins: bbPress, wpForo, and DW Question and Answer. They are all feature-rich and each has unique elements that will help you run your forum.
bbPress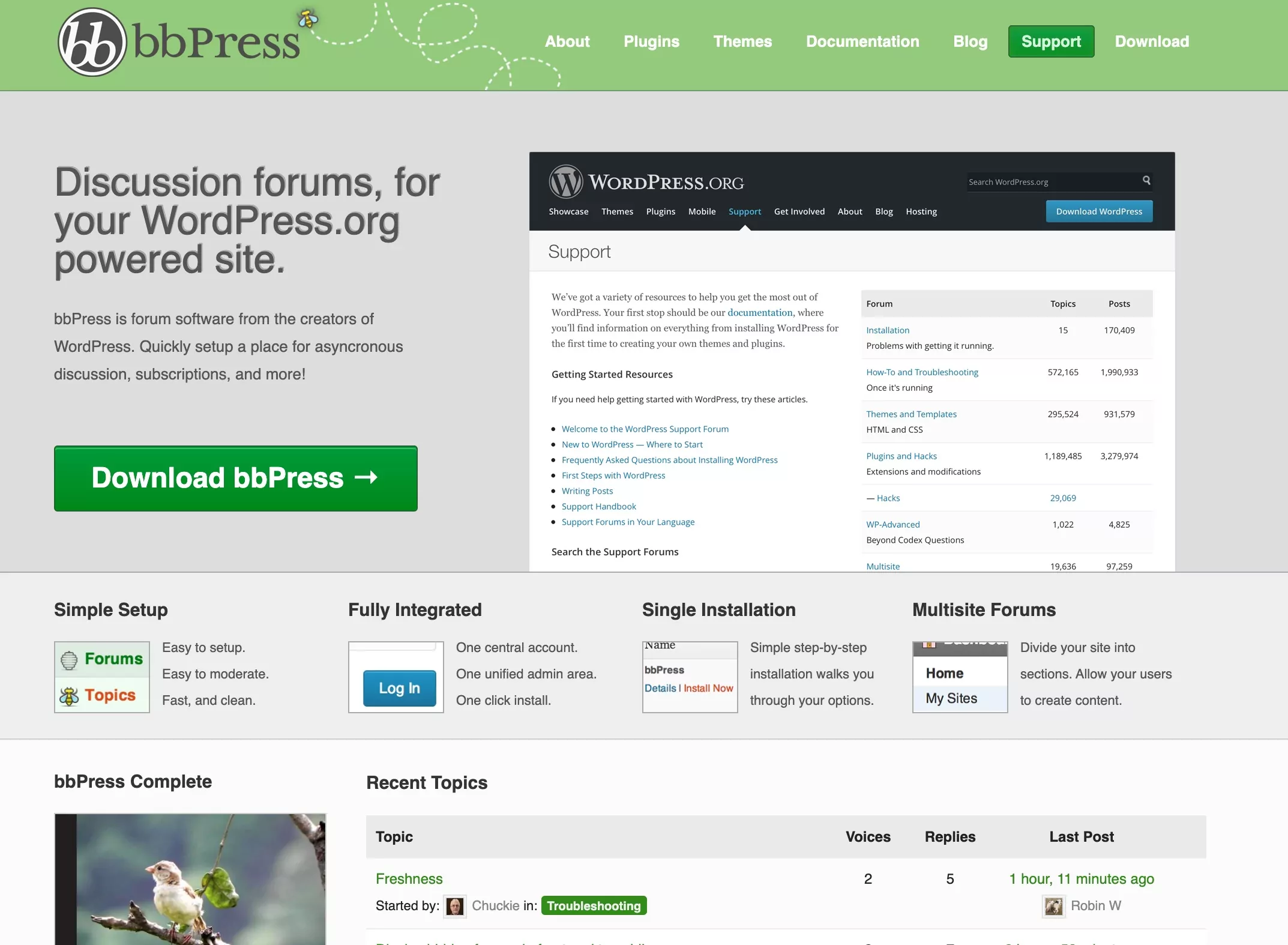 bbPress is one of the most widely used WordPress forum plugins with tons of add-ons for everything from styling to front-end editing capabilities on your discussion forums.
It's also a free plugin because it is an open-source project maintained by an online community of developers. The support forums stay active with responses from users throughout the community, so it's relatively easy to get help with troubleshooting.
With the initial installation, you can work with customizable templates for your support forum layout on the front-end. But without the help of a few WordPress plugins and add-ons, the discussion forum styling looks out-dated. The registration and profile system in bbPress is also pretty basic.
wpForo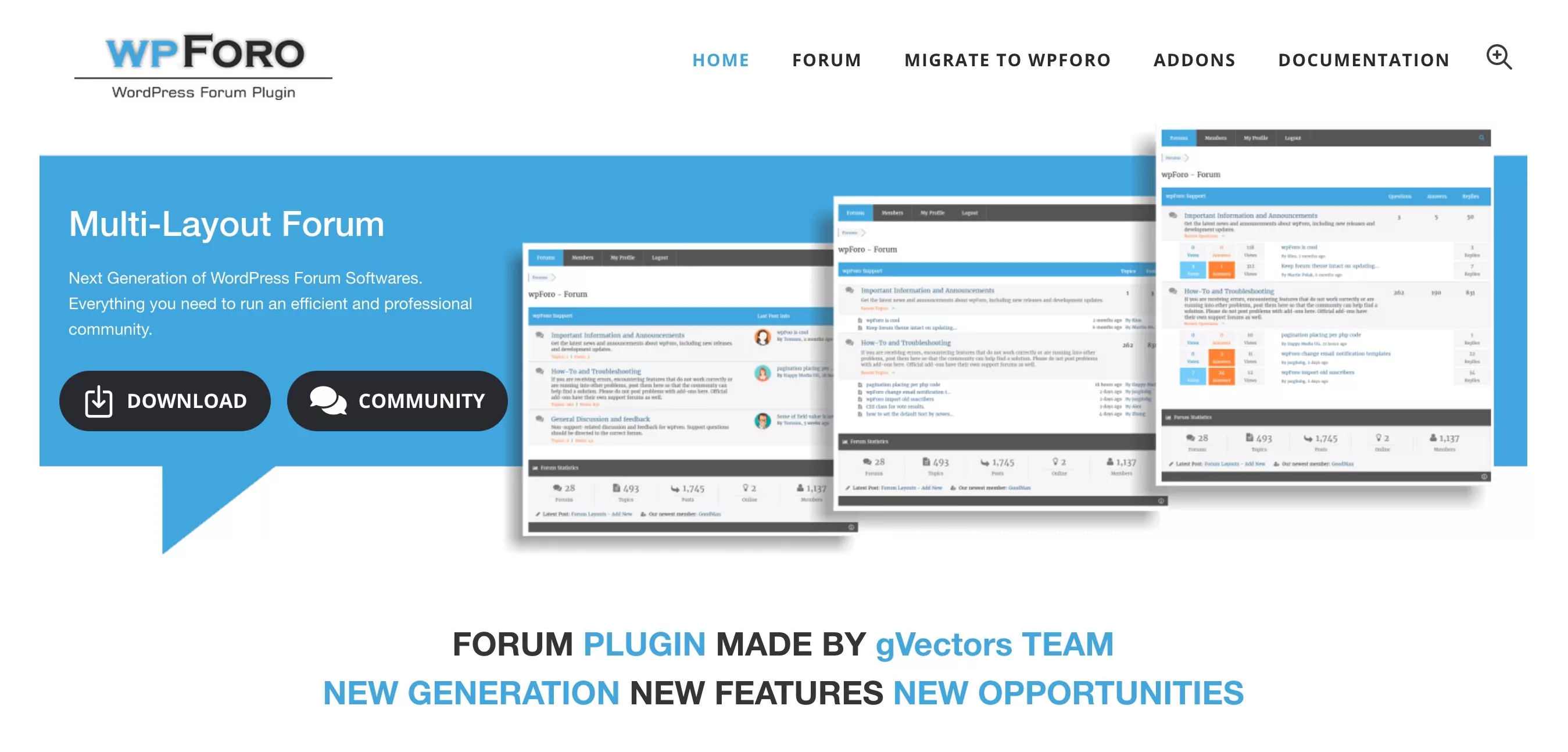 wpForo forum plugin is another WordPress discussion board plugin to consider. It has some unique built-in features, like an advanced user profile and user role system, topic & post-front-end moderation, and a tags widget for support forums and user profiles. For a free plugin, wpForo is incredibly feature-rich and is a great option if you are starting a new discussion forum. If you want things like private messages though, you will have to buy some of the pro version addons.
A big complaint that some users have had is that wpForo can attract spambots that register for user accounts, but an anti-spam addon can potentially fix that. While you get some useful features like live user notifications, you might not get responses quickly in the support forums.
DW Question and Answer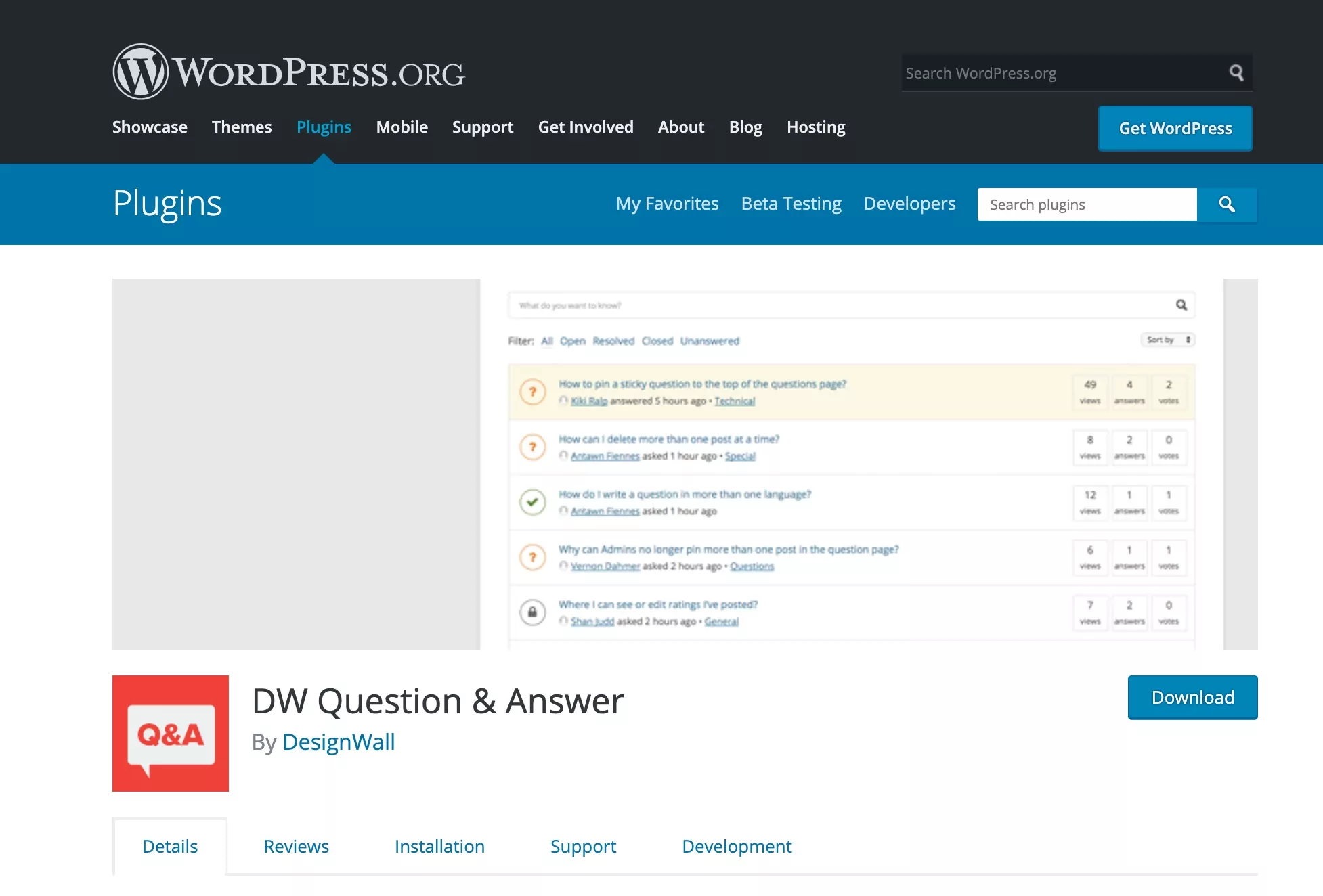 The DW Question and Answer plugin has a free version plus a premium plugin with extra features.
The plugin makes it easy to ask questions, with the ability to post them via widgets in the sidebar or on the Q&A page. It lets users filter and search questions and responses, and includes voting for the best answers. It also allows for private questions and answers and private messaging
The premium version comes with advanced user management so admins can set what user roles can do: ask questions, post answers, and make comments. It also allows file uploads and integration with Akismet to stop spam.
How to Install and Configure bbPress
So which is the best of these forum plugins? By far the most popular, and the one which will be most familiar to your forum contributors is bbPress. Here's a guide to installing and configuring bbPress.
Setting up bbPress and Creating Forums
Start by installing and configuring bbPress to create your forum. In the WordPress admin, go to Plugins > Add New. You'll find bbPress as one of the popular options. If you don't, type 'bbPress' in the search box.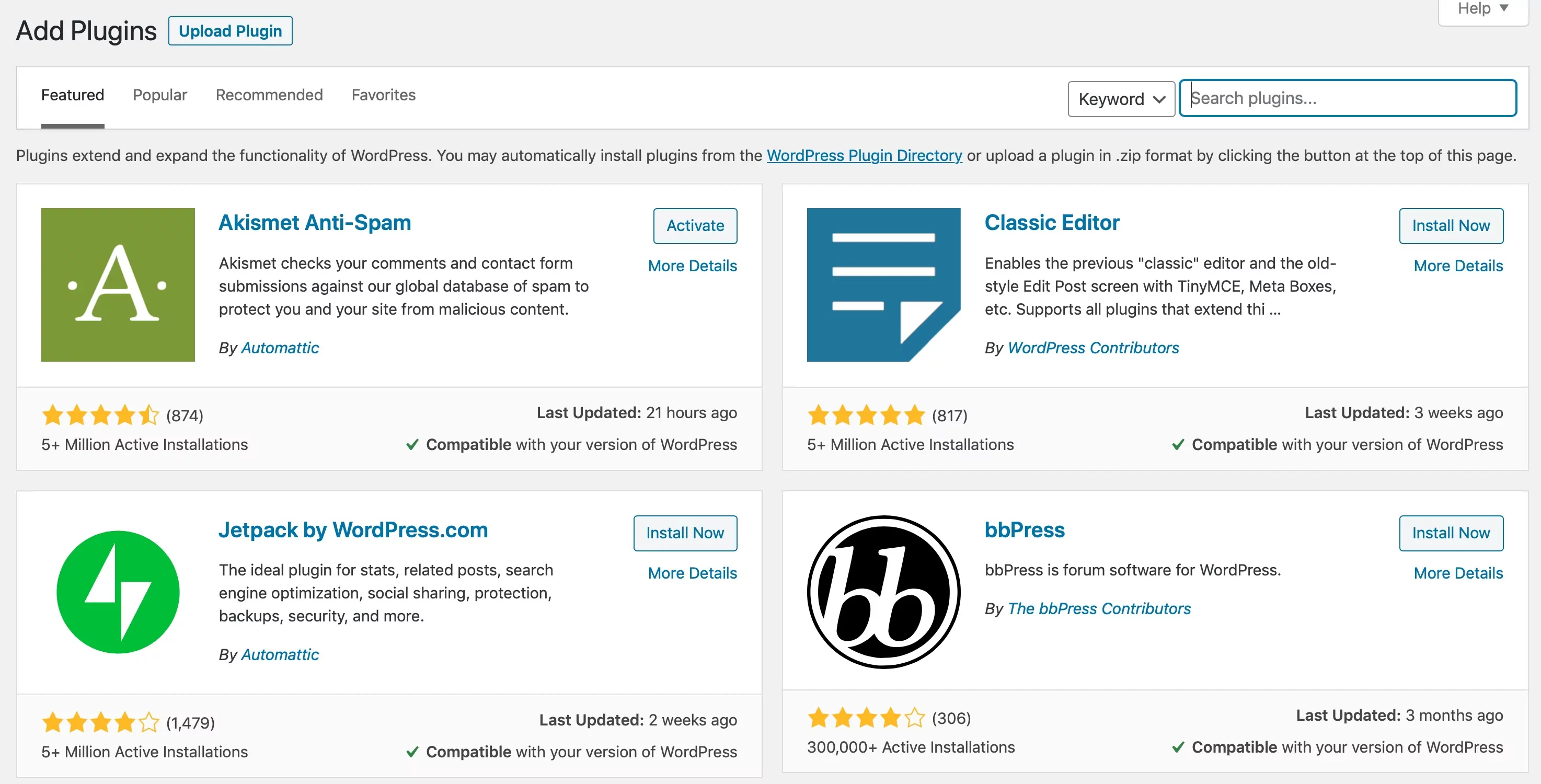 Click the Install Now button then when that changes to an Activate button, click it again.
In the admin menu, click on Forums. At the top of the Forums screen, click Add New to add a new forum.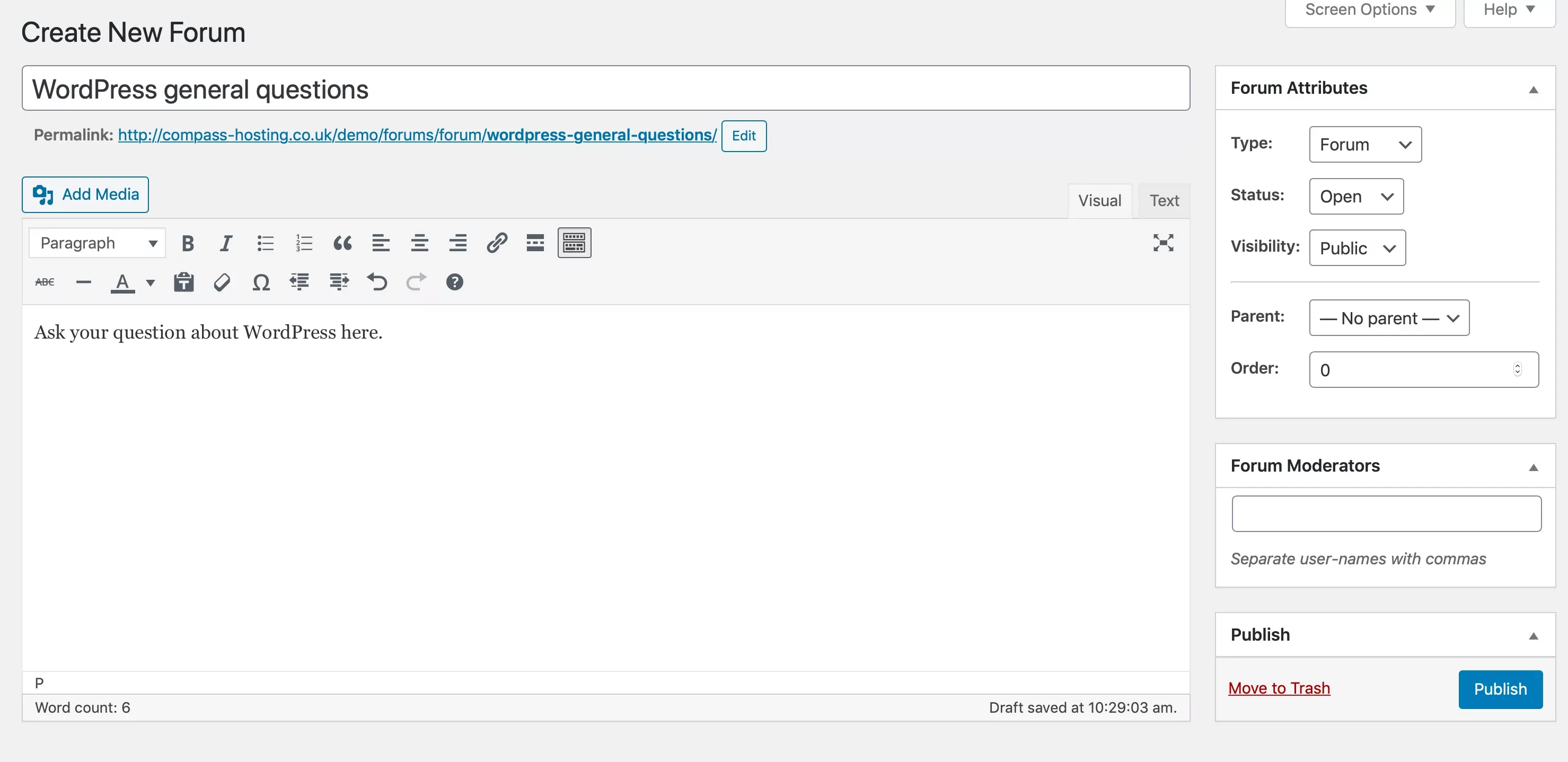 Give the forum a name and add any text or guidance that you want to add above the forum content. You can also choose who the moderators will be. Then click Publish.
You'll now have a list of your forums in the Forums screen.

Next, add some new topics in the same way. Each forum can have multiple topics, and you can use Paid Member Subscriptions to restrict access to forums, topics, or both. When you create a topic, don't forget to assign it to a forum.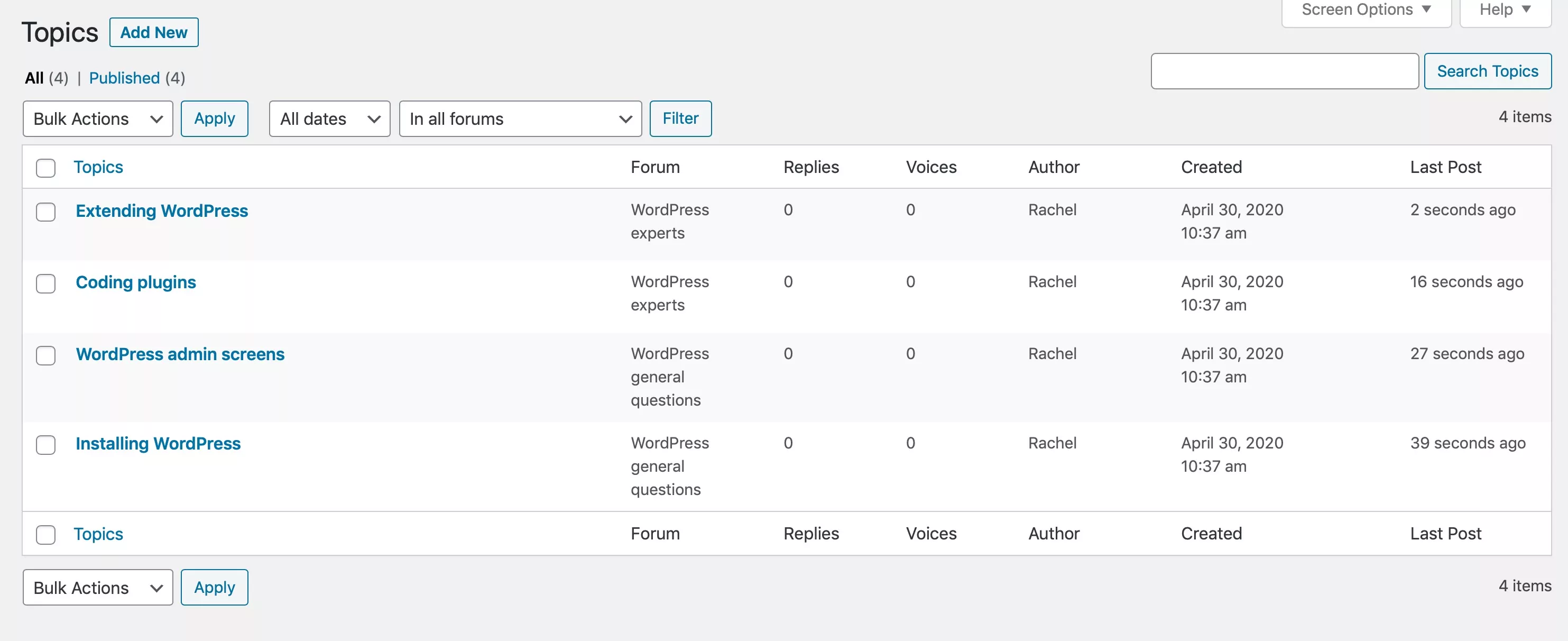 Once you've created your forums you can add them to your navigation menu in the same way as you'd add pages, or you might add a link to them in a widget in the sidebar. Here's how one of your forums might look on the front-end: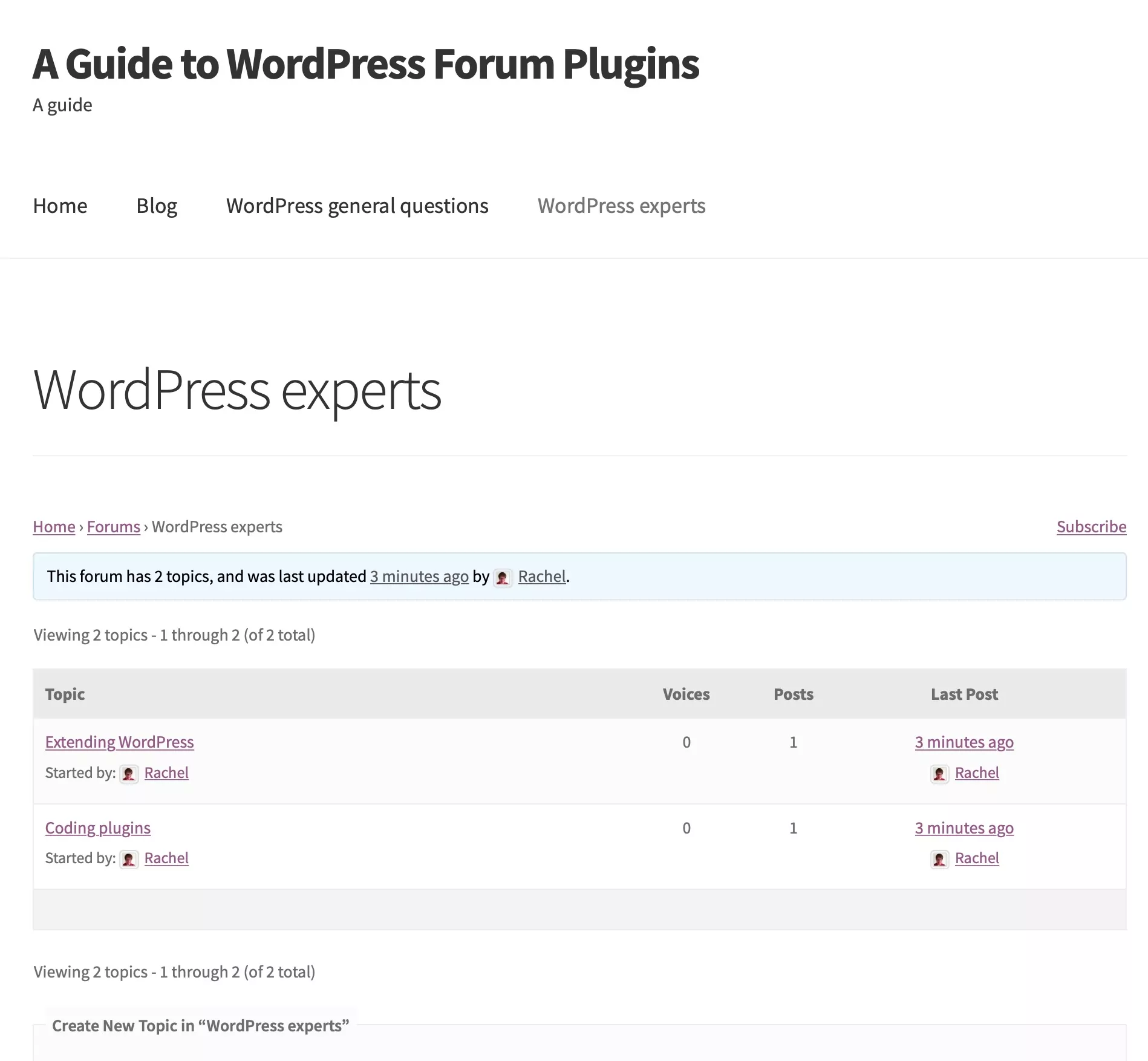 Your WordPress users can now access the forum and use it to ask questions, provide answers, and upload files if they need to (depending on permissions).
You've now got bbPress running and some forums set up. bbPress is the most popular WordPress forum plugin, but as we've discussed, it does lack some features, including the ability to protect content. It also doesn't offer much flexibility with profiles and user management. So let's take a look at using Paid Member Subscriptions and Profile Builder Pro to add that.
How to Add More to bbPress with Paid Member Subscriptions and Profile Builder Pro
All of the free forum plugins we've looked at have some great features, but they also have their downsides.
bbPress can look old-fashioned. wpForo has been reported to have issues with spambots signing up. And DW Question and Answer will be less familiar to your users.
All free forum plugins will have one common challenge: customer support. With a free plugin, you can't expect to get prompt support, although being that they're forum software, you can expect an active forum supporting them. But how do you know the advice you get in the forum from other members is what you need?
The good news is that you can make bbPress even better by integrating it with Paid Member Subscriptions and Profile Builder Pro.
Adding Extra Functionality with Paid Member Subscriptions
Paid Member Subscriptions makes it very easy to set up your own membership site. You can combine this with bbPress to make your forum more professional and user-friendly and to make money from your forum.
Paid Member Subscriptions lets you manage user accounts, create multiple tiers of membership including free and premium, and monitor account activity. It lets you create and manage automated subscription payments, as well as sending email notifications to your members.
For forums, its most useful feature is restricting forums and/or tiers by membership tier. In a forum, this might be important: you may want to keep the forum private and restrict some or all of the content to user groups. Paid Member Subscriptions' bbPress add-on will let you add this functionality to your WordPress forum.
Let's take a look at how to do that.
Creating Membership Tiers for Your Forums
Start by creating a forum as we've already done above. 
Then create your membership tiers by going to Paid Member Subscriptions > Subscription Plans.

To add a new subscription plan, click Add New and set up your plan.
Create subscription plans that correspond to your forums and configure them, with pricing levels as appropriate. You might choose to make some forums freely available, others free to subscribed members, and the more exclusive ones available only to members on a premium subscription. That way you can monetize your forum.
Restricting Forums and Discussions to Members
To restrict access, go to Forums and select the forum you want to restrict. Scroll down to the Content Restriction section.

Select the membership plans that you wish to have access to this forum and click the Update button. The forum will now be restricted by membership tier.
Adding Extra Functionality with Profile Builder Pro
The Paid Member Subscriptions plugin isn't the only one you can use to enhance your WordPress forum. The Profile Builder Pro premium version also has features that will add more to the site.
Adding Complex Sign-up Forms to Your Forum
Profile Builder Pro lets you add extended user-profiles and custom registration forms, so you can gather all the information you need about members of your forum and use it to provide a better service.
Profile Builder Pro lets you add complex sign-up forms to your WordPress forum site, and capture any information you might need.
After installing the plugin, go to Profile Builder > Form Fields to add the fields you want to use to capture data. These include biographical information, URLs, GDPR fields, and much more.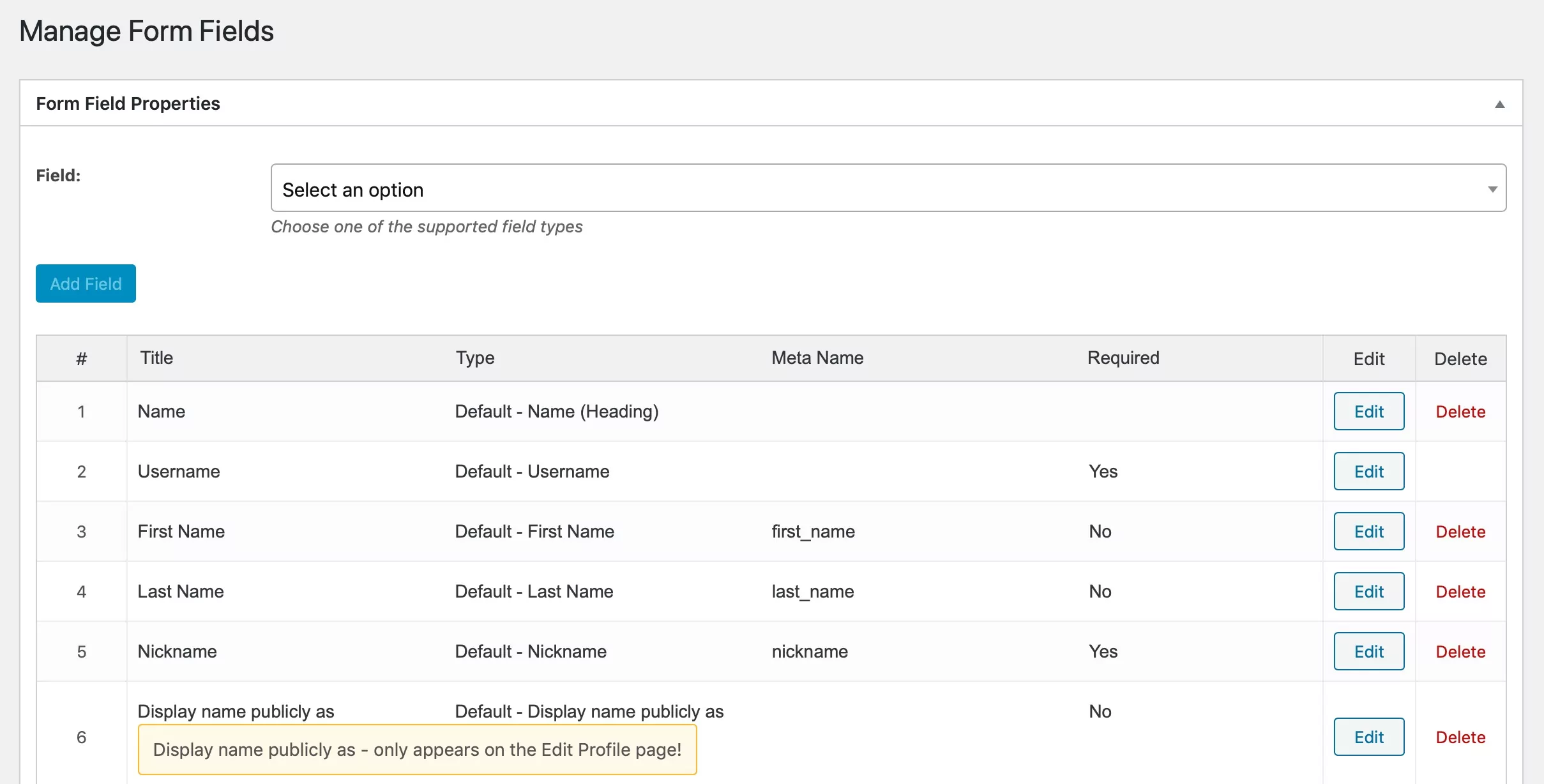 Save your fields then go to Profile Builder > Registration Form and click the Add New button to add a new form.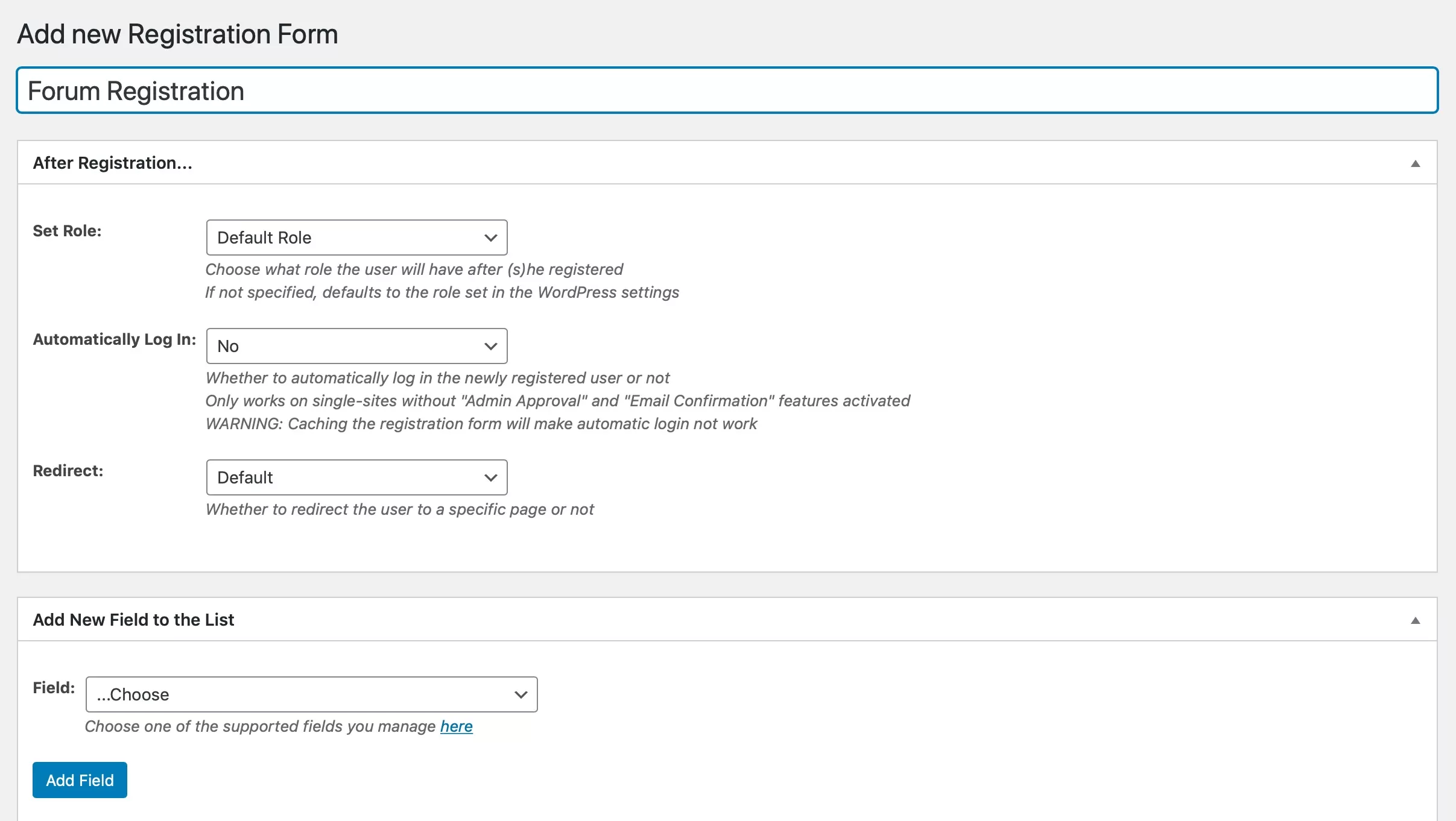 Here you add whatever fields you need to your form and click the Publish button. Once you've published the form, you'll be given a shortcode you can then add to a page in your site which you'll use as the forum registration page.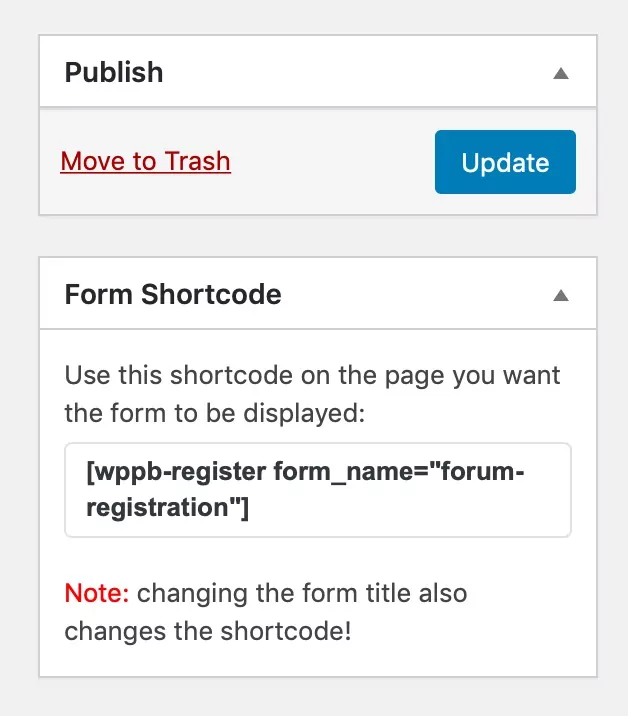 Add a Member Directory to Your Forum
Another useful feature of Profile Builder Pro that you can use in your WordPress forum is the member directory.
Create a new page on your site by going to Pages > Add New. Then add the [ wppb-list-users name="userlisting" ] shortcode to the page. 

Publish the page by clicking Publish.
Your page will then display a list of members, so your forum members can find out more about the members they're interacting with. This will help identify who the experts are in your community.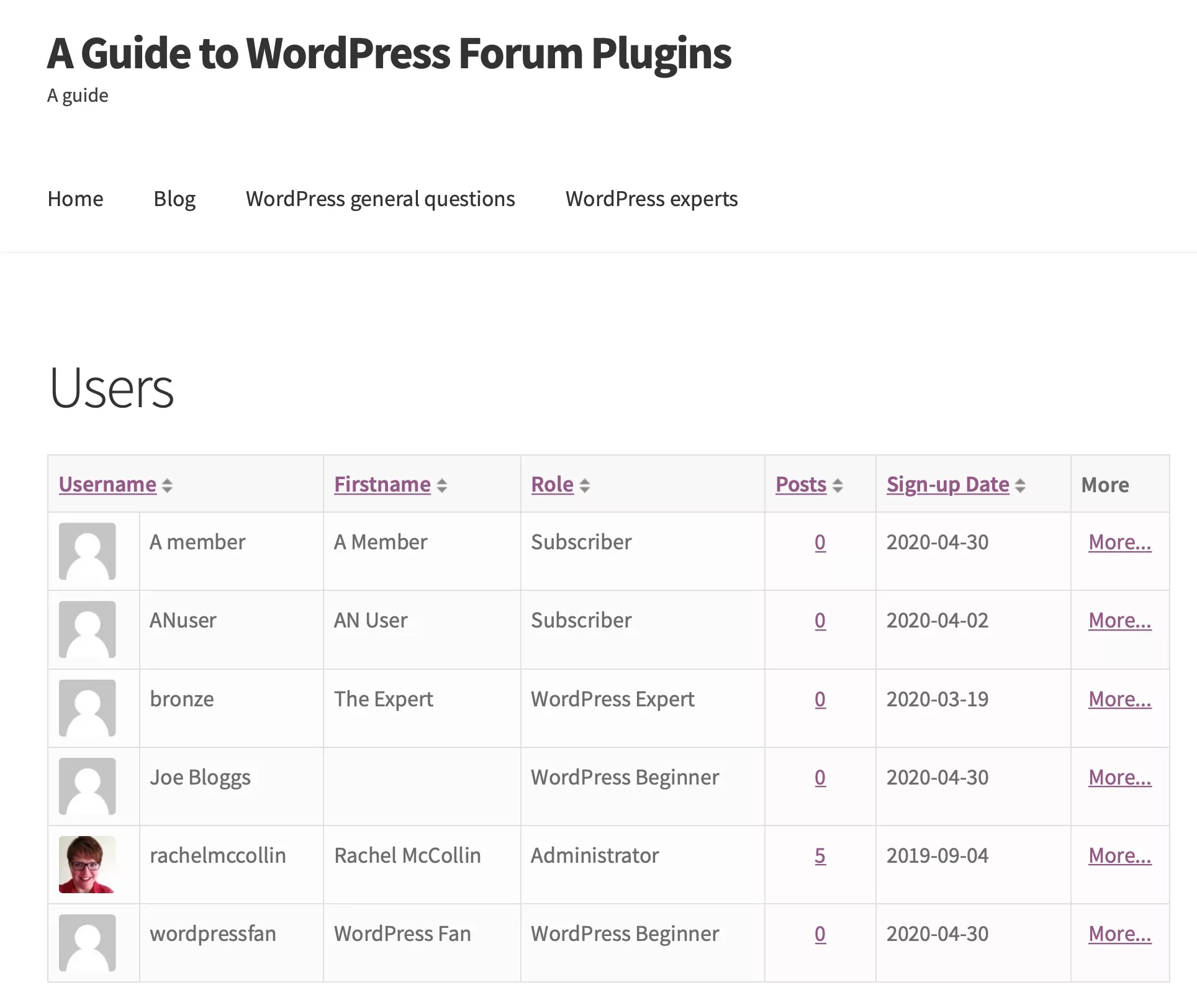 Summary
Adding a forum to your WordPress site lets you engage with your audience and creates a vibrant community of people who want to discuss a topic. Using a forum plugin like bbPress will let you do this.
But bbPress doesn't have all the features you need to run a professional membership site with your forum. The Paid Member Subscriptions and Profile Builder Pro plugins let you create subscription plans, offer a member directory, and restrict access to your forums. 
If you combine both Paid Member Subscriptions and Profile Builder Pro with a WordPress forum plugin like bbPress, you'll find you can create a professional and fully-featured forum website.

Paid Member Subscriptions Pro
Accept (recurring) payments, create subscription plans and restrict content on your website. Easily setup a WordPress membership site using Paid Member Subscriptions.
Get Paid Member Subscriptions