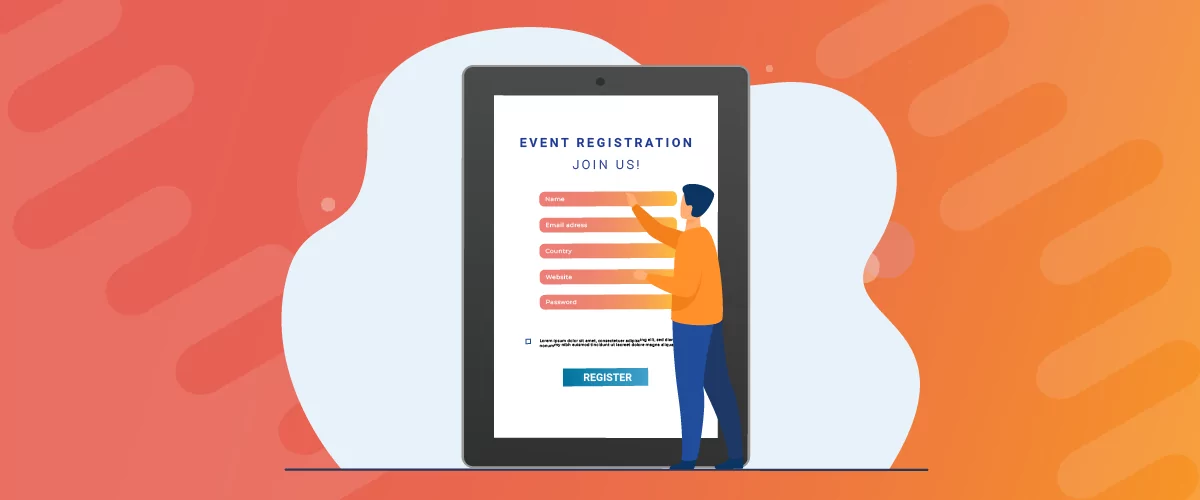 Are you looking for an easy way to set up event registration on your WordPress site?
WordPress is a powerful CMS that offers tons of functionality out of the box. However, it doesn't let you set up event registration or restrict content for specific user roles. For obvious reasons, this is not ideal for event organizers.
If you organize events, you want to offer easy registration so that as many people sign up for your events as possible. And in this tutorial, we'll show you exactly that.
So let's talk about how you can set up event registration in WordPress using the Profile Builder Pro plugin and its add-ons.
The Need to Use an Event Registration System in WordPress
WordPress lets you create and customize user registration forms. However, they're not suited for setting up event registration or offering prospective attendees an easy way to sign up for your next event.
The solution is to use an event registration system.
This gives you an easy way to set up and manage event registrations from a central platform. You can create custom event registration forms that would help people register for your event while also allowing you to collect the data you need from them.
Having a solid event registration process in WordPress also ensures that you don't have to worry about collecting payments and keeping track of ticket sales. This helps you focus on promoting your event rather than worrying about the technical side of things.
Additionally, you want to be able to personalize your event website according to your branding and requirements. This is possible with the flexibility and robustness that WordPress offers.
On the flip side, if you create an event website using a SaaS platform like Eventbrite, the entire event registration experience will be plain and generic. This doesn't help you put out a good first impression and can negatively impact conversions.
Types of Events that Could Use WordPress Event Registration
Let's take a look at some different types of events you can set up using a robust event registration system:
Online events. Online events are a great way to gather a huge audience for a special event or to showcase your content. For instance, you can host an online webinar where you demonstrate how to use a new product and answer people's questions.
Conferences. If your business hosts frequent conferences to promote content or discuss topics in detail, you can use an event registration system to let your audience and staff members register easily from your event website.
Camps. Hosting camps is a great way to help your audience learn something new or improve their lifestyle. For instance, you can organize a 7-day "Yoga Retreat" or you can also host a "Cook-off Camp" that helps young chefs and cooking enthusiasts show off their skills.
Workshops. You can create workshops for your audience to enhance their knowledge around a certain topic or for teaching detailed topics that require you to go more in-depth.
How to Set Up Event Registration in WordPress
Here, we'll show you how you can set up event registration in WordPress using the Profile Builder plugin. Firstly, we'll talk about what you can do for free for a basic setup. After that, we'll go into more specific features, using the pro version of the plugin.
Profile Builder Pro lets you easily set up event registration by creating custom registration forms and personalizing them. Then you can easily display these forms using shortcodes, creating attractive-looking event registration pages. This gives you full control over how your registration forms look and feel on your website.
In addition, the plugin lets you create custom login, edit profile, and password reset forms for the front-end of your site as well. And it also comes with advanced user modules that help extend the functionality of the event registration system even more. But we'll touch on this later on.
So, let's get started with the tutorial!
Step #1: Get the Profile Builder Plugin
If you're only looking for a simple custom registration form for your site, that can work as an event registration form, you can safely use the free version of Profile Builder, available for download at WordPress.org. Alternatively, you can also simply search for "profile builder" in the plugins area of your WordPress dashboard (Plugins → Add New). Next, install and activate the plugin.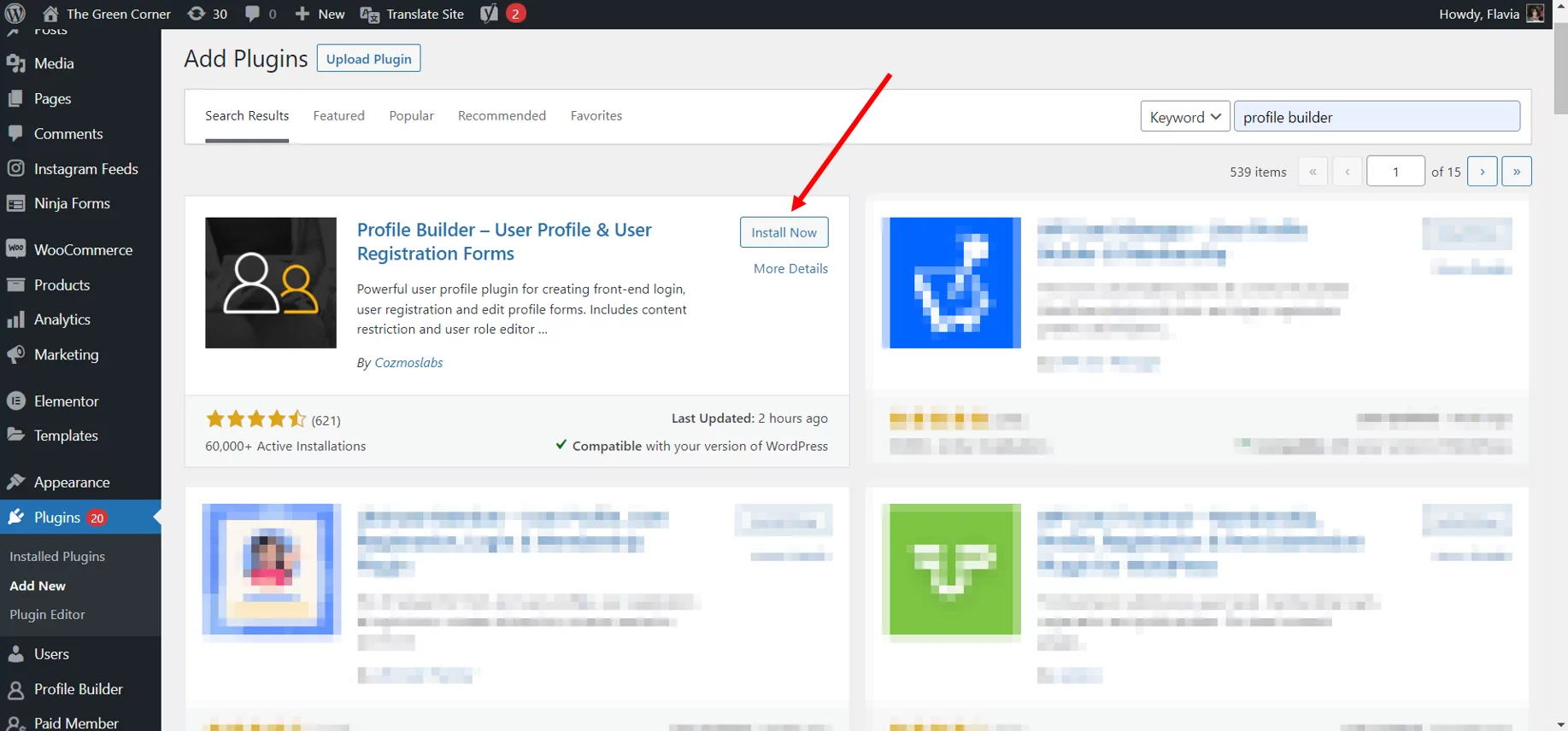 But if you want to take advantage of the full Profile Builder Pro experience and its add-ons, you can purchase a license here.
Now, using the download link sent to you at the time of purchase, or by accessing your account page, download the plugin's .zip file.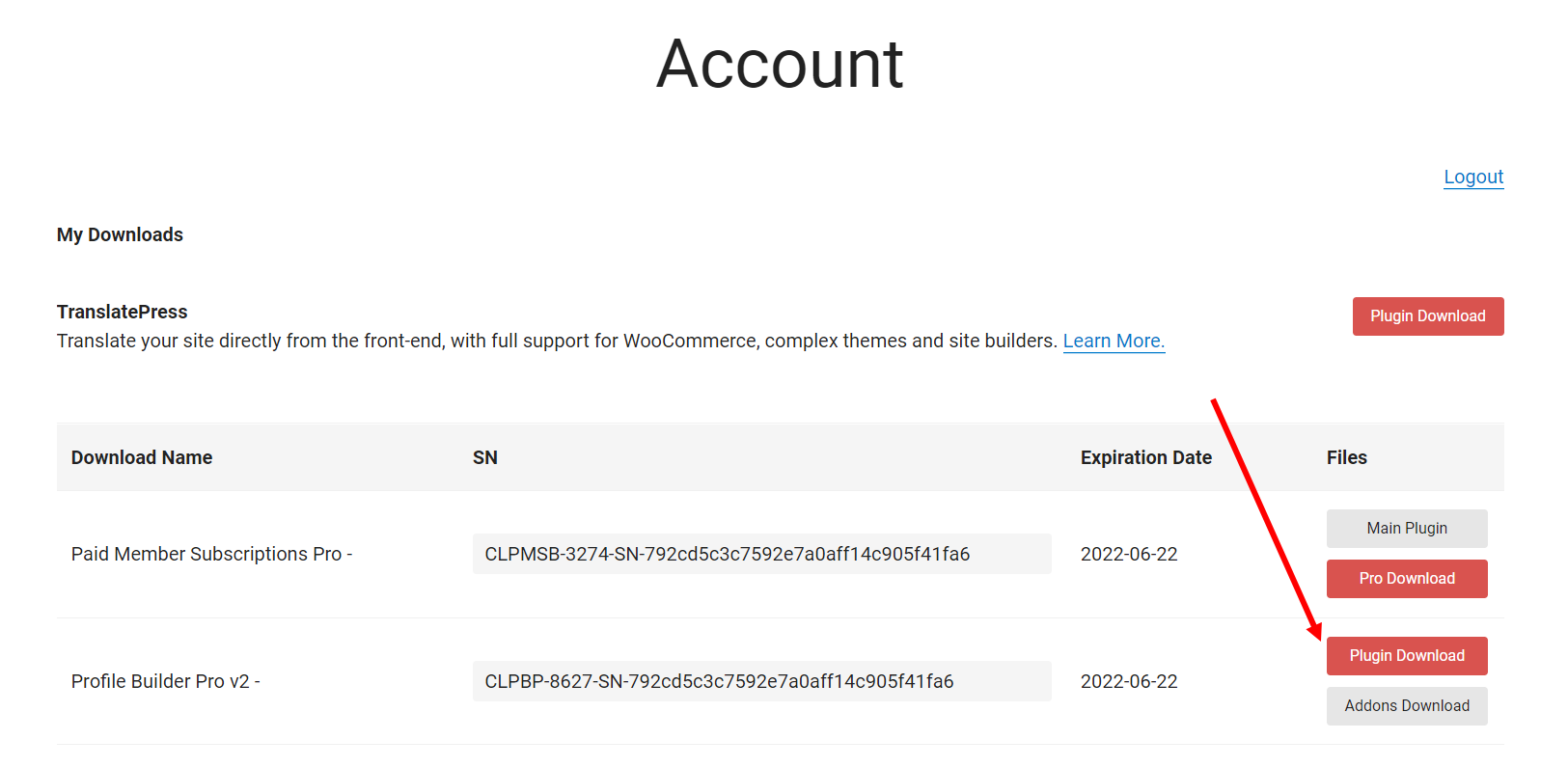 Then, navigate to Plugins → Add New, click the Upload Plugin button and drag the .zip file into the Upload meta box and click on the Install Plugin button. Make sure to activate the plugin after it's done installing.
Step #2: Customize Form Fields
Next, you can start customizing the form fields for your event registration form. To do this, navigate to Profile Builder → Form Fields from the WordPress admin panel.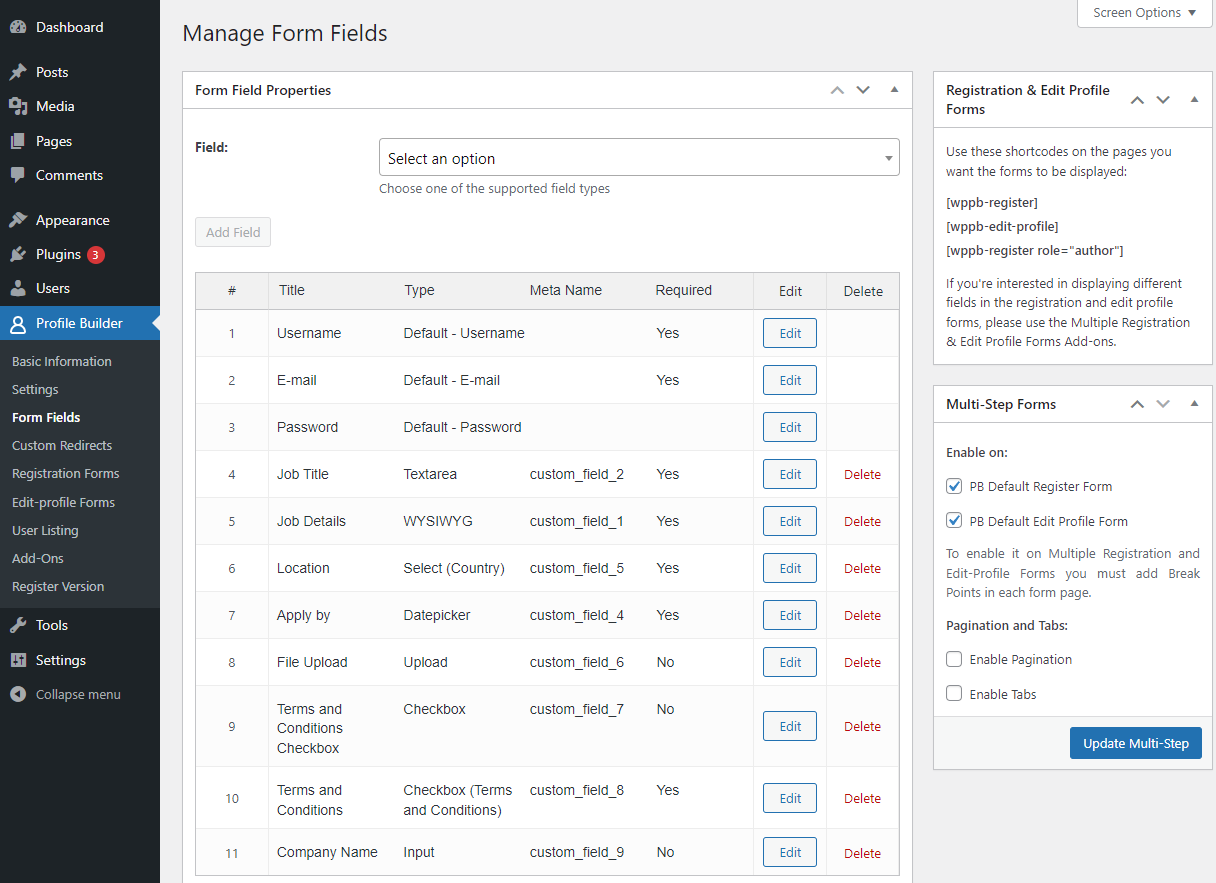 Here, you'll see a list of the default WordPress form fields and custom ones added by Profile Builder. Using the Select an option dropdown menu, you can select the field you want to add to your form.
The username, password, and email fields are mandatory and cannot be deleted, but you can add lots of other relevant fields depending on what information you need from your attendees. You could ask for their age, profession, website, and so on.
When you add a new custom field, you're going to need to choose a Field Title, Meta-name, and set whether it's a Required field or not using the dropdown menu. Depending on the field type you're editing, you might need to fill in different types of information.
Once you're ready, click on the Add Field button. Repeat this step to add as many custom fields as you need for your event registration form.
Step #3: Create a New Event Registration Form and Page
Now, with custom form fields added to your WordPress site, you can create your event registration page.
Using the Free Version of Profile Builder
When using the free version of the plugin you can only create one registration form that will include all of the fields you've chosen in the previous step.
All you have to do to create your brand new event registration page is copy the [wppb-register] shortcode on a blank page. This will display your custom registration form on the front-end of that page.
You can give the page an appropriate name, such as "Event Registration" and, in the end, it should look something like this: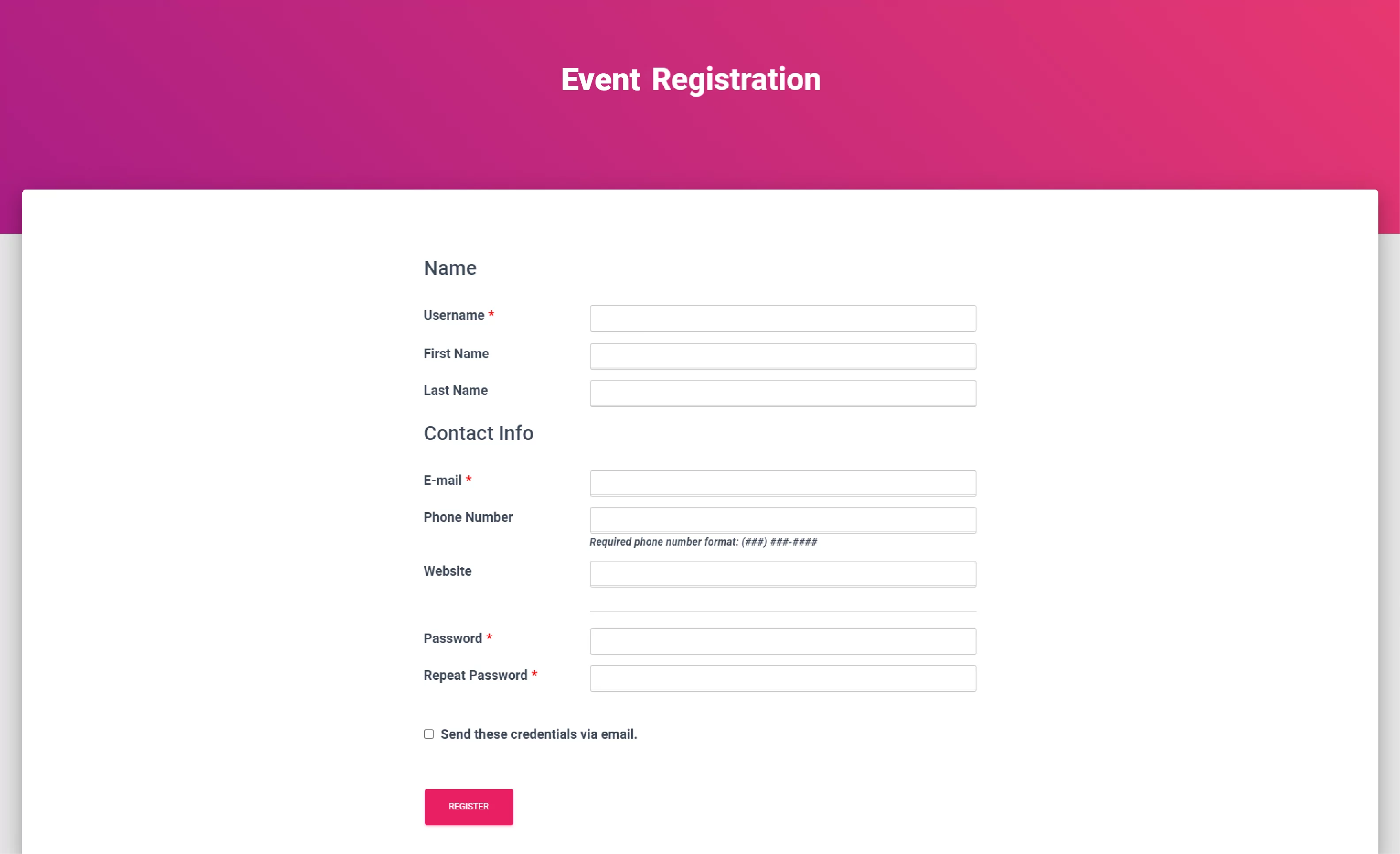 Using Profile Builder Pro
Now if you're working with the premium version, there are a few more customization options available to you.
First of all, if you already have a registration form on your WordPress site, you can create the event registration as a new one, using the Multiple Registration Forms add-on. First, go to Profile Builder → Add-ons and enable the add-on by clicking the Activate button to its right.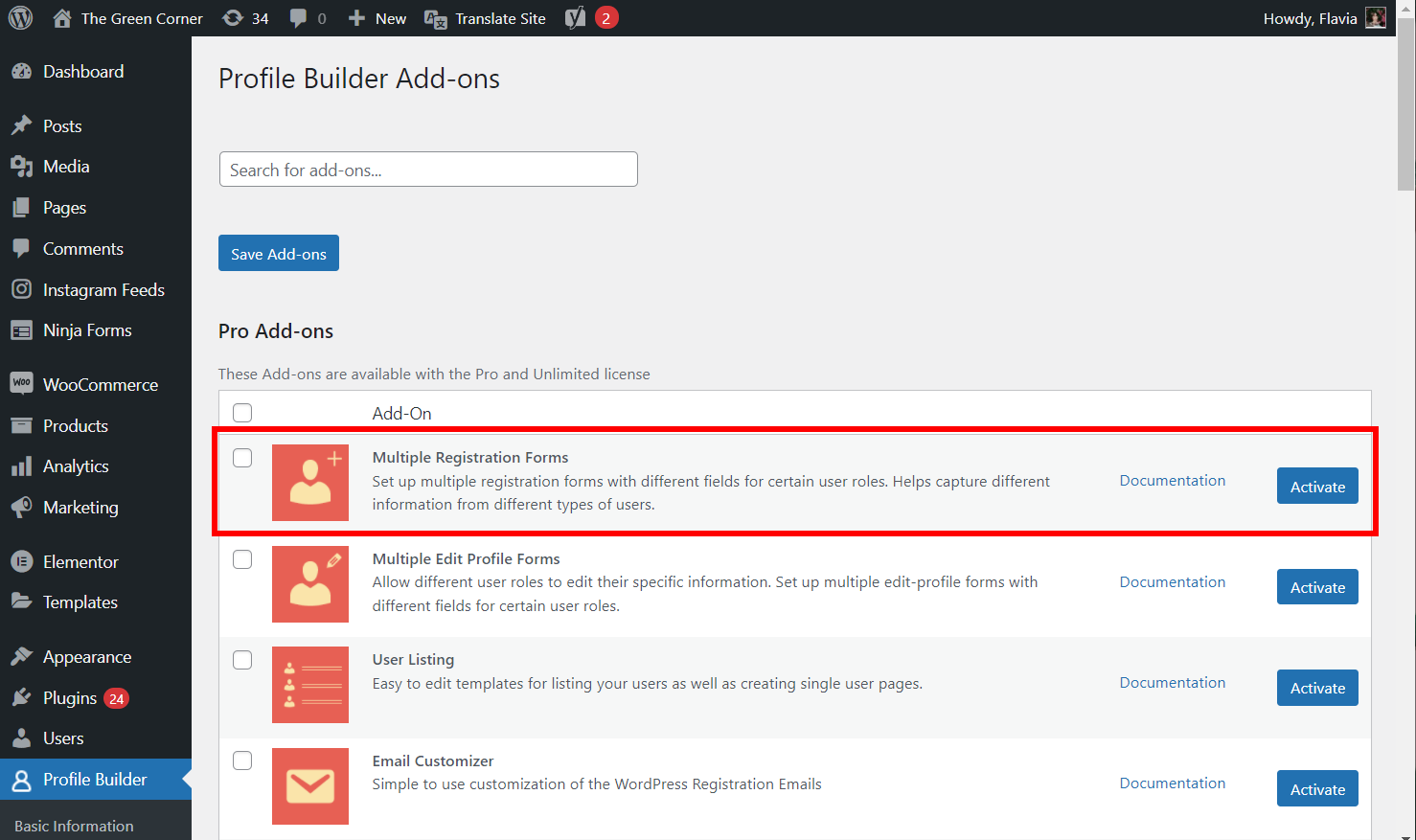 Next, navigate to Profile Builder → Registration Forms and click on the Add New button. Here you'll be able to create a new registration form, separate from the one you might be using to let your users sign up for your website.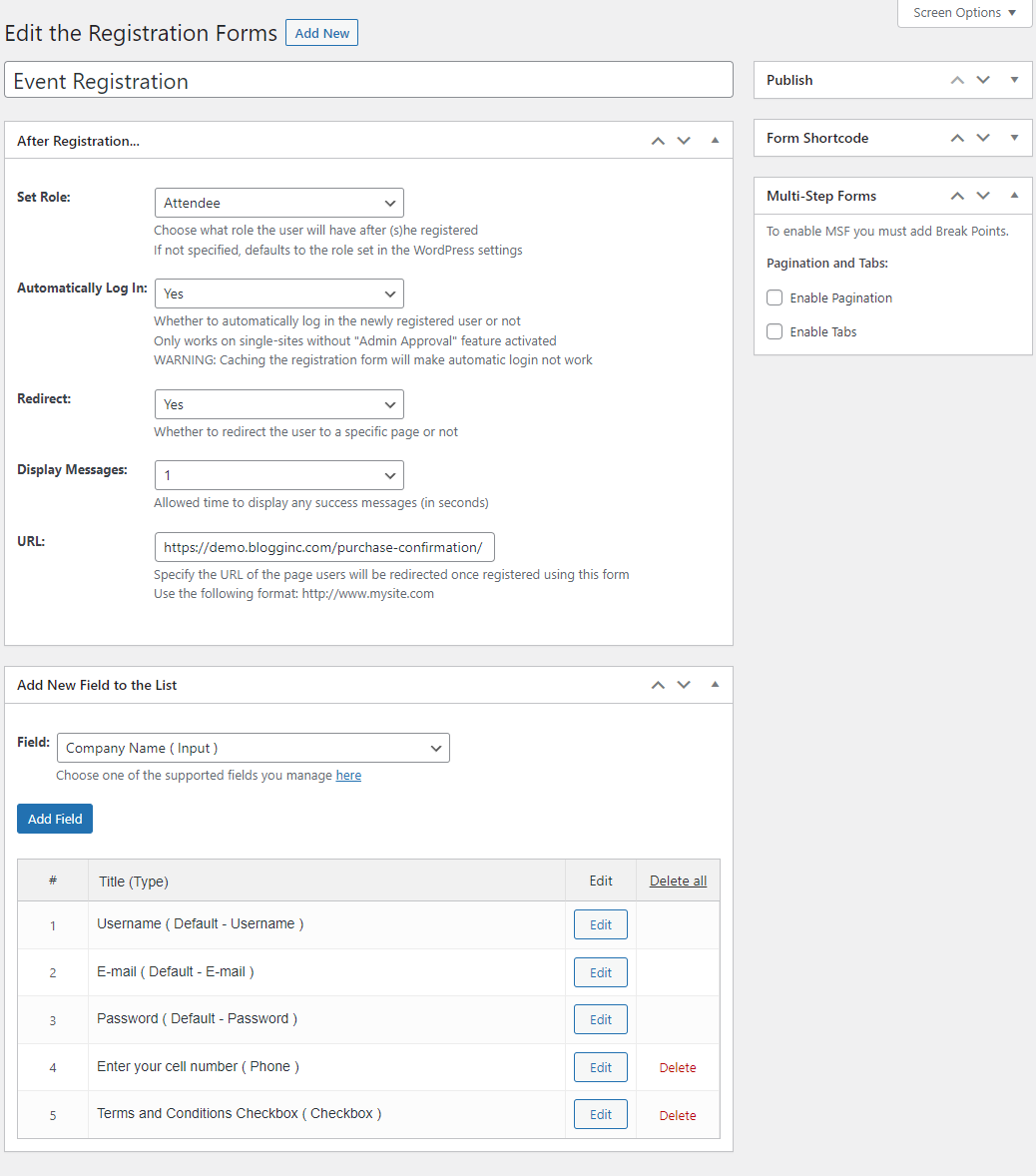 Give your new event registration form an appropriate title and select the user role you want to assign when users register for your event using the Set Role dropdown menu. You can also select whether to log in users automatically after they register using the dropdown menu below.
Additionally, you can also choose to redirect users after they complete the registration form. Select Yes using the dropdown menu and enter the URL of the page using the text field next to URL. For instance, you can redirect users to a thank you page or registration confirmation page. This helps them feel more valued and confirms that they have successfully registered for your event.
Next, using the Add New Field to the List meta box, select the desired fields and click on the Add Field button to add custom fields to your event registration form.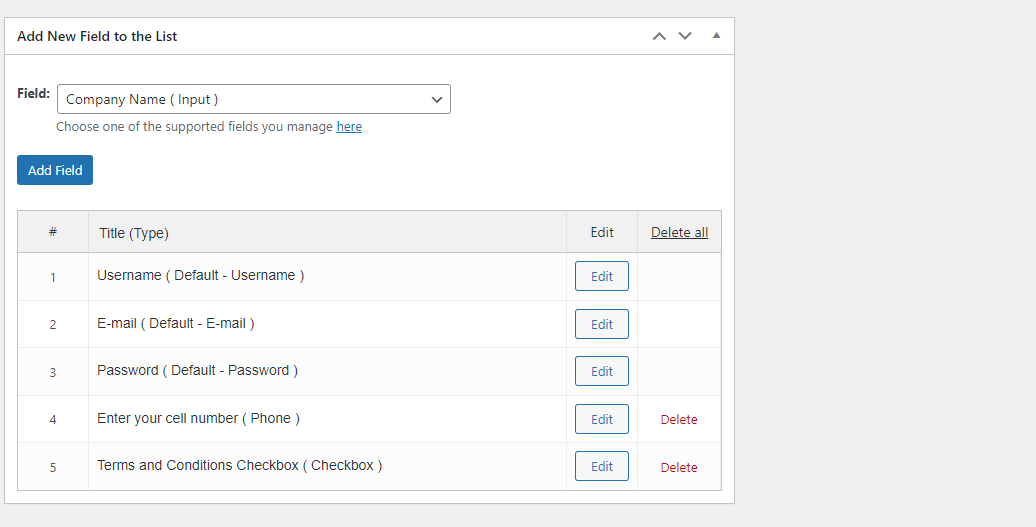 You can drag-and-drop form fields as desired to rearrange them and click on the Edit button to quickly edit form field information. Similarly, you can also delete default fields and add your custom-created ones only. Once you're done, click on the Publish button at the top right of the page.
Now, copy the shortcode under the Form Shortcode meta box. Create a new page with a descriptive title (you can add other relevant information if you want), and paste it to this new event registration page.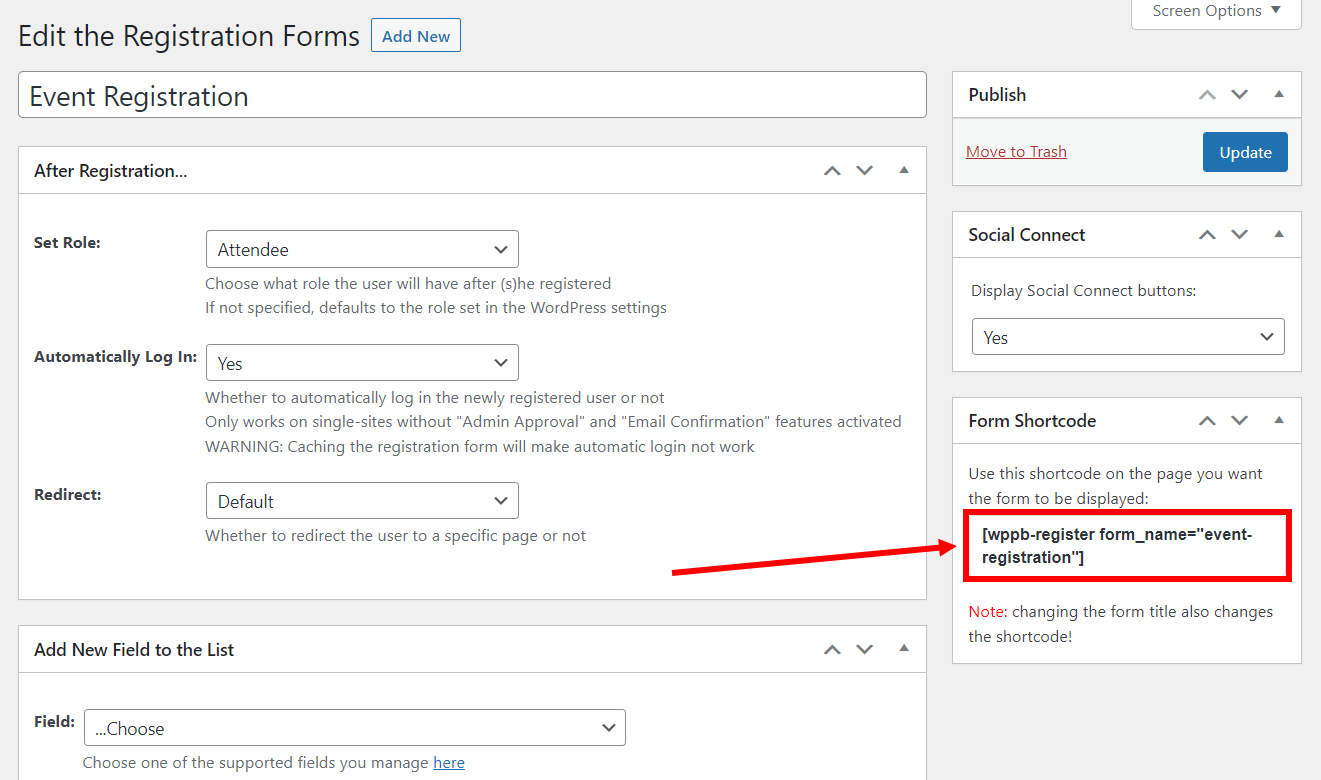 Step #4: Enhance the Event Registration Experience
Profile Builder Pro, out of the box, comes with lots of advanced add-ons that help enhance the event registration experience even further.
Let's take a look at a few of them and how they can upgrade your event registration process:
Email Customizer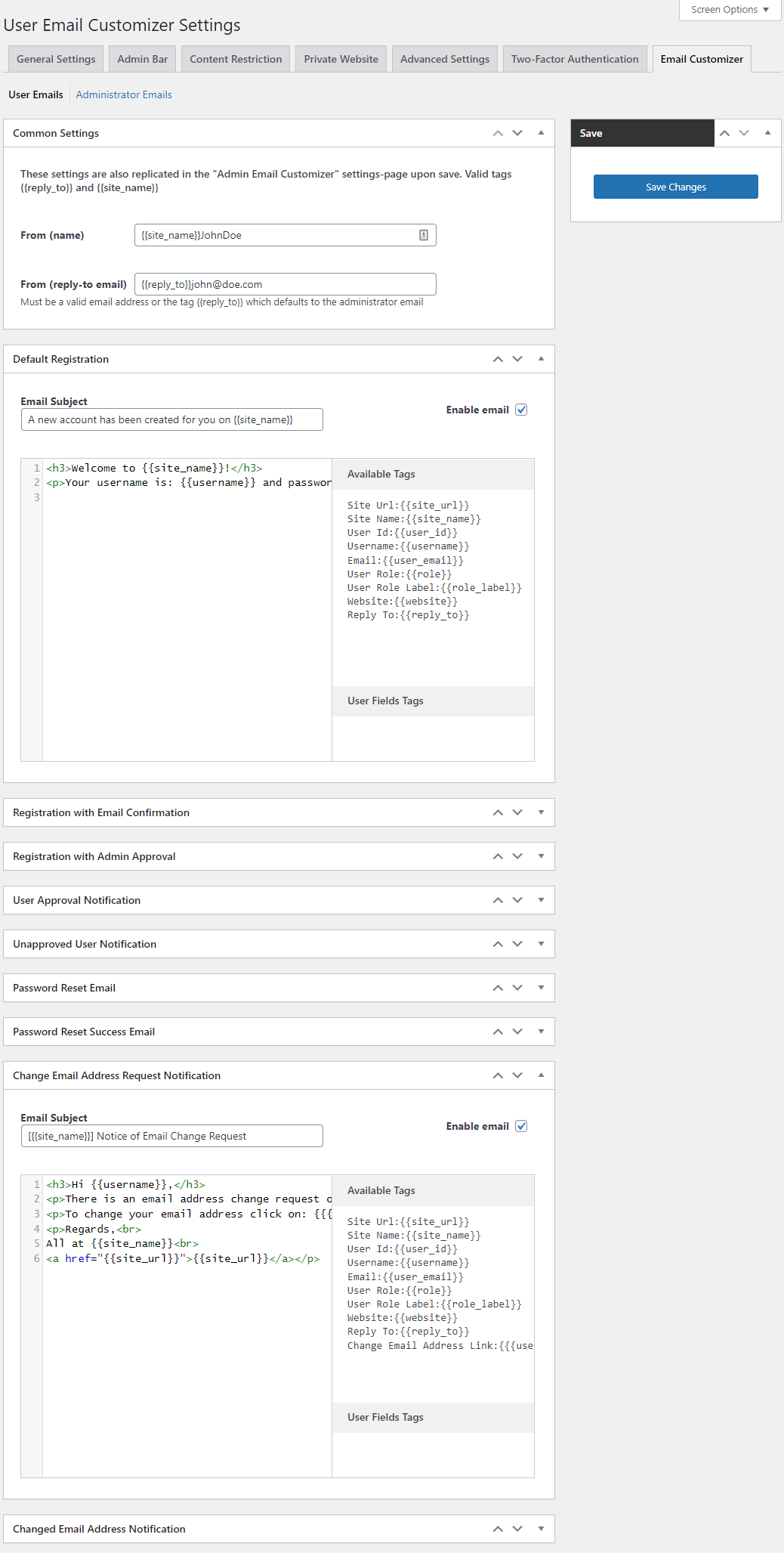 The Email Customizer add-on lets you personalize all emails that are sent by Profile Builder Pro from your website to your attendees.
Using this add-on you can fully customize your participants' registration experience. Thus, rather than sending them generic confirmation emails, you can send them emails that are personalized to the event you're hosting.
Multiple Registration Forms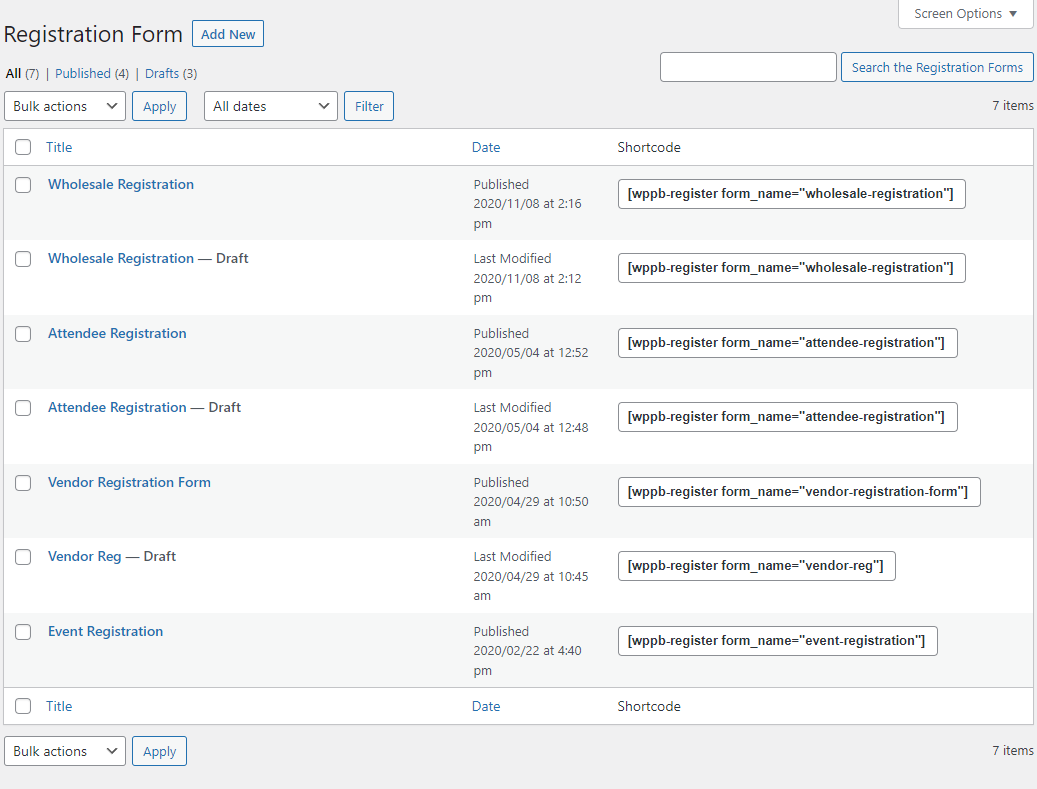 I've already touched on the Multiple Registration Forms add-on in a previous section, but let me give some more insight.
Not only can you create multiple registration forms on your site, but you can also create multiple event registration forms for attendees on your event website.
This way, you can capture different information based on the event users are registering for and assign them different user roles. For instance, you can create two registration forms when hosting a workshop event; "Teacher registration" and "Student registration". Or maybe you're hosting a conference and you need separate registration forms for speakers, vendors, and conference participants.
This will make it easier for all types of attendees to register for your event.
Front-End User Listing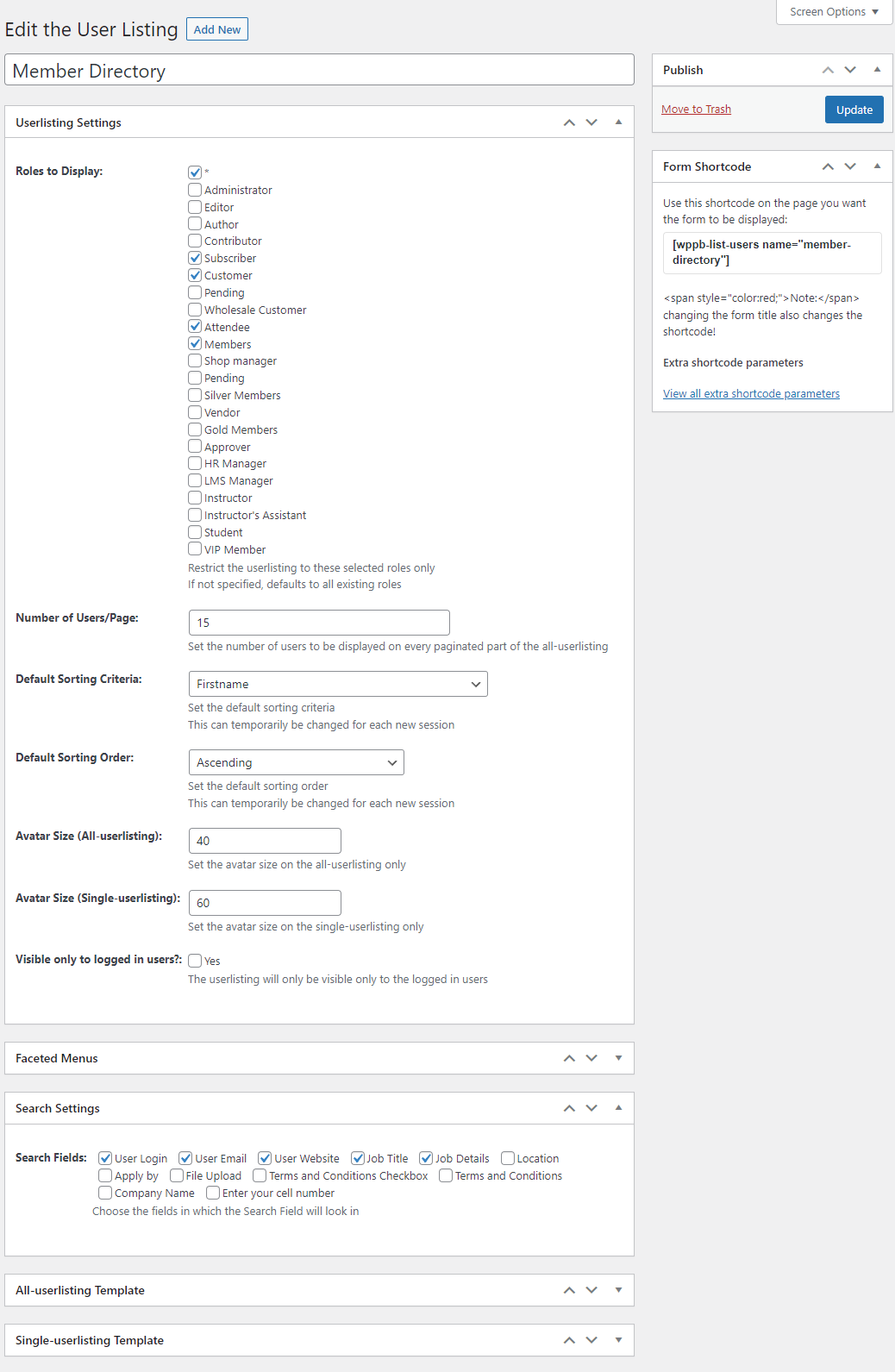 Profile Builder Pro's User Listing add-on lets you easily create lists of registered users on your WordPress site. You can use this to display a list of registrants on the front-end to encourage more attendee registrations.
Or, you could display a list of all of the teachers attending your workshop or speakers presenting at your conference, for example.
Multi-Step Forms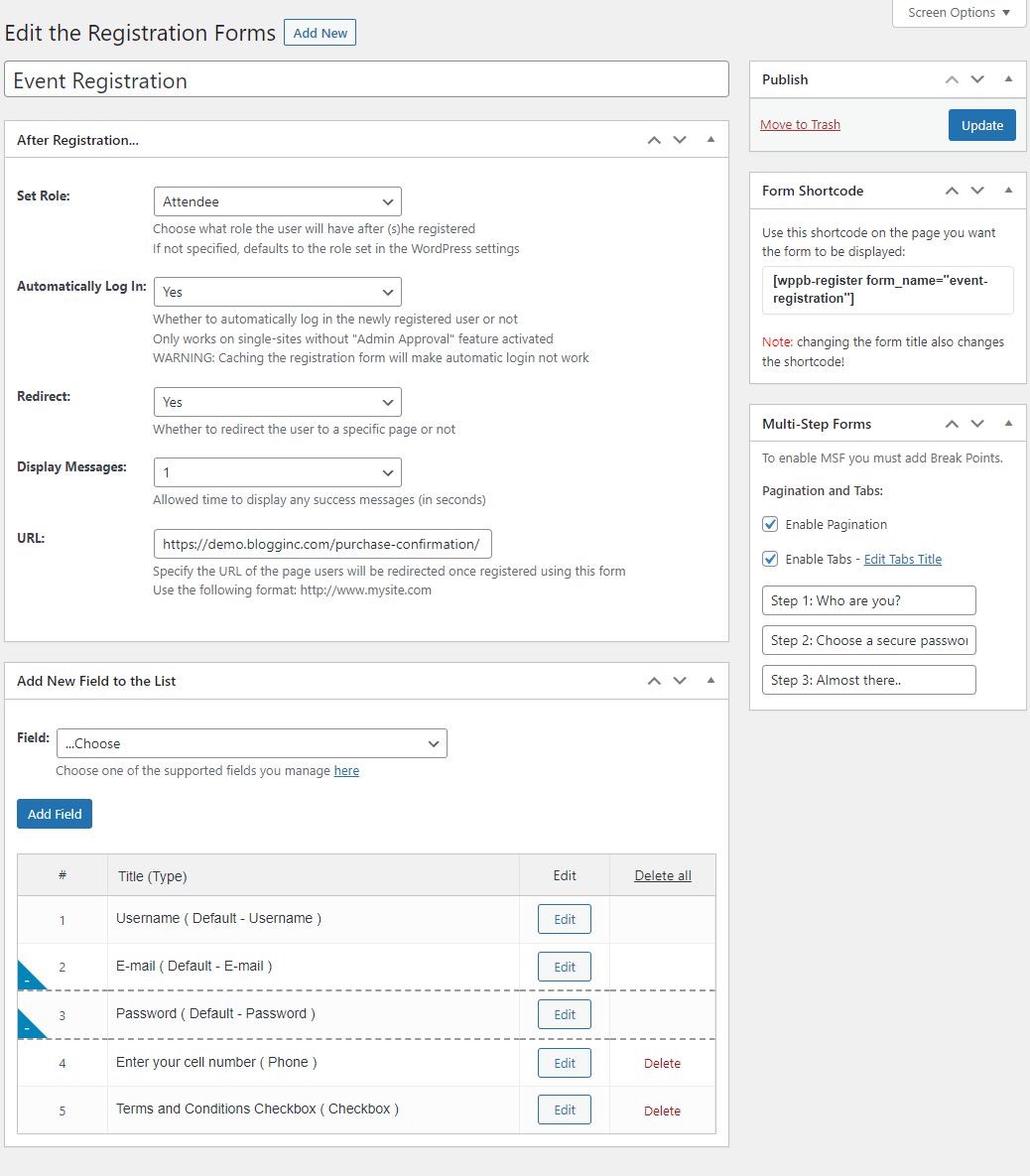 Profile Builder Pro also offers a Multi-Step Forms premium add-on. This lets you create a multi-step form that may include two or three different forms on the same page. This offers a more seamless registration experience while also allowing you to gather detailed information from the user when they register.
In order to display a multi-step event registration form on the front-end of your WordPress site, simply paste the shortcode on the page you'd like to display the registration form, just like I've shown you before.
Site visitors can fill in the form and click on the Next button to view the next set of custom fields: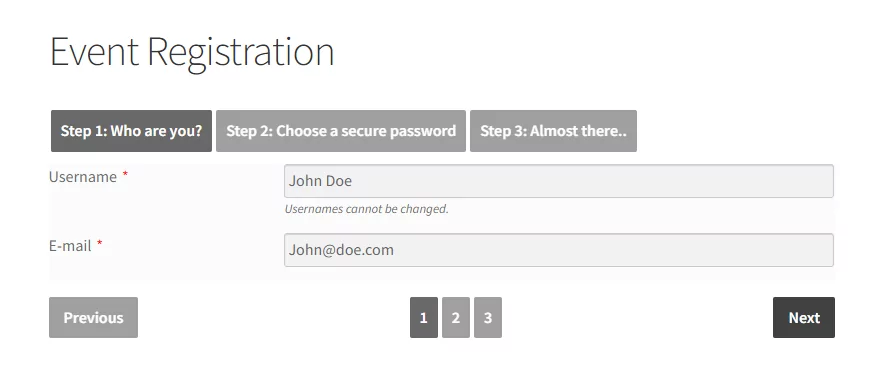 Set Up Event Registration in WordPress Today
Setting up event registration in WordPress can be difficult, especially if you don't have the right event management system. This is why Profile Builder Pro is a great option for event organizers and business owners who want a "one-off" solution to creating and managing events.
Additionally, Profile Builder Pro comes with a lot of other user management features outside of event registration. Some of these robust features include:
Ready to quickly set up event registration in WordPress? Get Profile Builder Pro today!

Profile Builder Pro
The best even registration plugin for your WordPress site.
Get Profile Builder
Do you still have questions on how to set up event registration in WordPress? Ask them in the comments section below!