Thinking about offering WooCommerce social login with Facebook and Google (or maybe even more) for your website's users? It's true that there are a lot of options available out there for you, so let us present you the top 5 WooCommerce social login plugins to help you choose your favorite.
Anyone experienced with running a WooCommerce store understands how important it is to optimize the checkout and customer registration process. The longer and more tedious the process is, the lower the conversion rate gets, as many customers would just give up on the purchase. Even the statistics reveal that as many as 77% of the users prefer social login as a way to register and login on any website, be it a WooCommerce store or a membership website.
However, there's no built-in functionality in WooCommerce to allow visitors to register or log in using their social accounts. But as with pretty much everything related to WordPress and WooCommerce, there's a plugin to save the day. In this case, we're talking about social login plugins that work with social networks and WooCommerce to offer Facebook login, Google login, and more.
But you may still be wondering why using Facebook or Google to login into WooCommerce would be of any help. So, before we review the 5 best WooCommerce social login plugins, let's dive a bit deeper into the reasons for using a social login plugin for WooCommerce in the first place.
Why Use a WooCommerce Social Login Plugin
One of the most important components of running a successful WooCommerce store is to consistently refine the sale process on your store to improve conversion rate. However, one of the biggest hurdles for a faster checkout is the tedious user registration process and related login issues.
But what if I told you that you can put these issues to rest once and for all and ensure a completely smooth, seamless user registration and login process? Well, that's precisely what you can do when you implement social login functionality on your WooCommerce website. It would allow your users to register and log in using their social accounts like Facebook, Google, Twitter, etc.
Here's a quick look at some of the biggest benefits of doing so:
You may be losing a lot of customers during the checkout process as they might be hesitant to go through the often lengthy registration process. This can be easily avoided if they could register with one of their favorite social media platforms in just a few clicks;
Most users already have way too many login credentials to remember. Adding another set of credentials for them to try and not forget—this time for your site—might be off-putting for some users;
It could help with customer retention, since this way the login process is way easier and quicker;
When the sign-up process is easy, more users sign up and successfully complete the checkout process. This would result in increased conversion rates on your WooCommerce store;
Your users would have an increased level of security and also tend to trust your store more, as they would be able to associate large social networks to your WooCommerce site in some way.
Since WooCommerce doesn't support social login functionality by default, you'll need a plugin to add social login to your WooCommerce website.
What You Need From a WooCommerce Social Login Plugin
The most important thing you'll need when looking to choose a WooCommerce social login plugin for your site is the possibility to use at least the main social platforms for login. So, with that in mind, let's quickly list down the most popular social networks you would want the plugin to support:
Facebook
Google
Twitter
LinkedIn
Most users are going to use either Facebook or Google, that's why we will put special emphasis on these two social networks. But all of the plugins listed below do offer social login for other social platforms as well.
With that said, let's review the 5 best social login plugins for WooCommerce.
Best 5 WooCommerce Social Login Plugins
1. Profile Builder Pro

The reason Profile Builder Pro is one of the best social login plugins to use for WooCommerce Facebook or Google login is simply because it's capable of doing much more than just implementing social login functionality on your store. But we'll get back to that in a bit.
Now coming back to the social login functionality for WooCommerce, when using Profile Builder you'll need to install the Social Connect Pro add-on, available with the Hobbyist and Pro licenses of the plugin. You can download it from your account page here on Cozmoslabs.com after purchasing the plugin.
Once you have downloaded the Social Connect add-on, you'll need to install it by uploading it to your WordPress dashboard. Just click on the Add New option under the Plugins menu, then the Upload Plugin button at the top, and the Browse button to upload the downloaded Social Connect add-on.

Then click on the Install Now button, and once installed, hit the Activate button. That's it. Now the social login functionality has been added to your WooCommerce website.
You will now find the Social Connect option under the Profile Builder menu item in your WordPress dashboard. You can click on it to set up the social login functionality on your WooCommerce website.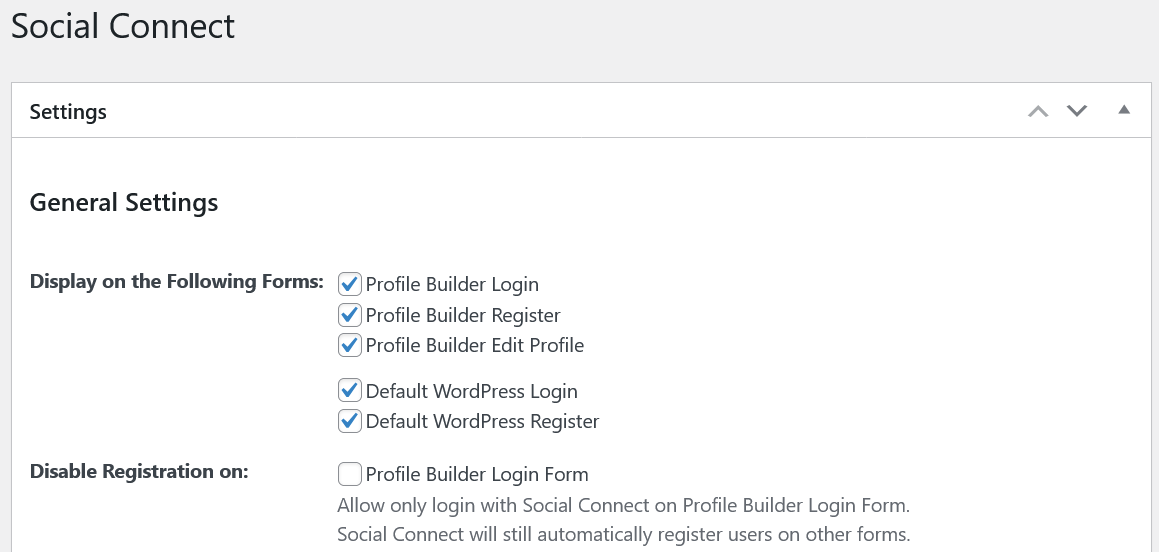 Here are some of the things you will be able to do here:
Choose the pages where the social login options are displayed;
Customize the order in which these different social login buttons are displayed on the login/register form;
Decide the location on the page where these options are displayed;
Choose between large and small social login buttons;
Customize the text, style, and other elements for these buttons;
Allow or prevent the ability for users to unlink their social profiles from their account on your WooCommerce site.

Profile Builder Pro
Easily set up social login on your WooCommerce store with user-friendly settings, step-by-step documentation, and all kinds of customizations.
Get the plugin
After you've chosen you preferred social platforms to use, you'll need to retrieve the API IDs from each social network you want to set up as a login option on your WooCommerce site. So, for instance, for WooCommerce login with Facebook, you will need to create a Facebook App ID.
However, if you choose to go with this plugin and need a bit of guidance, detailed documentation for how to generate each social network's IDs are available to you on the add-on's settings page: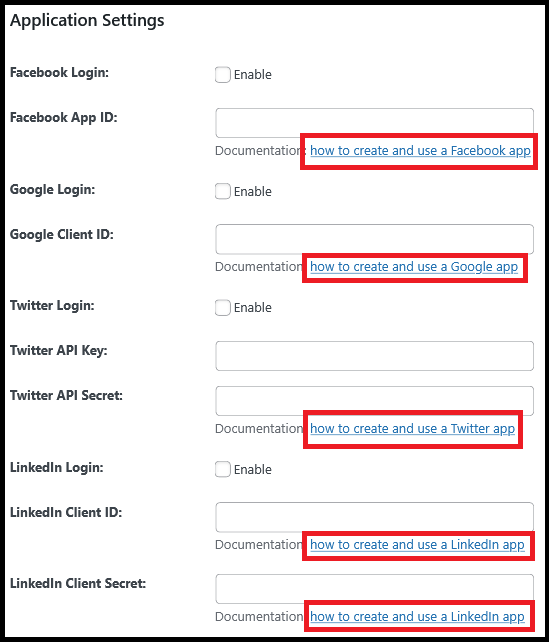 You will be able to set up and manage all aspects of the social login functionality on your WooCommerce website right from this one single page. The ease of use offered by Profile Builder here is unparalleled and this is what gives it the edge over other social login plugins for WooCommerce.
As far as costs go, the premium version of Profile Builder (which includes the Social Connect add-on) starts at around  €69 ($78) per year.
Profile Builder Extra Functionalities
However, as I said in the beginning, Profile Builder includes a huge range of user management features in addition to the social login functionality for WooCommerce. It comes as a complete user management plugin and would go a long way in helping you implement a wide range of user-related functionalities on your WooCommerce website.
Here's a quick look at some of its highlighting features other than being an excellent option for WooCommerce Facebook and Google login:
2. Nextend Social Login

Nextend Social Login is another good WordPress plugin that allows your visitors to register and log in using their social accounts for free. However, to use social login with Facebook, Google, Twitter and others in WooCommerce, you'll need a paid license.
The plugin also gives you the option to redirect the users to a custom URL after they log in or register using their social account.
Here's a quick look at its most important features:
Supports social login on WooCommerce with Facebook, Google, Twitter, LinkedIn, Yahoo and more;
WooCommerce integration available only with the pro version;
Ability to redirect users to a specific URL after registration or login with a social account;
A fair bit of customization for the settings, style, and design of the social login buttons;
Restrict specific user roles from using the social login functionality.
Just as a note, all of these features are also available with Profile Builder Pro in the other areas of its user management settings.
While there is a free version of this plugin, this doesn't include the WooCommerce integration and it only supports login with Facebook, Google, and Twitter. If you need the social login functionality on a WooCommerce store, you'll need to purchase at least their Standard license, which is priced at €46 ($53) and is available to use on one site.
3. WooCommerce Social Login

WooCommerce Social Login is a social plugin available directly on the WooCommerce website. It's primarily designed for only one purpose – allowing potential customers to register and log in using their social accounts so that they can have a faster checkout experience.
This would lead to an increase in the conversion rate and sales. This plugin also supports some other networks and services in addition to social networks. The list includes:
Facebook
Google
Twitter
LinkedIn
Amazon
Yahoo
VK
PayPal
If you have many users who may want to use their account on some of these other networks for social login, then using this plugin may make sense. In addition, an interesting feature this plugin offers is the ability to monitor the number of accounts registered on your WooCommerce store using different social networks.
Just like Profile Builder Pro, WooCommerce Social Login also allows users to unlink their social accounts from your store whenever they want.
The WooCommerce Social Login plugin is priced at $79 and billed annually.
4. WP Social

If you're after a plugin that helps you add an element of social media touch to your store while also offering social login, then WP Social may be a good fit for you.
The big plus of this plugin is that in addition to supporting a long list of social networks, it also offers social share and social counter functionalities, all available for WooCommerce too.
The social share functionality allows users to share posts, pages, and products on their social media accounts. You can implement this social share functionality for your product pages so that users who like your products can share it on their social accounts and drive more sales to them through referral traffic.
Similarly, the social counter functionality allows you to display the number of social followers or subscribers you have. If your store has a large social following, it may make sense to use it as social proof to increase trust among potential customers. This can also help drive up the conversion rate.
So, to recap all the available features, here's what this plugin has to offer:
Support for the main social platforms and additional ones (Dribble, GitHub, Vkontakte, and Reddit);
Social share functionality to share posts, pages and products on social media;
Social counter functionality to display social following;
Customization options for all of the available functionalities (only with the paid versions).
WP Social is a very good option if you're on a budget and don't need a lot of customization, since it does include most of the functionalities in it's free version. However, if you need to create a more customized and professional-looking experience for your clients, including customizing the icons, login/registration forms, or using design templates, you'll need to purchase a pro version, which starts at $26/year (for use on one site only).
5. AccessPress Social Login

AccessPress Social Login is a simple social login plugin that works with WooCommerce if you choose its pro version. The plugin doesn't offer a lot in terms of customizations, but you can choose from 30 different premade templates that go well with the overall theme and design of your store. It also offers support for 12 social networks with its paid license—including LinkedIn, Instagram, Foursquare, Yahoo, Reddit, and more.
You can use a specific shortcode to display the social buttons anywhere on the page, as well as arrange the order of the social buttons.
It supports the 3 most popular social networks in its free version: Facebook, Google, and Twitter. You would be able to disable one or two of these 3 social networks, depending on which ones you want to support on your store. However, as mentioned above, you would need to purchase the pro version as the free version doesn't work with WooCommerce.
AccessPress Social Login's main features are:
Support for 12 social platforms;
30 premade responsive templates for social buttons;
Option to use a shortcode anywhere in the post/page to display social login.
The best thing about this plugin is the price point, which is the lowest on this list. The plugin usually costs $20 with 6-month support, but they do run a 50% holiday discount at the moment.
Enable WooCommerce Facebook and Google Login Today
It's easy to see how enabling the social login functionality on your WooCommerce store can go a long way in increasing conversion rate and customer retention. However, choosing Profile Builder Pro for the task would also allow you to set up and manage other aspects of user management.
It would help you have full control over every area of your website, improve user experience, and drive more sales and subscriptions. All on top of offering social login to your visitors.

Profile Builder Pro
Easily set up social login on your WooCommerce store with user-friendly settings, step-by-step documentation, and all kinds of customizations.
Get the plugin
Do you still have questions on how to enable WooCommerce login with Facebook and Google? Don't hesitate to tell us in the comment section below!
Subscribe to get early access
to new plugins, discounts and brief updates about what's new with Cozmoslabs!