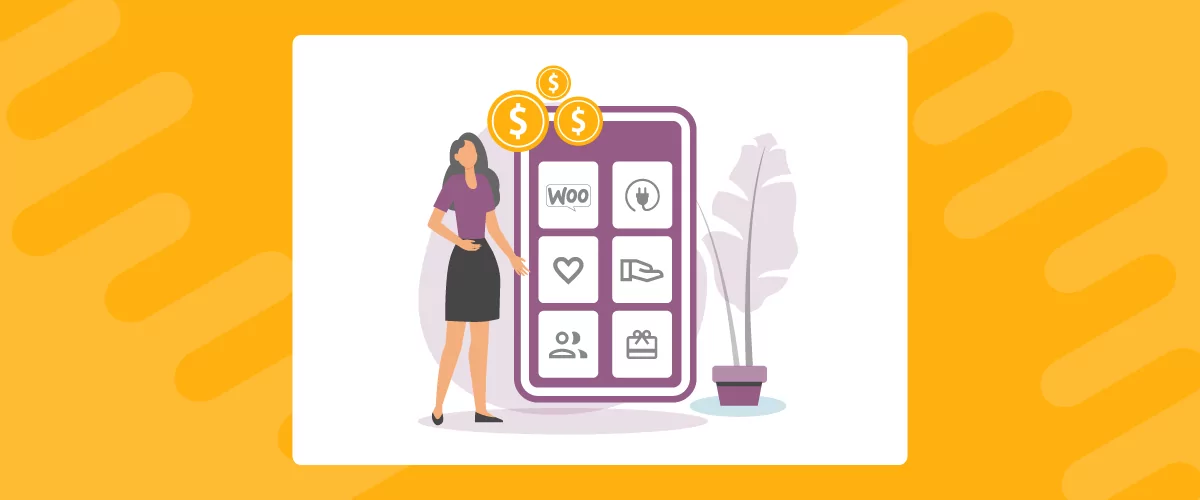 Looking for the best WooCommerce donation plugin to accept donations on your store? You have landed at the right place.
WordPress and WooCommerce are extremely flexible in that they offer a plugin for adding pretty much any functionality to your site or store without having to touch the code. Just like there are WooCommerce Amazon affiliate plugins, there are donation plugins too.
But first, let us take a look at some of the important reasons WooCommerce store owners would want to use a WooCommerce donation plugin before we review the best options.
Reasons You Should Use a WooCommerce Donation Plugin
A WooCommerce donation plugin is designed to help you set up a system that lets you accept donations easily. There can be many different reasons WooCommerce store owners would want to use a donation plugin on their site.
Promoting a Cause
Some WooCommerce store owners selling a certain category of products may want to promote some causes they are associated with. A donation plugin would let them do this alongside selling their products.
In fact, you could also promote causes related to your niche or industry. It would not only help contribute to the cause, but also add to your store or brand's reputation.
Offering Free Services
If you own a WooCommerce store and offer a service that you may not or cannot charge for, you can let your audience decide its worth. This is a good strategy and even gives you a lot of insight into the quality of your service and the kind of value your target audience attach to it.
Pricing Strategy
Some store owners also use a donation plugin as a part of their pricing strategy. If you're launching a product in a market that's not very well explored, it may be hard to come up with a solid pricing strategy.
However, you can use a donation plugin and let your users decide the pricing. You can tell them to pay whatever they think is a fair value for your product.
With a decent sample size, you will get enough data to price your product in a range that is widely accepted by your market.
Public Welfare Service
There are also some websites that are designed for public welfare activities. For example, when COVID was at its peak, we saw many websites coming up that used to keep visitors up to date with all the important COVID statistics and information.
Similarly, there are also business directories, free tools, and other websites that rely on donations to sustain themselves. They would all need a donation plugin to receive donations from their users from time to time.
Selling Products as a Part of a Donation Campaign

A good WooCommerce donation plugin would also allow you to offer your visitors the option to purchase the product for some less fortunate people who cannot afford it themselves. This is especially true if you're selling essential products like clothes or food items.
These are just some specific reasons some WooCommerce store owners may want to use a donation plugin on their site. You may have your own reason too.
Best WooCommerce Donation Plugins
Whatever the reason, a good WooCommerce donation is going to set up an entire donation system on your site, integrated with payment options. So with that said, let us review some of the best WooCommerce donation plugins out there based on different important criteria.
Donation for WooCommerce
Donation for WooCommerce is one of the most complete WooCommerce donation plugins. It comes with all kinds of features and functionalities and allows you to make a good range of customizations as well.
You can easily collect donations from all over the world. You can set up recurring donation campaigns as well.

Similarly, you can set up multiple levels of donations. This means that different users can choose from different donation types based on their donation amount or preferences.
You have a lot of flexibility as far as donation amounts are concerned. You can set a minimum as well as a maximum donation amount. Just in the same way, you can also choose to set a fixed or variable amount.
Now, this plugin also allows you to display the donation option anywhere on your site. Be it a product page, the cart page, or even the checkout page. You can display the donation option anywhere you want.
In addition, you can also create a donation widget that you can put on the sidebar or other areas of your website.
Also, if you want, this plugin will create and display a donation progress bar on your site. Your visitors will be able to see the amount of money raised as well as what's still remaining to raise your desired donation fund.
Finally, it also comes with a "currency switcher" functionality. If your site receives visitors from across the world, they will be able to donate in their local currency too.
Donation for WooCommerce is priced at $99 and billed annually.
YITH Donations for WooCommerce
YITH Donations for WooCommerce is another popular WooCommerce donation plugin. It comes with a long list of features too.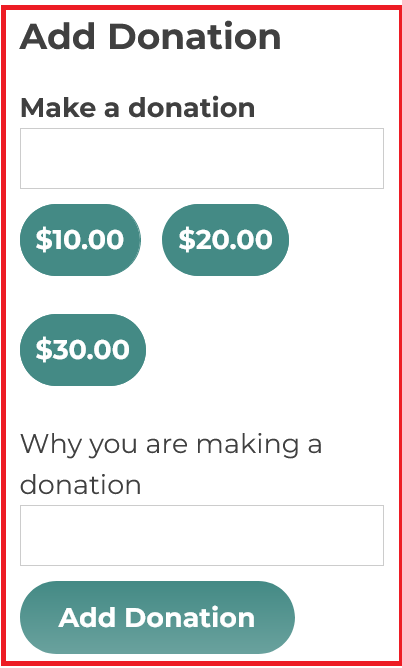 Here are some of its highlighting features:
Ability to set a minimum and maximum donation amount;
Add the donation box to your product page or the cart page;
Supports different payment options;
Allows displaying preset donation amounts while also letting the users choose their own custom amount;
Change the design and style of the donation button, text, and other elements;
Using the donation form shortcode you can display it anywhere you want on your site;
Ability to display the donation box on just a single product page too;
Show your donation campaign progress and the amount raised;
Customize the email to include the donation details and send it to your subscribers.
In addition, this plugin also allows you to make a donation mandatory on one or more of your product pages.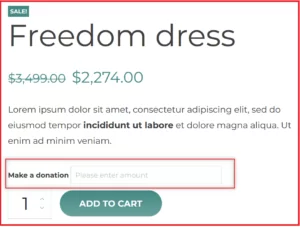 You would also be able to filter out your orders with donations from the rest of your orders.
The YITH Donations for WooCommerce is priced at $79.99 and comes with a year of support and updates. There's even a 30-day money-back guarantee.
WooCommerce Donation Plugin
If you're after a simpler and cheaper option, WooCommerce Donation Plugin may fit the bill for you. It doesn't have many of the advanced functionalities you get with the above plugins, but it has the basic features to get the job done and a much lower price point.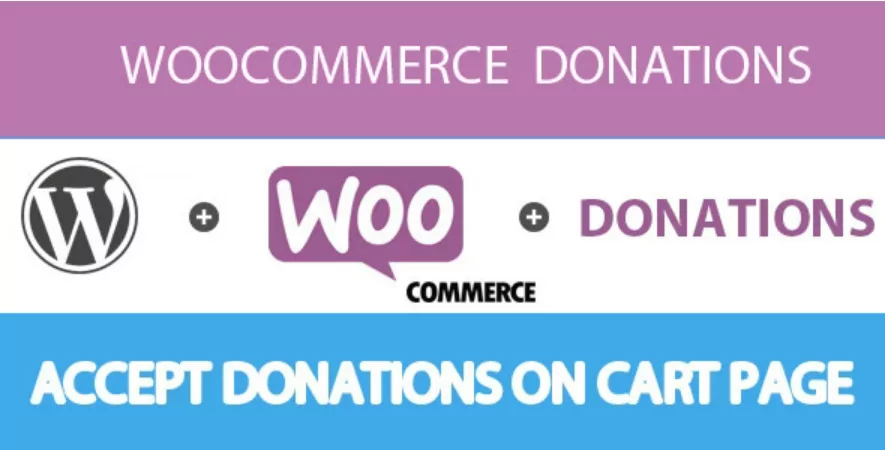 You can create a donation campaign as a WooCommerce product or display the donation option on the cart.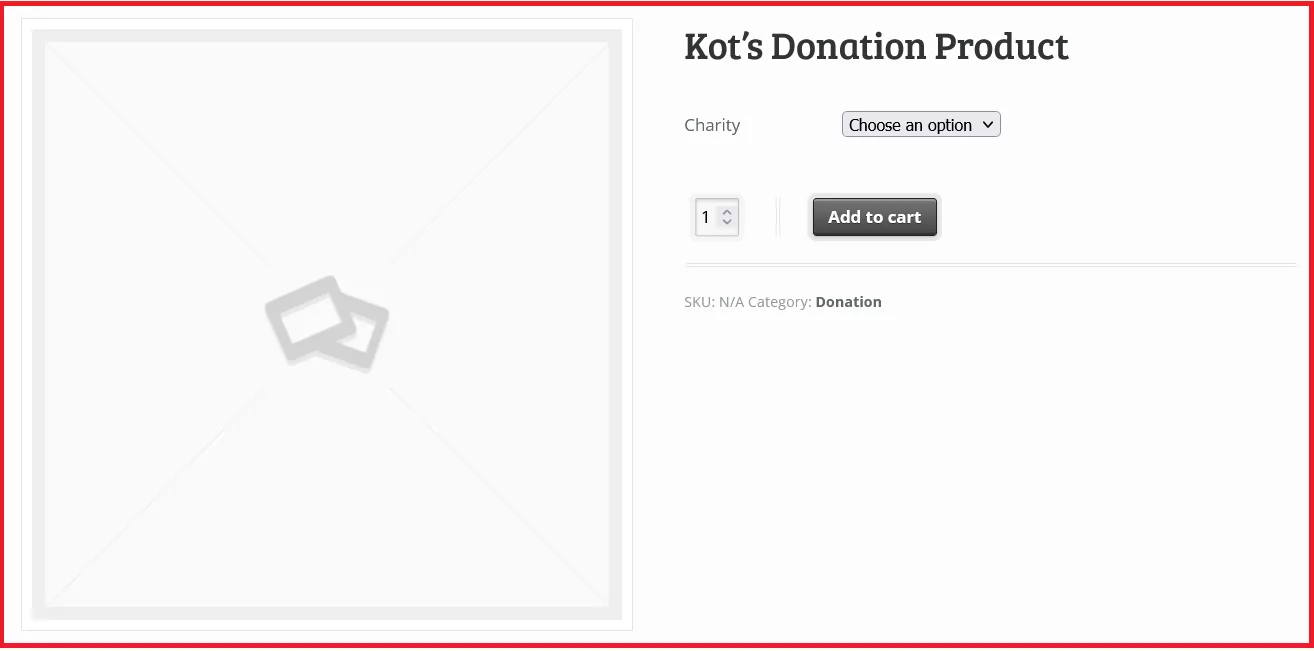 If a visitor goes straight to the checkout page after choosing a different product you're selling, you can also display the donation option there. You can also choose to only accept a fixed amount or let the customer decide a custom donation amount.
The plugin integrates well with different template designs. It also provides detailed reports on your donation campaigns.
It only costs $19 and comes with future updates but only 6 months of support from the developer.
WooCommerce Free Donation Plugins
However useful and functional, all the above options are paid WooCommerce donation plugins. But if you do not need many advanced features or are just looking for something for a single donation campaign, then you can also consider going for a free WooCommerce donation plugin.
Woo Donations
Woo Donations is a free WooCommerce donation plugin that offers all the basic features you need to run simple donation campaigns or set up donation products.
You can create a donation product with no shipping charges and tax, let users donate any amount they want, show the donation option on the cart and checkout page, and get all the other standard functionalities.
In fact, you can even customize some of the elements of the donation button and layout like the color and text. The plugin also allows you to edit the labels.
It has a pro version too, though. Some of the important pro features include:
Donation pop-up;
Show both fixed and variable donation amount options;
Put up a donation widget on your site's sidebar;
Run advanced fundraising campaigns;
A donation button shortcode;
Email template;
Other features and support.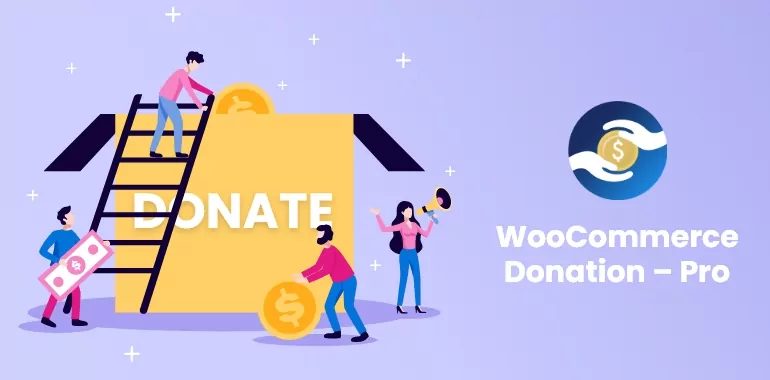 The pro version is priced at $29 and comes with lifetime validity. The free version would suffice for most simple donation campaigns though.
Paid Member Subscriptions: A More Complete WooCommerce Donation Plugin
We reviewed some of the plugins specifically designed to be a WooCommerce donation plugin. But what if you could have a plugin that's a more complete payment, subscription, and WordPress membership plugin and can still function as a WooCommerce donation plugin?
Paid Member Subscriptions is one of the most complete WordPress membership plugins. However, it also offers many other important functionalities.
Accepting donations with Paid Member Subscriptions is a simple affair. In fact, you can use it as a WooCommerce donation plugin for free, as long as you do not want to accept recurring donations and just want to use PayPal Standard as your payment gateway.
To begin, install and activate Paid Member Subscriptions from your WordPress dashboard. Once done, click on the Subscription Plans option under the Paid Member Subscriptions menu.
Click on Add New button at the top and set up a new subscription plan by referring to the documentation page we linked to here. Make sure you name the subscription plans what you want to name your donation levels.
Once you have filled out all the fields, click on the Save Subscription button on the left.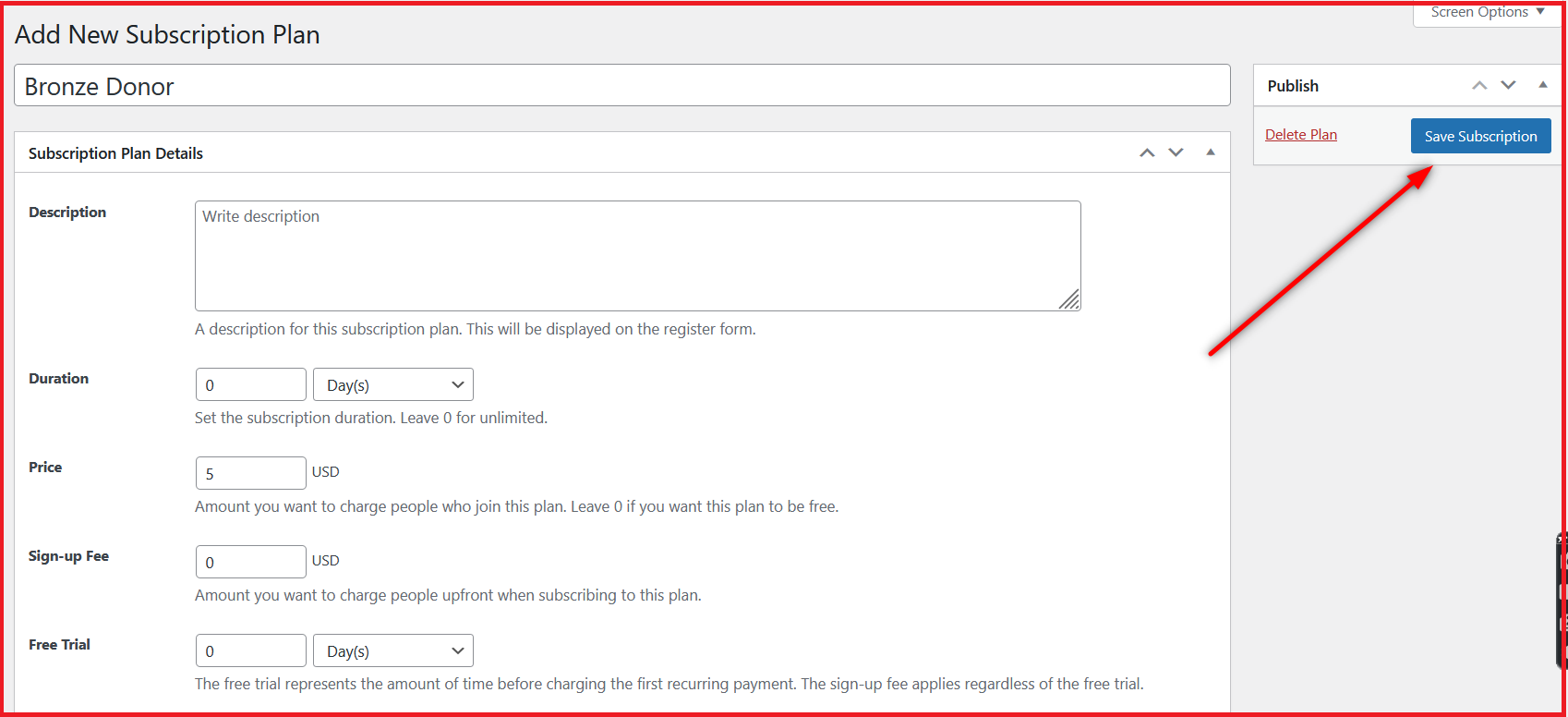 Repeat this process for as many donation levels you want to create. So, for example, if you want to offer 3 different donation levels to your users, create 3 different subscription plans. One for each of the 3 donation levels.
The free version of Paid Member Subscriptions only allows for fixed donation amounts. But if you want to offer your users the option to choose a custom donation amount, you can purchase the pro version of the plugin and install the Pay-What-You-Want add-on.
You will also be able to have both fixed and variable donation amount options then.
Paid Member Subscriptions also allows you to edit the labels from the standard "Subscribe" to anything you want related to your donation campaign. You can do this using the free Labels Edit add-on which you can download from the Misc tab under the Settings option of Paid Member Subscriptions on your WordPress dashboard.
The donation option would look something like the below, given you're using the free version and accepting only fixed amount donations: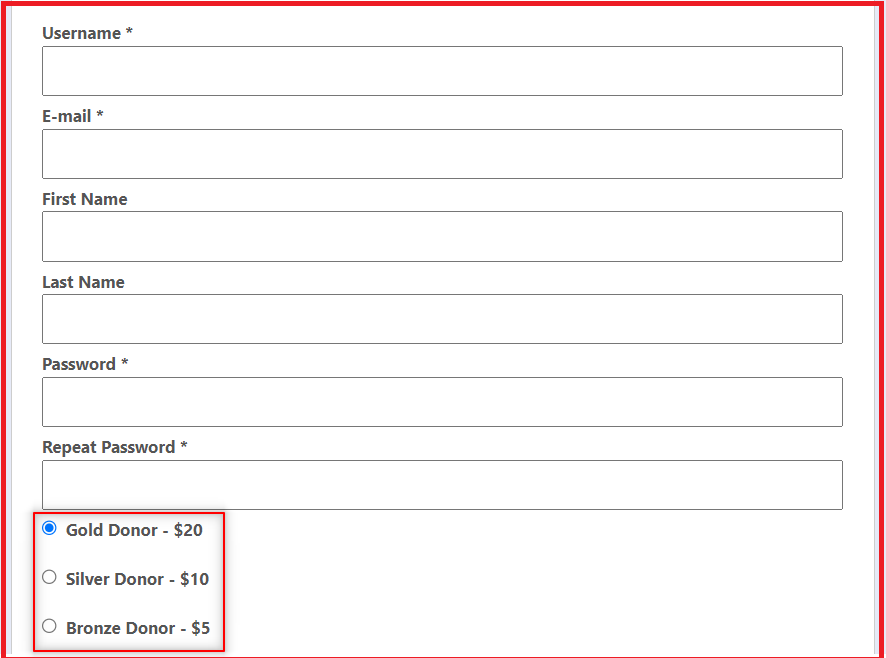 By default, your form will have the PayPal Standard payment gateway. To allow recurring donations and use other payment gateways, purchase the Paid Member Subscriptions Pro, choose your preferred payment gateway, and add new payment gateways by going to Paid Member Subscriptions → Settings → Payments tab.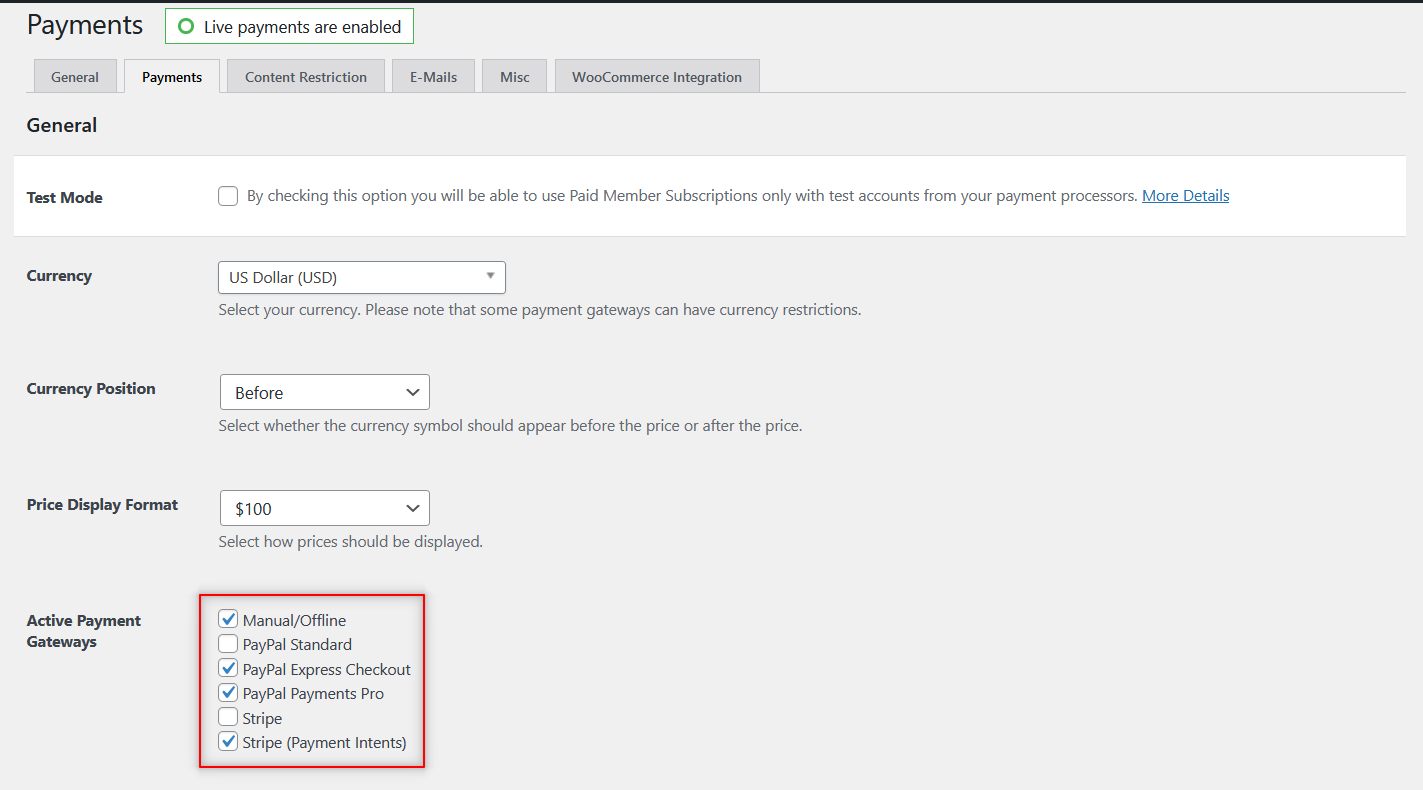 Choose the Best WooCommerce Donation Plugin for your Store
We have reviewed the best WooCommerce donation plugins out there while also recommending a more unique option that offers more than just the ability to receive donation payments. Choose the one that meets your requirements the best.
But if you don't have any specific requirements, then Paid Member Subscriptions may turn out to be the best option. It would help you with the entire payment management of your WooCommerce store and even allow you to accept paid subscribers other than accepting donations.
Moreover, it has tons of other user-related and member site functionalities as well. So click on the button below and try it out today to accept donations.

Paid Member Subscriptions Pro
Create fixed and variable amount donation options, use different payment gateways, set up recurring donation campaigns, and create an entire subscription system with PMS Pro.
Get Paid Member Subscriptions
If you have any questions about any of the plugins reviewed in this post, feel free to ask them in the comments below.