What is WCK?
WordPress Creation Kit helps you develop intuitive WordPress sites, easily manageable by your clients, in half the time and without writing a single line of PHP code.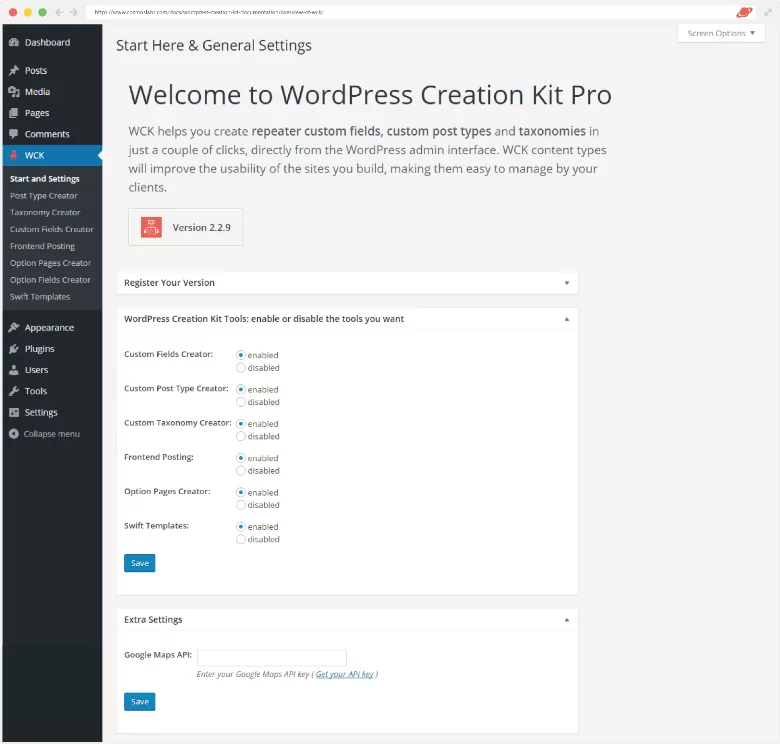 With WCK you can create Custom Fields, Custom Post Types, Custom Taxonomies, a Frontend Posting dashboard, Options Pages for Options Fields and build your front-end templates directly from the WP admin UI, in just a few clicks.
In short, WCK is a WordPress plugin that provides a simple UI for creating and maintaining extra content sections or extending existing ones.
You'll get access to:
Why use WCK when developing WordPress sites?
1. Helps you build intuitive WordPress sites, easily manageable by your clients
Clients keep bugging you each time they're updating content? Do they need hand-holding when adding new content?
You did everything in your power to stop clients asking you how to manage their content:
You sent them PDF files with short tutorials on how to use the site
Provided them with a list of shortcodes they can use
Explained via Skype how to use the WYSIWYG Editor
Created screencasts
You did all that and you still get panicked emails Friday afternoon because they forgot to close an HTML tag.
We found out a lot of clients that were excited about having their own self-powered CMS, freaked out when trying to change a piece of content or simply weren't using it at all. It still wasn't easy or intuitive enough.
Also, formatting through the WYSIWYG Editor was a pain in the butt. They'd get lost trying to create a new piece of content. And every single time this gets back to you, the developer.
WordPress Creation Kit helps you to improve the usability of the sites you build, making them manageable by your clients. On WCK powered websites, clients will be able to easily enter their content without getting confused by shortcodes, html and who knows what else, because the UI will look and feel like it's part of WordPress.
2. Save precious development time
Creating custom content types and linking them together has never been easier.
You won't need to open the code editor to define your custom fields, post types or taxonomies. WCK will help you achieve that in just a few clicks, directly from the WP admin interface.
3. No PHP coding knowledge required. Everything is done from the WP admin UI
With WCK you will be able to build complex WordPress sites with no PHP coding knowledge.
After creating your custom fields, custom post types and taxonomies, with WCK Swift Templates you will be able to create even your front-end templates, directly from the WordPress admin.
The Swift Templates module offers a straight forward UI that with a little bit of HTML and CSS allows you to:
Create archive listings for your custom post types including pages or posts
Modify the single cpt page template to include ALL your custom fields and metaboxes
Overwrite the default listing of all your single CPTs with the one defined above
Overwrite the default content with a template that gives you access to your custom fields and metaboxes
4. Works with any theme
WCK will work right out of the box with any WordPress theme.
Feel free to use any theme for the typography and styling and build your own custom functionality and content types with WCK.