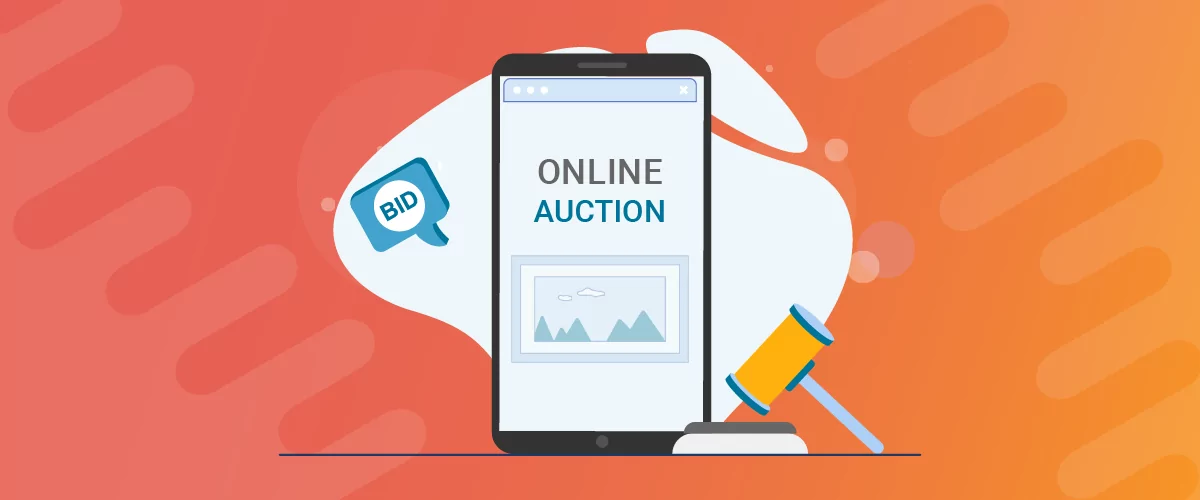 A WooCommerce auction plugin can help you run auctions on your WooCommerce store with ease. It offers all the features you need to get the most out of exclusive or in-demand products on your site.
So, let's understand some important details related to using an auction plugin before we review the 5 best WooCommerce auction plugins out there.
What Is a WooCommerce Auction Plugin?
If you're running a WooCommerce site, you probably understand that you need a lot of additional functionalities that WooCommerce doesn't offer by default. But thankfully, WordPress and WooCommerce have a massive collection of plugins that you can use for adding those functionalities without having to play around with the code.
A WooCommerce auction plugin is designed to offer one such unique functionality. In addition to selling products on your store, if you also want to auction some exclusive products, then a WooCommerce auction plugin will help you do exactly that.
The right auction plugin will also come with all the features you would need to take care of all the aspects of running auctions on your store.
Benefits of Using a WooCommerce Auction Plugin
Before we get to the more technical aspects of choosing a WooCommerce auction plugin, let's quickly take a look at some of the most important benefits it offers:
It allows you to easily auction your exclusive products or any products you want for that matter;
You don't need to make any changes to the code of your site, so it's a very beginner-friendly way of running auctions on your site;
The right auction plugin will come with a ton of features that would otherwise cost thousands of dollars to manually build into your site by hiring a developer;
Some of the best WooCommerce auction plugins also allow you to run third-party auctions, offering another opportunity to make additional revenue through commissions;
No matter the way you want to run your auctions, the right auction plugin will offer the flexibility and customizations to run exactly the type of auction you want with all your custom conditions.
With that said, let's get to some of the important factors you need to consider when choosing an auction plugin for your WooCommerce store.
Important Factors to Consider for a WooCommerce Auction Plugin
While there aren't a ton of WooCommerce auction plugins out there, they still do vary quite a bit when it comes to the overall functionality and customization options. You should do some research beforehand on the features to look for so that you can choose the right plugin for your needs.
Flexibility
You want your auction plugin to offer all the required features, but also be flexible at the same time. The most basic thing you want to ensure is that the plugin allows operating a hybrid model where you can both sell products normally and auction them on the same store.
Depending on your needs, you may also want to have the ability to run different types of auctions.
Similarly, some functionalities, like the option to choose whether you want to set a reserve for your auctions or not, would also be very useful.
Customizations
Every WooCommerce store is different, so every bit of customization you can get is useful. Ranging from the templates to the auction elements like starting price, increments, time limit, and more, the plugin should allow control over all these important factors.
Some plugins also offer the ability to schedule and extend auctions, which can be a very useful feature for stores looking to run big auctions.
Marketplace Model
Some WooCommerce auction plugins also support a marketplace model. In addition to auctioning your own products, you can also let other users auction their products too.
You can then charge them a commission on the sale price to auction their products on your store. This can turn into a nice additional revenue stream.
You would also be able to promote Amazon's products using a WooCommerce Amazon affiliate plugin on the same store. A flexible auction plugin won't interfere with either your own products or other products you promote as an affiliate.
Advanced Functionalities
Some auction plugins also come with a few advanced functionalities that can truly transform your store's auction process. One important advanced feature to look for is the anti-sniping functionality.
Some users may try to "snipe" an auction by putting in a last-second bid, not allowing other participating users to counter their bid. An anti-sniping functionality would simply extend the auction time by a preset short time period like a few minutes to avoid this kind of unfair auction bidding.
Here are some other important advanced features that are necessary to create a smooth, complete auction experience:
The ability to send email and SMS notifications for important auction developments like when a user is outbid;
Set a Buy Now price that would immediately end the auction;
Different shortcodes or widgets that allow you to display the auctions in different areas of your store to promote them.
Best WooCommerce Auction Plugins
Now that we have a good understanding of what an ideal WooCommerce auction plugin would bring to the table for your store, let's review the 5 best options you can choose from.
1. Auctions for WooCommerce
Auctions for WooCommerce is the most complete WooCommerce auction plugin. It comes with pretty much all the useful features you will ever need.
You also have some advanced features that can add a lot in terms of custom functionalities to your site.
It allows you to sell products just like a normal WooCommerce store alongside auctioning certain products. It offers as many as four different types of auctions – normal, reverse, silent, and proxy.
Let's take a quick look at what these different types of auctions actually mean.
Normal: Pretty much how you know online auctions, where the highest bidder wins and you can control certain important factors like the bid increments, time limit, and more;
Reverse: Useful when you're inviting bids for a project from service providers and contractors where the bidders need to bid lower and the lowest bidder wins;
Silent: This type of auction adds an element of uncertainty where the bidders are not aware of one another's bids;
Proxy: This auction type allows users to put in a maximum bid so that the plugin can automatically place bids for them at the minimum increments over new bids until their maximum bid limit is reached.
In addition, this plugin allows you to create an auction marketplace where other users can auction their products as well. You can charge them a commission on the sale amount and turn this feature into an additional revenue stream.
There are different templates to choose from, and a lot of customization options over important factors like the bid increments, time limit, and other important auction conditions.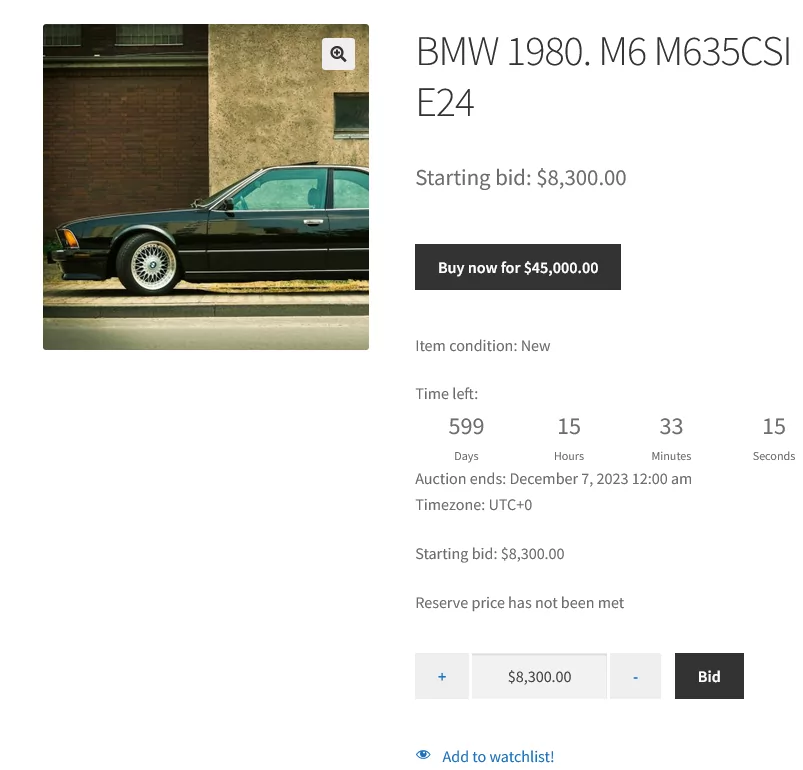 It also supports anti-sniping, so that users won't be able to put in a last-second bid to prevent counterbids. This would discourage unfair auction practices where the other participating users don't get a chance to counter a winning bid.
However, you would have the option to set a "Buy Now" price, which can be any price you want. Once a user buys the product using the "Buy Now" button, they would have to pay the price you set as the "Buy Now" price.
The auction would immediately end following a "Buy Now" purchase of the product being auctioned.
Users would also get a "My Auctions" page where they can view all their important auction information, including all the auctions they have bid on.
Users are also sent automated notifications for important developments such as when they are outbid on an auction.
On the other hand, you as the store owner also get live notifications when new bids are placed. This allows you to stay on top of the auction developments too.
Auctions for WooCommerce is priced at $149, billed annually. It comes with a year of support and updates.
2. YITH WooCommerce Auctions
YITH WooCommerce Auctions is another very well-designed WooCommerce auction plugin that allows you to create an eBay-style auction website. However, just like the above plugin, you can still sell non-auction products too on the same store.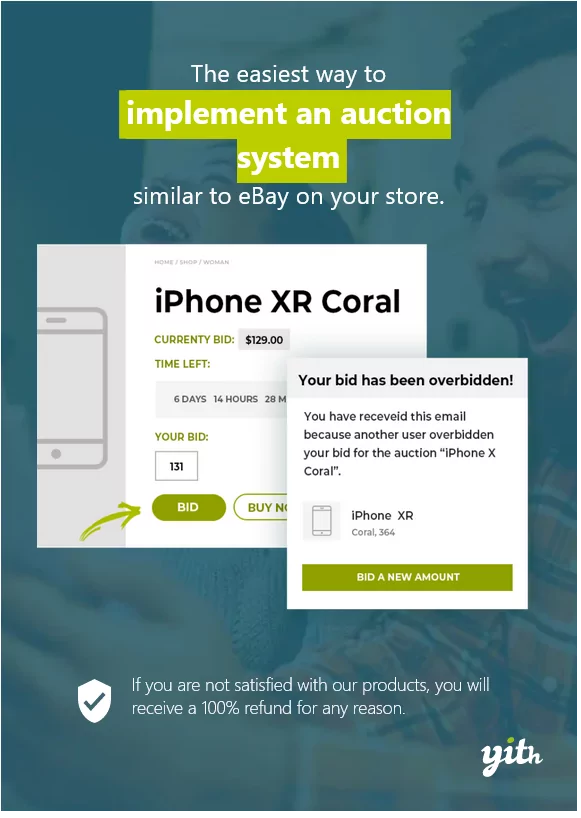 It also comes with pretty much all the customizations as the above plugin, while also allowing you to set a base biding amount, a minimum increment amount, a reserve, and a "Buy Now" price.
Some interesting additional features it offers include the ability to schedule future auctions as well as extend the active ones. This would allow you to extend an auction that's doing very well and is likely to fetch a much higher price if more time is given to the bidding users.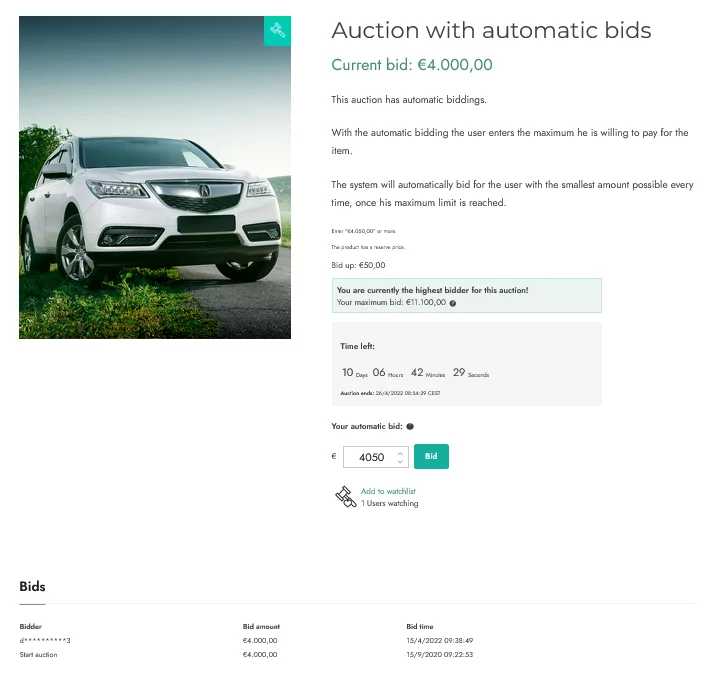 When you combine this plugin with the YITH Multi Vendor plugin, you would be able to run an auction marketplace, where you can allow users to auction their products for a fee. But this comes at an additional cost.
It also supports automatic bidding, anti-sniping, and shortcodes to promote auction products anywhere you want on your site. It also has a feature that allows hiding important information of bidding users to protect their privacy.
Products are also clearly distinguished on your site as auction and non-auction (normal) products.
All said and done, however, this plugin doesn't offer different types of auctions like the Auctions for WooCommerce plugin does. So if that's an important feature for you, then you may want to go for the latter.
The YITH Auctions for WooCommerce is priced at $149.99 per year as well.
3. Ultimate Auction Pro
Ultimate Auction Pro is one of the most functional auction plugins out there. It not only comes with pretty much all the important features, but also offers some advanced features that none of the other plugins have.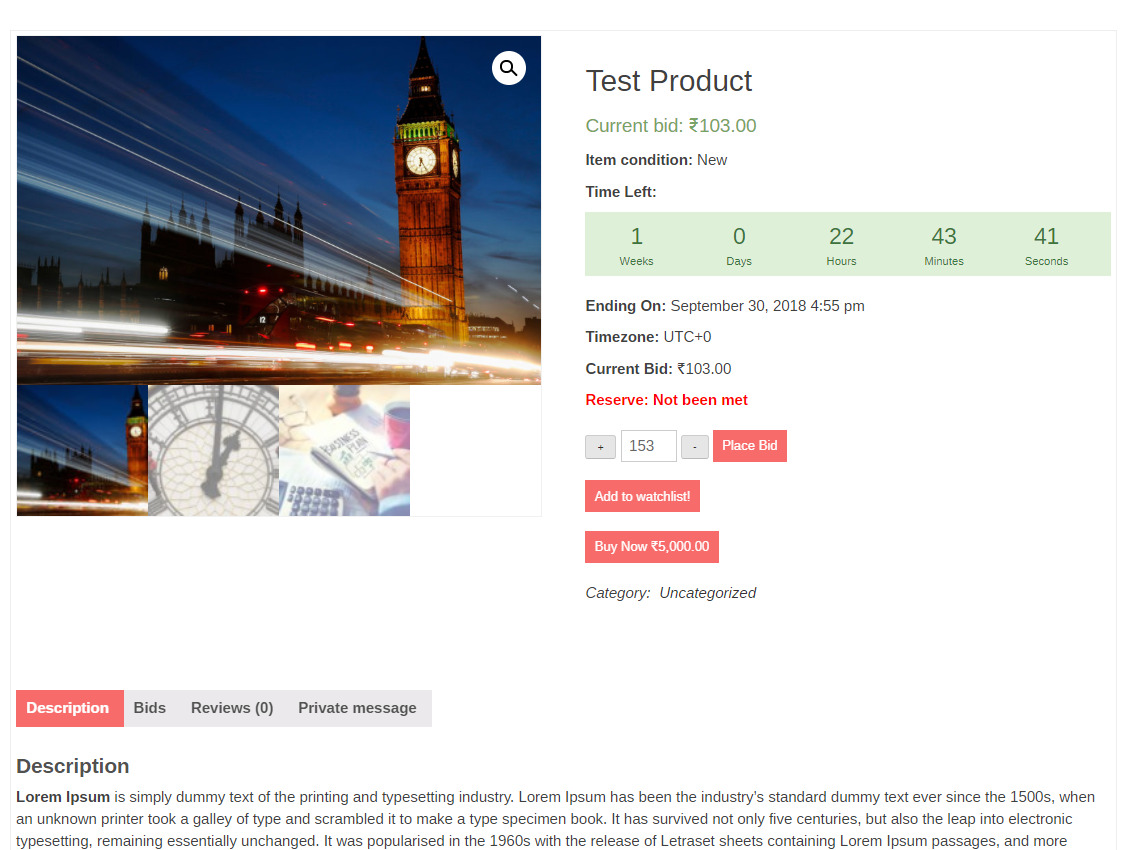 Here's a look at the unique advanced features it offers:
The ability to directly deduct payment from the winning user's credit or debit card and transfer it to your Stripe account;
You can choose to delete bids that you find suspicious or manipulative in nature;
The ability to add a premium to the winning bid amount, which can be especially useful for marketplace auctions;
You would have the option to relist auctions that didn't get sold or reach the reserve price, either automatically or manually;
There's an option for variable increments as well for different price ranges, which means you can have higher bid increments when the auction price reaches a higher figure;
It offers proxy and silent auction types as well;
It specifically has support for virtual products;
Different shortcodes as well as widgets for different forms of auctions;
Real-time bidding with Ajax;
Compatible with WPML and LocoTranslate.
It also comes with multilingual functionality, although TranslatePress is also a nice alternative to websites wanting to support different languages on their site.
Of course, it has all the basic features as well that we covered when reviewing the other top auction plugins above. There aren't different templates available though.
You will also have to get the WCFM Marketplace plugin if you want to run marketplace auctions for your users.
Ultimate Auction Pro has a free version as well, but we think it's severely limited. The Pro version starts at $79/year for 1 website and goes up to $199/year for unlimited websites.
4. WooCommerce Simple Auctions
If you're looking for a cheaper auction plugin to only run a few auctions on your WooCommerce store, then WooCommerce Simple Auctions may fit the bill for you.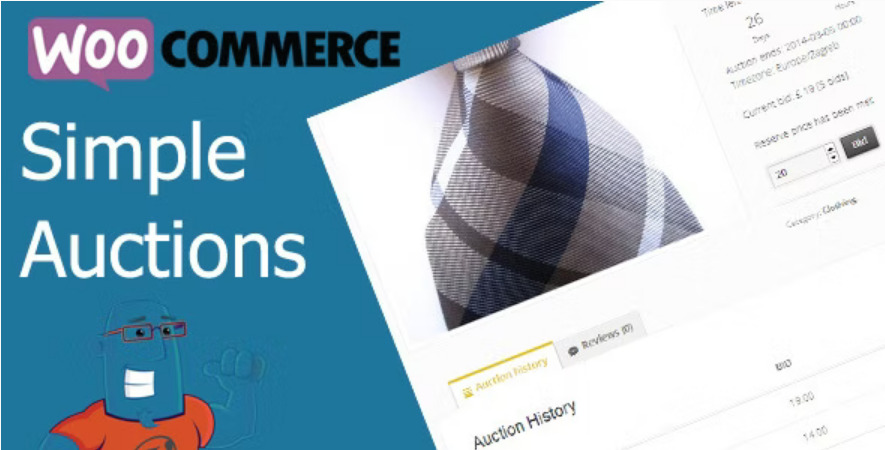 It's the cheapest WooCommerce auction plugin you will find, priced only at $29. However, it comes with almost all the important features you will need to create and run auctions, though there aren't as many advanced features.
It works with both WordPress and WooCommerce, and integrates with a few different payment gateways as well. You even get the ability to verify the credit card or payment information of bidding users before letting them participate in the auctions.
It offers all the four types of auctions we discussed above. You also have widgets for some customization, as well as a good bit of control over how your auctions are displayed.
However, just like Ultimate Auctions Pro, this plugin requires you to get the WCFM Marketplace plugin before you can run marketplace auctions on your site.
5. Auction Nudge
Auction Nudge is not a complete WooCommerce auction plugin. It's simply designed to help you increase exposure to your eBay auction listings.

What it does is it pulls all your eBay auction products, so that you can promote them on your own site or store as well. So if you actively sell on eBay through auctions, you can use this plugin to promote your eBay auction listings so that they can sell for a higher price.
It runs in real-time, meaning that the auction information on your site is always live and updated.
Auction Nudge is currently listed as a free plugin with no paid versions.
Choose Your WooCommerce Auction Plugin Today
You now know what the best available options are regarding auction plugins for your WooCommerce store. So, if you are looking for the perfect solution to start auctioning, take a minute to analyze the plugins above and choose the one that best fits your needs.
Additionally, if you're looking for ways to passively earn some more income from your online store, you can also check out our list of the best Amazon affiliate plugins out there. Or, to take things even further, you can take a look at our 7 strategies to further monetize your website content.
Do you still have questions regarding the auction plugins available for your WooCommerce store? Ask them in the comments section below!