Trying to customize the WordPress Registration Email normally means copy pasting a custom php function and then modifying it to fit your project.
But what often happens is that you're not sure how to implement this because you're not a developer and you're not sure how to use the filters that are setup in place.
Now imagine that you can customize the:
WordPress Registration Email
The email sender and body text with the info from the fields on the registration form
Override the from address so that it is the name of the business
Customize the Admin Email sent when a new users is registered
All without touching a single line of code, directly from an intuitive email customization interface.
This is now possible by using the Email Customizer module from Profile Builder Pro. It allows you to modify default WordPress emails sent to both the administrator, as well as new users.
Customizing the WordPress Registration Email
Using the Email Customizer module, customizing the WordPress Registration Email won't mean spending hours on the forums trying to figure it out.
Start of by activating the Email Customizer modules.
Under Profile Builder menu, simply navigate to Modules and make to set both the User Email Customizer and Admin Email Customizer to "Active". Then click the "Save Changes" button.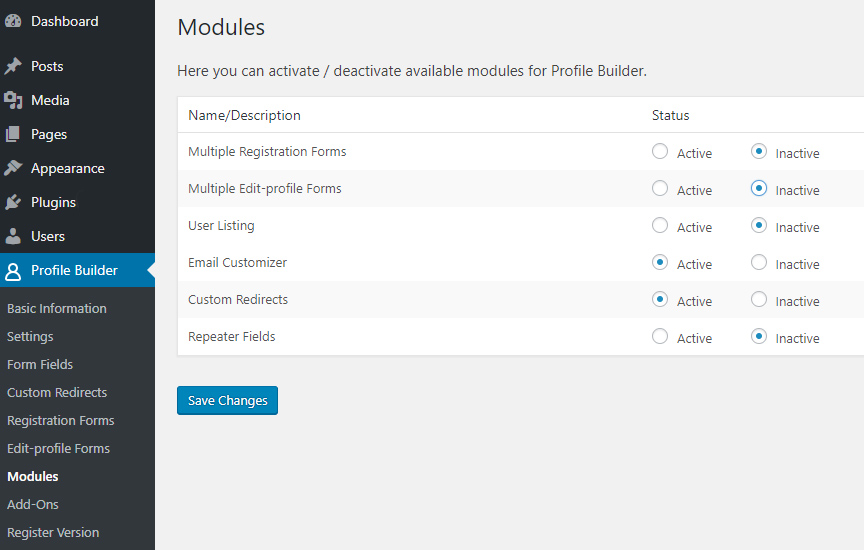 User Email Customizer
Besides the general Name and Email address from where these emails are sent (by default we have the site name and wordpress@sitename.com), here you can customize all the emails sent to the users, depending on which settings you have activated in Profile Builder.
You now have access to editing the following emails:
Default Registration – This email notification is sent for new registrations on your site regardless of whether you have the Admin Approval or Email Confirmation settings active
Registration with Email Confirmation – For customizing the email with the activation link.
Registration with Admin Approval – Customize the Email letting the user know an Administrator needs to approve his account.
Admin Approval Notifications (on status change) – If you approve or unapproved an user, he'll receive a notification email. Here you can customize them
You can customize the Email Subject and Content by making use of the Available Tags and User Meta (fields).
Admin Email Customizer
In a similar manner to the User Email Customizer, all admin notification emails can be customized.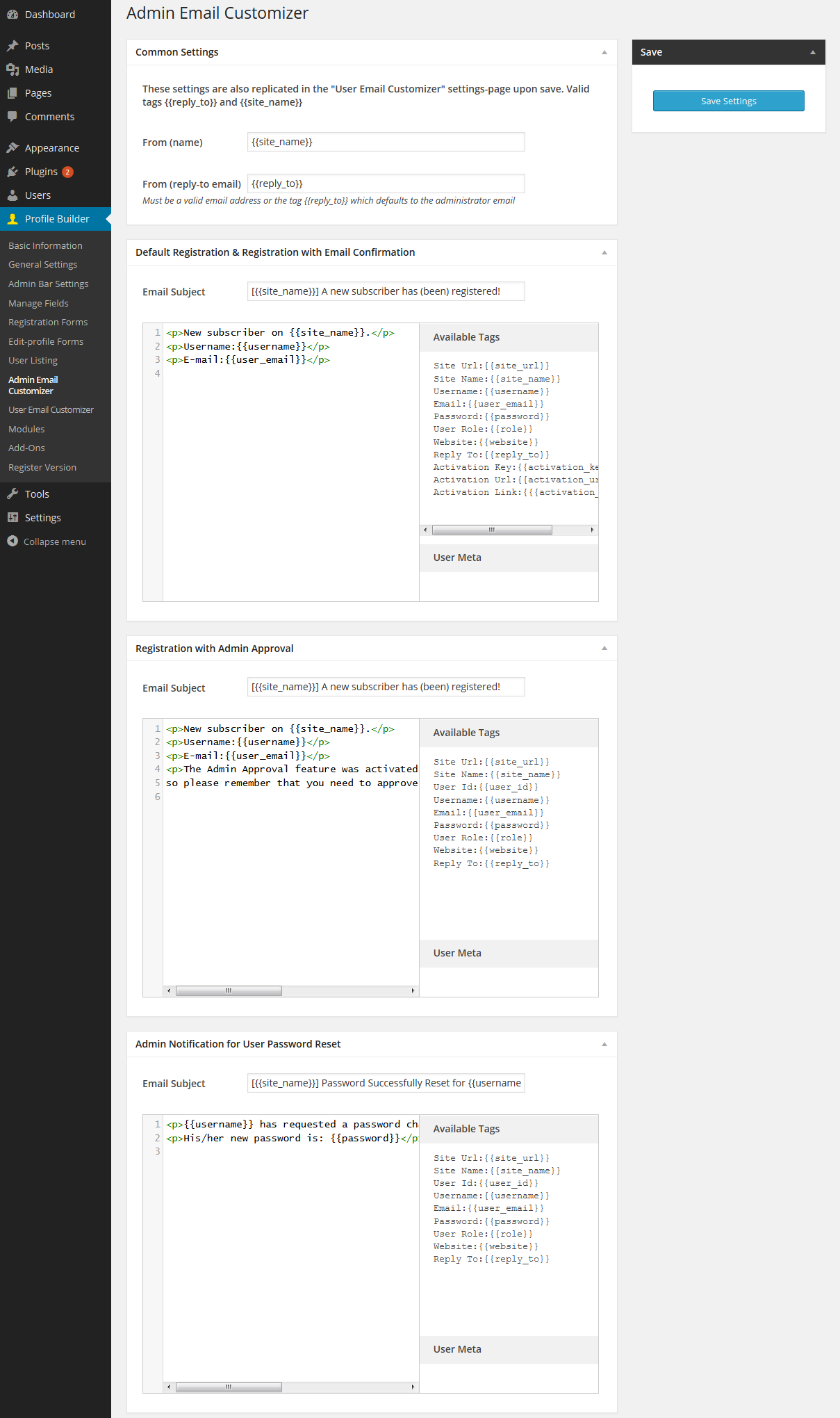 There are two emails an admin can receive with Profile Builder:
Default Registration Hide – When a new user registers
Registration with Admin Approval – If Admin Approval, a different email then the default one is received by the admin. This is to gently remind the admin he should approve the new user.
If you're an existing client of Profile Builder Pro you'll automatically get the new version via Automatic Updates or you can download the latest version via the Account Page.
Subscribe to get early access
to new plugins, discounts and brief updates about what's new with Cozmoslabs!