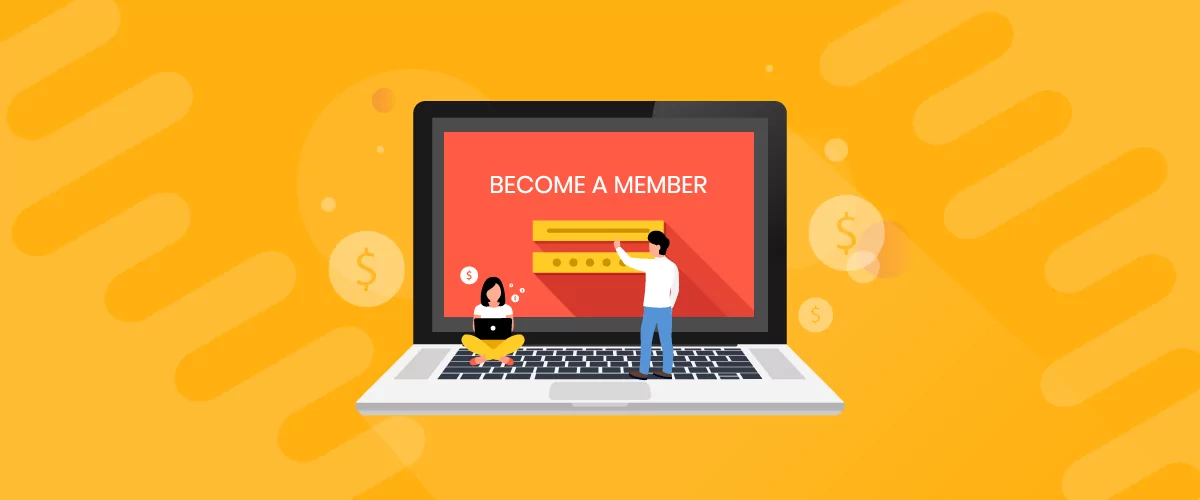 Creating a membership website can be a great way to add a new income stream to your website, or even create an online business from scratch.
Membership sites are incredibly flexible and lucrative, which is why creating a membership site has become one of the most popular online business models.
Membership websites can be adapted to a variety of different verticals and styles of websites as well.
You can choose to build a membership website from day one, or include paid membership functionality to your current website.
Best of all, creating a membership site doesn't have to be difficult! All you need is the right tool.
In this step-by-step guide, you'll learn everything you need to know about how to create a membership site, from installing WordPress, to choosing the right theme, setting up the Paid Member Subscriptions plugin, and finally promoting your site to the world.
Specifically, you'll learn:
Is a membership site right for you?
How to create a membership website
How to setup your membership site
3 Popular Membership Models
There are all kinds of different membership sites you can create. Here are a few of the popular models worth exploring:
1. Offer Premium Content Behind a Paywall
One very effective style of membership site is to put your absolute best content behind a paywall. If you're already getting a ton of traffic to your free content, then you can easily monetize your website.
First, you can add a paywall to obtain additional resources associated with your free content. Second, you can create high-level articles that go even more in-depth than your existing content and put these behind a paywall from the start.
2. Create a Membership Site with Multiple Tiers
When you're creating a membership site you should consider offering multiple membership options. One of the big advantages is that you can increase the total number of members. You can also up-sell new members to higher-priced subscription plans down the road.
With more people joining your membership at a lower monthly fee (or even free trial), a higher percentage of these will turn into higher membership levels. This can increase your overall customer value and make your membership site more valuable.
3. Build a Subscription eCommerce site
eCommerce membership sites give you a way to take advantage of the eCommerce revolution while offering a lot of value to your most loyal customers.
For example, you can control which products will be available for certain membership levels. You can also offer discounts for members who are subscribers. By rewarding loyal subscribers you'll ensure they'll stick around for the long-term.
Is a Membership Site Right for You?
Learning how to create a membership site isn't for everyone. You need to be competent with technology, audience building, and content creation.
Here are a few scenarios where building a membership website is well-suited:
You're a blogger with an existing audience through a social platform like YouTube, Facebook Groups, etc (or solid website traffic) and you're looking for a way to serve them with exclusive content and make a profit
You already have a wealth of additional content you've created (worksheets, videos, courses, eBooks) that you want to bring together
You're creating a value add-on to capitalize on your existing and new content, like premium articles to supplement your existing blog posts
You have software or a tool that would benefit your visitors every month
You want to create a monthly paid subscription newsletter, like offering tips and tricks for cryptocurrency investing or offer monthly fat-loss recipes
Your membership site can be as complex or as straightforward as you'd like. Depending on the types of membership you offer, it's possible to generate a significant income for your business. The good news is the tools you'll be using in this post greatly simplify the entire process.
How to Create a Membership Website (Fast and Easy)
There are a serveral different approaches you can take towards creating your very own membership website. You can hide premium content behind a paywall, create online courses, offer protected community forums, and much more.
You're not limited by content formats either. You can create free content and hide your best stuff behind a paywall. Or, you can add a membership site to your existing website as an additional source of income.
Membership sites are extremely flexible and quite lucrative.
Here's how you can create a WordPress membership site:
1. Choose the Right Platform for Your Website
The very first thing you need to do is choose the right platform for your site. You have a myriad of different platforms to choose from, but WordPress will be the best option for most people. There are website builders that offer a smaller learning curve, or even dedicated membership software, but WordPress offers you power and flexibility.
Plus, since WordPress is free, open-source, and widely used (it's the most popular tool for building a website in the world!), you'll find a lot of different ways you can extend its functionality.
To get started using WordPress you'll need to do the following:
Choose a domain name for your membership website
Purchasing hosting and a domain name
Install WordPress (you'll find one-click install software through your host)
If you're not sure which host to choose, then SiteGround is a great choice for beginners.
Once your domain name is configured, and WordPress is installed on your server you're ready to start building your site.
2. Pick a WordPress Membership Theme
Your WordPress theme is how you control the appearance and functionality of your website. There are thousands of themes to choose from, but not all will be well suited for a membership website.
To make your decision easier we've collected the very best WordPress membership themes for you to choose from.
Once you've found the perfect theme you can install it by navigating to Appearance > Themes > Add New.
3. Choose the Right WordPress Membership Plugin
You can easily create a WordPress membership site by using an intuitive plugin called Paid Member Subscriptions. If you followed the steps above, then WordPress will be setup, and you'll have a quality theme installed.
Paid Member Subscriptions is a highly flexible WordPress membership plugin that can help you build a wide range of membership sites.

Paid Member Subscriptions Pro
Accept (recurring) payments, create subscription plans and restrict content on your website. Easily setup a WordPress membership site using Paid Member Subscriptions.
Get Paid Member Subscriptions
There are a lot of different ways you can use this membership plugin.
Different Ways You Can Restrict Your Content
First, you can restrict your content behind a paywall and have your users pay to access the content. You can do this for virtually any style or type of content:
Online courses
Video content
Podcast episodes
Audio content
Long-form articles
Products
And more
Whatever kind of content you can create in WordPress, you can host it behind a paywall.
Second, you can create different membership tiers for different levels of users. You can create as many membership levels as you'd like; however, most users opt for the three-tiered membership level:
Free level
One-time payment option
Recurring payment option
You can also let users manage their own membership levels from their membership management dashboard. This allows them to easily upgrade their own accounts.
Paid Member Subscriptions only takes a few minutes to setup and easily integrates into your existing site. Depending on your existing audience and traffic, you can start getting paid within minutes.
A lot of other membership plugins restrict what you can and can't do and end up changing the entire layout of your site.
This plugin was designed to integrate into your existing content and layout. To get started you just need to:
Add your PayPal email in the settings screen (or connect your Stripe account)
Create one or more subscription plans
Use the bundled shortcodes to add subscription elements into your site (even in widget sections) so users can sign up for a membership plan
Protect the content within each individual page or post on your site.
That's it!
We go more in-depth into the entire setup process below.
How to Setup Your Membership Site (Step by Step)
Below you'll learn how to create a membership site step by step with the Paid Member Subscriptions plugin:
1. Install the Paid Member Subscriptions Plugin
Once you have WordPress installed, your domain setup, and membership theme installed you'll need to install the Paid Member Subscriptions plugin. This plugin will help you add membership features to your site.
To install the plugin you'll need to navigate to Plugins > Add New and upload the downloaded ZIP file:

Once you install and activate the plugin you'll be able to start adding membership features to your WordPress site.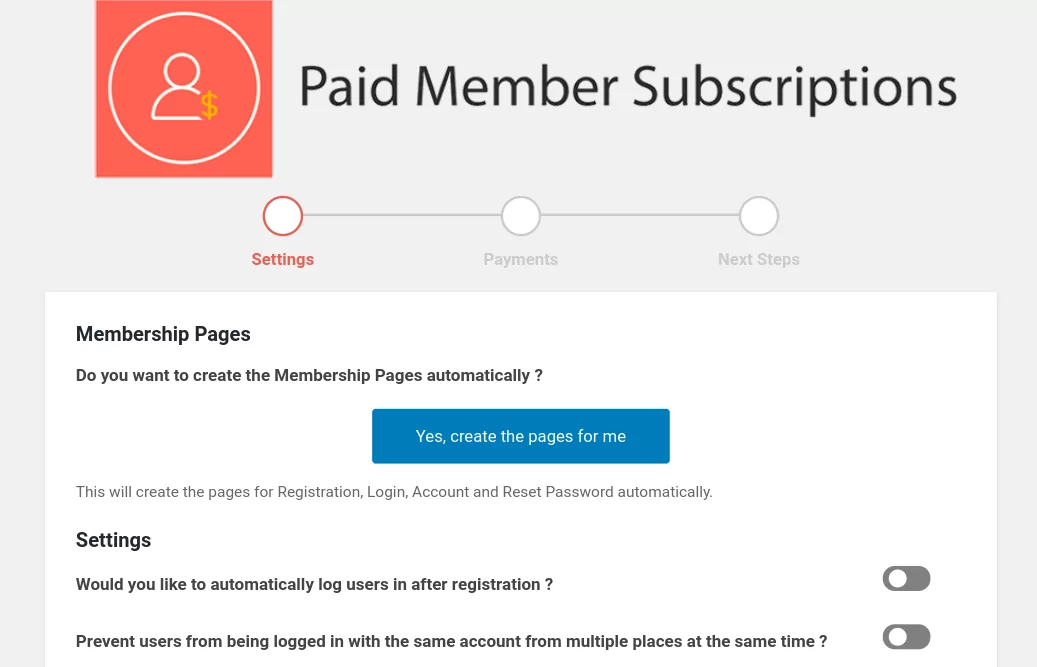 After the plugin is activated you'll be guided through a setup wizard that'll help you configure the basics of the plugin, along with setting up your payment gateways.
2. Create Different Membership Plans
The next thing you'll need to do is create different membership plans which will give users access to the content you restrict.
You can create as many different subscription plans as you'd like, including free and paid options. For example, you may want to create content for those who join on a free plan to entice them into upgrading to a paid plan.
To create a membership plan navigate to Paid Member Subscriptions > Subscription Plans > Add New.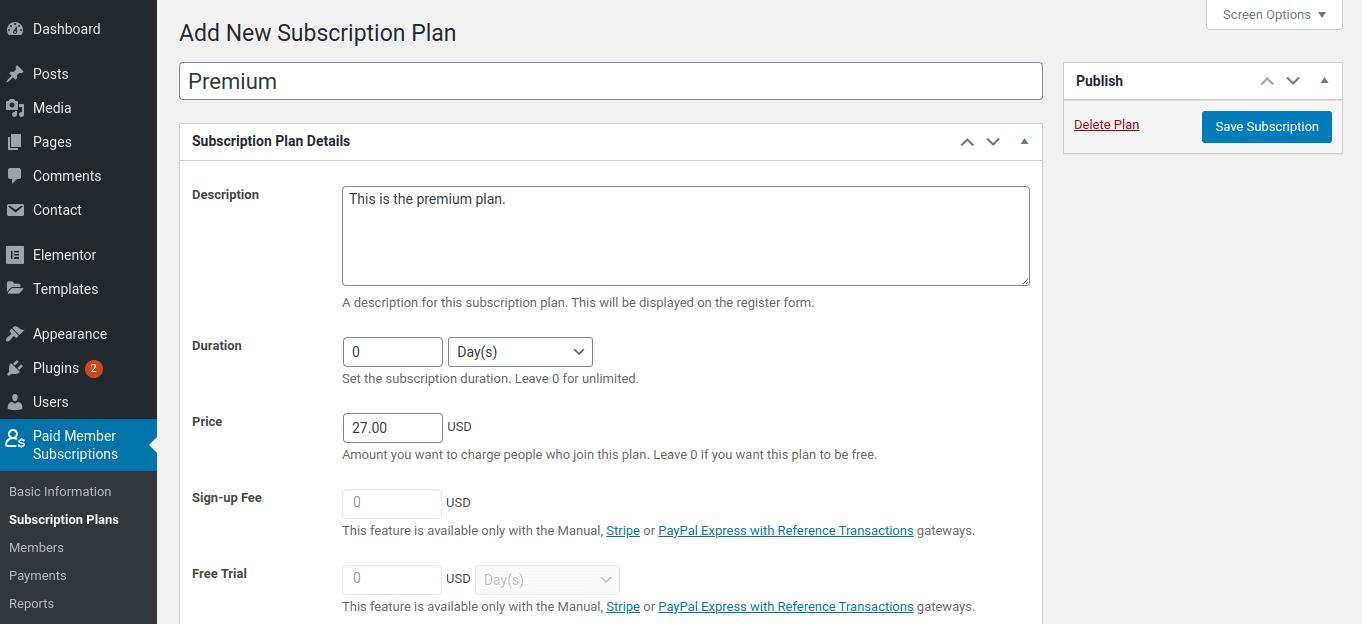 You'll find several different options you can customize like:
A description of your membership
How long the membership will last
The price of the membership
Whether it's an active subscription (i.e. currently available for purchase)
Once you're done click Save Subscription and it'll be live on your site.
Here's what your visitors will see when registering for your membership (you can customize this page as much as you'd like, as well as collect extra user information):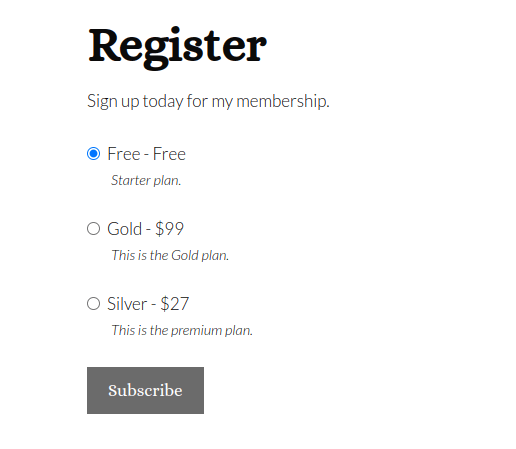 At this point you can also choose to create multiple subscription plans, just repeat the same process above.
However, if you are offering multiple plans on your website then you'll want to navigate back to the Subscription Plans section. Here you'll notice up and down arrows next to each subscription plan.
You'll want to order them so the highest tiered plan is at the top. This way when a user subscribes to a certain plan they'll be able to upgrade or downgrade to the proper level.
If you're using the Stripe or PayPal Express payment processor addons, you'll be able to take a credit card payment at this point. You can also use PayPal Recurring Payments to take repeat payments. Taking payments is an important part of turning your membership site into a membership business!
3. Restrict Content Behind a Paywall
After you've created subscription plans for your site you'll use these to restrict your content based on those specific plans.
For this to work you'll have to create content that you want to restrict.
For example, let's say you have a blog post that you only want to be available to premium subscribers. Open up that blog post and scroll to the bottom of the content editor.
You'll see a box that's labeled Content Restriction. Here you'll choose how you want the content to be restricted: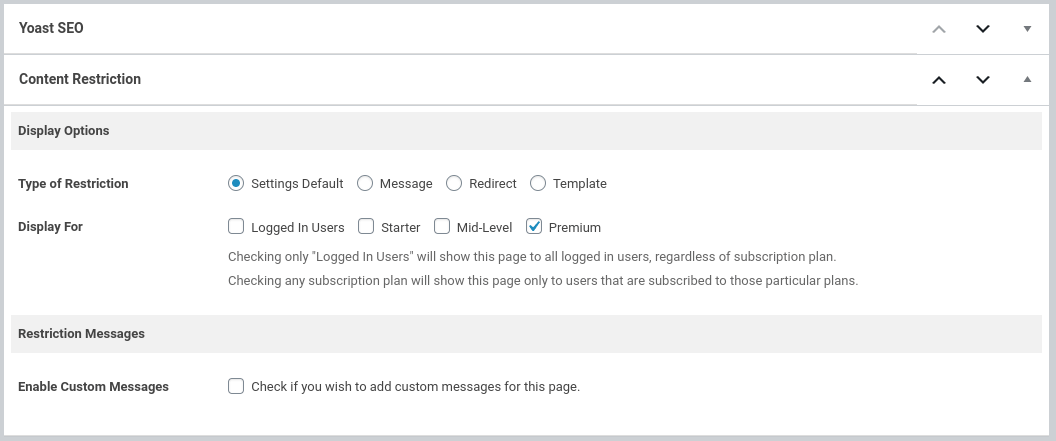 The Display For section controls who will be able to access the content. For example, if you only want users on the Premium plan to access the content then choose Premium.
Non-members, or users who aren't on the right plan won't be able to view the content. You can choose to display a message, template, or redirect to a new page. You can control this via the Type of Redirection section.
Next, you'll want to go through and repeat the above process for every piece of content you want to restrict.
If you already have a ton of content on your site, then you might want to save a ton of time and use the Global Content Restriction add-on. With this add-on you can mange what type of content is available for each subscription plan on a global level, so you don't have to do every page or post individually.
Here's what a visitor will see if they don't have the required membership level to view your content (you can customize this page or redirect users to a sign up or sales page):

You can accomplish a lot with this plugin. Here's a quick look at some of the additional membership features:
Automated recurring subscriptions. You can grow your revenue by subscriptions that renew automatically.
A variety of integrations. You can integrate your site with WooCommerce, the Elementor page builder plugin, and more.
Regular content dripping. You can drip feed your content out over a schedule that you set, instead of doing an information dump.
Offer multiple user subscriptions. You can let your users sign up for multiple subscriptions, this is helpful if you offer multiple forms of subscriptions.
Give users free trials. You can get more users into your world by offering a one-time free trial of your membership.
4. Promote Your Membership Website
By now you've successfully built a membership site that's ready to start earning you money.
But, to grow your profits you'll need an audience to market your membership site too.
Find the Right Target Audience
The success of your membership site depends upon aligning your membership site with the right audience.
Here are a few questions to ask to help identify your ideal audience:
Who would actually pay for this?
Have people bought from me in the past?
Are there any other websites do they read/visit?
What other kinds of products and services do they buy?
Are there any problems, challenges, and pains are your customers facing?
How does your membership site solve these problems?
With that in mind here are a few different methods to start promoting your membership site:
1. Create a Content Marketing Plan
Content marketing can be your best friend. There's a lot that goes into planning an effective content marketing strategy. But it can bring you steady traffic from search engines like Google over the long-term, which can convert into paying customers for your membership site.
Here's a general process you can follow to create a content marketing plan:
Set your goals, like improved traffic, more membership subscribers, etc.
Analyze your existing content to see what's working and what your audience is responding to
Do keyword research to see what your audience is searching for and what your competition is ranking for
Map out the buyer's journey to see how your content will move your visitors from general awareness into membership subscribers
Create a content calendar and stick to your content creation efforts
Don't feel restricted by solely written content either: you can create webinars, YouTube videos, and more, all directing back towards your site.
2. Promote Across Social Media
Social media can be a great way to drive traffic to your membership landing pages without having to pay for advertising.
If you have an existing social media presence you can create posts that tease your new membership site, without giving away what's inside.
You also have the opportunity to share your free content, while driving traffic back to your content that's behind a membership paywall. The response you get can also help you learn what kind of content might be more valuable to create into the future.
3. Promote to Your Email List
If you've been spending time building your email list, then this is a great place to start promoting your membership site. The best thing about email is that you can promote continuously, it's not a one and done thing.
Keep the following in mind before you send an email to your list:
Make sure you're speaking to their pain points and address these pain points in your emails
Create an enticing subject link that gets them excited to open your email
Speak to the benefits that your membership site will offer them
Create a strong call-to-action for each email (i.e. direct people to your membership content)
If you've regularly been emailing your list, then you can use email marketing to give your most valuable or loyal subscribers the best membership offer.
4. Create an Affiliate Program
This strategy works well if you're selling a membership-based newsletter or course, instead of something like offering premium content behind a paywall.
With an affiliate program, you rely on other people to do all the marketing for you, in exchange for a commission when people buy.
With a strategic affiliate partnership, you'll have a steady stream of referrals coming your way.
Here are a few tips on creating an effective affiliate program:
Settle on an attractive commission for your affiliates
Create promotional and marketing materials
Set up milestones or rewards to incentivize your affiliates
Have tracking to monitor affiliate stats
Get Started Building a Membership Website Today
Learning how to create a membership site can be a great way to create a source of recurring revenue for your business. By using the combination of WordPress and the Paid Member Subscriptions plugin, creating your membership website can be quite easy to achieve.
The fastest way to get started is by installing the Paid Member Subscriptions plugin. This gives you fast access to advanced features like recurring subscriptions, content restriction, add-ons, and more. You now know how to create a membership site, from scratch!

Paid Member Subscriptions Pro
Accept (recurring) payments, create subscription plans and restrict content on your website. Easily setup a WordPress membership site using Paid Member Subscriptions.
Get Paid Member Subscriptions