If you're a membership site owner, one of the most effective things that can help you boost your site revenue as well as retention rate, is setting up a WooCommerce store for your members.
If you restrict WooCommerce product purchase for non-members and offer special member prices for products, your members will feel like they're part of a select club.
Besides great content, not having access to a certain product might trigger a standard user to join in and become a member. Done right, product sales will add to your overall membership site revenue.
It's a no-brainer why more and more membership site owners consider adding a WooCommerce shop to their website. Below, we'll look into how to set one up in 4 easy steps.
Step 1: Download these FREE WordPress Plugins
For this you'll only be needing these two free plugins:
Paid Member Subscriptions integrates with WooCommerce allowing you to restrict product viewing and purchasing, as well as offer special discounted product prices to members.
Both plugins are shortcode-based and pretty straight forward to setup, so I won't go into the specifics. For WooCommerce, you can use the plugin's onboarding wizard, who will set everything up for you at installation.
Step 2: Create Subscription Plans
After installing Paid Member Subscriptions, you'll first need to create pages and add the [pms-register], [pms-account] and [pms-login] shortcodes for users to sign-up, manage their subscriptions and login.
Next, we'll move to creating the actual subscriptions plans. In the admin menu, under Paid Member Subscriptions, click Subscription Plans. From here we'll be able to create subscriptions plans for your users to sign up. Simply click the "Add New" button and fill in the subscription plan details.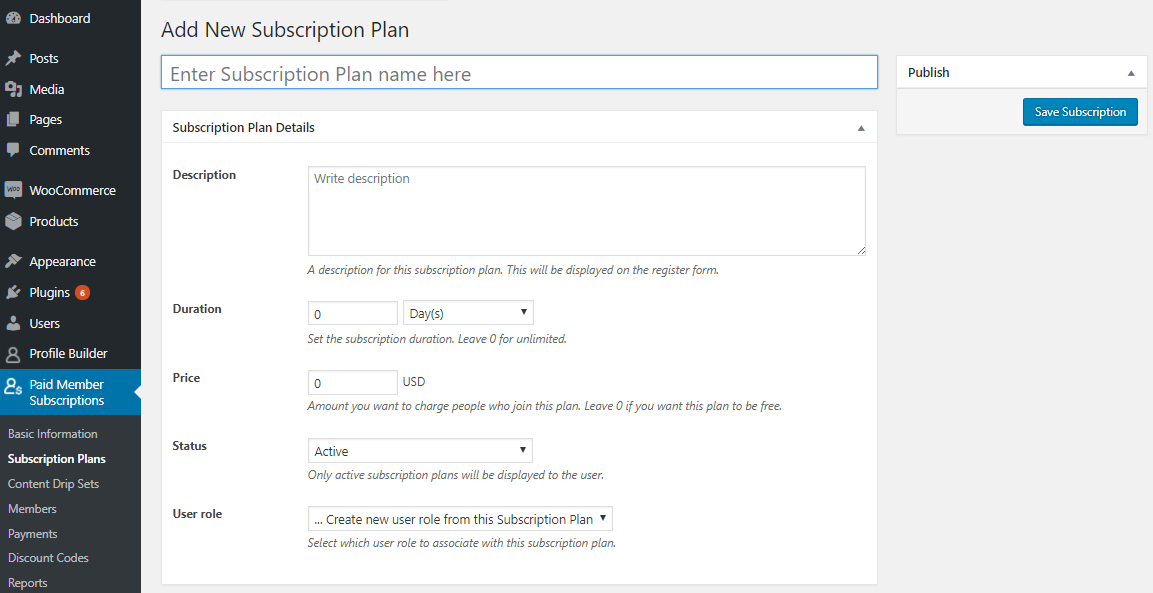 We'll add three hierarchical subscriptions, Gold, Silver and Free.


Step 3: Restrict WooCommerce Shop page
Now, we're ready to add products and create a Shop page using WooCommerce. The Shop page, where we'll have a list of all our products is set under WooCommerce -> Settings -> Display -> Shop page.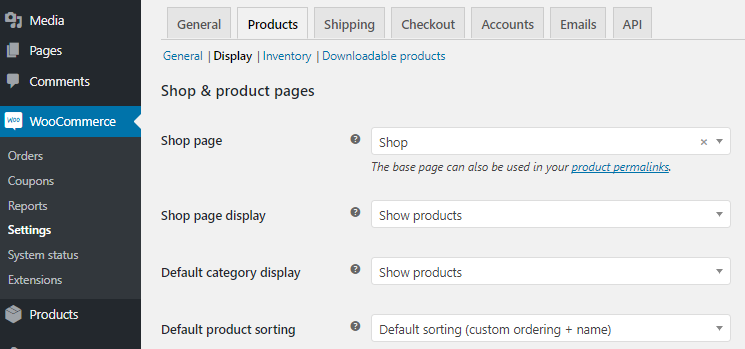 Let's say we want to restrict the WooCommerce Shop page to members-only. This means the page will only be visible to logged in users subscribed to one of our 3 subscription plans: Free, Silver and Gold.
Visitors and non-members will not be able to see the Shop page products.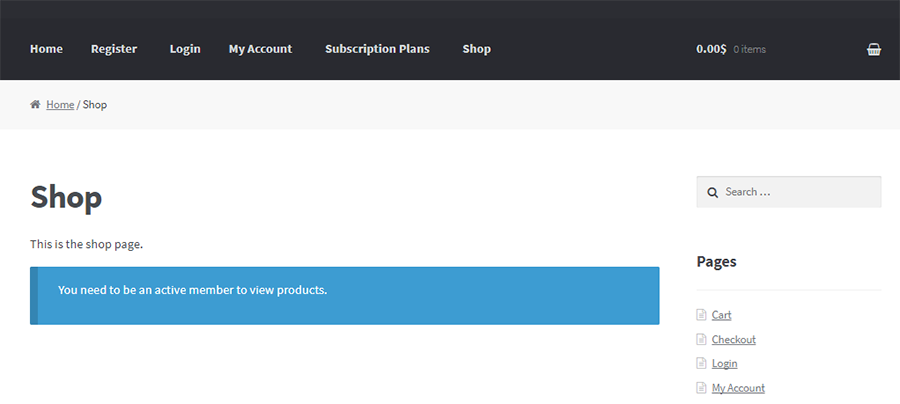 For this, under Pages, find the Shop page and click "Edit Page". Paid Member Subscriptions will automatically add a "Content Restriction" box under the page content, giving you options for restricting WooCommerce shop page to members-only.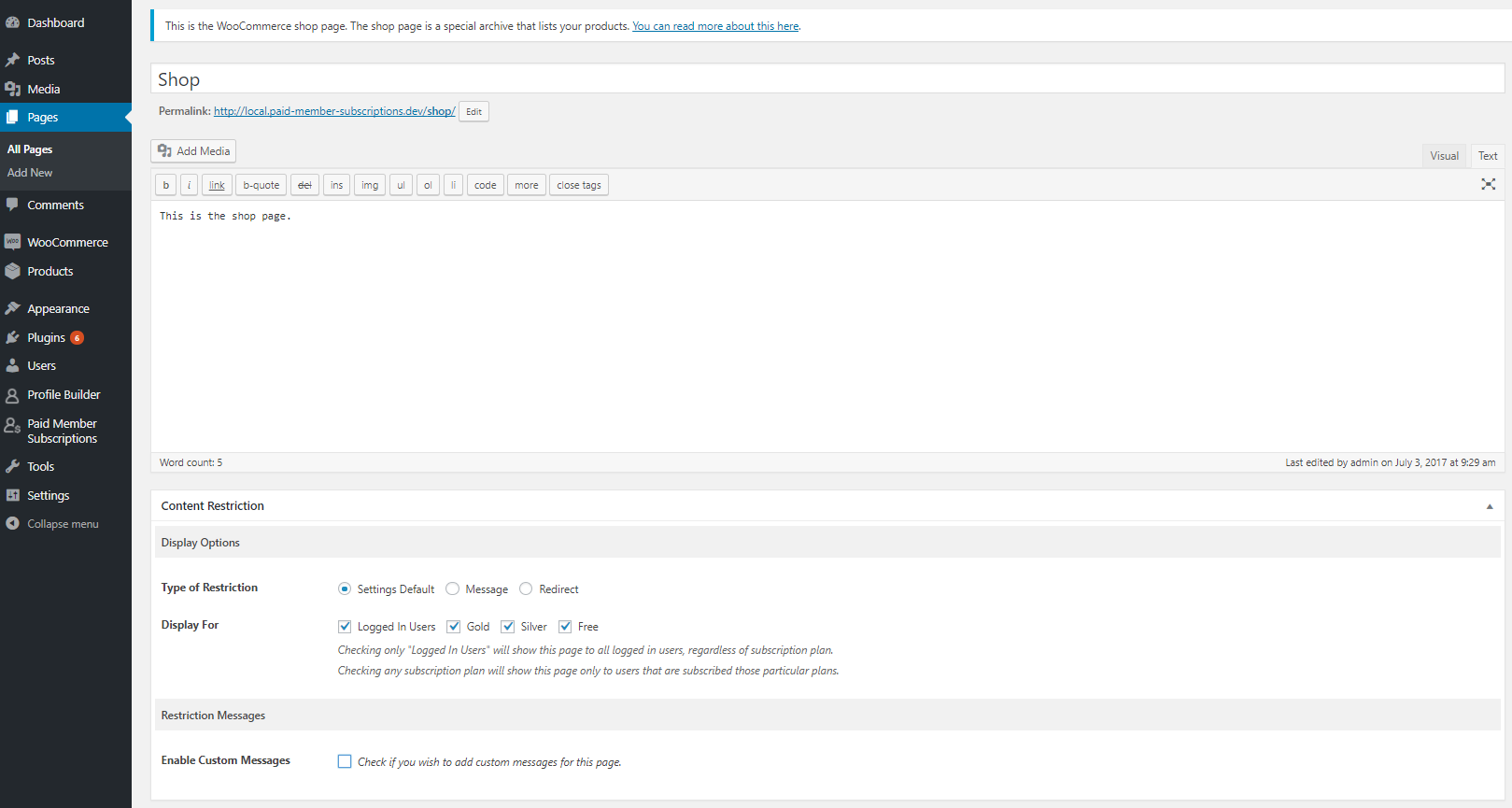 Under Content Restriction -> Display For, make sure to select the subscription plans which have access to the Shop page. In our case, all three of them. We want all members to view the Shop page, but only Silver and Gold subscribers to be able to purchase products. Which leads us to…
Step 4: Restrict WooCommerce Product Purchase & View to Members-only
Let's create a new product, called Awesome T-shirt and make it purchasable by Silver and Gold plan subscribers only. Under Products, click "Add New" and start by filling in the product details.
Next, you'll notice the Content Restriction box, which now contains: Display Options as well as Purchase Options. We'll keep the Display Options the same (display to all members), and check the Purchase Options for Gold and Silver only.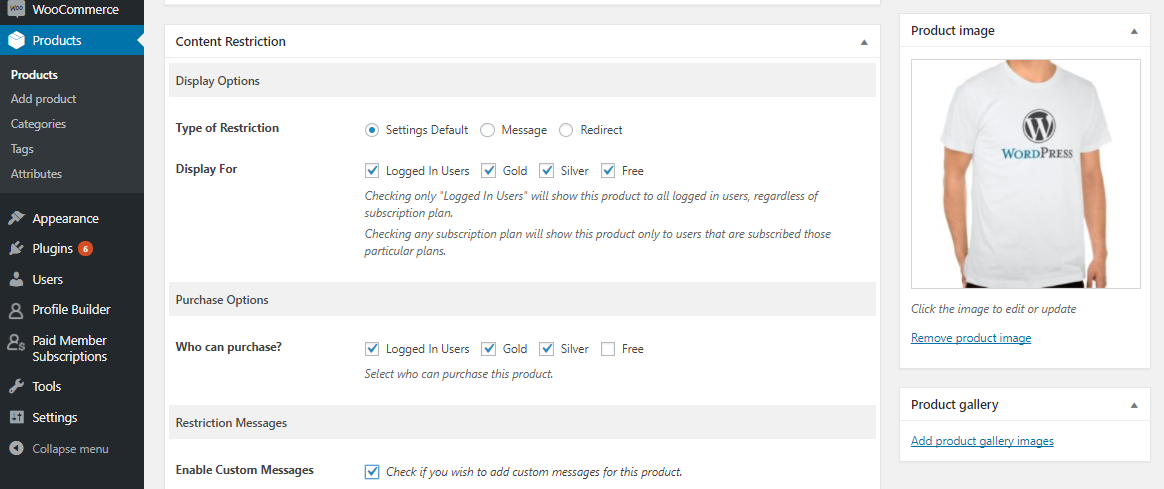 We can also enable custom restriction messages, per product. In this case, we can let Free subscribers know that they cannot purchase this product unless they upgrade to Silver or Gold.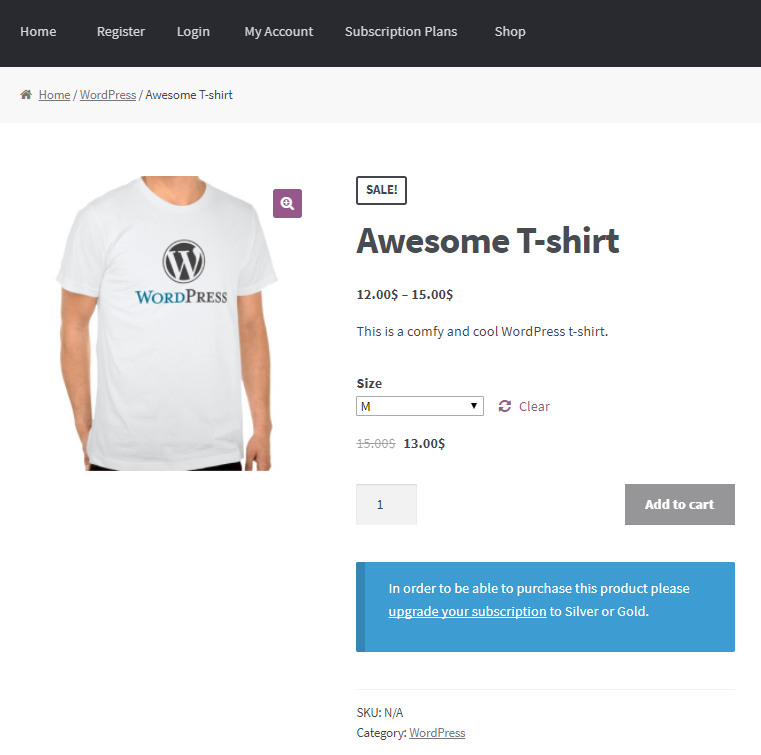 That's it! You have now restricted WooCommerce product purchase to everyone but members of Silver and Gold subscription plans. Also, we have restricted the Shop page to non-members.
Besides this, PMS also offers an easy way to set discounted product prices to members based on subscription plan.
Have you considered adding a WooCommerce store to your membership site? Any features you're missing for a perfect integration?
Let us know in the comments section below.
Related:
Manage WooCommerce Customer Fields with Profile Builder
How to Create a Membership Pricing Table
Subscribe to get early access
to new plugins, discounts and brief updates about what's new with Cozmoslabs!