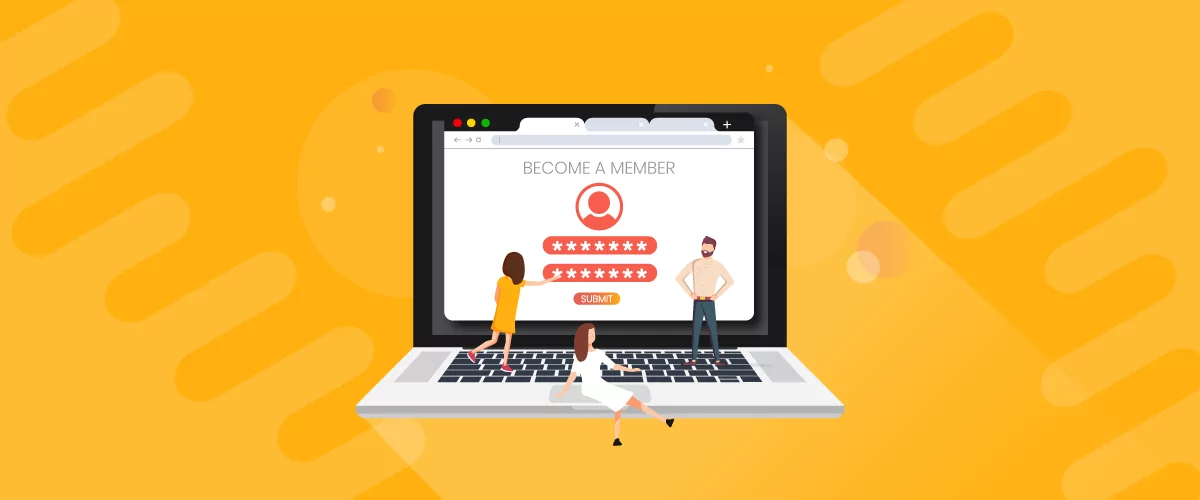 A WordPress membership management plugin helps you create a membership site. At the bare minimum, it allows people to register and become members and get access to exclusive content.
As an online business owner, there are plenty of reasons why you might consider creating a WordPress membership management site. For starters, it's a great way to generate a steady, recurring income. In addition to this, it can help you build an email list.
WordPress membership plugins can also help you deliver valuable content with limited access to paying members only. All of your premium content will be in a convenient, centralized location. This is the easiest way to create and automate content for members.
In addition to creating a membership site, a WordPress membership plugin can also be used to sell online courses through an e-commerce site, set up a training program, and build an online community.
In this article, we'll go through some of the best WordPress membership management plugins and help you choose the right membership management plugin for your WordPress site.
Let's dive in…
4 Best WordPress Membership Plugins
Here, we'll take a look at some of the best options available to you when it comes to choosing a WordPress membership management plugin.

Paid Member Subscriptions is an intuitive, very easy to setup, WordPress membership management plugin. You can use it to create subscription plans for members, restrict access to content, and accept both one-time and recurring payments from members via PayPal and Stripe.
It also has built-in options for content dripping and integrates seamlessly with WooCommerce and bbPress. This is particularly useful for membership site owners that need a way to sell products or monetize their online community.
The Paid Member Subscriptions plugin also lets you create front-end registration forms, a login page, and account pages for your site's members. Customer support is available through documentation and support tickets.
Pricing: $69 for a single site license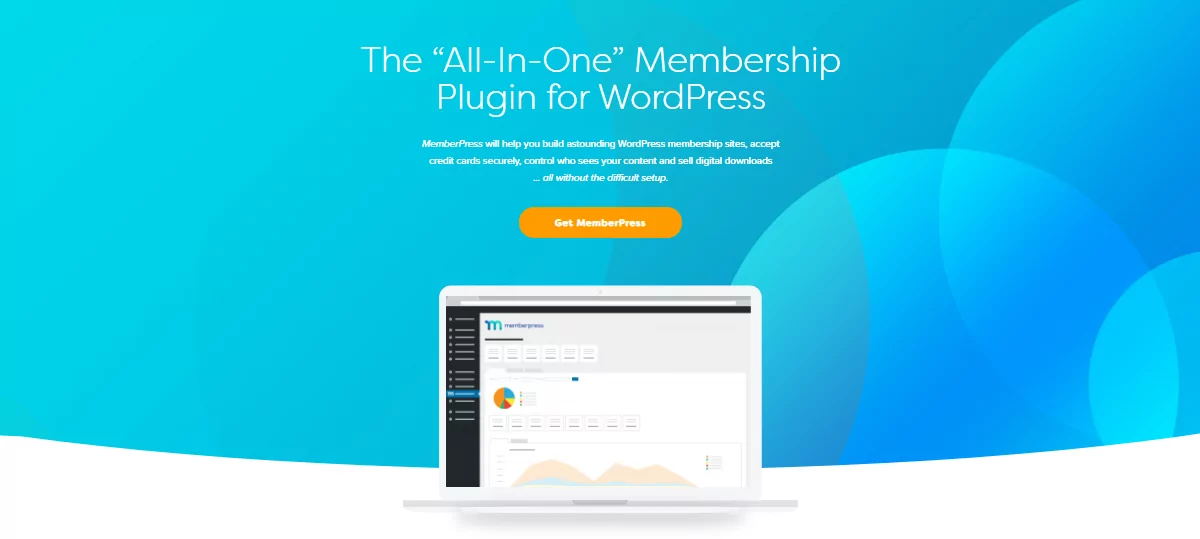 MemberPress is a premium WordPress membership plugin that makes it easy for users to create membership subscription plans, drip content to members, and offer coupon codes and discount codes. You can use MemberPress to accept one-time payments and recurring payments from registered members.
This WordPress plugin integrates with popular email marketing services like AWeber, WooCommerce (for e-commerce functionality), bbPress, and Blubrry PowerPress.
With MemberPress, you can expect to get support via support tickets or through its knowledge base articles.
Pricing: $249 per year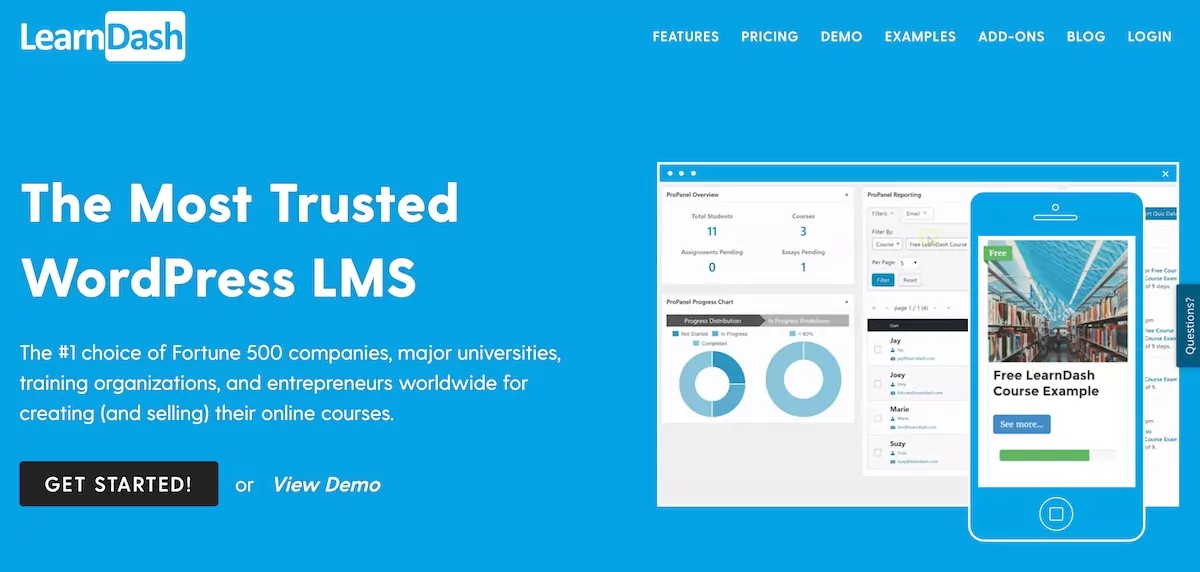 LearnDash is essentially a learning management system that doubles as a WordPress membership plugin. It's great for anyone who's primary use case is to create and sell online courses. The plugin lets you drip feed content to students and members, create subscriptions, sell memberships, set up upsell opportunities, and accept both one-time and recurring payments.
The LearnDash plugin integrates seamlessly with over 30 free, premium, and third-party add-ons including WooCommerce, Stripe, BuddyPress, bbPress, and Zapier.
Customers can submit support tickets after logging into their account. The plugin also has a help center with documentation.
Pricing: $159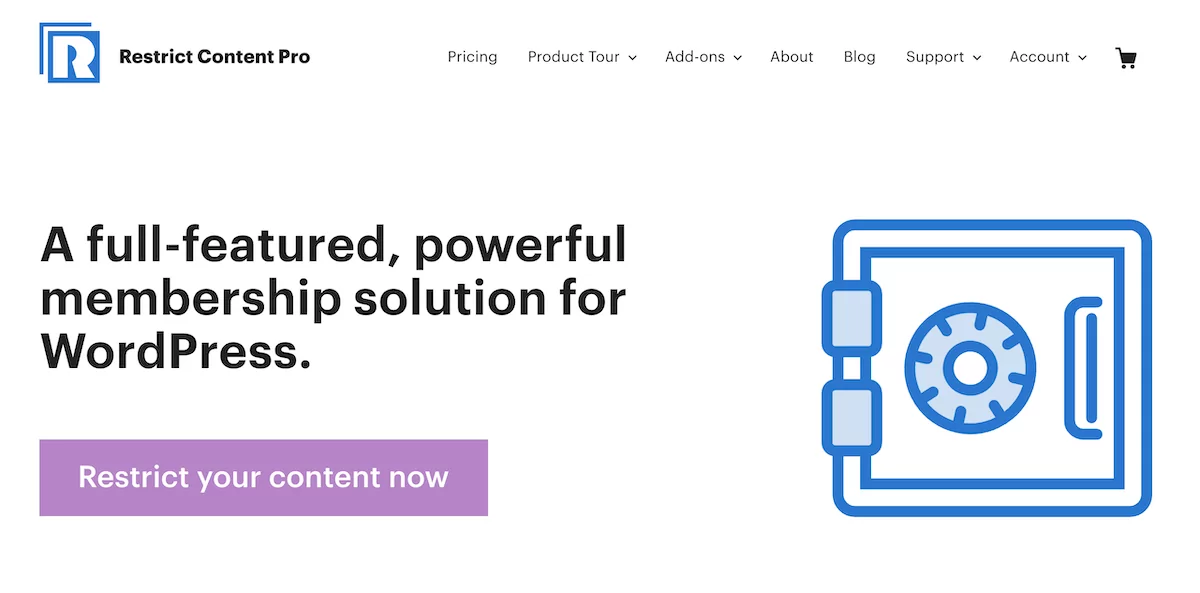 Similar to the other WordPress membership management plugins on our list, Restrict Content Pro lets you create subscription levels and accept both one-time and recurring payments from members. It supports a variety of payment gateways including PayPal, Stripe, Authorize.net, 2Checkout, and Braintree.
The plugin offers plenty of content restriction options and content dripping options. Restrict Content Pro integrates with Mailchimp, bbPress, AffiliateWP, and WooCommerce.
Customers can submit a support ticket by logging into their account or by checking out the plugin's documentation.
Pricing: $99 per year
How to Choose the Right Membership Management Platform
Choosing a WordPress membership management plugin for your website can be difficult. Aside from ease of use, you'll want to jot down the specific features you're looking for and make sure they're available.
It's also a good idea to check out the extra add-ons and integrations on offer with the plugin. These are especially useful because they give you the flexibility to extend the WordPress membership management plugin's core functionality whenever you need to. This is a must-have for growing businesses.
Paid Member Subscriptions Add-Ons
Here are some of the add-ons available with Paid Members Subscriptions:
Tax and EU VAT. Collect tax and EU VAT from members depending on their location. This is the easiest way to manage tax rates and make sure you're on top of the tax law.
Stripe and Paypal Express integration. You can accept one-time and recurring payments from members via Stripe and PayPal Express. The more options you give members to make payments, the more likely they will be to purchase a subscription plan.
Group memberships. Setting up umbrella memberships with multiple seats purchased and managed by a single account is a great way to encourage registrations and boost sales.
Invoices. You can use this add-on to dynamically generate invoices for subscription payments. This is especially useful if you sell a training program for companies.
Content Dripping. This allows you to make content available to members based on a schedule. This way, you can grant different members access to different content based on how long they've been paying members.
Email Reminders. This makes it easy to keep your site's members in the loop about upcoming events such as subscription renewals.
Global Content Restriction. You can use this add-on to restrict content globally per subscription instead of on a per-page or per-post basis. This speeds up membership management on the back-end.
Besides this, Paid Member Subscriptions integrates beautifully with WooCommerce, or page builders like Elementor or Divi.
How to Set Up a WordPress Membership Management Site using Paid Member Subscriptions
Here, we'll show you how you can use Paid Member Subscriptions to set up a WordPress membership website in just four easy steps.
Step #1: Set Up Payment Methods
To get started, go to Paid Member Subscriptions > Settings from the WordPress admin panel and click on the Payments tab.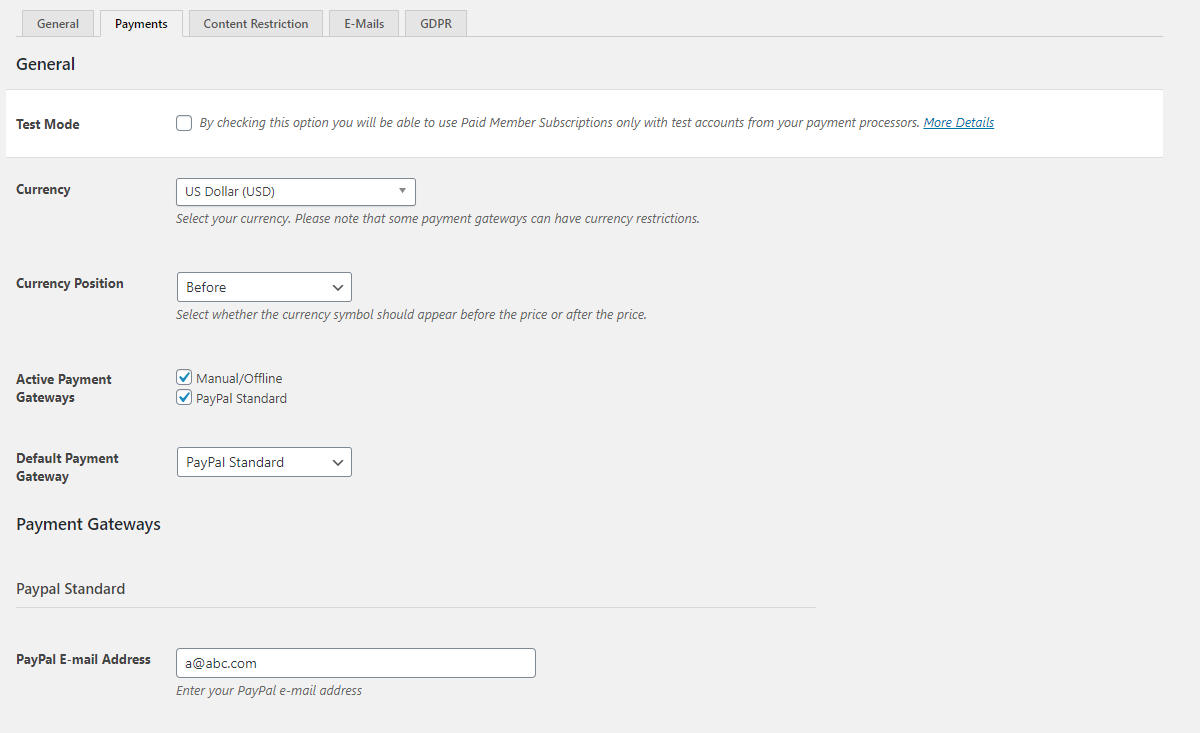 Configure the following payment options based on your preferences:
Currency. Choose the currency you want to accept one-time and recurring subscription payments in.
Currency position. Choose whether the currency symbol should appear before or after the price of the subscription plan.
Active payment gateways. Use the checkboxes to select which payment gateways to enable. The more payment gateways you enable, the easier it is for members to make payments.
Default payment gateway. Select the payment gateway that should be the default for your membership site.
By default, you can accept offline payments and payments made via PayPal Standard. However, you can use one of the payment add-ons we mentioned earlier to make additional payment options available.
Step #2: Create Membership Levels
The next step is to create membership levels. For this, you'll need to go to Paid Member Subscriptions > Subscription Plans and click the Add New button.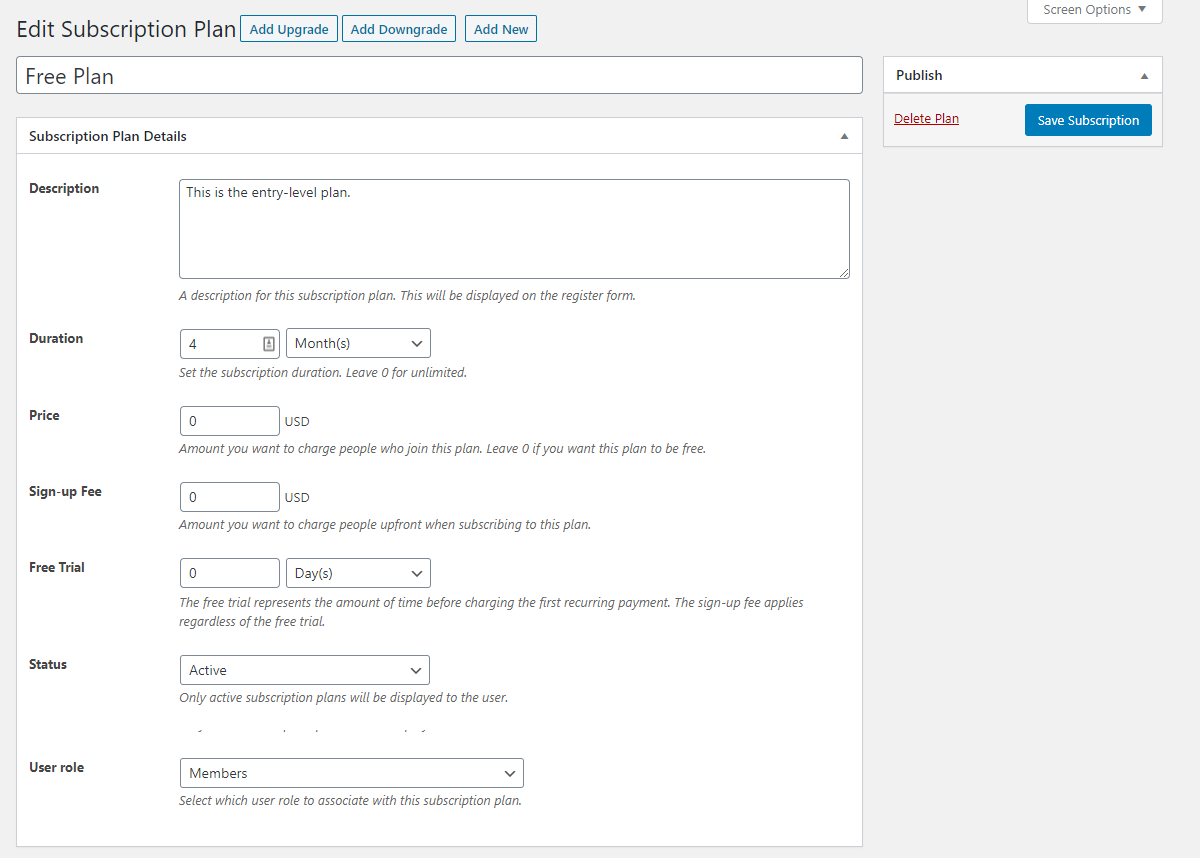 Enter the following details for your subscription plan:
Description. Enter a description for the subscription plan that tells prospective members a bit about what they can expect to get.
Duration. This lets you set the subscription duration.
Price. Enter the amount you want to charge for the subscription.
Sign-up fee. Enter a sign-up fee (registration fee) that members will be charged when they sign up for the subscription plan.
Free trial. You can optionally choose to offer a free trial and enter the duration of the free trial here.
Status. Set the status of the subscription plan using the dropdown. Only Active subscriptions appear on the front-end.
User role. Choose which user role to assign to members that register for the subscription plan.
The Paid Member Subscriptions plugin also lets you add upgrades and downgrades for your subscription plan. In addition to this, you can also create multiple tiered subscription plans. You can create unlimited membership levels.
Step #3: Configure Content Restriction
There are two ways to set up content restrictions for your WordPress membership management website.
You can either use the Content Restriction metabox on posts, pages, and custom post types. This is the easiest and fastest way to restrict access to an entire post or page in WordPress to create a members area.
If you have a WooCommerce store setup, Paid Member Subscriptions lets you easily restrict WooCommerce products, making them available to members-only.

Alternatively, you can use the [pms-restrict subscription_plans="15,18″] Your renstricted content goes here [/pms-restrict] shortcode to restrict access to content blocks for specific subscription plans. This option is useful for when you want to restrict access to chunks of content (such as links to downloadable PDFs and resources) or give a preview of the content and encourage visitors to sign up for a subscription plan to get full access.
Step #4: Create a Registration Page and Login Page
Paid Member Subscription makes it incredibly easy to set up a registration page complete with subscription plans and pricing information.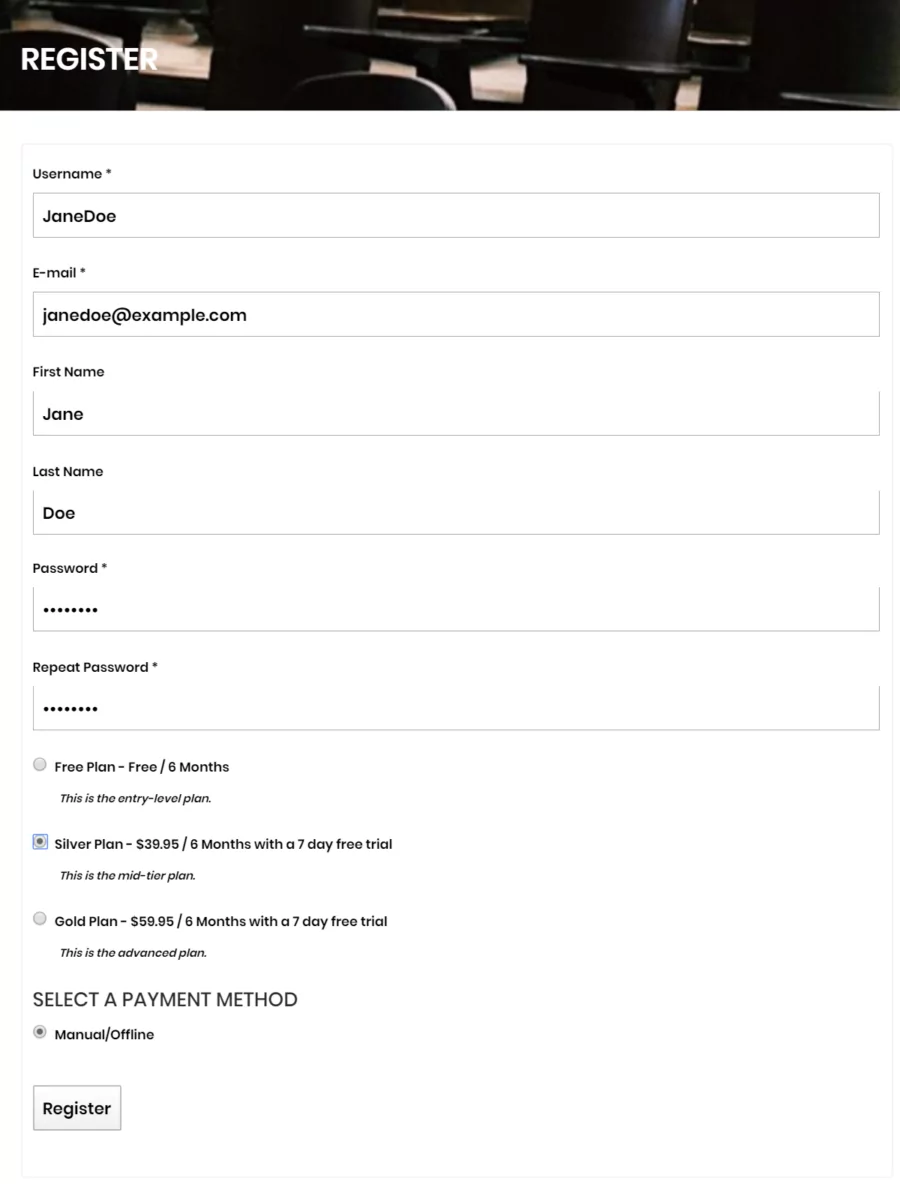 All you have to do is create a new page and add the shortcode [pms-register] to it in a shortcode block. This will automatically generate a registration form on the front-end. Visitors can then enter their contact information, select a subscription plan, and choose a payment method.
You can then head over to Paid Member Subscriptions > Members to view the complete member directory and manage memberships.
Finally, you'll need to create a login form that lets members sign into their accounts. For this, simply create a new page in WordPress and add the [pms-login] shortcode to it. You can also use the [pms-account] shortcode to create an account page for your site's members that allows them to manage their user profiles, subscription plans, and payments.
Set Up Your WordPress Membership Management Site Today!
A WordPress membership management plugin gives you a quick overview of all your members and the membership levels and subscription plans they signed up for. It should also make it easy to add (or remove) members and modify their subscription details.
Ready to set up a WordPress membership management plugin on your membership website? Check out Paid Member Subscriptions full list of features.

Paid Member Subscriptions Pro
Accept (recurring) payments, create subscription plans and restrict content on your website. Easily setup a WordPress membership site using Paid Member Subscriptions.
Get Paid Member Subscriptions