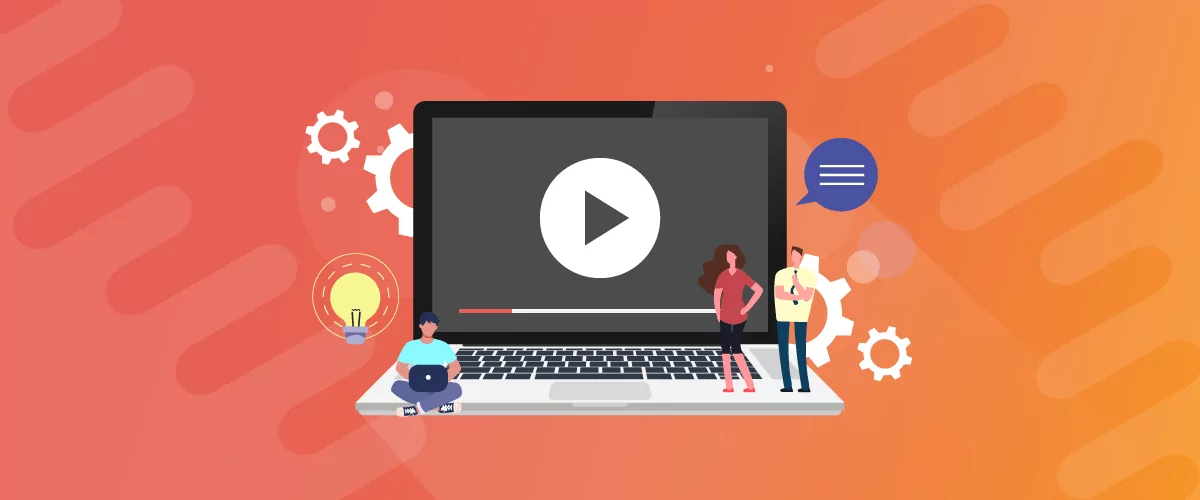 There are all kinds of membership or subscription sites out there: veg boxes, shaving products, entertainment tickets, and so on. But one subscription platform reigns supreme: video. Just look at the success of Netflix, Hulu, Amazon Prime, and the dozens of other niche streaming networks that have sprung up over the past few years.
This is a multi-billion dollar field, and a crowded one. It might look like there's simply no way to break into the market. But there are a variety of video membership site options beyond traditional streaming networks, like:
Premium video tutorials or lectures
Video-based online courses
A niche independent film site
Sites for content creators with premium level subscriptions for the most loyal fans
Whether you're looking to create a niche video on demand (VOD) site, a subscriber-only video tutorial site, or something else entirely, this post is for you.
Below you'll learn why users love video subscription sites, the benefits this type of site can bring you, and the steps you can take to plan and create your own video membership site using the Paid Member Subscriptions plugin.

Paid Member Subscriptions Pro
Accept (recurring) payments, create subscription plans and restrict content on your website. Easily setup a WordPress membership site using Paid Member Subscriptions.
Get Paid Member Subscriptions
Why People Love Video Subscriptions
Chances are, you probably have a handful of video or service subscriptions right now. Monthly subscriptions are often a more attractive option since they feel much cheaper.
Instead of paying a one-time fee of $149, you can break this up into a monthly payment option of $12.99. This also gives users the freedom to watch content whenever they want, rather than as a one-off rental. If you have a growing library of video content, then users can pay to access this.
Finally, a membership element creates a sense of community. By creating a paywall, only those on the inside will be able to consume your content. You can also add social, review, or forum elements inside your online community to further strengthen the bond.
Benefits of Running a Video Membership Site
Adding a video membership element to your site or creating a video membership site from scratch can be incredibly advantageous for your business.
Here are some of the biggest benefits of running a video membership site:
Recurring Revenue. Generate consistent and predictable membership revenue, much more stable than what other platforms like YouTube offer.
Deeply Understand Your Audience. Long-term data will help you understand user preferences, so you can create even better content and products.
Long-Term User Engagement. Instead of one-off purchases, you can keep your users and members around for the long term, creating a deeper relationship, all the while making them more valuable to your business.
Planning Your Video Membership Site
Before you jump into creating a video membership site and realizing all of the benefits above, you'll need a solid plan.
Here are some questions you'll need to answer first and the things you'll require in a platform.
Planning Your Content
You can start by evaluating your existing content. Do you have any current video content you can package up? Or will you have to plan, shoot, or source new video content?
Next, do you have an existing audience? Even though video content is the most consumed type of content online, you'll still need an audience who wants to watch your videos over other platforms. Maybe you already have an extensive email list, social following, or have a decent volume of search engine traffic coming your way every month. Either way, you're not setting yourself up for success if you just take a leap in the dark.
Remember that you need a value proposition for your membership content. You need to give users a reason to subscribe to your video content if they could simply watch similar videos on YouTube for free.
Do you have free videos on a channel like YouTube, with premium videos behind a paywall on your site? The free-with-premium content model is very popular and something you can do easily with Paid Member Subscriptions, about which we'll talk in more detail later on.
Overall, the type of content you're offering depends on your niche and the need you're filling in the market.
If you're still unsure, here are a few examples:
Booya Fitness. This video membership website features online workout videos you can do from home.
New Sky Kids. A video streaming site dedicated to providing kid-friendly content.
Mixergy. A podcast that offers premium membership, including recorded video master classes and founder interviews unavailable to regular podcast listeners.
Choosing the Right Membership Platform
Once you've decided on the type of video membership site you're going to create, you'll need to choose a video hosting platform and website platform.
Video hosting platforms let you host your video content and embed it into your WordPress site.
There are various options, including platforms like YouTube, Vimeo, Dailymotion, Streamable, Wistia, and more. You can also make your videos private on these platforms (so they don't show up on regular search) and embed them into your membership/subscription site.
Hosting your video content on these platforms won't slow down bandwidth on your primary host.
In terms of your website platform, you can't go wrong with WordPress. WordPress offers you incredible flexibility and customization options, so you can build any style of video membership site you desire.
Plus, you can utilize the Paid Member Subscriptions membership plugin, built from the ground up to help you create a custom membership site.
How to Build a Video Membership Site
Building a video membership site doesn't have to be a complicated process. With the right tools and platforms behind your site, you can add video membership functionality with ease.
Here's a step-by-step process you can follow to add video membership functionality to your existing website or create a video membership site from scratch.
1. Setup Your WordPress Website
If you're building a brand new video membership site, then you'll need a domain name, web hosting, and a fresh installation of WordPress. SiteGround is an excellent choice for beginners; it's fast and includes a one-click WordPress installation. You'll also need a membership WordPress theme that will support a video membership site.
Now that you have your domain and hosting setup, WordPress installed, and theme activated, it's time to start building out your WordPress website.
2. Set Up Paid Member Subscriptions
Next, you'll need the Paid Member Subscriptions plugin. This plugin allows you to transform your existing WordPress site into a feature-rich video membership site.
After you download the plugin, navigate to Plugins > Add New, then upload the ZIP file containing the plugin.
Once the WordPress plugin is activated, you'll go through a setup wizard, which will help you configure your settings, create video membership pages, and set up your PayPal or Stripe payment gateways to offer paid membership options.
3. Set up Payments
Your payment interface will allow you to see existing payments, monitor the status of payments, edit past payments, and diagnose any payment issues that might occur.
There are three different payment status options:
Completed. This means the payment has been processed and the user's subscription will start.
Pending. This means the user has been redirected to PayPal to complete their purchase.
Failed. If the credit card payment fails, this will show why the payment didn't go through.
4. Set up Video Subscription Plans
To create a WordPress membership site, you'll need to create video subscription plans for your users.
With Paid Member Subscriptions, you can set up tiered subscription plans, which allow your users to upgrade or downgrade their plans.
Offering different membership levels lets your users sign up for the plan that suits their needs and budget.
To create a subscription plan, navigate to Paid Member Subscriptions > Subscription Plans > Add New.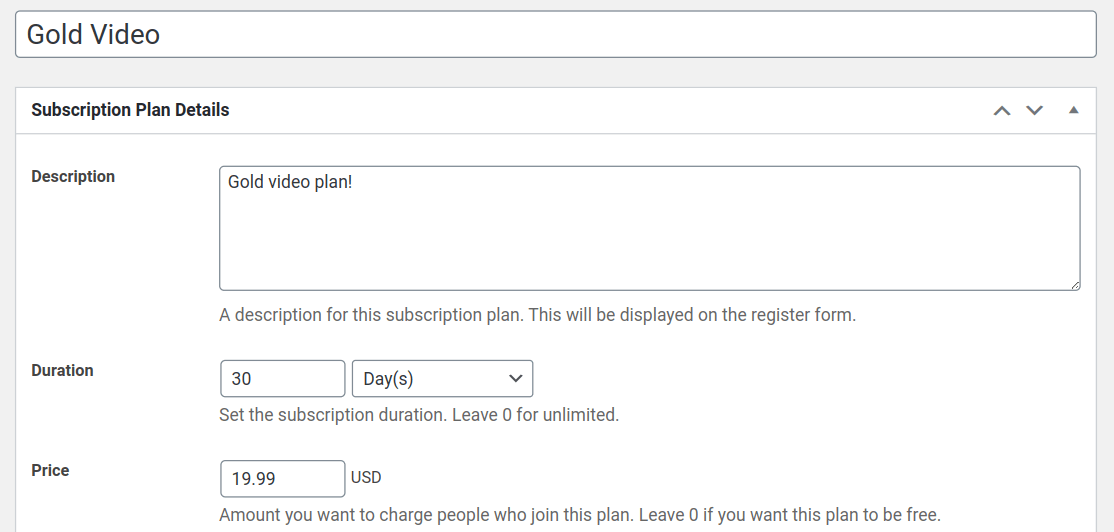 You can create as many subscription plans as you like, including a free tier, if you want to give users basic access to your membership site.
Here's some of the information you can customize on each plan:
Membership description
Length of the subscription
How much the plan costs
Whether or not the subscription is active
Whether you want to add a user role to the plan
5. Using Membership Form Shortcodes
Paid Member Subscriptions has a ton of different shortcodes you can use anywhere across your site.
Here's some of the functionality these shortcodes provide:
[pms-register] – Add a registration form to let users sign up and create an account
[pms-login] – Add a user login form to your site
[pms-logout] – Show user logout text and a link to leave the page
[pms-account] – Add a user account form to let users manage their accounts
[pms-recover-password] – Add a form to let users recover their password
[pms-restrict] – Restrict content on posts and pages for subscribers only
[pms-payment-history] – Add a table that shows member payment history
[pms-action] – Add a link for a specific action like renewing a subscription
Let's take a look at how you can put some of these shortcodes in action in your video membership site:
Member Registration Form Shortcode
The member registration form shortcode is easy to use. This shortcode will display your registration form anywhere on your site.
The shortcode you'll use is [pms-register].
This shortcode can also be customized; for example, you can rearrange your form fields' order.
Here the original shortcode is modified to include 'subscription_plans', 'plans_position', and 'selected': [pms-register subscription_plans="1826,1827,1828″ plans_position="top" selected="1826″].
The shortcode above will list the subscription plan options at the top of the form, with the 'Gold' plan pre-selected.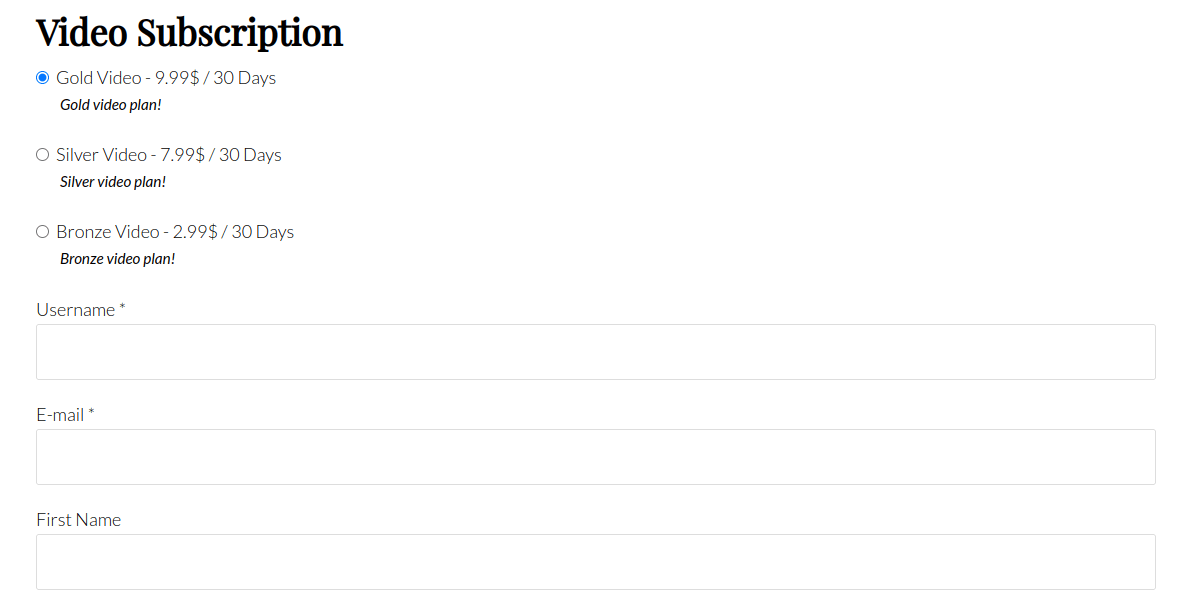 Login Form Shortcode
The shortcode [pms-login] will add a login form to your site. This lets you create a separate login form, so your users don't have to use the standard WordPress login form.
Here's how it will look on the front-end:
Premium Content Restriction Shortcode
Th restrict content shortcode is particularly handy when you want to offer free and premium content on the same page.
For example, you could include a free introduction video or teaser and make your visitors subscribe for access to the entire video.
Place the content you want to restrict between the [pms-restrict] [/pms-restrict] shortcodes.
Here's how it will appear to your visitors: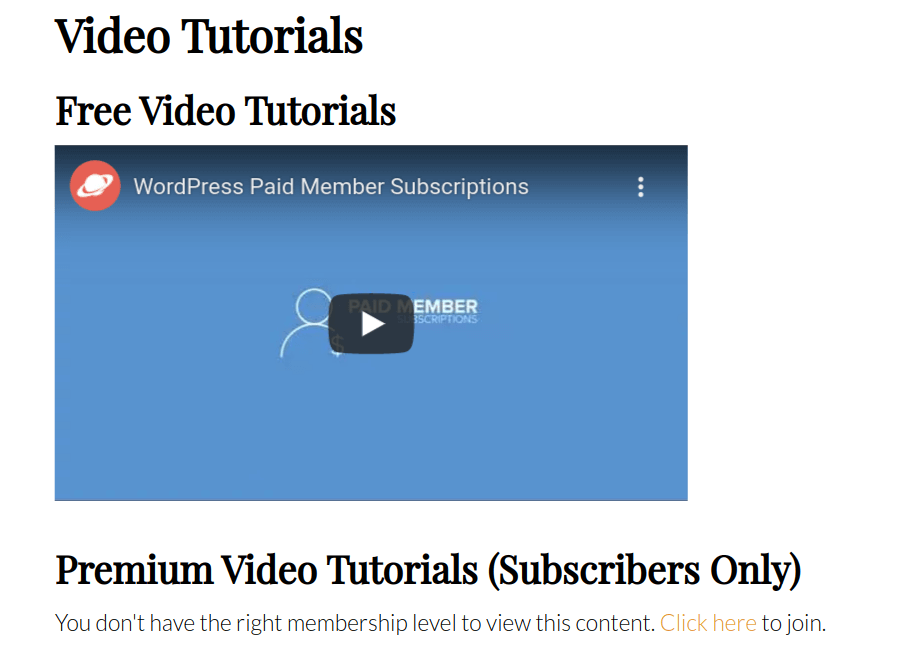 6. Managing Your Members
With the Paid Member Subscriptions WordPress plugin, you'll have a lot of membership management options.
You'll be able to:
See your member subscription levels
Manage your members and edit information
Manually add new subscribers
You can filter memberships based on plans and active subscriptions. You can view more information about each member by hovering over their plan.
Editing Your Members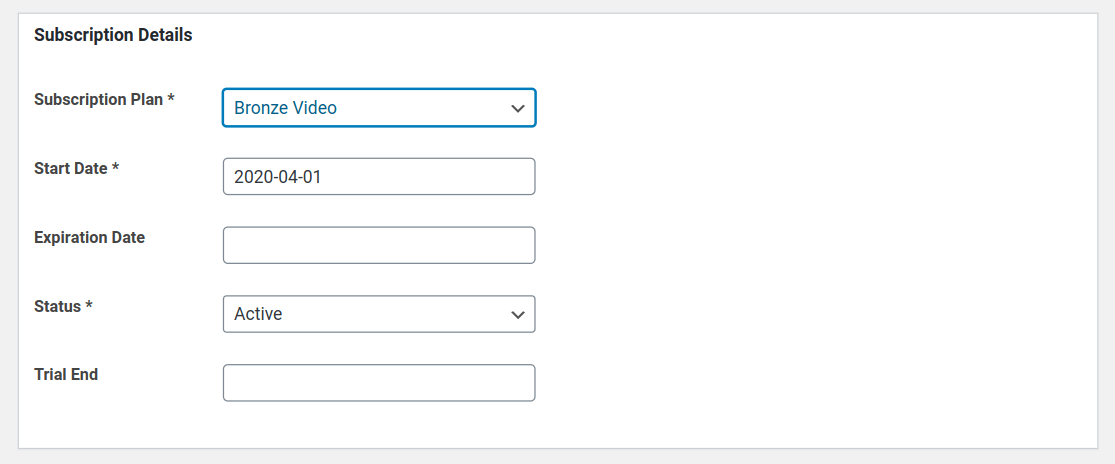 On the Edit Member screen, you can edit the following user information:
The subscription level
When the plan started
When the plan expires
Basic plan stats
Adding New Members
If your users are having technical issues or changed membership options, you can manually add subscribers.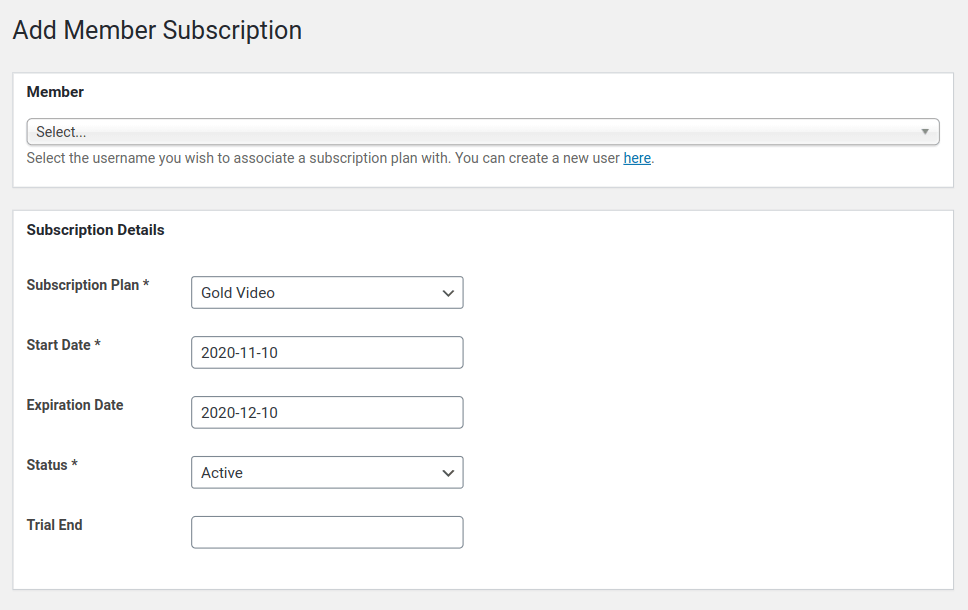 When you open up a member's profile, you can modify their subscription plan and information.
How to Optimize Your Video Membership Site for Conversions
Once you have members and start earning income, you can optimize your site to improve revenue further. This will help you improve your revenue levels with your current traffic instead of constantly generating more traffic.
Here are a few different Paid Member Subscriptions add-ons that will help improve conversions:
1. Adding Discount Codes
The Discount Codes add-on lets you easily add discount codes to your membership levels, specific videos, and more.
You can attract new members by offering a discount or reward existing subscribers with an enticing coupon.
2. Automatic Email Reminders
The Email Reminders add-on lets you send automated emails to members based on specific actions.
For instance, you can send subscription expiration emails, new content alerts, and so on.
Effective emailing will ensure your users continue to subscribe and stay engaged in the long-run, improving member retention.
3. Offer a Fixed Period Membership
Sometimes offering a fixed period membership can be beneficial. For example, it could generate a large initial influx of cash for your online business. It prevents unsatisfied users from accidental re-billing. Plus, you can create and test more niche offerings.
You can also give users the option to choose a fixed price payment or a monthly payment option.
The Fixed Period Membership add-on also lets you set an end date for the subscription, no matter when the user subscribes.
4. Recurring Payments
The Recurring Payments add-on lets you accept recurring payments via PayPal.
With recurring payments, you can offer a smaller monthly fee that's spread out across the subscription's entire length. This can help to reduce buyer friction since the upfront investment is smaller.
Recurring payments also happen automatically, with no complex billing process for you or your members.
Get Started Building Your Video Membership Site Today!
Building a video membership site can be a great online business idea or an existing revenue source for your current business.
The process can be simple, as long as you have the right tools:
Plan out your video membership content
Lay your foundation with hosting, video hosting, a domain, and WordPress
Install Paid Member Subscriptions
Configure your plugin, payments, membership levels, and content
Sign up your new members!
Optimize your video site
With the Paid Member Subscriptions plugin, you can build out your very own video membership site – move over, Netflix!

Paid Member Subscriptions Pro
Accept (recurring) payments, create subscription plans and restrict content on your website. Easily setup a WordPress membership site using Paid Member Subscriptions.
Get Paid Member Subscriptions