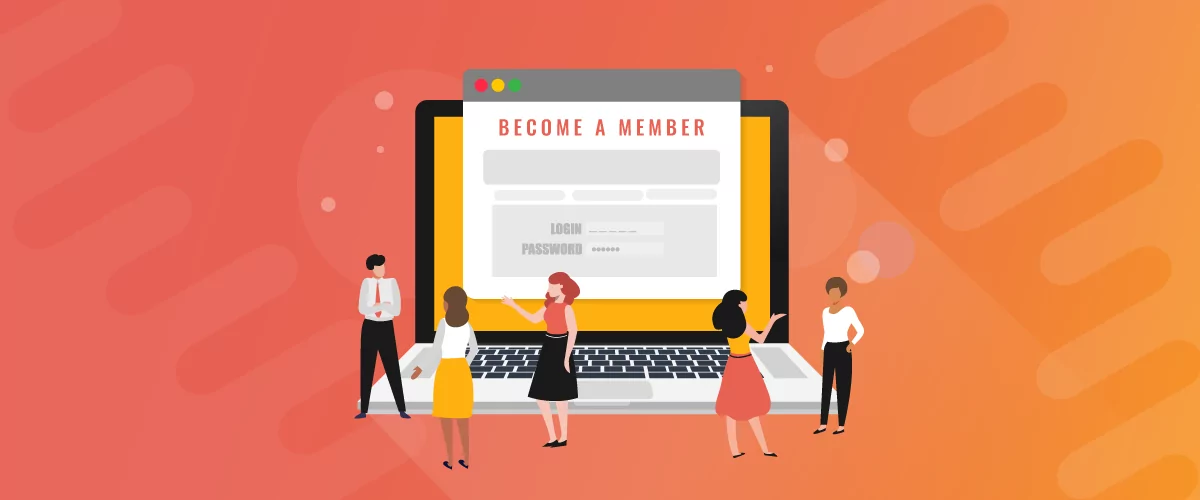 Are you looking to start your own membership website? If the answer is yes, we've prepared a list of successful membership website examples for you to follow or take inspiration from.
But before we get into the real-life examples, let's first talk about what they are.
What is a Membership Website?
A membership website is a private part of your website where registered users can get access to special content. You can apply the idea behind membership websites to a ton of different situations, which is why creating a membership site has become an incredibly popular strategy.
You can use your membership site to offer gated content, create a private forum/community, offer special product discounts, plus a whole lot more.
Then, you can open up your membership community for free, charge for access, or mix and match the two strategies by offering different content to free vs paid members.
No matter how you implement it, there are some big benefits to creating your own membership site:
Build a community — you can create a "sticky" community of engaged users who will keep coming back to your site.
Earn recurring revenue — if you offer paid premium content, you can bring in a steady subscription revenue every single month.
Open new marketing opportunities — beyond potentially selling your existing premium content, you also have a ready-made audience to sell new content/products or affiliate offers.
Best of all, you can do almost all of this on autopilot…as long as you have the right tool.
In this post, we'll inspire you with some real-life examples of successful membership websites.
Then, we'll dig into what you need to create your own membership website and show you step-by-step how to create your own membership site using WordPress and Paid Member Subscriptions.
Six Successful Real-World Membership Website Examples
To give you some inspiration for your own site, let's start off with a look at some successful membership sites that apply different types of membership models.
Some of these membership site examples offer free membership access, while others only offer paid memberships. Some exclusively offer content, while others offer special members-only discounts or other perks.
Let's dig in…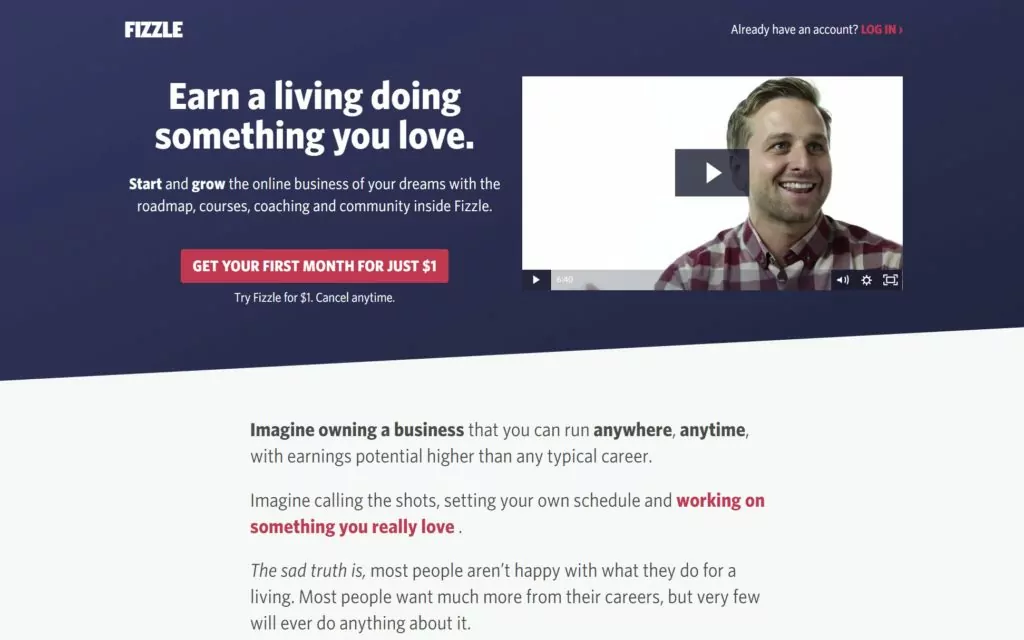 Fizzle is a popular paid membership site for individuals and small business owners who want to create a successful online business.
Members get access to premium course content, live group coaching sessions/webinars, and a forum/chat where they can interact.
Fizzle also offers some basic free content to draw in potential members, like a public blog.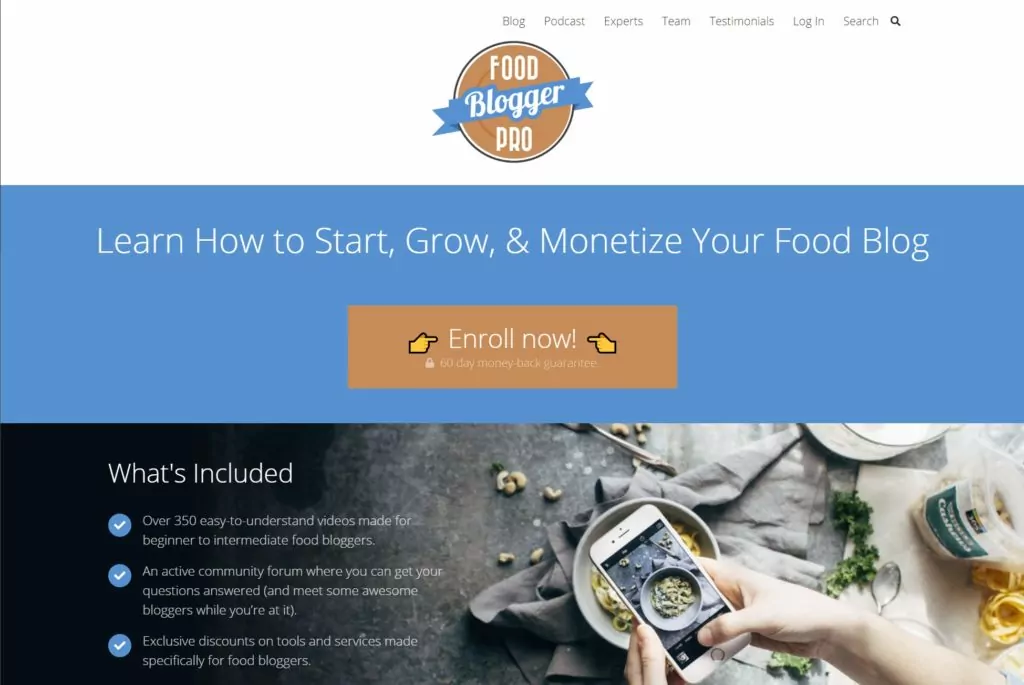 As the name suggests, Food Blogger Pro is a premium membership community to help people create and grow their own food blog.
It comes from Lindsay and Bjork Ostrom, who run Pinch of Yum, their own wildly successful food blog.
Members get access to premium course content as well as a community forum where they can interact with other members.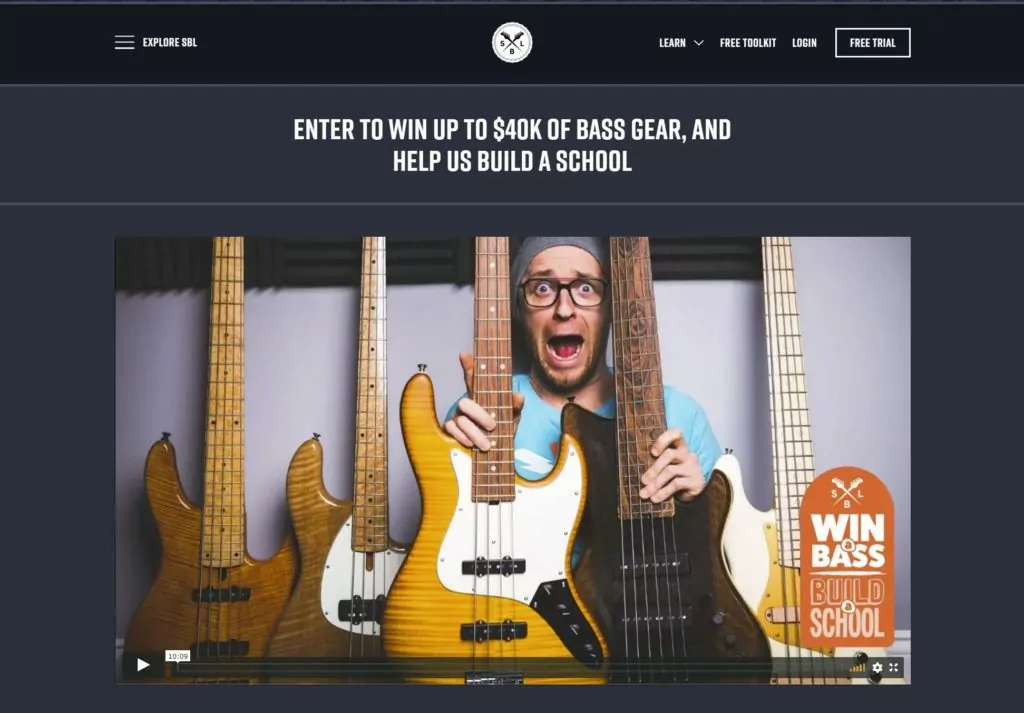 If you want to learn to play the bass, you'll probably come across Scott's Bass Lessons. It's a popular paid membership community that teaches members how to play the electric bass.
Members of the Academy get access to 40+ courses and premium interviews/seminars featuring respected bassists.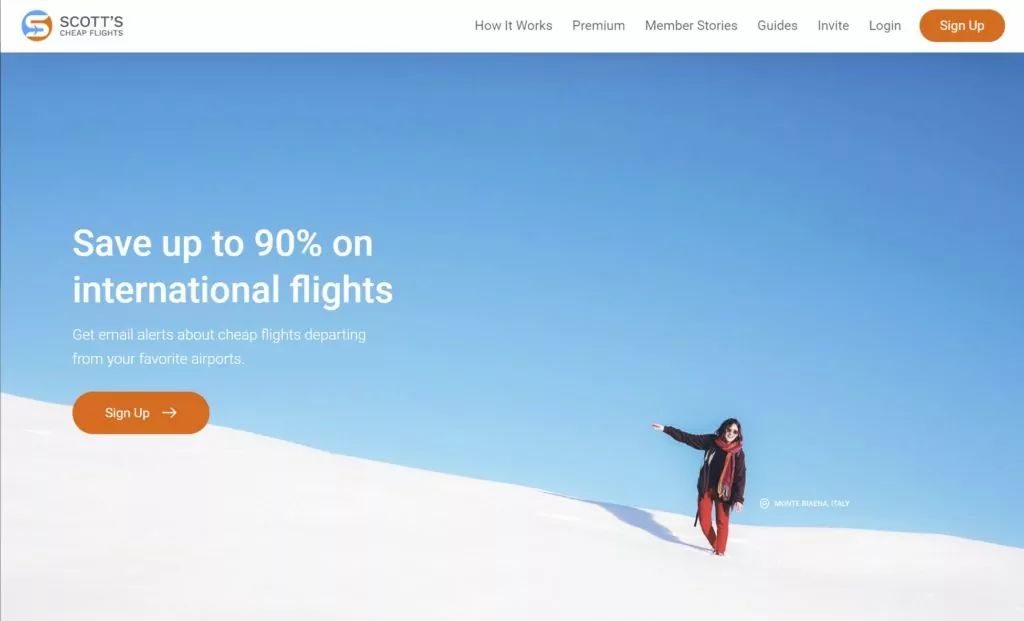 Scott's Cheap Flights is not from the same Scott who teaches you to play bass. It's an entirely separate membership community where members get access to curated low-cost airfare deals.
The unique thing about this one in comparison with the three previous membership websites is that it offers both free and paid membership options.
To access any type of flight deals, visitors need to sign up for a membership, so there's a strong incentive for visitors to join. After that, free members get access to a limited selection of deals while paying members get access to the full selection of deals.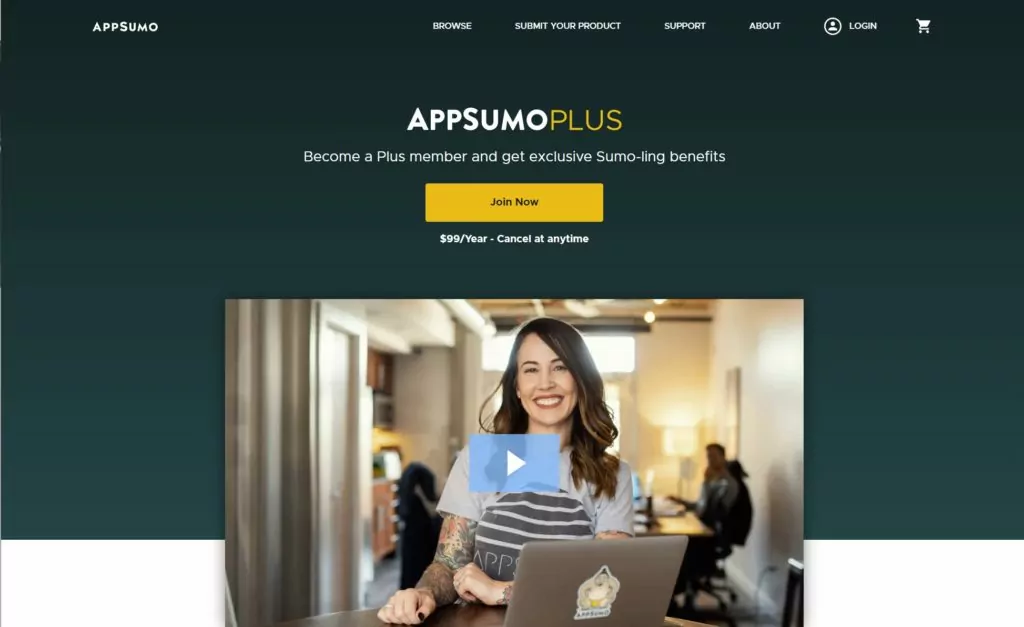 AppSumo Plus is a great example of how you can apply membership websites to an eCommerce situation.
If you're not familiar, AppSumo is a popular marketplace that sells heavily discounted digital products in time-sensitive deals (usually with lifetime access). Anyone can purchase these deals — they're public and membership is not required.
Then, hardcore AppSumo fans who want even better deals can sign up for the AppSumo Plus membership for $99, which gets them 10% off AppSumo purchases and extended access to the public deals.
Basically, you can offer more than just content to your members, as this membership website example shows.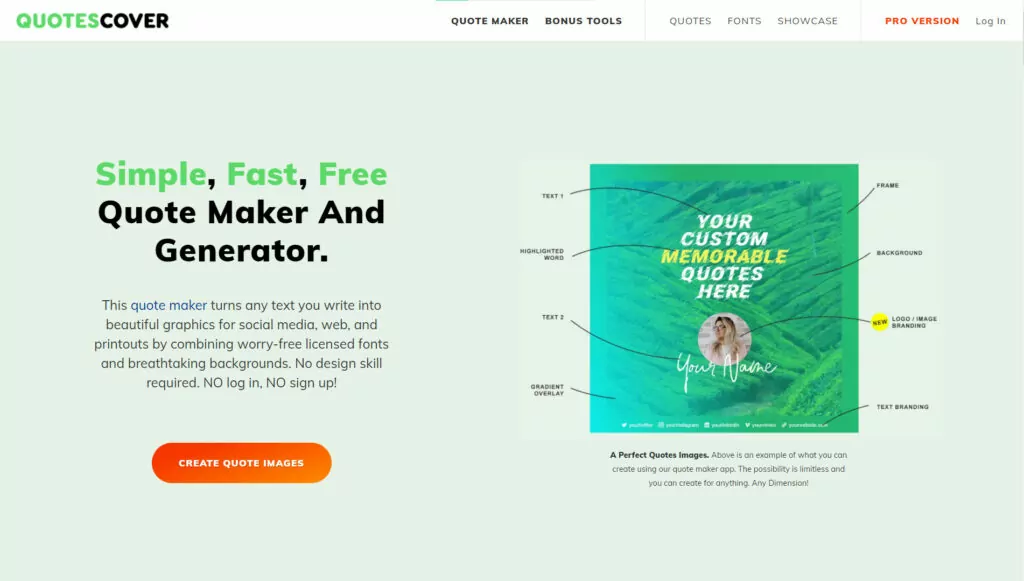 Quotes Cover is another fun WordPress membership website example.
As the name says, the platform offers a quote maker and generator tool, that turns any piece of text into licensed graphics for social media, web, and print.
The website offers both a free version and a Pro one but, what's interesting to note, is that the free version doesn't require registration, meaning that only the Pro users are actual members of the service. This is exactly why this is a good example (and why it made it onto our list) since it combines a free-to-use tool and a membership program.
What You Need to Create a Membership Website
As you can see, there are a ton of different directions that you can go with your membership website. You can offer online courses, premium content, podcast access, special discounts, discussion boards, and a lot more.
Beyond that, you can use different pricing approaches, opting to go totally premium or offer a mix of free and paid content. You can even offer content to non-members, like a public blog that people can read without signing up for your membership site. Offering some public content also helps you rank in Google and get shared on social media.
However, if you want the flexibility to take your membership website in different directions, you need a tool that won't limit you.
So that's the next question — what should you look for in a membership management tool?
1. Pick the Right Platform for Your Membership Site

To start, you need to pick the right platform for your website. While there are website builders like Squarespace and even some dedicated membership or course creation tools, WordPress is the best option for most membership websites.
WordPress is free, open-source software that powers over 35% of all the websites on the Internet, including some of the world's most successful membership websites, like the Fizzle and Food Blogger Pro examples from above.
Beyond being popular and free, another thing that makes WordPress so suited for membership websites is how easy it is to extend the core WordPress software.
WordPress plugins make it easy to add new functionality to your site without needing to write any code. And with a WordPress membership plugin, you can easily turn your website into a membership site.
Better yet, you can also take advantage of other plugins. For example:
WooCommerce — add eCommerce support to your site to create a membership store like AppSumo Plus.
bbPress — add a forum to your site to create a private membership community discussion area like Fizzle and Food Blogger Pro.
Elementor — create high-converting landing pages and popups for your Elementor membership site using a simple visual editor. You can also design a custom homepage.
2. Choose the Right WordPress Membership Plugin for Your Needs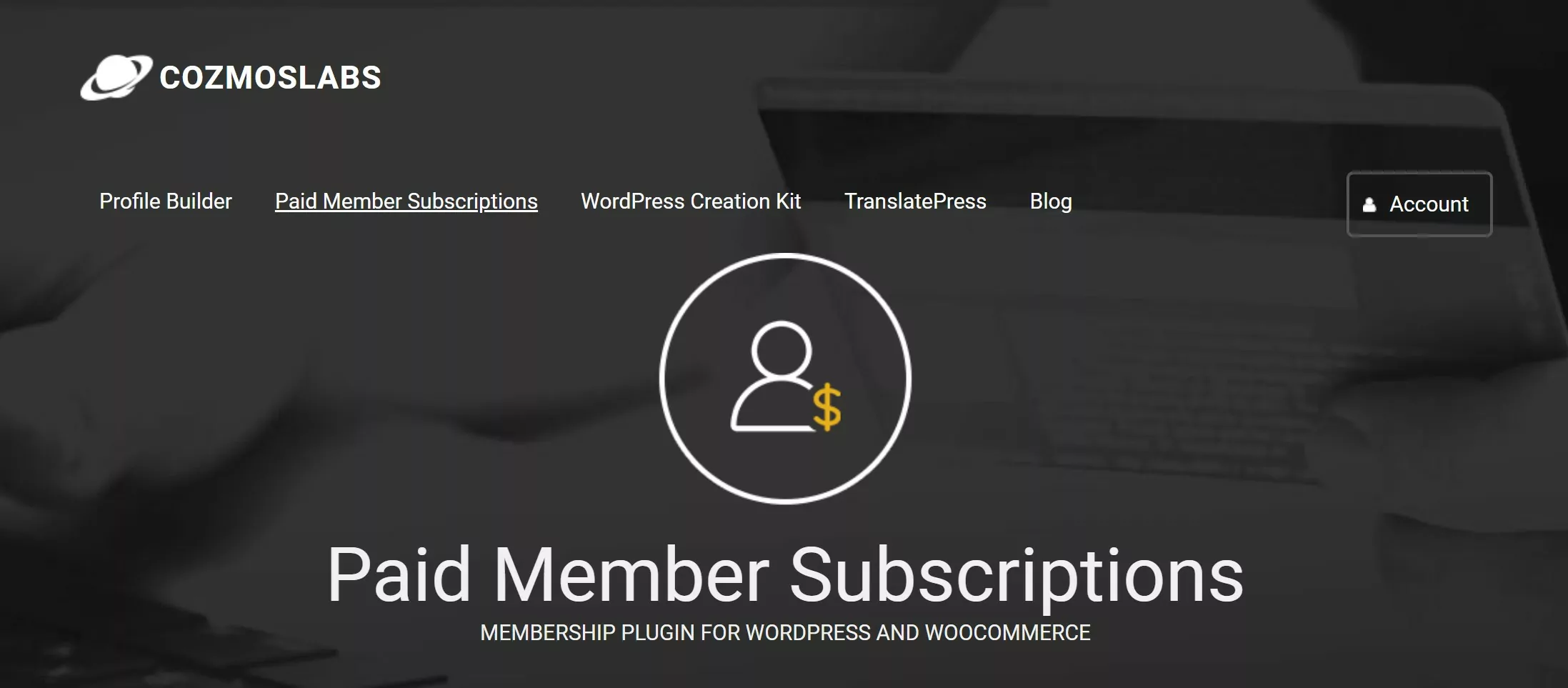 As we mentioned above, you need a WordPress membership plugin to turn WordPress into a working membership site.
Here, you have several popular options, so how do you choose the best WordPress membership plugin for your situation?
First, consider the ways in which you can restrict access to content. The core principle behind a membership site is being able to restrict access to some or all of your content, so it's important your chosen plugin gives you a flexible way to do that.
For example, the Paid Member Subscriptions plugin lets you restrict entire categories or types of content, as well as individual pieces of content. This lets you make sure every piece of content has proper access permissions.
It also lets you "drip" your private content out over time, which helps you keep your members engaged and coming back (rather than binging all your content in one sitting).
If you plan to use another plugin, like WooCommerce or bbPress, you'll also want to make sure your chosen plugin supports restricting content from that plugin.
Next, consider how you can give access to restricted content. Do you want to have different levels of membership, each of which can see different types of content? Or do you want to give all your members access to everything?
If you want to sell access to your membership content, you'll also need a plugin that comes with built-in payment support. There are two basic types of payments:
Some membership plugins, like Paid Member Subscriptions, also let you get creative with free trials, one-time signup fees, and promotional coupons/discounts.
Of course, there are plenty of smaller considerations that might apply to your specific situation. But if you pay attention to the main features above, you should be able to pick the right WordPress membership plugin for your needs.
How to Create Your Own Membership Website With WordPress
Ready to stop looking at other people's membership websites and create your own? Let's finish things out with a look at how to create your own membership website using WordPress and the Paid Member Subscriptions plugin that we mentioned above.

Paid Member Subscriptions Pro
The best WordPress plugin to create a membership website, with no technical knowledge required.
Get Paid Member Subscriptions
Paid Member Subscriptions is a flexible WordPress membership plugin that can work in a few different ways.
First, it helps you restrict some or all of your content for registered members only. You can restrict:
Blog posts
Course content
WooCommerce products
Forums
Podcast episodes
Etc.
Basically, no matter what type of content you're planning to offer in your membership community, you can manage access with Paid Member Subscriptions.
Second, you can implement different strategies for granting access to your membership community. You can create unlimited membership levels and different pricing tiers including:
Free plans
One-time payments
Recurring subscription payments
You can also make different content available on different plans.
Finally, members will be able to manage their details from a front-end members area. For example, if someone wants to upgrade from a free plan to a paid plan, they can do that by themselves right from their members area.
Here's how to set it up…
1. Set Up Your Basic WordPress Site
To get started, you'll need to set up your basic WordPress website. If you've already done this, congrats! You can skip to the next step.
If you haven't, you'll need to perform three main actions:
Pick a domain name.
Purchase web hosting and a domain name (you can get them from the same spot).
Install the WordPress software, which most web hosting providers make easy.
If you're not sure where to begin, SiteGround is a good starting point because:
SiteGround offers both web hosting and domain registration.
SiteGround's prices are affordable.
The performance and support are good.
SiteGround offers a user-friendly tool to help you install WordPress.
Once you install WordPress on your hosting, you're ready to build your membership website.
2. Choose a Membership WordPress Theme
Your WordPress site's theme controls its looks, so it's an important part of all membership websites.
To help you choose an optimized theme, we collected the best WordPress membership themes. Once you choose a theme from that list, you can install it by going to Appearance → Themes → Add New in your WordPress dashboard.
3. Install Paid Member Subscriptions
Once you have your basic WordPress site and membership theme, you need to install Paid Member Subscriptions to add membership site functionality to your WordPress site.
The core Paid Member Subscriptions plugin is available for free at WordPress.org, so you can install it by going to Plugins → Add New and searching for "Paid Member Subscriptions":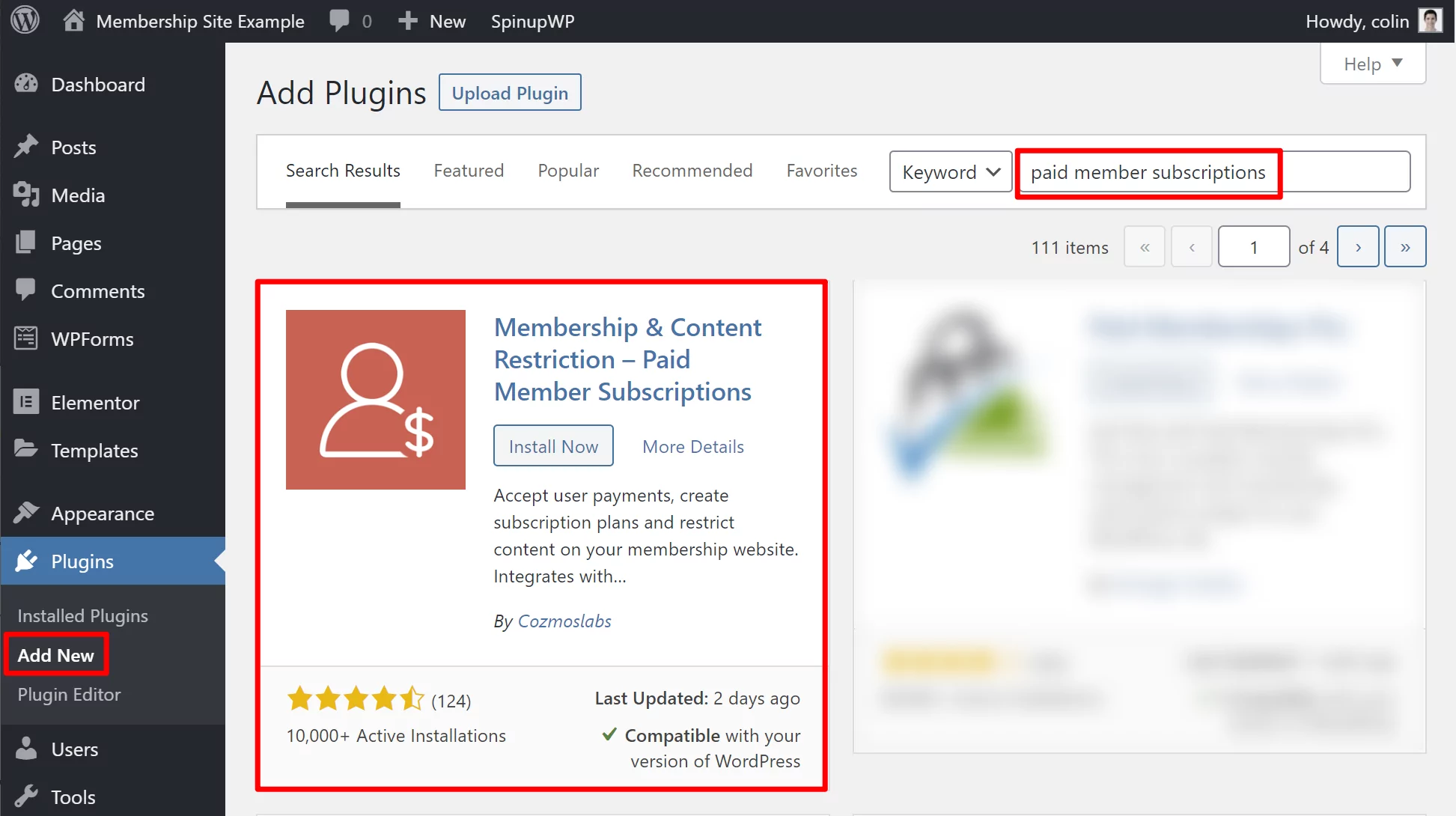 The free version alone can help you create a working membership website, but you'll need the paid version to add more advanced features like recurring subscriptions.
For this tutorial, we'll continue with just the free version, though.
Once you activate the plugin, it will launch a setup wizard to help you configure the basics for your membership website, like which payment options to offer for credit card payments if you're selling paid membership access: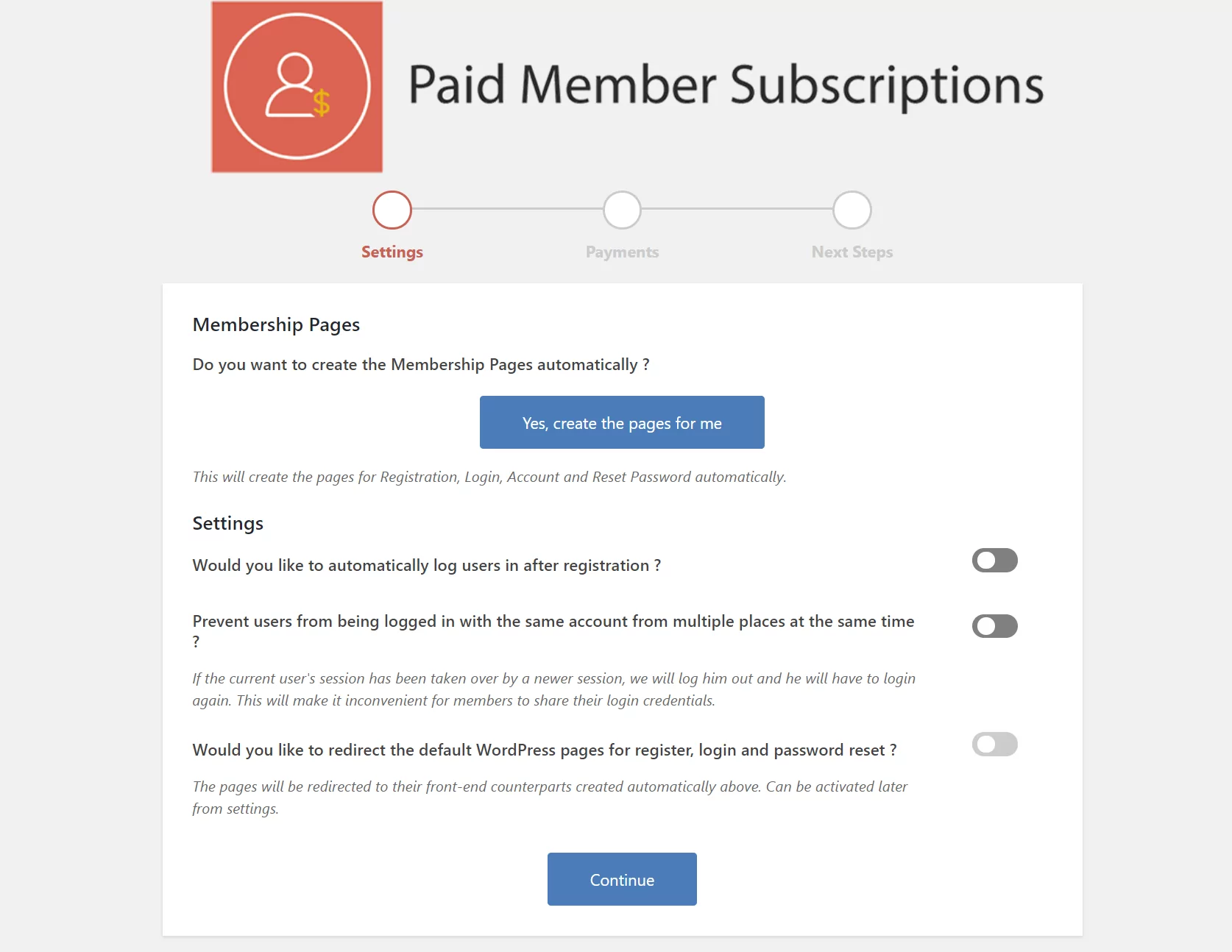 4. Create Your Membership Levels
Next, you need to create different membership plans that will grant users access to your restricted content.
Paid Member Subscriptions lets you create as many different access plans as you'd like and you can include both free and paid options.
To create your first membership plan, go to Paid Member Subscriptions → Subscription Plans and click Add New.
There, you can add the details for this plan, like:
Its price.
How long users get access (if you're using a limited duration).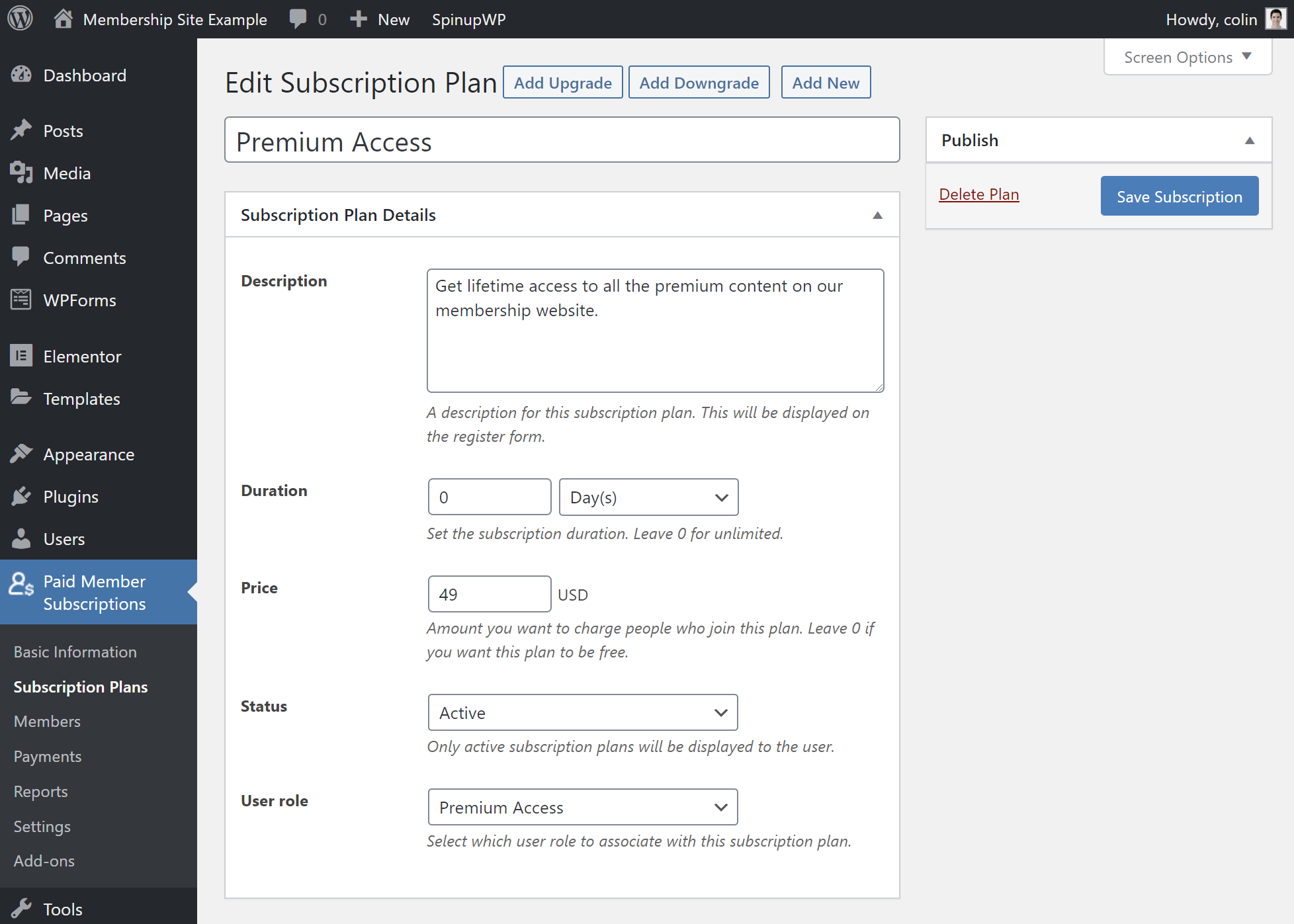 Click Save Subscription when you're done.
If you want to offer multiple plans, you can repeat the process as many times as needed.
If you're offering multiple plans, go to the Subscription Plans area and use the up and down arrows to put the plans in order (with the highest tier plan at the top). This controls how a user's plan changes if you're offering upsells or if a user downgrades their plan: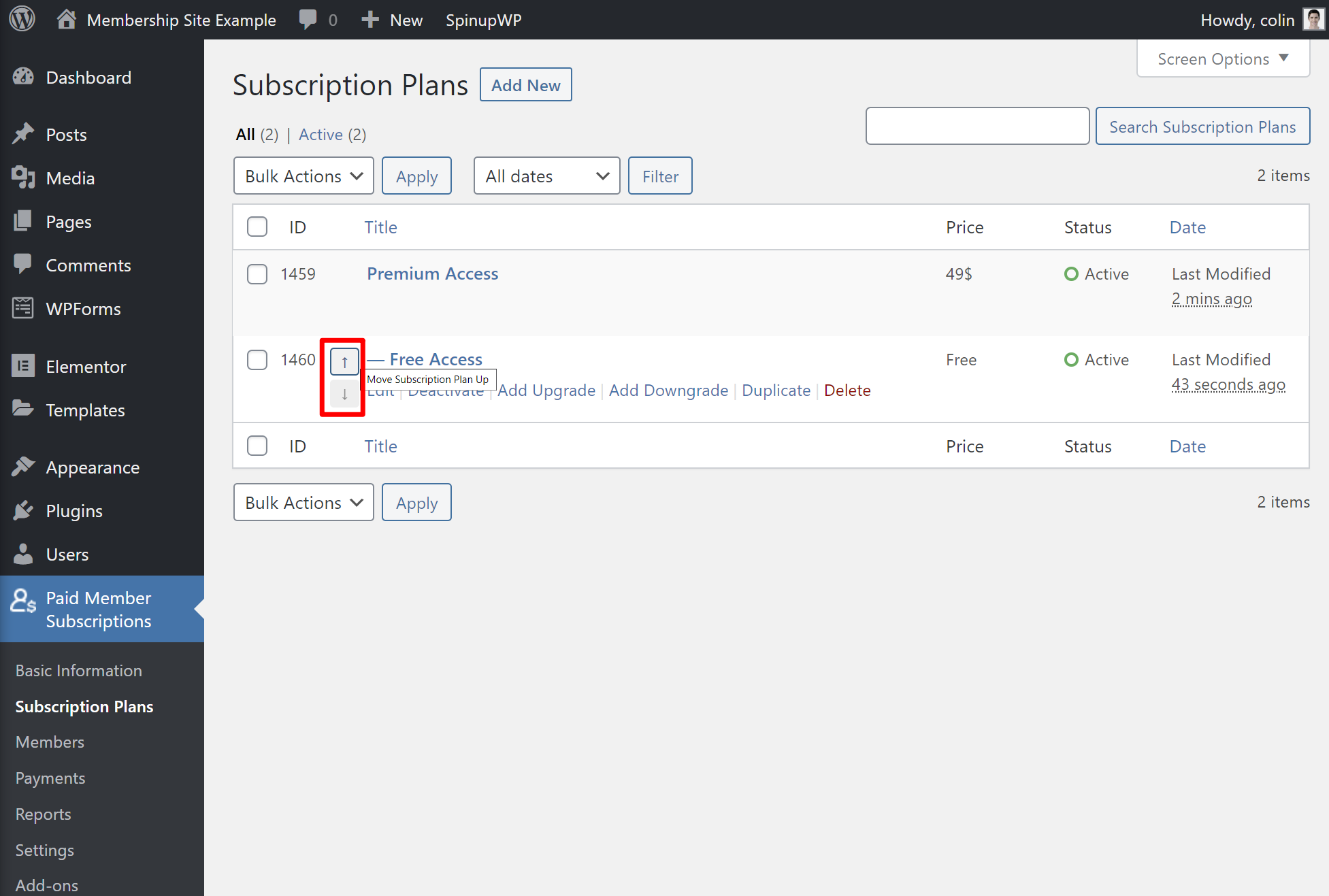 5. Restrict Content
Once you've created your subscription plans, you can use those plans to restrict access to content on your membership website.
To do this, open the editor for the piece of content that you want to restrict. For example, if there's a blog post that you want to only be visible to premium members, open the editor for that blog post.
Then, scroll down to the Content Restriction box below the text editor. Here, you can set the content restriction options.
For example, to make it so that only users on the Premium Access plan can see the post, you'd check the box for Premium Access. Any non-members who try to access the post will either see a message or be redirected to another page (you can control this behavior using the Type of Restriction setting):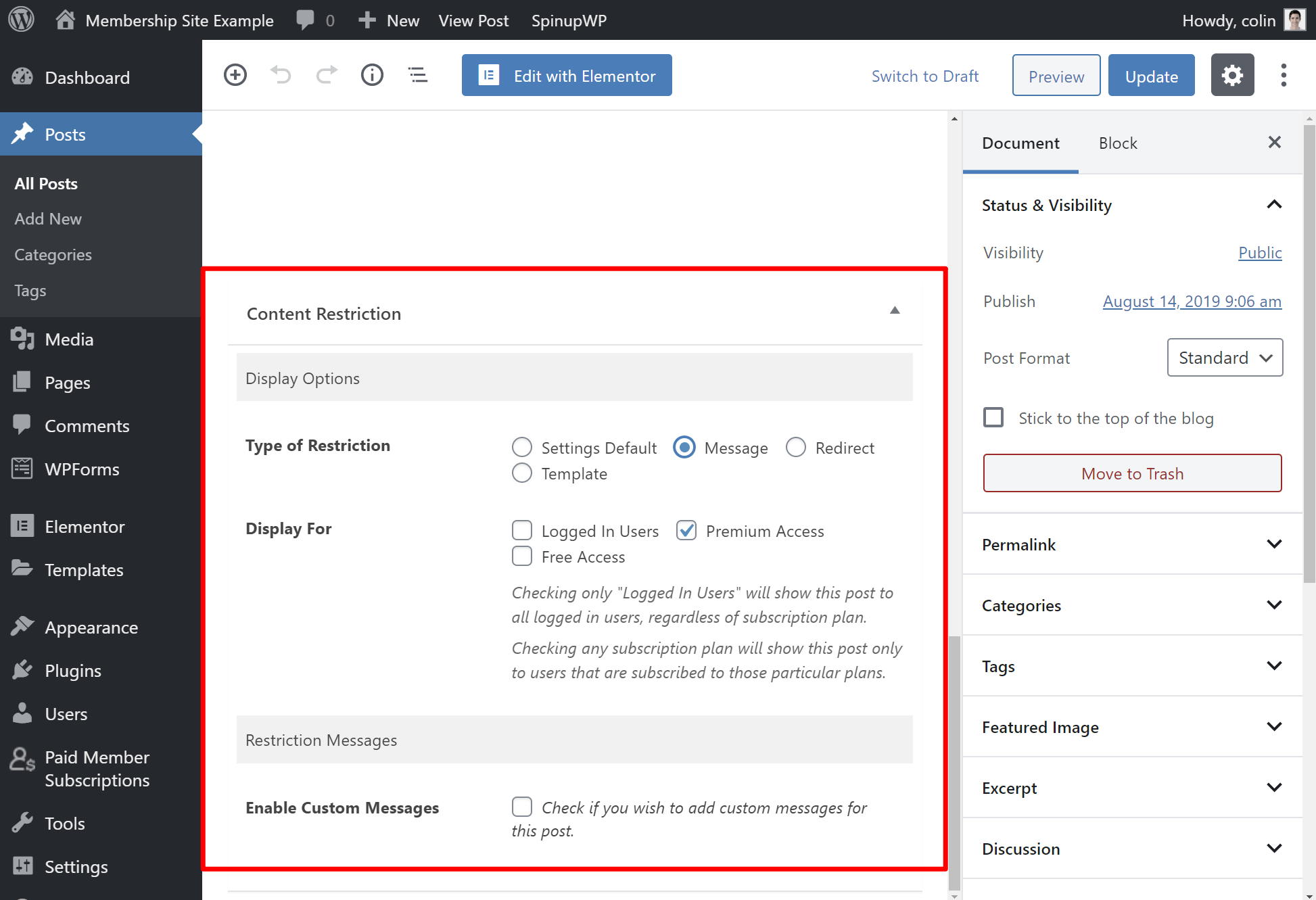 Then, repeat the process for the other content items that you want to restrict.
With the Global Content Restriction add-on, you can also bulk-restrict access to entire groups of content. For example, all the content with a specific category or tag.
6. Start Getting Members and Growing Your Site
And with that, you're ready to join the ranks of the other membership websites on the list! You officially have a working WordPress membership site.
Once you start getting some new members, you can browse them by visiting Paid Member Subscriptions → Members in your WordPress dashboard.
If you want to enhance your membership business, you can also consider upgrading to one of the paid versions of Paid Member Subscriptions.
The paid versions add helpful new features like:
Automatic recurring subscriptions — build recurring revenue with subscriptions that automatically renew.
Content dripping — "drip" your membership content out over time rather than making everything immediately available. This helps you keep members coming back to your site for new content.
Integrations — integrate with WooCommerce (eCommerce) or bbPress (forums) to further enhance your membership community.
Multiple subscriptions per user — let users sign up for multiple different subscriptions.
Improved email marketing — edit the email templates used on your site.
There are also a ton of other premium features.
Create Your Own Membership Website Today
Creating your own online membership site is a great way to create a loyal community of engaged users and build a source of recurring revenue.
With WordPress and Paid Member Subscriptions, it's easy to create your own membership website, with no technical knowledge required.
To get started, install the free version of Paid Member Subscriptions to launch your membership site.
Then, purchase Paid Member Subscriptions Pro to build recurring revenue and enhance your membership community with content dripping, integrations, and more.

Paid Member Subscriptions Pro
The best WordPress plugin to create a membership website, with no technical knowledge required.
Get Paid Member Subscriptions
Do you have any examples of membership websites that we might have missed? Let us know in the comments box below!