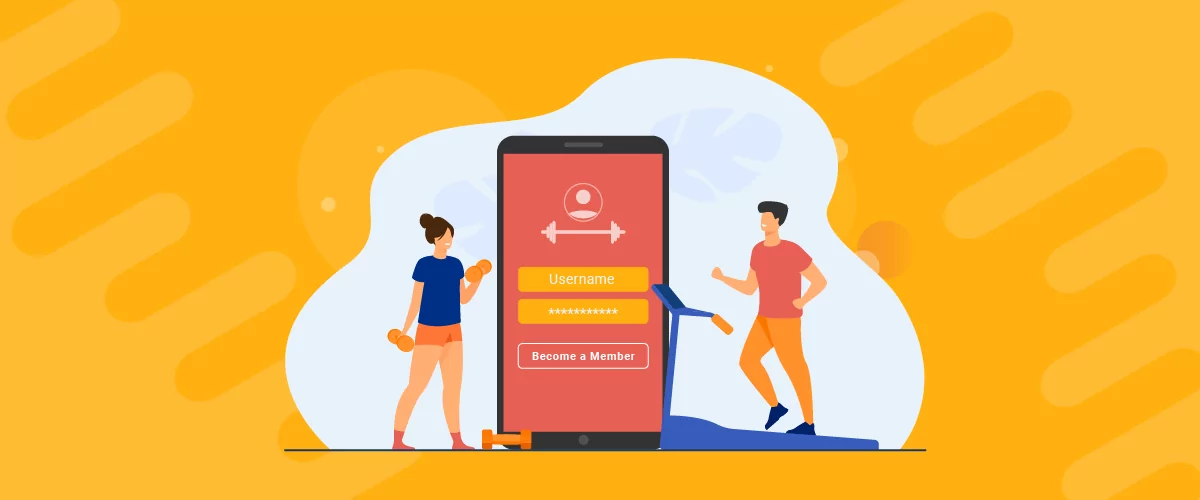 Are you looking for a way to offer members-only content on your fitness website? Well, you might consider building a fitness membership site.
Unfortunately, WordPress by default doesn't offer robust content restriction options to make this possible. Moreover, things are especially hard if you're looking to build your fitness membership website from scratch.
However, you can always use a membership plugin such as Paid Member Subscriptions to build a fitness website, without having to put in much effort.
In this article, we'll talk about why you—as a fitness guru or personal trainer—would benefit from starting a fitness membership website and how you can create one yourself in WordPress.
Why Start a Fitness Membership Website
Building a fitness membership website is a great way to use your healthy lifestyle as a way to generate an income. It's an ideal option for fitness enthusiasts and gym gurus to start their own fitness brand and create an income stream off of it.
For instance, if you're well experienced with fitness practices, you can create a fan following around your unique exercises and health tips.
Let's go over some other use cases for fitness gurus and personal trainers or coaches when starting a fitness membership site:
Teach People About Fitness and Health (Creating a Community)
Starting your own fitness membership website is a great way to create a sense of community around your brand. This way, you can teach your audience about fitness and health in a community setting where they can find like-minded people to discuss and interact with. As a result, you encourage more people to register for your fitness membership subscription. You could make your membership plans free, so that any fitness passionate can join, or choose to include a subscription fee and earn an income too.
Offer Premium Content (Video Lessons, Stretching Exercises)
Creating a fitness membership website is also a great way to offer premium content to your audience and charge a premium price for it. For instance, you can offer video lessons or create detailed stretching exercises and fitness routines for paying members. People will have to subscribe to your fitness membership program to access the premium content or members-only content. You can still keep other more generic exercises public for non-paying visitors at the same time.
Offer Exclusive Products and Services (Meal Plans, Diet Routines, Personal Training)
Building a fitness membership website is also a great way to offer exclusive products and services to your audience. This way, you can offer customers personalized products or services in exchange for a premium price. For example, you can offer meal plans, diet routines, or offer personal training to registered members and charge a small premium for it. This not only encourages more people to register on your fitness membership website but is also a great way to increase revenue.
How to Build a Fitness Membership Website in WordPress
So let me show you how to set up a fitness membership site yourself in WordPress!
For this tutorial, you will need a WordPress site along with the Paid Member Subscriptions plugin. Paid Member Subscriptions is an all-in-one solution for starting and managing your own fitness membership website.
The plugin is super simple to first set up and gives you full control over which content is displayed to specific user roles on your website. This way, you can offer premium fitness content and only let registered members access the premium content.
You also have access to advanced membership site features including pre-designed email templates, basic reporting analytics for measuring performance, and subscription management options to offer membership upgrades or downgrades. Paid Member Subscriptions is the perfect solution for fitness gurus or health enthusiasts looking to build their own fitness membership site.
Step #1: Set Up the Paid Member Subscriptions Plugin
First things first, start off by getting the Paid Member Subscriptions plugin and installing it on your WordPress site.
Now, for the first part of this tutorial, you can get away with just the free version of the plugin, available for download at WordPress.org. The pro version will come in handy when configuring more advanced features of your membership site. But we'll get back to this later on.
So, after you download the plugin, navigate to Plugins → Add New and upload the plugin .zip file to the meta box. Make sure to activate the plugin once it's installed.
With the plugin active, you will see a new Paid Member Subscriptions menu item in the WordPress admin panel. Click it and then navigate to the Basic Information section. Next, click the Open Setup Wizard button and let Paid Members Subscriptions handle the basic membership setup for your site by itself.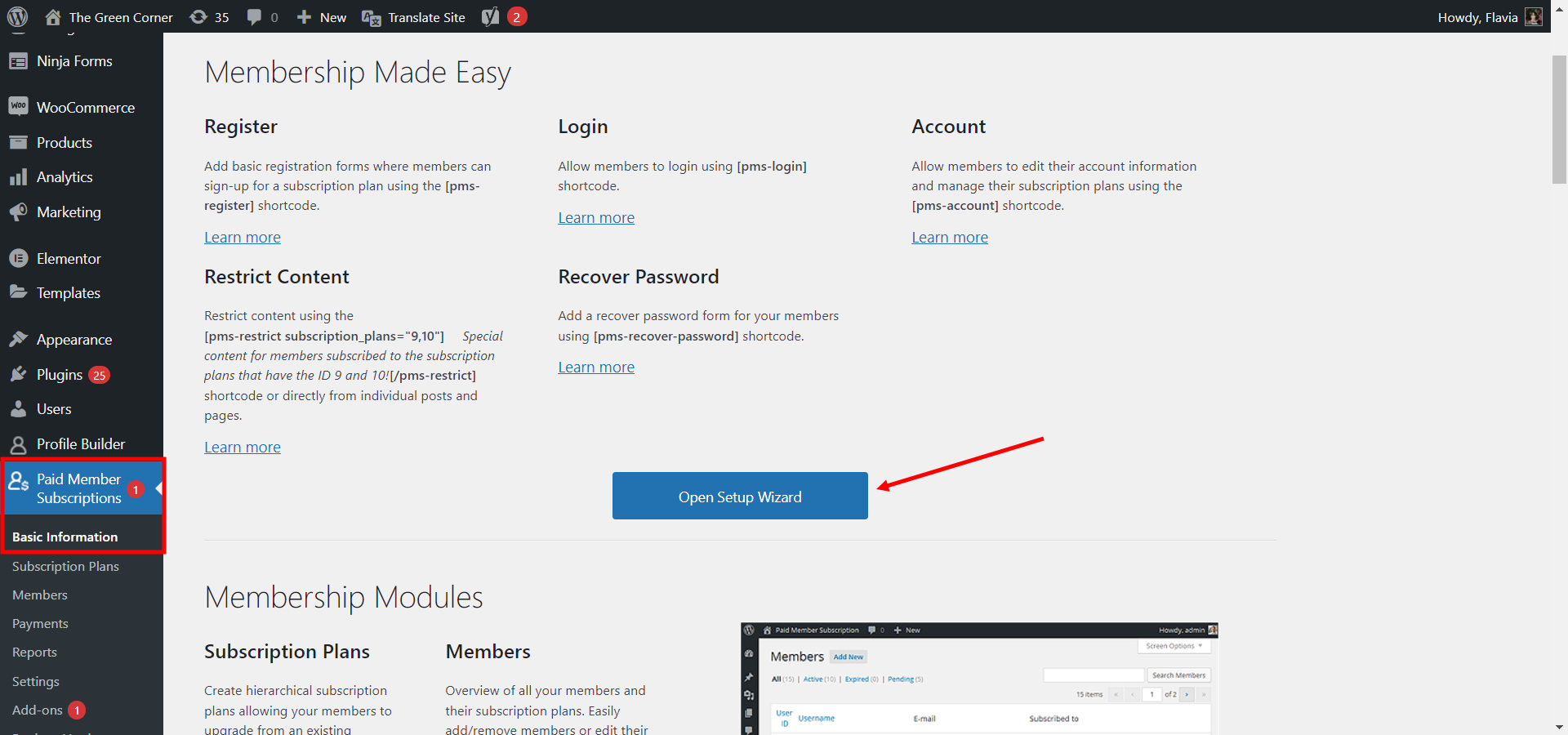 This will automatically create the Registration, Login, Account and Reset Password pages, as well as help you out with other essential settings, including payments.
Step #2: Create Subscription Plans
The next thing you'll have to set up are your subscription plans, or tiers.
Navigate to Paid Member Subscriptions → Subscription Plans and click on the Add New button. This will open the subscription plan setup.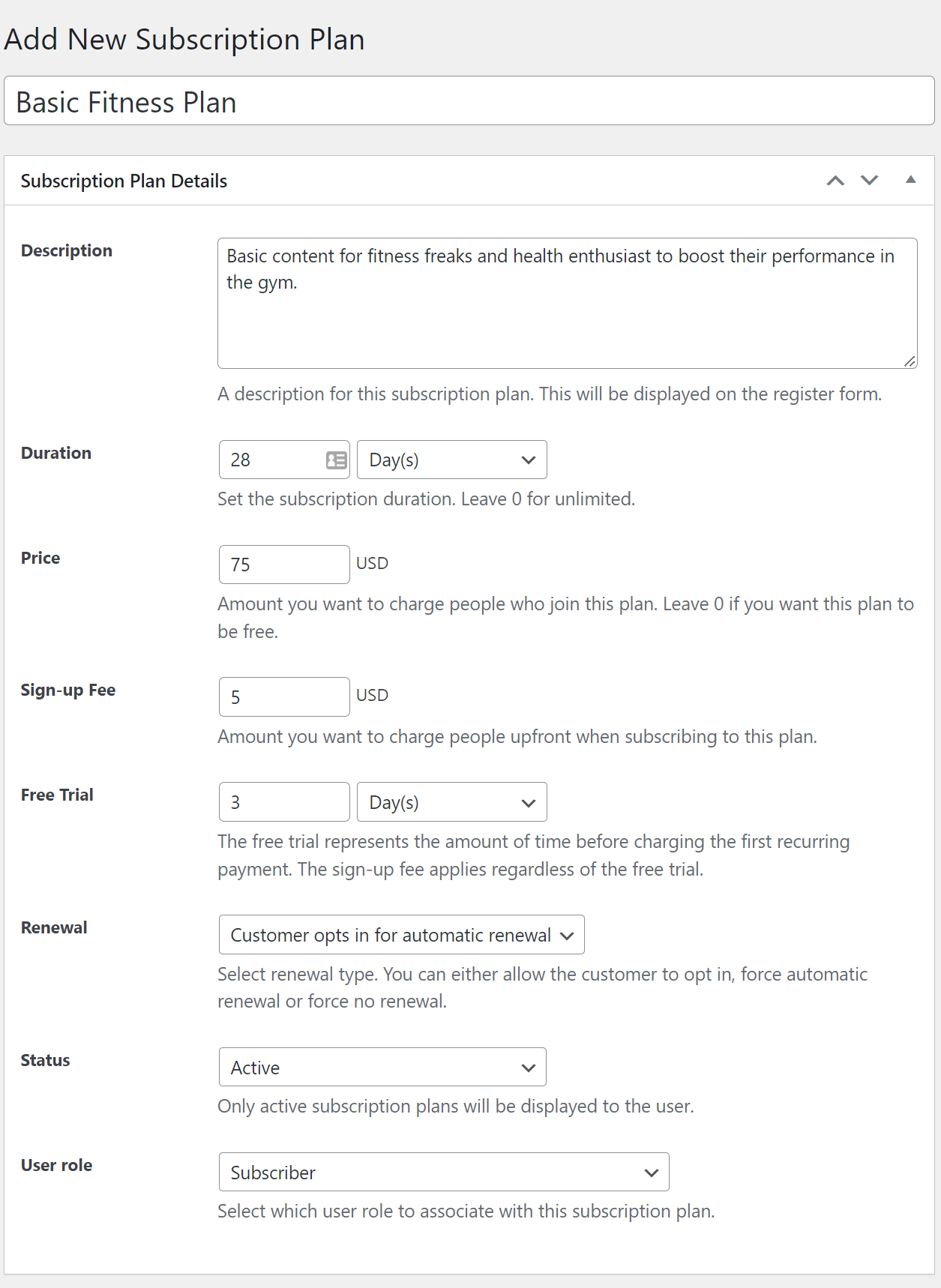 Here you'll be able to give your subscription plan a new title and enter a short description for it using the Description text field. Using the Subscription Plan Details meta box, you can also set the Duration, Price, set a Sign-up Fee if you want to, enter the duration of Free Trial and set membership re-subscription options using the Renewal dropdown menu.
In addition to this, you can also set the User role that's assigned to the user once they subscribe to this specific membership plan. Click on the Save Subscription button to continue.
Repeat this step to create multiple membership subscription plans.
Step #3: Restrict Content on Membership Pages
Navigate to the edit screen of any post or page you want to restrict for registered members only. This could be a page containing specific exercises, video content, premium diet plans and so on. Scroll down to the Content Restriction meta box, right under.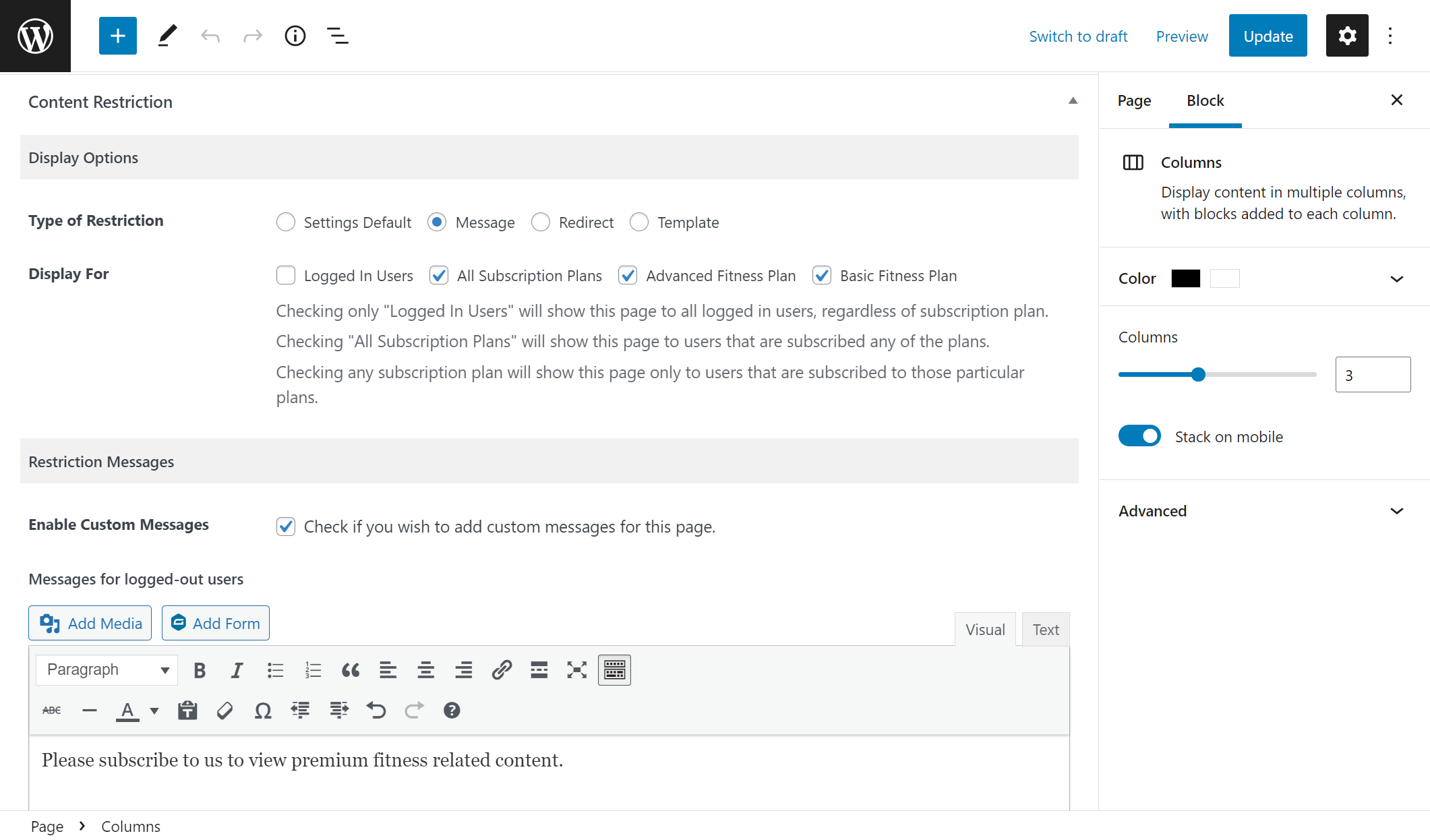 Under the Display Options meta box, you can choose the Type of Restriction from either Message, Redirect, or Template.
If you choose the Message option, you'll be able to display a custom message to non-subscribed and logged-out users. If you choose the Redirect option, you'll be able to redirect users to any URL of your choosing.
Next, select the subscription plan you want users to subscribe to in order to get access to the page using the Display For checkboxes. Click on the Update button to proceed.
Subscribed members will be able to view the premium fitness content and navigate to restricted pages easily.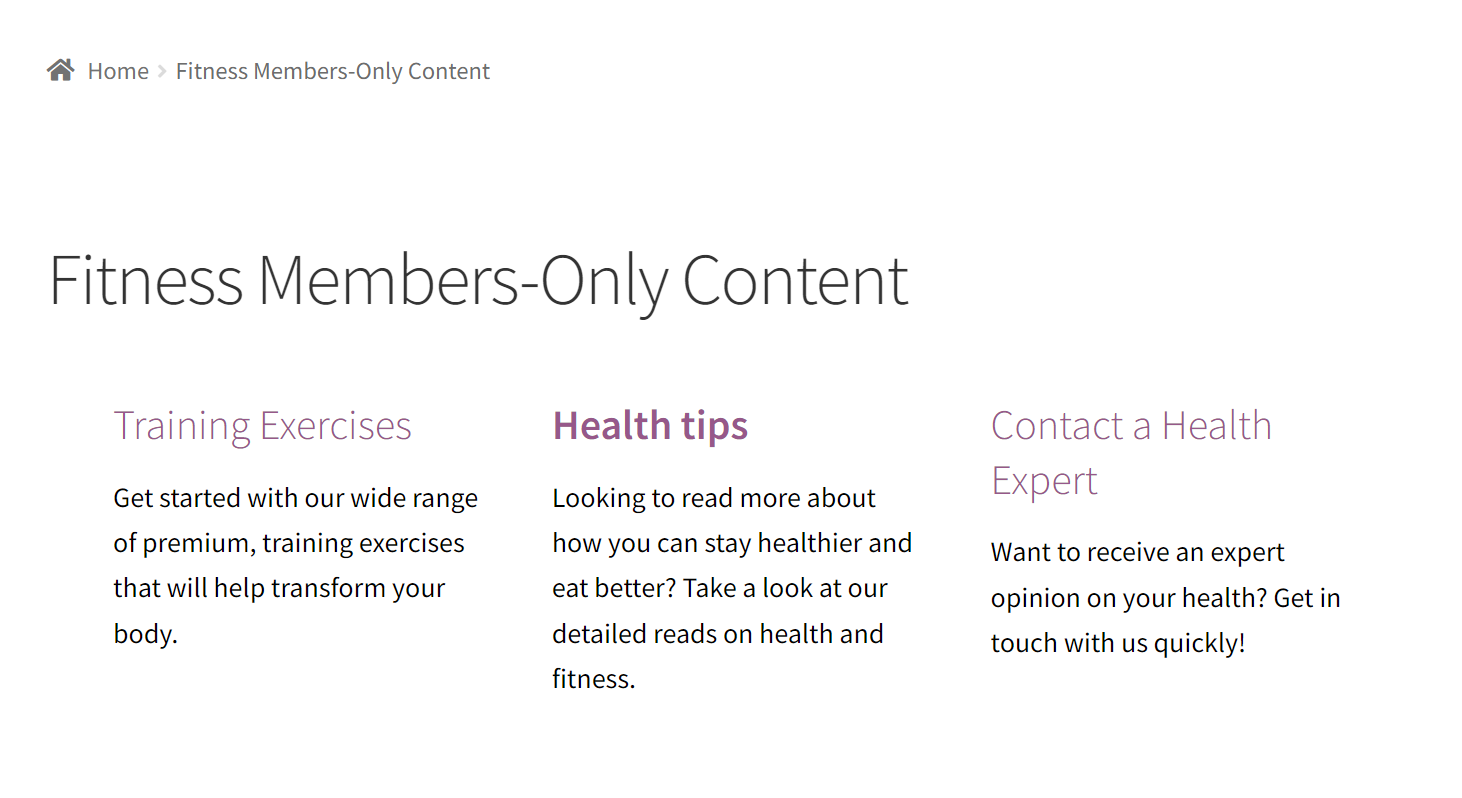 On the other hand, non-subscribed users will not be able to access this content. If you choose a message restriction, the page will look something like this on the front-end: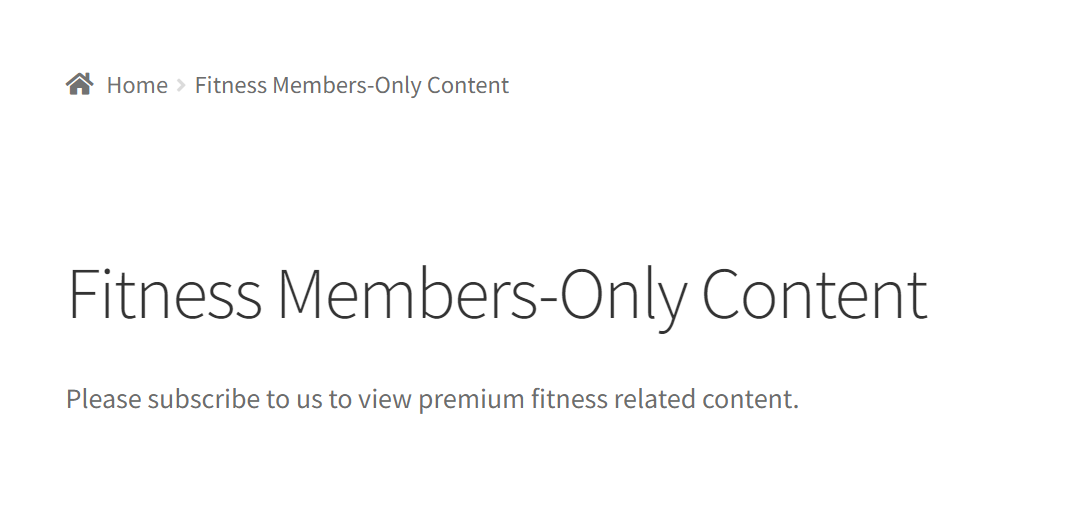 Step #4: Add Advanced Functionality to your Fitness Membership Website
The Paid Member Subscriptions plugin offers even more functionality with its premium licenses. As I said in the beginning, the pro version of the plugin lets you take your fitness membership website to the next level through basic and pro add-ons.
So, if you're looking for a more advanced fitness membership site, in this section I'm going to show you a few more fuctionalities that could help you out.
Create Content Dripping Workflows
With the Content Dripping add-on active, you can create content dripping workflows that help deliver premium content to users with the help of smart schedules. This way, users will see the content after a certain time has passed since they subscribed to your membership program.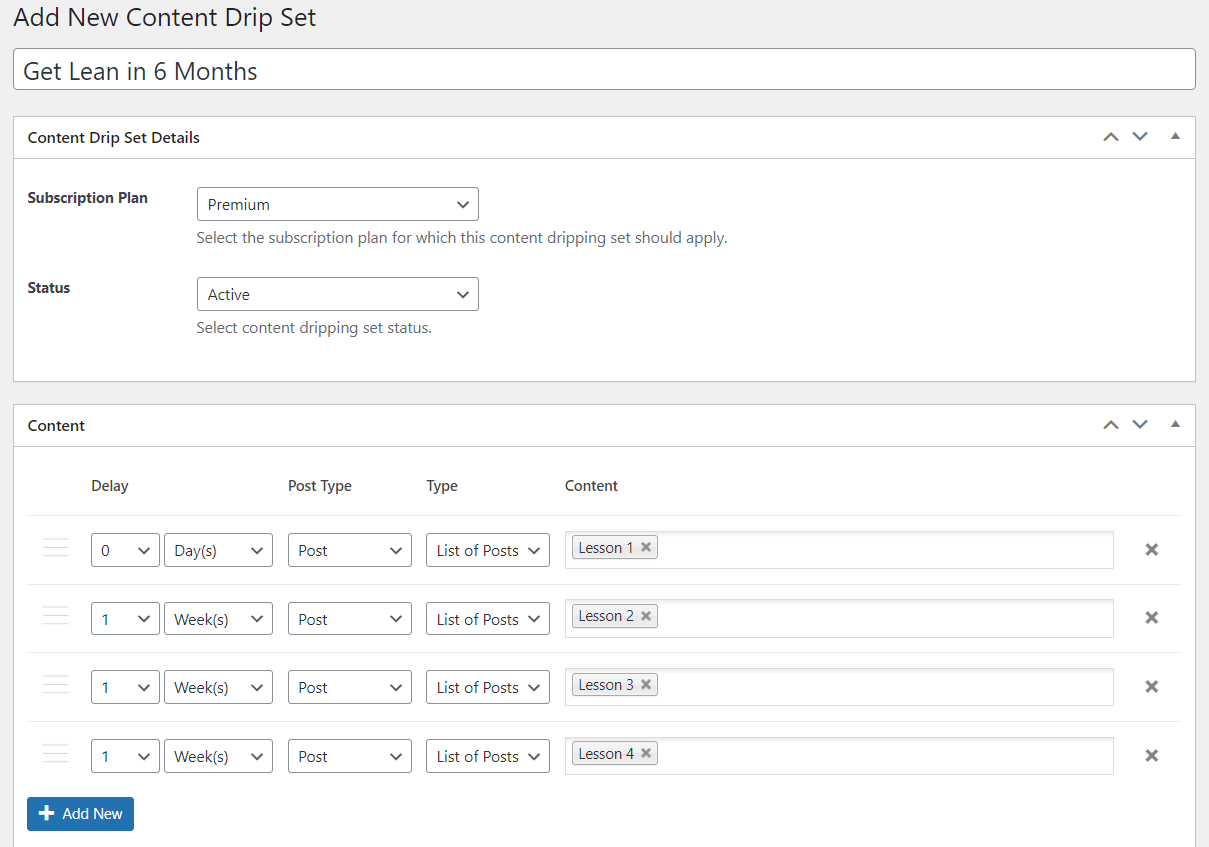 For example, if you have a fitness membership site that helps people build lean muscle, you can drip content each week that helps them progress through your course. This way, beginners will only be able to view and access beginner-level content. This could be lessons, meal plans, workouts, or downloadables.
Set Global Content Restriction Options
Additionally, you can also restrict content globally using the Global Content Restriction add-on and apply content restriction rules to entire post types, categories, tags, and so on. This add-on adds another box at the end of the subscription plan editor, that looks like this: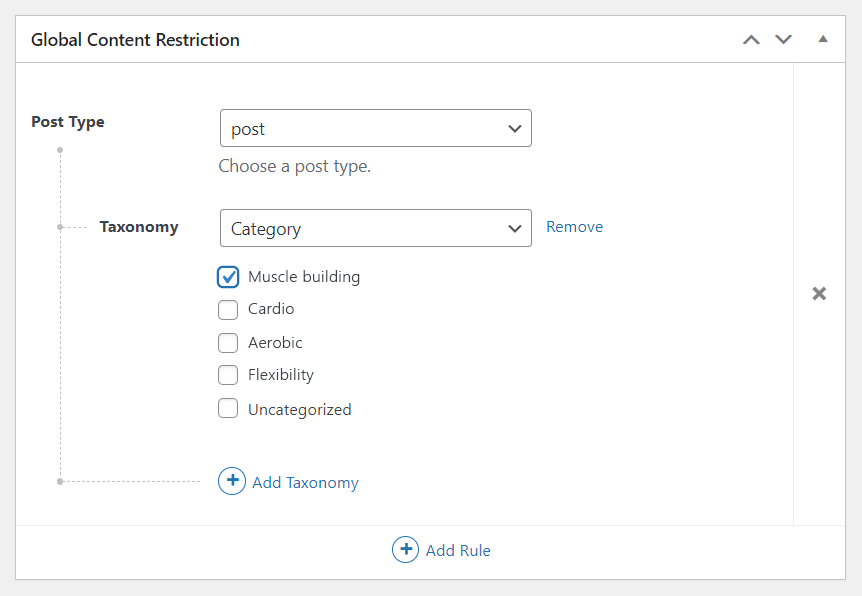 This is perfect for fitness sites or gym membership sites that cater to different types of members. You might want to offer different types of training for different types of subscribers.
For example, you could put all of your muscle-building-related posts in a category of their own and then restrict that entire category to one subscription level only. This way, you can offer an enhanced user experience on your fitness membership site.
Enhance your Navigation Menu
The Paid Member Subscriptions plugin also lets you dynamically display navigation menu items on your fitness membership website using the Navigation Menu Filtering add-on.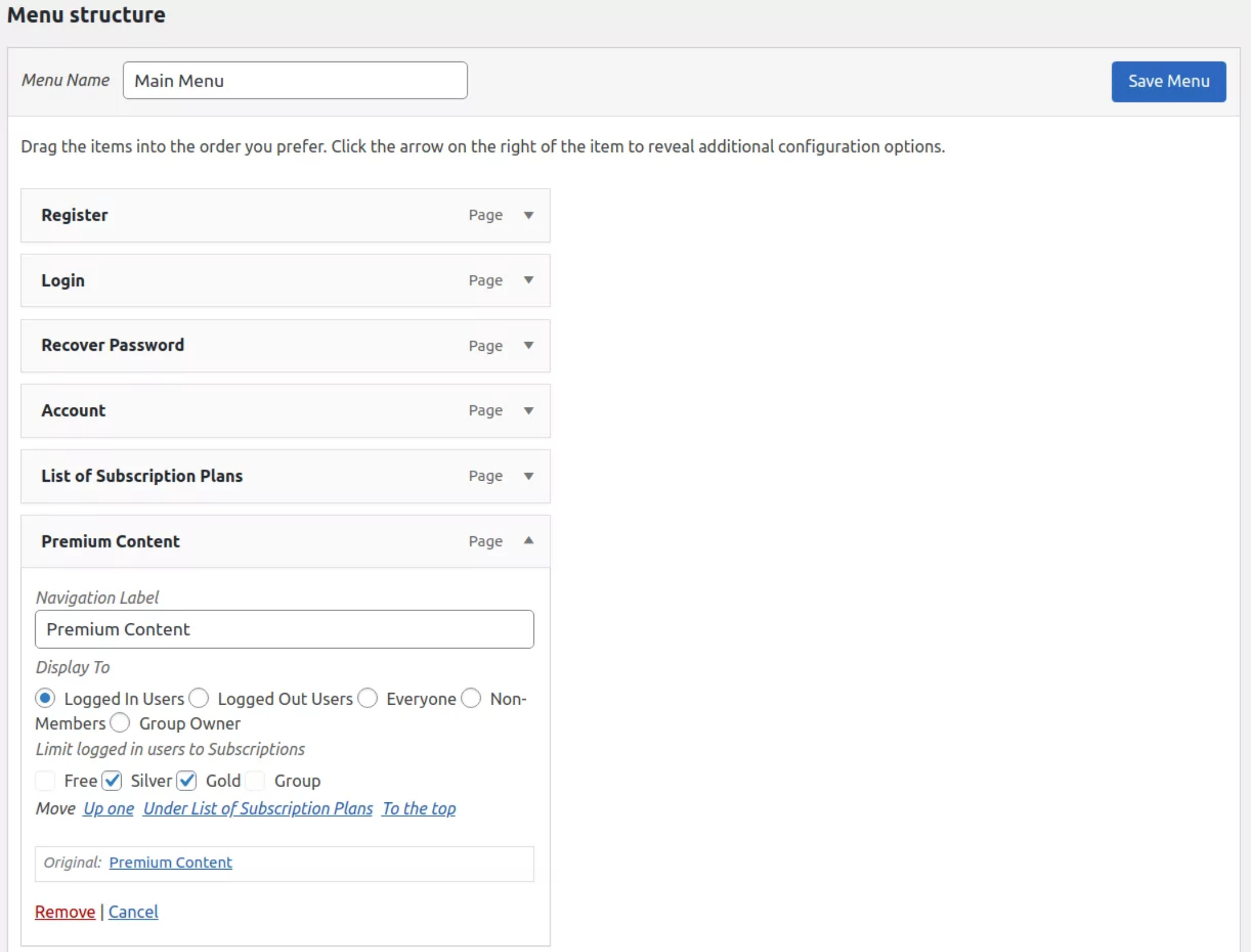 With this add-on, different user roles will see a different navigation menu depending on their user role. This is the easiest way to cater to different types of users registered with your fitness membership site. It's also perfect for fitness membership sites that cover multiple bases.
For example, if you have a gym membership site, you might have registrants that want to lose weight (Weight Watchers) while others might want to gain muscle (Body Builders). With Paid Member Subscriptions, you can dynamically show relevant menu items to both types of members.
Set Up Discount Codes
And that's not all. With the Discount Codes add-on you can also create and offer discount codes to your registered members seamlessly. This makes it easier to reward your members or offer special price reductions on specific products on your membership website.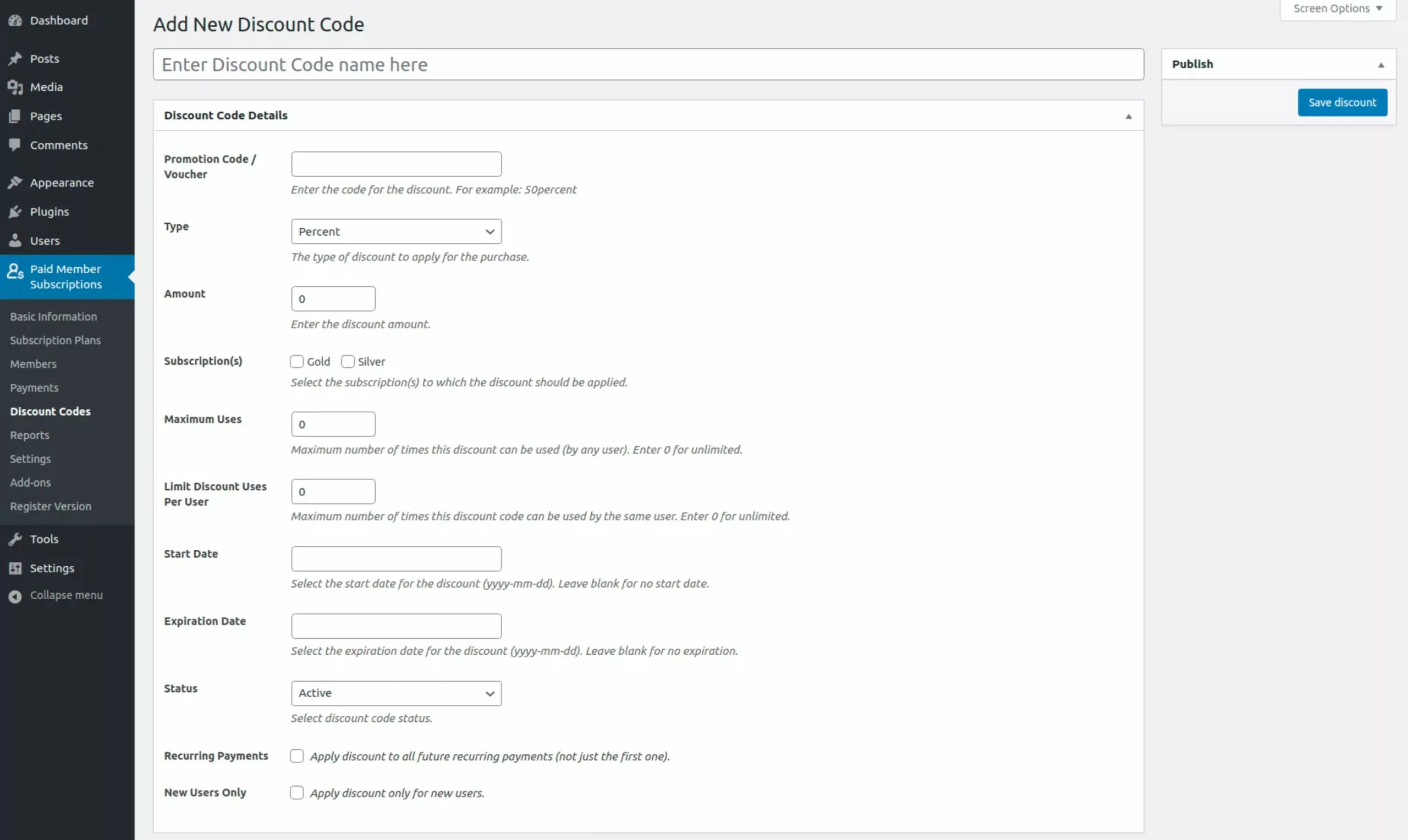 This feature is perfect for running discounts around holidays like Christmas or the New Year. Paid Member Subscriptions also lets you apply discounts to just the first payment or to all future recurring payments.
Start your Fitness Membership Site Today
Starting your own fitness membership website is a great way to use your own healthy lifestyle to create a full-fledged business that generates recurring revenue. This way, you can charge users for your expert opinions and let them consume premium content based on the subscription plan they subscribe to.
However, by default, WordPress doesn't offer robust content restriction options. This is why our best advice is to use an all-in-one membership management plugin such as Paid Member Subscriptions. It lets you easily create subscription plans and set content restriction options quickly, without having to write a single line of code.
It's the perfect solution for all types of health experts and fitness gurus looking to start their own fitness membership website without having to worry about the technical side of things. The best part about the Paid Member Subscriptions plugin is that it offers a wide range of add-ons that help you add advanced functionality to your membership site and make it stand out from the competition.
Ready to start your own fitness membership site? Get Paid Member Subscriptions today!

Do you still have questions on how to create a fitness membership site? Let us know in the comments below!