I'm not a programmer… I do know some basic html and css, but I was nervous about messing with any of the templates in fear of making a bigger mess than where I started.
That's a quote from one of our customers. We hear this quite a lot, not everybody is a developer. Most WordPress users just want something simple to understand and quick to get started with.
So you can't help but wonder if the WordPress templates system couldn't have been designed differently?
When you're starting out it's just painful. You would do anything BUT custom code your WordPress templates:
research 10+ plugins HOPING they can solve your problem
start using a lot of shortcodes inside the content area
consider reading that 5 parts HUGE article explaining how to custom code your own WordPress templates
You might even say, "Well, now that's something you need to learn. Here's the X or Y awesome tutorials on the matter!"
But the truth is, WordPress templates ARE complicated for a large number of WordPress users.
You'll bump into:
As for learning about the WordPress templates system, all those articles and tutorials are just copying mechanisms. Just search Google for "develop WordPress theme" and you'll find OVER 8 MILLION results!
Why does there have to be so many articles teaching you this? Should WordPress Templates really be so hard to understand?
Now imagine a system that will let you:
create listings of all your custom post types
single page templates that take into account your custom fields and metaboxes previously defined with WCK
without writing PHP and messing with any of the templates
no more playing around with a ton of shortcodes and plugins to list a simple custom post type or extra field.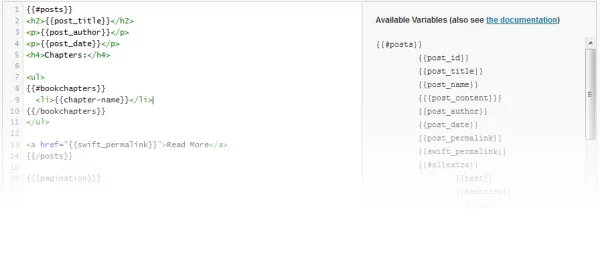 Swift Templates helps you build front-end templates directly from the WordPress admin UI, without writing a single line of PHP code.
It turns a time consuming and error prone process that was previously only accessible to developers into a straight forward UI that with a little bit of HTML and CSS allows you to:
create archive listings for your custom post types including pages or posts
modify the single cpt page template to include ALL your custom fields and metaboxes
overwrite the default listing for your all single CPT's with the one defined above
overwrite the default content with a template that gives you access to your custom fields and metaboxes
How does it work?
There are two (2) main cases where you can use Swift Templates.
1. Archive listing of CPT's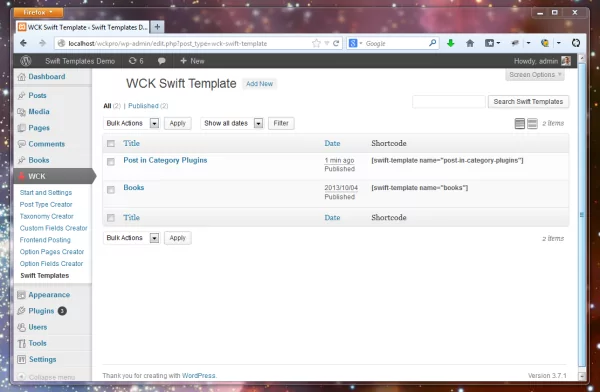 Useful for:
normal archive pages with your own design (not theme dependent). Just create your templates, create a normal page that will contain the archive and add the swift-template shortcode
simple listings of posts or custom post types in any landing page on your site
(using the swift-template shortcode). Create your templates, setup the arguments and put the swift-template shortcode
Quickly create templates for posts, pages or custom post types that can include default WordPress information (the title, content, thumbnail, etc.) or Custom Fields previously defined with WordPress Creation Kit.
You can create read-more links to point to a Swift dynamically generated single template OR the default permalink.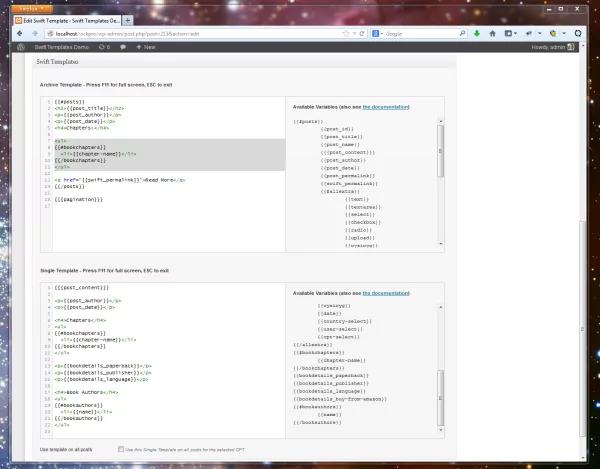 Also, another really useful function is the possibility to overwrite the default content on that post with the single template, thus applying that template for ALL default single listings of your custom post type.
2. Single page listing of CPT's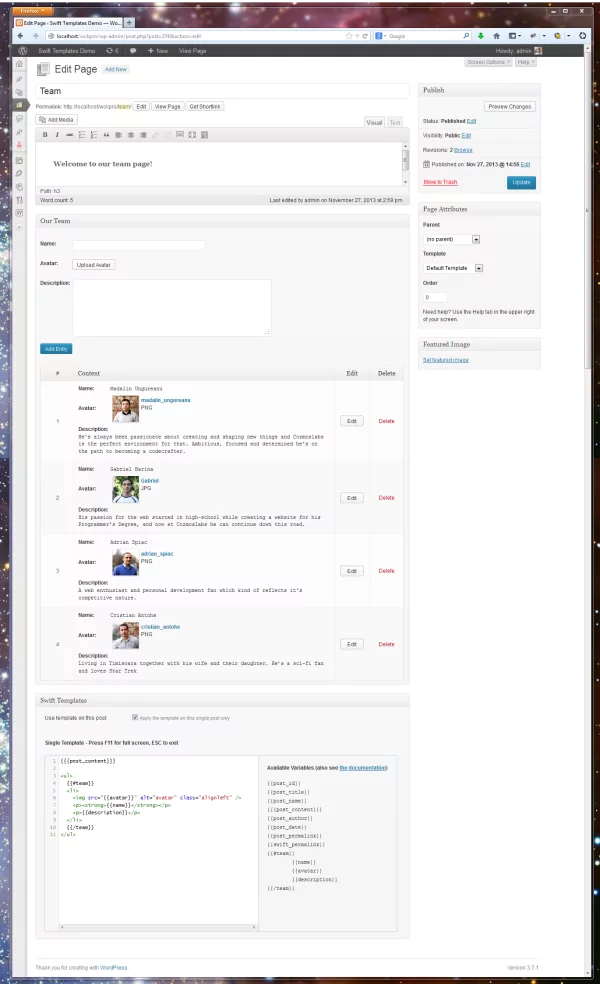 Useful for creating one off templates for pages or single posts / custom posts.
Let's say you have a team page, with some extra fields for name, avatar and description. You can now overwrite the default page template with one that supports your extra fields available for that page only.
Coming soon:
new pre-processed swift tags that will list ALL fields in a metabox with a default HTML and CSS – you'll be able to make perfectly styled templates in under a minute.
swift tags support for custom taxonomies
search tag for archive templates (have a CPT called books.. this will let you search inside them)
Got you interested? Here's how to get it
As of today, Swift Templates is available with the latest version of WordPress Creation Kit PRO.
For all previous WCK PRO and Lifetime clients, Swift Templates will be available via automatic updates or the account page.
What about WordPress templates?
Swift templates are NOT a 1 to 1 replacement to WordPress templates. That would be stupid! WordPress templates are complicated for a reason, there are a LOT of things to display in WordPress and that flexibility comes with a lot of complexity.
However, we're hoping for Swift Templates in combination with the rest of WordPress Creation Kit to take you 80% there in 80% of cases. If we can achieve that, I'll be one happy developer!