User Registration Spam is becoming an important concern for many of the WordPress membership site owners. If your WordPress site is set to allow user registration, then it's probably vulnerable to user registration spam from spam-bots.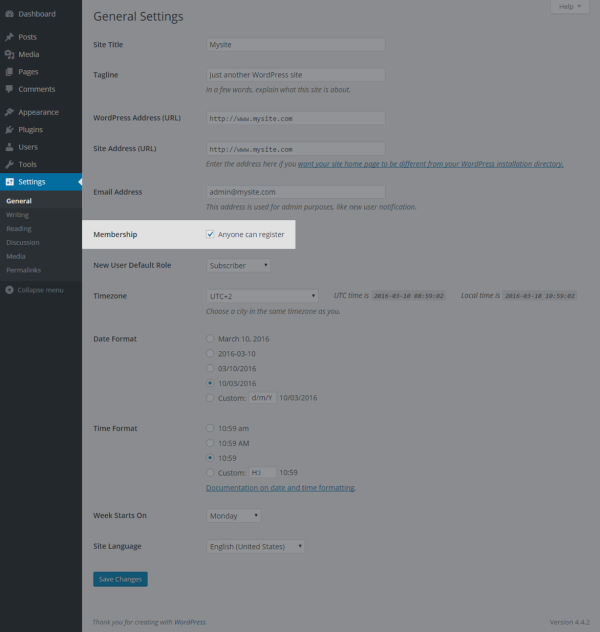 But, as we all know, user registration is a must have for any community or membership website. It's what keeps the site alive and kicking and can also be an important source of revenue.
That's why shutting down WordPress user registration is not an option for these types of sites.
But if you ever had to go through all the stress of deleting tens or even hundreds of users every day, you probably know that keeping your user list clean can be a big pain.
We built Profile Builder because we were convinced that WordPress user registration can be done better. Profile Builder, or "WordPress Registration Done Right" as we like to call it, is a plugin meant to enhance your site's user registration by adding front-end registration, profile and login forms.
Since spam was also a recurring problem amongst Profile Builder's users, we built into the plugin some cool features that will help you get rid of Spam once and for all.
Here are four features from Profile Builder PRO that will help you kiss Spam goodbye:
1. Using reCAPTCHA
One of the most popular ways to fight Spam is to use a reCAPTCHA verification in your registration process.
Profile Builder Pro has Extra Fields Types and one of them is the reCAPTCHA field, which allows you to add reCAPTCHA verification on all Profile Builder front-end forms, as well as default WordPress register, login and lost password forms.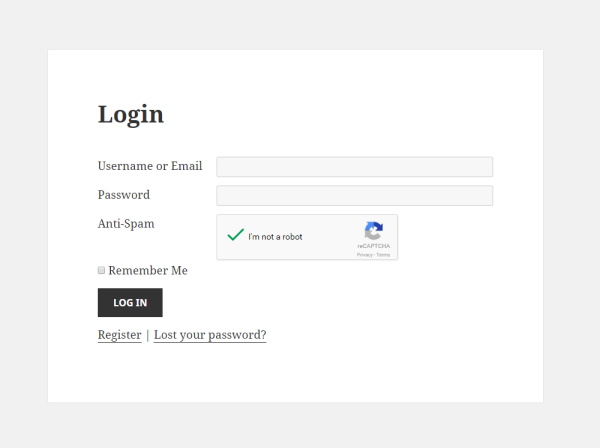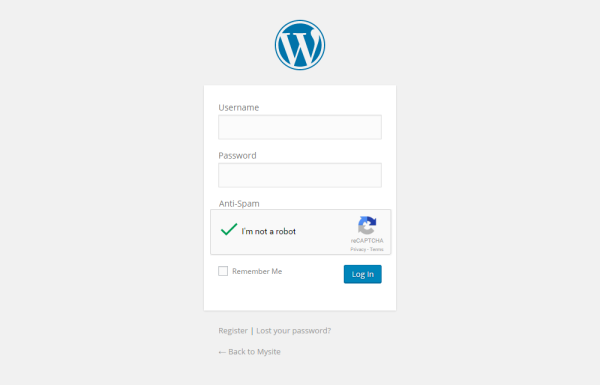 All you need to do is to get a site and a secret key from Google: www.google.com/recaptcha, add them in the reCAPTCHA field and you're all set. A reCAPTCHA verification will be added automatically to the front-end user registration forms.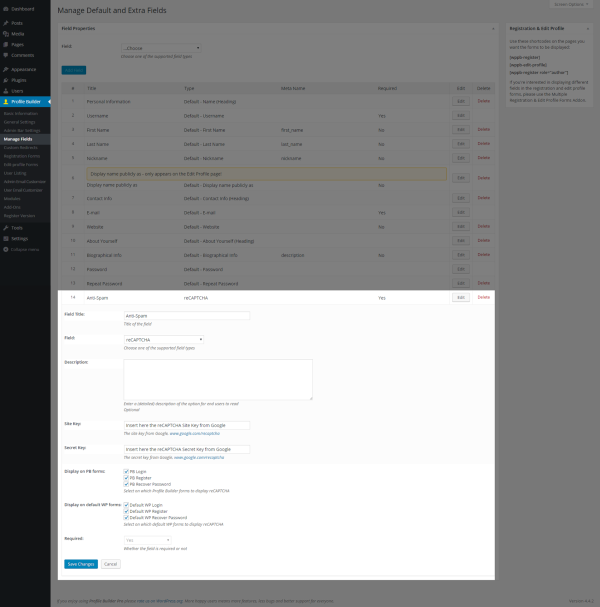 If you would like to read more about adding reCAPTCHA to WordPress Register, Login and Lost Password Forms with Profile Builder view this article.
[UPDATE] The new No CAPTCHA reCAPTCHA has replaced the old version, starting with Profile Builder 2.1.0.
However in some cases reCAPTCHA alone doesn't get rid of user registration spam completely. That's why we didn't stop here.
2. Custom Redirects
Custom Redirects is probably one of the most efficient ways to stop user registration spam. The Custom Redirects module allows you to redirect any request from the default WordPress pages to a custom register page created via Profile Builder.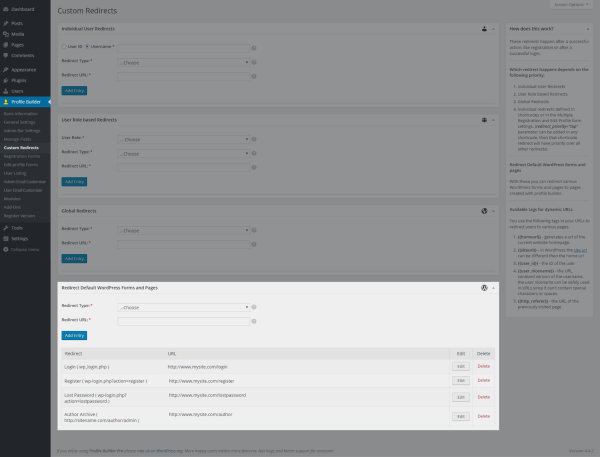 Custom Redirects will give you the option to redirect users from the Default WP Register Page, Default WP Login Page, Default WP Lost Password Page, Author Archive Page or even the Default WP Dashboard to custom pages created with Profile Builder, that can't be targeted by bots. This way you won't be using the standard WP registration urls at all.
As a side note, if you want to take things even further, you can disable WordPress registration all together and have Profile Builder registration still working. This is done with a specific filter we added to the plugin wppb_register_setting_override, which you can use to activate the registration process using the PB shortcode, and still have the default WP registration page deactivated. This way you'll make it impossible for spam-bots to track your registration pages urls.
3. Email Confirmation
Under Profile Builder's general settings you'll have the option to activate the Email Confirmation feature.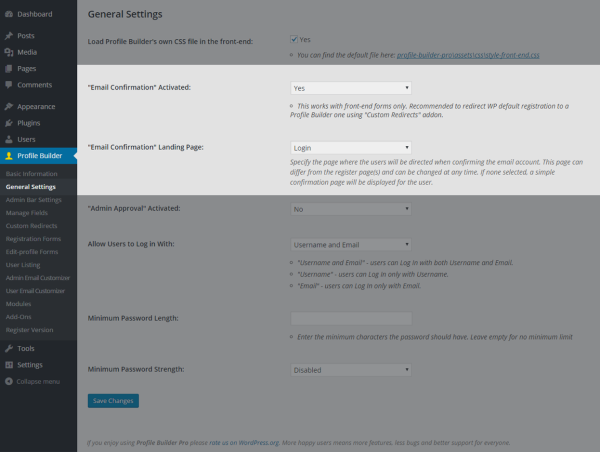 This means each newly registered user will have to confirm his email address first in order to proceed to the actual registration process. This is a perfect way to make sure that only valid email addresses pass the registration process. The users with unconfirmed email addresses will be placed under an "Users with Unconfirmed Email Address" tab in the All Users window. From here you'll be able to easily remove them or confirm their emails yourself.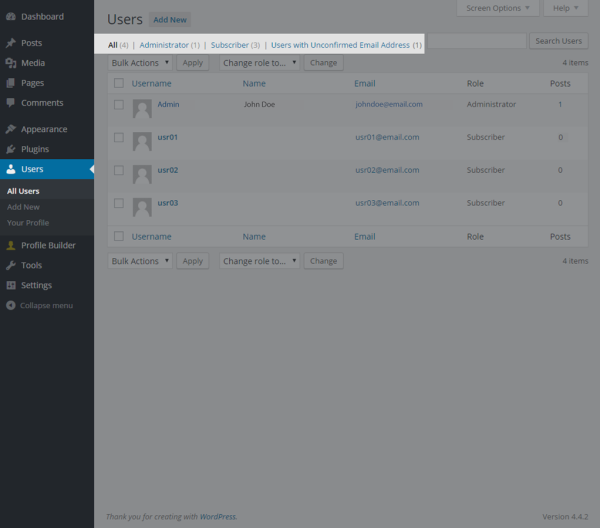 4. Admin Approval to eliminate User Registration Spam
Admin Approval is another feature that will keep your user list clean. It makes sure not to create the WordPress user account until you have approved that specific user.
After you activate this feature, you'll notice an "Admin Approval" tab in the All Users listing. There you can easily approve or delete newly signed up users.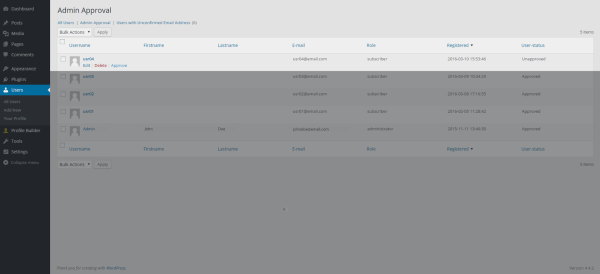 In case you decide to use both Admin Approval and Email Confirmation the built-in Email Customizer will give you the ability to edit and customize the emails sent to the users upon registration or after receiving admin approval.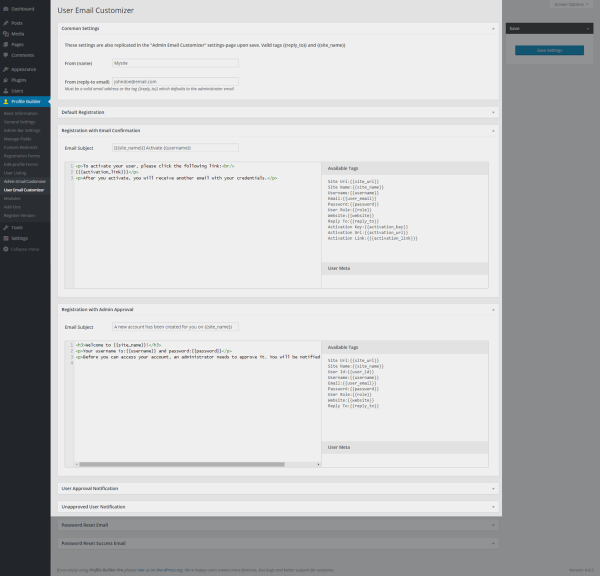 This was a round-up of all the features built into Profile Builder Pro that are meant to help you get rid of user registration spam. You can use all the methods above combined in a way or another to prevent spam registrations.
Would love to hear what methods you use to fight user registration spam on your site.
Subscribe to get early access
to new plugins, discounts and brief updates about what's new with Cozmoslabs!