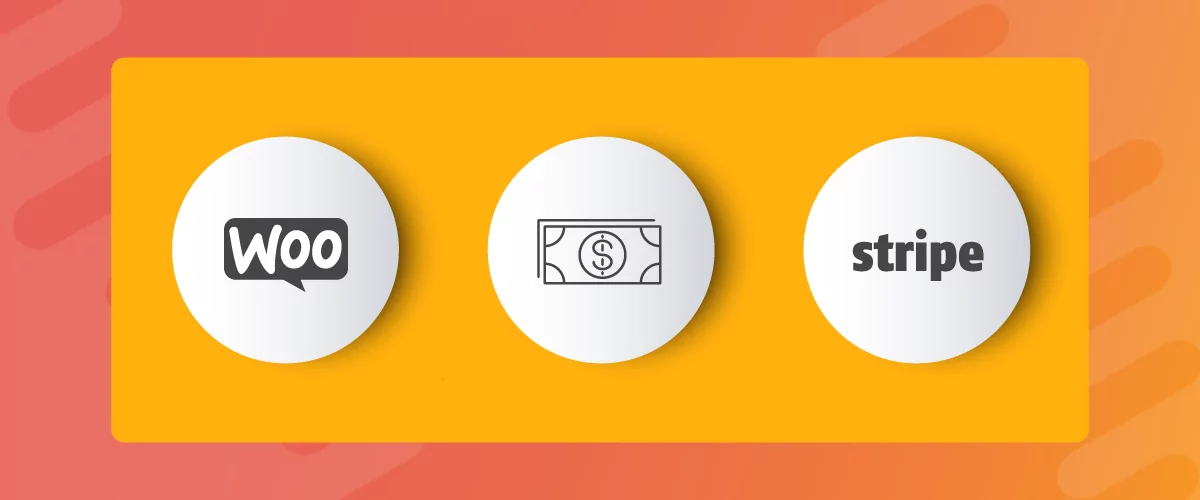 Effective payment management is one of the most important components of running a successful WooCommerce store. The right payment gateway or payment processor can pave the way for seamless payment management for your online store.
That being said, WooCommerce Payments and Stripe are two of the most popular payment options for WooCommerce stores. While they share pretty much the same foundational infrastructure for handling payments, there are certain differences that you must take note of.
WooCommerce Payments vs Stripe – An Overview
First things first, let us tell you even WooCommerce Payments uses Stripe as its payment processor. In other words, WooCommerce and Stripe have a partnership where the latter provides the payment infrastructure while WooCommerce blends in its tech to offer a more integrated payment management system for your store.
On the other hand, Stripe is a payment processor that comes as a payment gateway in different forms. Apart from the WooCommerce Payments plugin itself which uses Stripe to handle the payments, there are many other third-party developers that offer plugins to accept payments through Stripe.
In fact, WooCommerce also has a separate Stripe plugin which is specifically designed by it to handle payments through Stripe.
WooCommerce Payments vs Stripe – Factors of Comparison
As we mentioned above, WooCommerce Payments shares a lot of similarities with Stripe since it uses Stripe for handling payments. However, there are still a few factors that need your attention.
Charges
Charges are one of the most important factors to consider when choosing a payment gateway. However, there isn't a significant difference between these two options when it comes to the charges.
This is especially true when accepting payments from customers based in the US. The fee charged by these payment gateways for US payments is as follows:
• WooCommerce Payments: 2.9% + a flat fee of $0.3
• Stripe: 2.9% + $0.3 flat fee
However, if the customer is entering their card details manually, Stripe would charge an additional 0.5% charge on that transaction.
Coming to the disputed transaction charges, they are $15 for each disputed transaction (lost disputes) with both WooCommerce Payments and Stripe.
Now, there was a major difference between these two payment gateways when accepting international payments. While WooCommerce Payments charges 1.5% on every card transaction made outside of the US, Stripe charges 1%.
However, the reason we mention that it "was" a significant difference is that Stripe has decided to change its international card fees to 1.5% too starting 1 June 2023. So there isn't going to be anything to differentiate here too in a few months.
Coming to currency conversion charges, both these options would set you back 1% of the transaction amount if the payment currency isn't USD.
Similarly, both these payment methods wouldn't charge any additional fees for accepting payments through popular wallets like Google Pay and Apple Pay.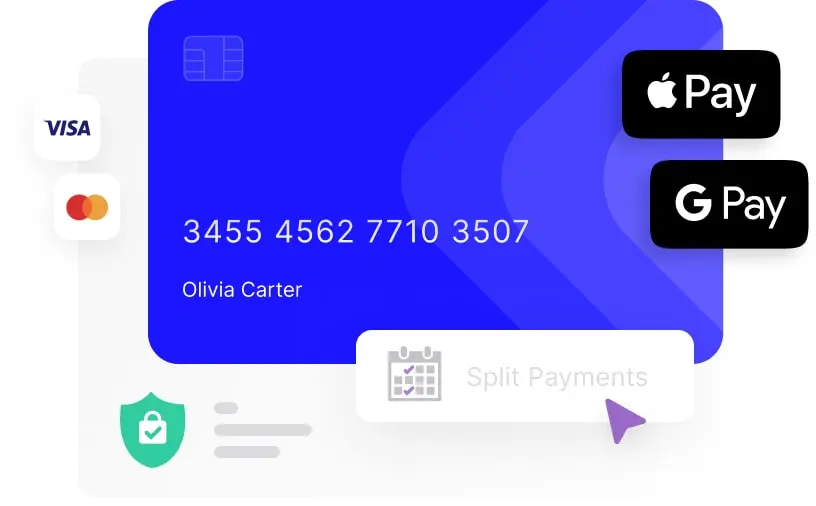 Finally, for in-person payments, WooCommerce Payments charges 2.6% and a flat fee of $0.1 while Stripe charges 2.7% and a flat fee of $0.05.
Integration
This is one area where you do see a real difference between WooCommerce Payments and Stripe. Since WooCommerce Payments is WooCommerce's own payments solution, it integrates more closely with your WordPress dashboard.
You will be able to access all your order and payment-related data from right within your WordPress dashboard. However, when using Stripe directly as your payment processor, you will have to log in to your Stripe account for certain more detailed payment-related information.
So if the integration and ease of access to all your payment-related information is an important requirement for you, then WooCommerce Payments will certainly turn out to be a better option.
Functionality
While WooCommerce Payments uses Stripe as its payment processor, there's a kind of fundamental difference in its functionality when compared to accepting payments directly using Stripe.
You see, Stripe is a payment processor while WooCommerce Payments functions as a payment gateway. This means that with Stripe you will not be able to accept payments using other payment processors like PayPal, but with WooCommerce Payments you can add the supported payment gateways including PayPal as additional payment methods.
Moreover, as we mentioned above, WooCommerce Payments turns out to be a better option if you want a solid, all-in-one payment management system integrated into your WordPress dashboard. With WooCommerce Payments, you would not only be able to manage payments but also payouts from your WordPress dashboard. In other words, you may not even have to log in to your Stripe account.
But you must note that the functionality alone is not enough. Your payment management system needs to be reliable as well.
Recently, there were reports of a major vulnerability in the WooCommerce Payments plugin. In addition, many users also report minor hiccups when using WooCommerce Payments over a longer term.
Finally, you must also note that WooCommerce Payments supports a much smaller number of countries than Stripe. If your target audience is based in the US though this is nothing to worry about.
But if you're looking to sell in many different countries, you should check out the list of countries supported by WooCommerce Payments and Stripe and decide whether the former would meet your needs.
Flexibility
The cost is one important factor that gets everybody's attention. But the flexibility, or rather, the payout period? Well, that's quite an underrated factor as far as payment management is concerned.
A growing online store needs to keep things rolling, and long wait periods for customer payment payouts can be crippling in terms of growth.
Now the first thing to note here is that the payout time is much higher initially for new accounts. When you register an account with either WooCommerce Payments or Stripe, you will have an initial payout time period of 7 days if you're based in the US.
This means that you will not receive any payouts for the payments you get for 7 days. However, this can go up to 14 days if you're based in a different country.
Once this initial waiting period is over, the standard payout time will apply to your account. The standard payout time with both WooCommerce Payments and Stripe is 2 days.
However, both these payment management solutions also offer an instant payout service. You do have to meet certain criteria to qualify for instant payout though.
While Stripe doesn't mention these requirements, WooCommerce Payments does. Here's a quick look at its instant payout requirements:
• The store owner must be based in the US;
• Have an active account for over 90 days;
• There should have been payments received of over $1,000 during the last 90 days;
• The disputes must be on the lower side; anything over 1% in transaction disputes automatically disqualifies the store owner from accessing instant payouts.
Even if you meet all these requirements, you must use a debit card to receive instant payouts with WooCommerce Payments.
On the other hand, Stripe may allow non-US store owners to access instant payouts on request on a case-to-case basis.
Instant payouts do come with a charge though. WooCommerce Payments charges 1.5% on the payout amount if you request an instant payout. Stripe, however, processes instant payouts for 1%, with the minimum fee being $0.5 per transaction.
Instant payouts are typically processed within 30 minutes with Stripe, while WooCommerce Payments processes instant payouts in a matter of minutes.
Subscription Payments
The reason we are discussing subscription payments separately is that they are often very different ballgames. You will find many payment solutions for accepting one-off payments, however, when it comes to managing subscription payments the options are not only scarce but many of them also aren't good enough.
That said, both WooCommerce Payments and Stripe can handle subscription payments for you. The former charges an additional 1% on subscription payments while Stripe can accept them for just 0.5% if you opt for their starter plan.
If you want to accept subscription payments on a large scale – with some smart automation and a more robust billing and reporting system – Stripe can accommodate you for 0.8%.
Paid Member Subscriptions as an Alternative for Subscription Payments
While both these payment management options can accept subscription payments for you, creating and managing WooCommerce subscription products demands a lot more in terms of functionality. And none of these payment options can offer you that.
This is where Paid Member Subscriptions Pro comes in. It's not just a subscription payment management plugin but a complete WordPress membership site plugin.
It not only accepts recurring payments for you using different payment gateways including Stripe and PayPal, but also offers all the features you need to create and manage subscription products effectively.
Here are some of the features that would go a long way in helping you run a successful subscription products store:
• Easily create and manage subscription products and subscription payments;
• Create an entire subscription website from scratch;
• Restrict content and products;
• A single system for subscriber management, payment management, member management, and more;
• Lots of other useful features for running a successful subscription business like discount codes, trial subscription products, email templates, pay-what-you-want pricing, content dripping, and a lot more.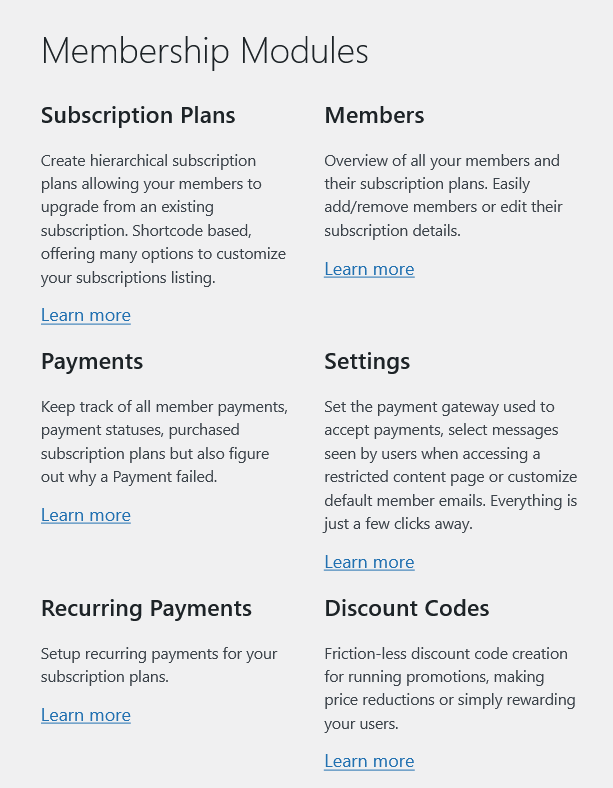 All in all, Paid Member Subscriptions Pro is a beast when it comes to selling subscription products. And the icing on the cake is that you lose nothing in terms of payment management as well.
In fact, instead of using a plugin like WooCommerce Payments which has had reliability and security issues, or Stripe which doesn't support PayPal payments, you could actually get the best of both worlds with Paid Member Subscriptions even when it comes to managing payments.
You will have a highly reliable payment management system with very timely updates, and at the same time be able to accept payments using both Stripe and PayPal as your payment gateway. In fact, Paid Member Subscriptions Pro is one of the best PayPal plugins for WooCommerce.

WooCommerce Payments vs Stripe – A Final Word
We are sure that after going through the entire post you will be able to make an informed decision about the payment solution you want to go with. While these two options don't differ hugely since even WooCommerce Payments uses Stripe as its payment processor, there are some subtle differences that could make a big impact on the business and functioning of certain WooCommerce stores.
If you're going to receive a lot of smaller payments, you may want to consider WooCommerce Payments. It would be a bit of a hassle to manage a large number of smaller payments with Stripe since it doesn't completely integrate with WordPress the way WooCommerce Payments does.
However, if the WordPress integration isn't very important to you and you can't compromise at all on reliability, then Stripe can serve your store better. Similarly, if you see yourself requesting instant payouts too often, you should consider Stripe since it only charges 1% on instant payouts as against 1.5% charged by WooCommerce Payments.
That being said, none of these two payment solutions even come close to Paid Member Subscriptions for a store selling subscription payments.
So our final word on the matter is that choose either between WooCommerce Payments and Stripe when selling physical or one-off products, but don't make the mistake of missing out on all the amazing features of the most complete membership site plugin if you're looking to sell subscription products.

Paid Member Subscriptions Pro
When it comes to accepting and managing subscription payments, PMS Pro is second to none.
Get Paid Member Subscriptions