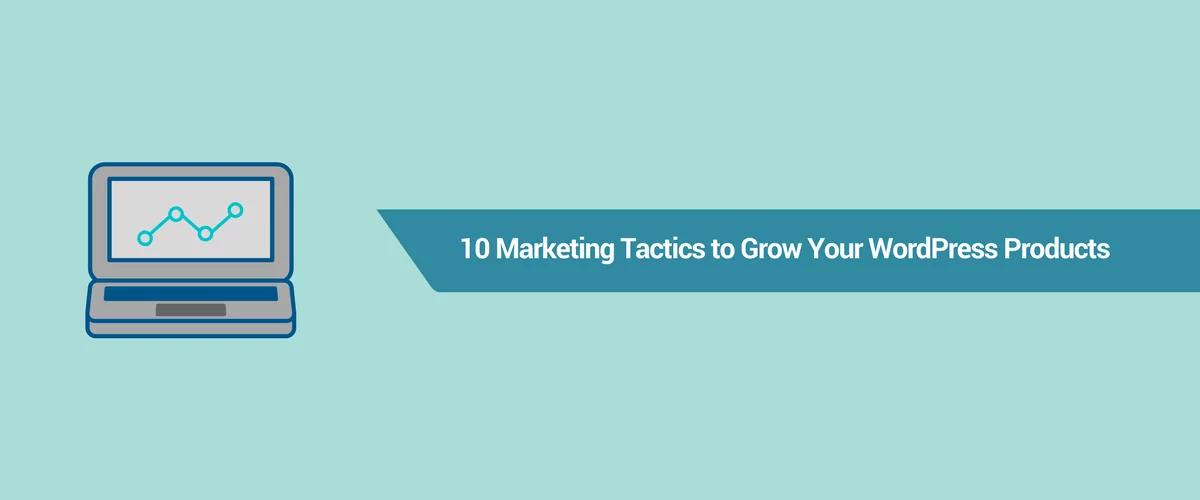 If you are a business owner with a technical hat, then it's most likely that you have spent some hours coding and building your product and close to none on WordPress marketing. But in order for your product to actually get to meet its customers, you'll also have to learn how to market your software product.
Since it's well known that users will more likely choose products that meet their needs compared with the ones that meet their wants, we would recommend documenting your product and research the market before starting to build it. The light bulb above your head might glow so bright that it makes everyone around you blind, so it's your job to bring value and innovation, packed together with the product itself.
WordPress marketing can be time-consuming and small businesses or solopreneurs don't necessarily have the luxury of spending time experimenting with different marketing tools and activities. It's essential to know that there are actionable tactics that you can apply to grow your product. Because if you don't start spreading the word about your product, there are small chances that somebody else will do it.
Therefore, we've prepared below a roadmap with ten actionable and straightforward WordPress marketing tactics that you can follow when you start marketing your WordPress software product.
How to Market a Software Product
1. Leverage a Freemium Model for WordPress.org
If you're just starting, you may consider leveraging a freemium model for WordPress.org as an MVP (Minimum Viable Product). An MVP can add value to your product, and more than that, people usually love free things and prefer testing them before making a purchase. Your product doesn't have to be the final version, with all the features available, but instead an initial version that responds to basic needs and works well from all the points of view.
By choosing this tactic, you:
get a lot of valuable feedback from WordPress users;
improve the SEO efforts for your premium version with links to your site, documentation, and support;
make the free version of your product more discoverable, when users search for plugins directly in the WordPress dashboard;
may consider leaving the premium features in place for the free users, just disabled (for example, in our WordPress Creation Kit Plugin we have a Swift Template page, that it's just a pitch for the Pro features);
have a well-supported plugin, good reviews on the free version play an important role when converting to paid users;
get your plugin translated into other languages by supportive users of the community.
2. Offer a Demo or Trial for Your Product
As we previously said, almost every customer would like to see how a particular product works before making a purchase decision. They'll most likely want to check if that product solves their unique problem without generating new ones in the process, see how simple or complex it is to use, and compare it with other products.
That's why offering a demo or trial for your product may be a great idea and might make a lot of sense for your business. This can help you convert not only with a more compelling offer but also align your product with the buyer's needs or wishes more closely. Consider creating a pop-up and adding it to your landing page using a tool like OptinMonster. You can use the OptinMonster pop-ups or widgets to encourage people to try out the demo or sign up for the trial. Doing so can help you with lead generation which is a great way to start building your email list using Mailchimp.
Now, choosing one way or another depends on the type of product, sales cycle, target audience, and what fits the best with your business. Performing A/B testing is always a good idea. But, in case you are thinking of running a demo site, we recommend you go through this tutorial on how to create a WordPress demo site.
3. Pitch the Premium Version of Your Product Inside the Free One
Another useful tip you can use to upsell your product is to have a custom section on your free version dedicated to the premium one. From there, you'll be able to send the users to a specific landing page where you can present the available pro features. This channel will give you access to all existing users of the free version of your plugin and display the information on the Basic Information Page as soon as they activate it.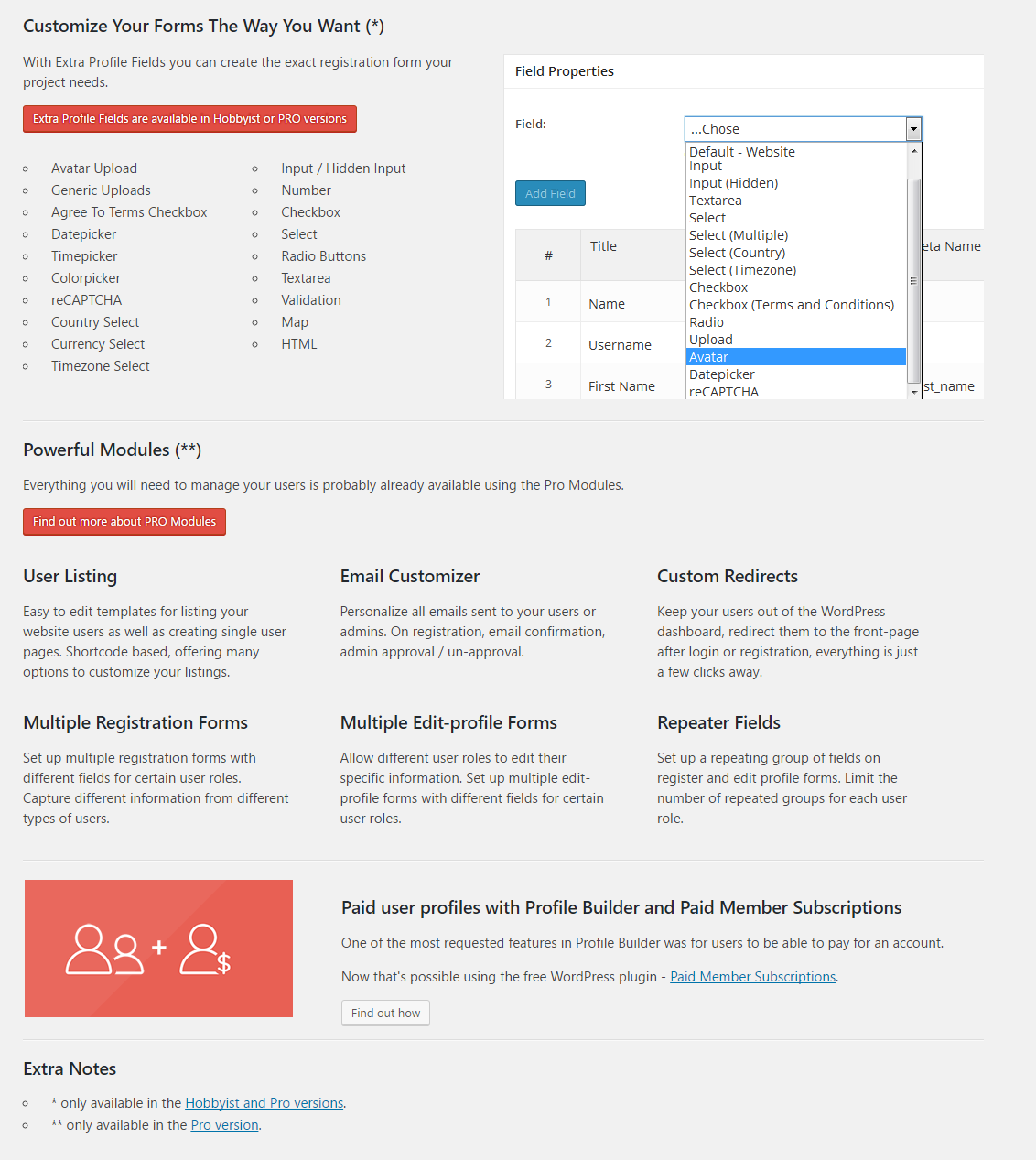 4. Build Connected Products
Another way to market your software product is by building connected products. This may require some time and effort to find particular user problems of needs, but it sure pays off. As an example, we've built several connected WordPress plugins that work both ways: as stand-alone plugins that can be downloaded from the WordPress plugin directory, and also as add-ons for one of our main plugins.
Client Portal – Private User Pages and Login 
One of them is Client Portal – Private User Pages and Log in, a plugin that creates private pages for your WordPress site users that only an administrator can edit. It started as a stand-alone plugin on the WordPress plugin directory, and when it reached its maturity, we also added it to the add-ons page for Profile Builder.
Passwordless Login
Similar to Client Portal, we also built Passwordless Login, a modern way of logging into your WordPress site or WooCommerce store without the use of a password and promoted it both ways.
Profile Builder and Paid Member Subscriptions
Another way of pitching your product is by cross-promotion between two different plugins that integrate seamlessly. Here, we've also done some experiments by integrating Profile Builder with the Paid Member Subscriptions plugin.

The best part is that it works on WooCommerce stores, as well.
5. Boost Your SEO with Link Building
Promote your product by adding it to Plugin or Theme Directories
The action of listing your software product (plugin or theme) to various directories can have a lot of benefits. First, this can bring you more exposure and boost your traffic (some of the existing WordPress Product Directories have daily visits), since it builds up credibility and authority. This shows everyone that you are well-known around the community and represent a trustworthy company. An SEO plugin like Yoast SEO can help you with this.
And finally, adding your product to these directories has the potential to bring new users and probably clients to your WordPress website.
One good example of such a directory is WPlift Directory. For a one-off price of $49, you can permanently list your theme or plugin on WPLift, where it is searchable and discoverable by tag and category:
Another great choice is the WPexplorer Directory:
Email influencers, industry experts, and bloggers
Another way to get people talking about your WordPress product is to help them start the conversation. Start by researching for some industry experts and influencers within the WordPress ecosystem and think about a conversation kick-starter.
We tried several types of messages, from a conversation about a specific technical topic, to creating cross-promotion or affiliate WordPress marketing opportunities and also creating educational content with their help. One such example would be the case of "Morning Routines of 11 Successful WordPress Business Owners". This article started with a research stage, then it continued with writing some outreach emails and finally, it initiated almost two or three weeks of follow up emails.
Start by making a list of blogs or WordPress communities that you think would be interesting for your software product and start a conversation there (ask for feedback, share new resources, engage in AMA conversations – Ask Me Anything).
List your product to existing articles
First, you will have to research articles that list specific product categories. For example, "Best WordPress Membership Plugins to Match Your Budget" in a particular group or even broader "5 WordPress Plugins to Make Your Site More Fabulous". Then, build a list of publications with contact details (email addresses or links to contact forms).
Further on, build some compelling outreach emails where you'll have to make sure not only to ask for your product to be featured but to also give something valuable back, such as the possibility to subscribe themselves to your affiliate program.
Emails work, and you have plenty of email marketing companies and tools to choose from.
6. Advertise & Feature Your Blog Articles within Existing WordPress Related Newsletters
Another way to market your software product is by running some display advertising and sponsor some editions of a specific newsletter. As an example, wpMail.me has this option where you can sponsor a special edition and display the banner of your product or company.
For newsletter services that don't have a banner section, but curate valuable content, you can try sending outreach emails to feature your latest article. With this tactic, you'll first have to make sure that your content targets the audience of that specific newsletter and offers answers to their questions.
Below we've listed some of the newsletter services that we know around the WordPress community to help you get started:
wpMail.me – this is a free weekly WordPress Newsletter, with a round-up of WordPress news and articles, curated by our team.
The WhiP – An exclusive WordPress newsletter filled with news, resources, and insights delivered to your inbox. It is 100% free for WPMU DEV members.
MasterWP and The Repository are great weekly email newletters with useful community insights.
7. Scale Your Content Marketing and Social Media Efforts with Existing Tools
As a busy entrepreneur or business owner with technical skills, the last thing you want to do is spend time brainstorming about more article ideas and lose hours writing them. So, here are two tools to help you leverage the maximum of results with less effort when marketing a software product:
Use the Content Multiplier Framework by Dan Norris
The Content Multiplier Framework is a document that helps you transform one idea into almost 11 other pieces of content. It's beneficial and challenges you to step into your audience's shoes.
Along with this document, there are several other helpful documents created by Dan Norris and shared through his courses, books, and Facebook groups. Now, all of the frameworks are available for free via email opt-in on his website, www.dannorris.me
Use Social Media Profiles to boost your search engine optimization (SEO)
Being active on Social Media can improve your WordPress site traffic. More and more recent studies confirm that search engines are looking at the social profiles you have linked to your business and catch signals regarding their activity and consider it as a ranking factor.
First, you should share links to your own content on social channels such as Facebook, Twitter, LinkedIn, and even Pinterest or other social networks. Doing so can help search engines paint your website as a credible and trustworthy source of information that should rank for a specific keyword or phrase. With tweets, you can even use relevant hashtags to get the word out.
More than this, social media profiles are ranking very well in search engines and definitely influence your content when speaking about search results. Moreover,  searches on Google will also display your company's Google+ profile and information in the right sidebar at the very top of the search results page.
Finally, if we think in a broader way, every social media channel is a search engine at its core. Let's think about what people usually do when searching for a brand around the online space; they most likely check for what kind of presence their social channels communicate, rather than just doing a simple Google search.
A recommendation that may help you get started with Social Media campaigns and SEO efforts is this article from CodeinWP about how to increase your Google ranking overnight. Of course, you should keep an eye on your site's Google Analytics to see how well it's performing and find ways to minimize the bounce rate.
8. Talk About Other People's Products
Here, it's not about promoting your direct competitors or just throwing as many links as possible with the hope that the mentioned websites will start getting traffic because that most likely won't happen. This tactic is more about recommendations of other products that you are incredibly familiar with and that you've preferably used before. When promoting different products, try to make it look and feel like a personal recommendation from a friend-to-friend rather than a promotional offer. This helps deliver a good user experience.
Giving other people exposure, especially if that recommendation is something meaningful to them, even though it may take up more time and effort, it does bring more value for both parties. And, at the end of the day, it is more likely for you to start building a relationship, a connection with that person, and get their trust. This usually goes beyond online connections and networking, and people will respond to you, share your work across their social media channels, and further talk about you to their own audience.
We can have a long discussion here, but in order to help you get started with this tactic, we recommend using AffiliateWP, probably the best solution for WordPress users, bloggers, and developers that want to run an affiliate program within their website.
9. Connect With the WordPress Community
Another essential step in the process of marketing your software product is to be active within the community. Here, you have several options:
WP Content
ManageWP.org was a popular option for sharing content, but it was sadly shut down in 2020. But a new replacement, WP Content, offers much of the same functionality of sharing WordPress-related content with the community.
Facebook Groups
Facebook groups are also a great channel where you can learn a lot and connect with WordPress users. Here, we've compiled a list of the most popular Facebook Groups that we recommend WordPress marketers and developers to join:
Others
There is also an official WordPress Slack channel (make.wordpress.org/chat) where you can join and follow the discussions within the WordPress development team;
Also, you may find this list helpful with over 100+ Slack channels on topics related to business, products, design, digital marketing, start-ups, freelancing, and development. Join the ones that offer you the most value.
10. Grow Your Software Product Beyond Online
Promoting your product offline is also valuable. There are several opportunities and events where you can meet potential customers. If we talk about meetups and conferences, there are a few possibilities:
Attend WordPress events, namely WordCamps as a participant or enroll as a volunteer;
Register as a speaker, offer sponsorship or build your own business booth;
Organize something within your local/regional community.
Attending events can have several benefits and outcomes; it helps you build relationships with other individuals, exchange business cards, and connect with other business owners in an informal environment. There, you will also get the chance to learn new things related to your industry and keep yourself up-to-date with the latest trends.
Networking events also represent a wonderful way and a great place to meet new candidates for the jobs you are promoting and draw attention to your product. A company booth, promotional goodies, and printed communication materials are some of the channels you can use to convey more information about your products and showcase the personality of your business.
Now, if we switch to the other side of the table, organizing WordPress-related events can also help you promote your product, learn new things, and connect with the ecosystem. One thing that we recently experimented with was reactivating the local WordPress Timisoara Meetup and getting the whole community together. It was a good internal challenge that made us step out of our comfort zone and learn more, and we were happy to connect with the local community, both WordPress experts and beginners.
Conclusions
We know this is a lot of information, and it would take a while to apply all of these tactics to market your software product, but the bottom line is that WordPress marketing is also important for growing your products and achieve the business goals you've set out. Any actionable tactic will sure bring traffic to your website and grow the awareness for your brand and products if done correctly.
WordPress marketing strategies are not about finding shortcuts or hacks to grow your sales and revenue; it is about doing things right and growing your product while bringing value to customers. Shortcuts may work for a certain amount of time, but they are not sustainable or scalable.
Have you applied any of the tactics above and obtained great results? What are some of the digital marketing tools and WordPress marketing plugins that you use?
If so, we would love to see your opinions and suggestions in the comment section below.