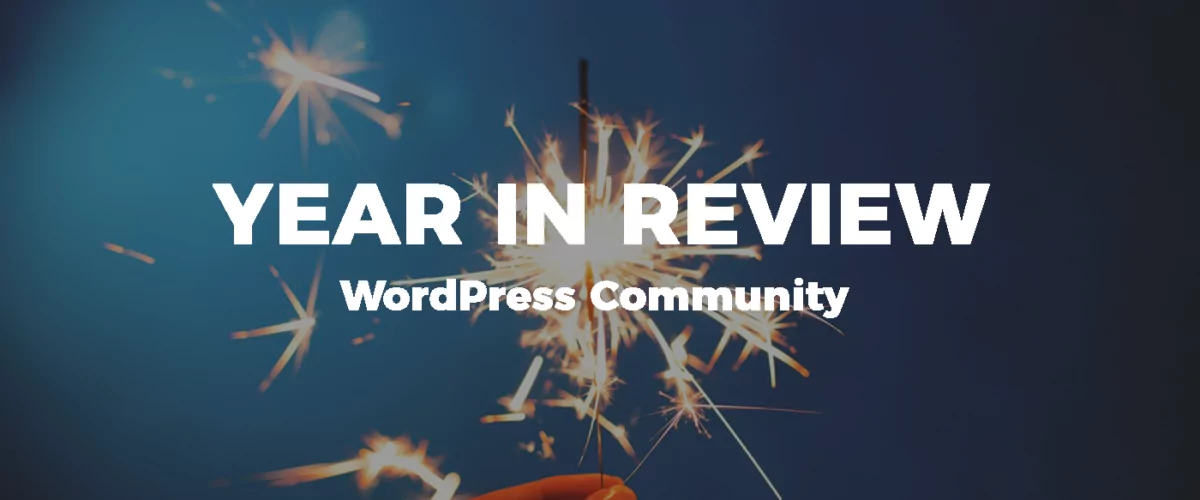 As 2016 comes to a close and we are looking forward to the next year we wanted to take some time and look at the WordPress activity within the whole community.
Automattic published the past week their annual report, where you can check lots of statistics about their activity, WooCommerce, Jetpack, WordPress.com and WordPress VIP service. And at the beginning of this month, Matt Mullenweg introduced his well-known State of the Word for this year at WCUS.
If you are curious to find out more about what happened in the WordPress community this year, I invite you to read this article, you will find plenty of interesting information below.
Community News
Matt focused on various topics on this year's "State of Word" such as UX around WordPress today, goals for the future, WordPress Growth Council and important changes in the development process.
An important news is that WordPress Foundation will start supporting nonprofits and promoting hackathons for NGOs. There are already three events on the list to be sponsored for the next year: Hack the Hood, the Internet Archive and Black Girls Code.
About WordPress Growth Council, Matt stated that he expects that market share would begin to decline by 2018 and that's why one of the main focus for the next year is the platform's interface.
Regarding the development process, there will not be any major releases, WordPress Core will only continue to move forward and updates will be driven by the improvements made to the main focuses: WordPress REST API, The Editor, and The Customizer.
Automattic has acquired many WordPress companies since almost ten years ago, and this year, it took over the majority stake in Pressable, a company focused on managed WordPress hosting. Matt Mullenweg stated that "Automattic is happy to be an investor in a number of WordPress-related companies and web hosts, and will continue to invest in the future".
This wasn't the only purchase of the year, GoDaddy has also acquired, in September, the well-known WordPress website management service, ManageWP. Earlier this year, ManageWP have also passed through a redesign and rebuild of the product and the new version was launched back in July, named Orion. GoDaddy's message was that ManageWP will remain a standalone application, only some new features will be integrated into GoDaddy Pro and WordPress hosting plans.
Another highlight within the community is about Post Status Club which celebrated 1 year of activity at the beginning of 2016. The club was launched back in January 2015 and soon will reach the second celebration. The guys from Post Status are doing a great work with the Slack channel and the newsletter and the results were immediate.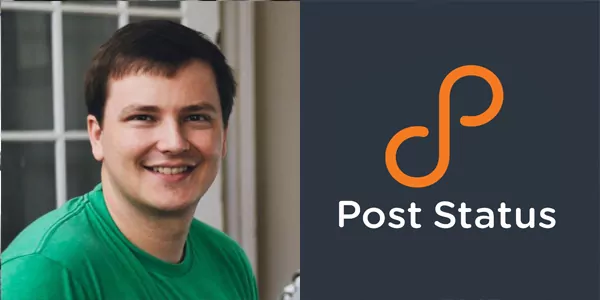 Image source: Brian Krogsgard & Post Status
Also, Themezilla was acquired by the Pixel Union, the digital agency specialized in e-commerce design that was once known as a theme marketplace for Tumblr.
WP Engine has brought into the spotlight an interesting Industry Survey that aimed to point out some key insights about the growing status around WordPress. Another main focus was to better understand the challenges the professionals are facing.
WordPress Updates
From following the WordPress activity around the Development Area we get to know that 2016 was the year of core releases, where we had:
WordPress 4.5,"Coleman" added new features that help your workflow while writing or building a website. Some of them are the Inline Linking, Formatting Shortcuts, Live Responsive Previews for mobile, tablet and desktop directly in the customizer and Custom Logos for your business or brand.
The new features from WordPress 4.6, "Pepper" are Streamlined Updates for your plugins and themes, Native Fonts, Inline Link Checkers and Content Recovery.
WordPress 4.7, "Vaughan" come out with a brand new default theme "Twenty Seventeen", and many new features such as Theme Starter Content, Editor Shortcuts, Video Headers, a Smoother Menu Building, Custom CSS, PDF Thumbnail Previews and Dashboard in your language.
This year we've also seen the inclusion of the REST API in the WordPress core. While this was marked as a success by almost everyone, in the end, it's just a building block. Opening this up for developers is great, however, until it's actually used in core for building better interfaces for the editor and the customizer, the REST API is just a pretty piece of tech with limited impact in the real world.
WordPress Apps
WordPress for iOS
The WordPress for iOS app counted six updates this year and can all be viewed here, but we will highlight the main new features.
The first version launched this year, 5.9, brought new features such as no desktop required when creating a new WordPress.com website from within the app and search, test, customize and activate themes direct from the Theme Browser.
If on the previous version we would create new websites, starting with 6.0 you can also delete websites from the app and keep all your content.
With version 6.1, sharing content is easier, the app is more mobile friendly by giving you the possibility to pick your primary blog with a simple tap. In version 6.2, posting content from the app with a new Share extension was enabled and clipboard support improved.
Version 6.3 improved profile design, account settings and fixed other things for iPad and enabled the access your site's media library. The latest one was 6.4 version that brought iPad Keyboard Shortcuts, Media Share, Management of People and Search in the Reader.
WordPress for Android
The Android version had seven updates this year and news releases about each of them can be read here.
The first version released in 2016 was 4.9 which improved the Media Library experience and added Fingerprint scanner option on devices compatible with Android 6.0 instead of typing a PIN code.
Version 5.0 came out with two new features, such as My Profile and website settings.
The following one fixed only small bugs and 5.2 come out with updates to the Account Settings screen, where you can edit multiple details. This version also enabled the possibility to delete your site and export your content by email.
Version 5.3 for Android spat the Account Settings into two distinct screens, one for everything account related and the other one for app specific ones.
Version 5.4 added a new integration with the Google password manager – Smart Lock for Passwords, to the portfolio. Also, there was a Gravatar update that lets you upload your latest selfie from the app to the Me screen.
The next update has brought a new editor app with focused on visual editing experience. Also, starting from 5.5. you can manage your WordPress.com website users by simply accessing your user list from People section, within the "My Sites" screen.
Version 5.6 added Related Posts in the Reader, which gives the possibility to users to discover relevant articles from the WordPress community. Also, with this update, you will be able to customize notification sound and invite new people to join you as users on your website.
The latest version releases this year added a section dedicated to plans, where you can see your current WordPress.com plan and see benefits from the other packages. The second feature of this version is the ability to manage your followers and viewers from "People Management" screen.
Plugin News
Around the WordPress plugins neighborhood, there some exciting releases and we highlighted some of them below.
Probably the most important news that comes out at the beginning of 2016 is that Easy Content Types, one of Pippin's oldest commercial plugins was sold for $15,000. The plugin was followed closely with interest by both Ionut Neagu from CodeInWP and Pippin Williamson.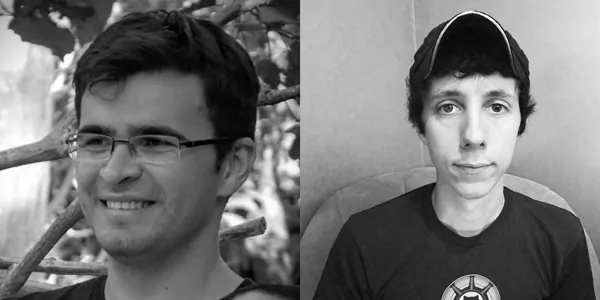 Image source: Ionut Neagu & Pippin Williamson
Another news from this year was that the WordPress Plugin Directory will no Longer Accept Frameworks as it was stated by the WordPress plugin review team. Their recommendation is that frameworks and libraries to be packaged with each plugin so that they do not generate a conflict with frameworks or libraries from other plugins.
Almost two years ago the WordPress Theme Directory got a new design and this year it was the time of the Plugin Directory. The new version is focused on improving the search interface, prioritizing translated plugins for international users and to streamline the plugin submission and review process. This new version it was fully supported by WordPress and not bbPress, which made everything easier for developers and reviewers to manage plugins, tags/categories, and committers.
The entire collection of plugins developed by John James Jacoby inside the Stutter project were uploaded on WordPress.org and are available for download.
BuddyPress 2.5. is also available with Post Type Comments Tracking, Twenty Twelve Companion Stylesheet and Autolink Settings for Profile Fields features activated.
Version 4.3 of Jetpack plugin was also released in September with a brand new admin interface completely rewritten in React.js, to whom the team has worked for almost a year and received feedback from more than 8.000 users before the official release.
Popular forum plugin, bbPress also released a 2.5.11. version to add support for technical changes brought by WordPress 4.7.
And if we still keep the theme around forms building, Ninja Forms released the version 3.0 of the plugin, were the most visible improvements are the form building screen, the process of editing and setting up new forms have been re-imagined with a drag-and-drop interface. The development of the new version was a work in progress for almost a year and it came out with a completely rewritten architecture.
Also, WordPress.com VIP together with Facebook launched back in March a new free plugin, Facebook Instant Articles. The plugin was developed in order to help cut the page-load time of articles opened within Facebook and is open source, available on GitHub.
We also can't forget about Shopify that launched an official plugin for the WordPress platform. The plugin is named "Shopify Buy Button" and is dedicated to users who run a business up on WordPress. At the same time, Shopify partnered with Themezilla, Themify, and Ultralinx to buy several WordPress Themes. You can read more about Shopify entering the WordPress market here.
Automatic Alternative Text is a brand new plugin that uses Microsoft's Computer Vision API to automatically generate ALT tags for WordPress images.
The last news from this list will be about Constant Contact which released an official plugin for WordPress in September 2016. As a step in the right direction for them since on the WordPress's Plugin Directory there are already over 100 plugins that have integration with an email marketing service.
Theme News
WordPress is keeping the well-known tradition of launching a new theme every year, and the latest version released a brand new theme, Twenty Seventeen. This one was designed by Mel Choyce and it came out with a modern look, customized especially for video headers.
Now if we speak about the version 4.5. of the WordPress we must add the fact that it introduced Native Support for a Theme Logo directly in the Customizer.
Another theme-related news from the WordPress community is Divi 3.0, The fast visual Page Builder released by Elegant Themes. This one follows the path of WordPress Calypso, released on 2015 and is the first WordPress page builder that have a customizable interface that doesn't restrict you to use only certain limited UI conventions.
Security and Maintenance
Regarding WordPress Security and Maintenance updates, there were three main releases this year. Version 4.4. came out with many bug fixes, in two rows, for emoji support and cross-site scripting vulnerability.
The next one also fixed no more no less than 12 bugs, the most important one being a singular class issue that broke various websites based on the Twenty Eleven Theme, caused by an incompatibility between Chrome, The Visual Editor, and Imagick.
The WordPress 4.6 Security and Maintenance Release fixed two security issues: a cross-site scripting vulnerability via image filename and a path traversal vulnerability in the upgrade package uploader.
All security and maintenance releases are described in detail on WordPress.org.
WordCamp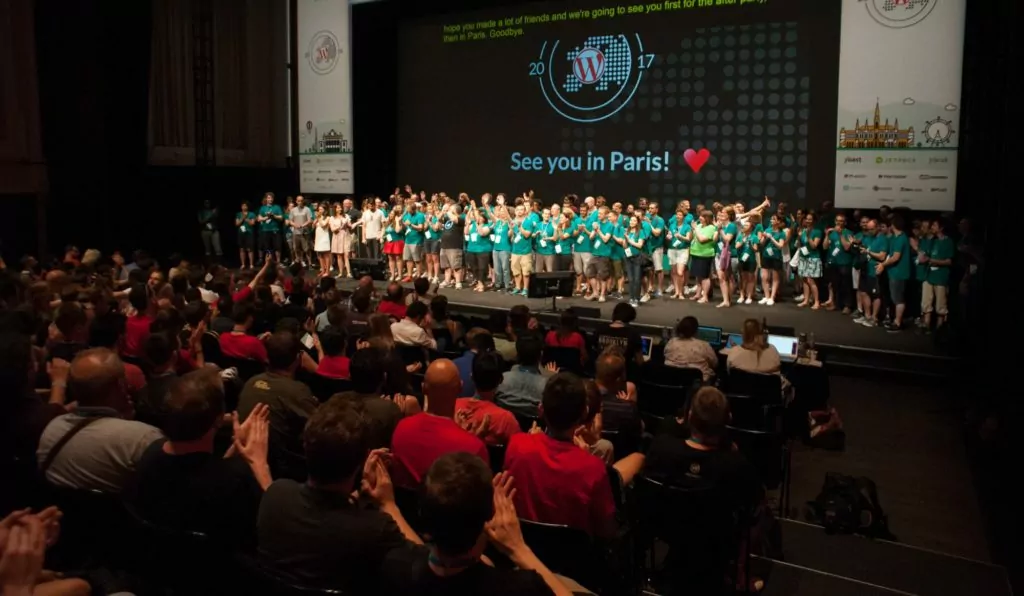 Image source: WordCamp Europe
WordCamp has started to grow globally over the past five years very well and according to Matt, we can count 116 conferences held worldwide, over 36.000 attendees, 2.056 speakers, 1.036 sponsors and 750 organizers.
Compared to the past year, the total number of WordCamps grew with 11% and the number of attendees who bought a ticket increased by 14.700.
First, I will point out WCEU 2016 where, which took place between 24 – 26 June, in Vienna, Austria, where our team also participated. This year's WordCamp Europe had 2131 attendees which transformed the edition into the biggest WordCamp ever held. Moreover, the event was possible thanks to 39 sponsors that joined the team and 20 organizers.
Now, speaking about WCUS, which happened earlier this month for the second year in a row at the Pennsylvania Convention Center, with support from 12 main organizers and volunteers. There were 57 speakers and 52 sessions held during the two days of the event and with even 3 sessions running at the same time in different halls.
WordCamp Miami 2016 also stand out from the crowd having a complete agenda, from beginners topics to more advanced tracks and covering fresh new topics and workshops.
As Matt Mullenweg stated on 2015 asking developers to learn JavaScript, this event added the first "Learn JavaScript Deeply" track to its agenda. At WordCamp Miami, there was also a new "Freelancer's Workshop" that counted topics like personal branding, client relations and pricing strategies. The third new item on this conference's agenda was a new panel dedicated to kids "The next Generation of WordPress Users" with a focus on children under 18 that are using blogging platforms.
WordCamp Europe 2017 will take place between 15 – 17 June in Paris, France, and speakers applications have opened on December 1st and will close on January 31. Also, cities around the Europe can join the global team and host WCEU in 2018. Applications are closing on February 15th and the final decision will be made by the end of February 2017. If you are interested, read more information here.
The latest news about WordCamp conferences is that WCUS 2017 and 2018 will be hosted in Nashville, Tennessee.
WordPress Events
WordPress community a rich a lucky ones, not only because it can count more than 100 WordCamps help worldwide, but also because there are various niche events and conferences.
This year, the niche events that caught the community' eye are A Day of Rest, the first WordPress REST API conference that took place on January 28th, in London.
The next one is PressNomics attracting people creating or working with product and services that help to grow the financial side of WordPress.
WooConf, organized by WooCommerce and dedicated to eCommerce aficionados is another nice event to attend for WordPress professionals. The 2016 edition happened on April 6 – 8, in Austin, Texas.
Read the first "The State of the Woo" by Matt Mullenweg here.
Taken by Brian Richards. Image source: Post Status
Prestige Conference and LoopConf are the next two niche events. The first one for anyone interested in the career development, bringing together entrepreneurs, small businesses, and freelancers that have been working with WordPress. And the other one, LoopConf is a developer-focused event and is well known for its professionalism and quality of speakers, venues.
The last event on the list is Global Translation Day organized by WordPress Polyglots for two times, first one on April 24th and the second one on November 12th, 2016. It was a 24-hour translation event that requires the coordination of a live stream tutorial about translating the platform in different languages.
Conclusions and WordPress Trends for 2017
2016 for WordPress felt like a soul searching year, chugging along while trying to figure out what to do next or gathering strength to challenge the status quo: the current user interface and experience is just ok. It can and should be much better.
We've had a lot of things happen in the backend like the:
REST API
a push for PHP7
a lot of speed improvements to the entire WordPress PHP codebase
It almost feels like packing things up before moving to some place nicer.
The only way to bring the entire WordPress ecosystem forward is for a complete revolution to happen directly in core, fueling growth for the next 5 or more years to come.
A Javascript powered UI is not just something "cool" that developers like to brag about. It's the only way to bring the WordPress interface close to that of a native mobile app or desktop software as improving the current UI will not be able to bring the change in the speed and responsiveness we should expect from a content management system.
As a Holiday gift, we prepared a small infographic with the data we've collected from the WordPress Community.
So here's to a great new year and Happy Holidays to everyone!