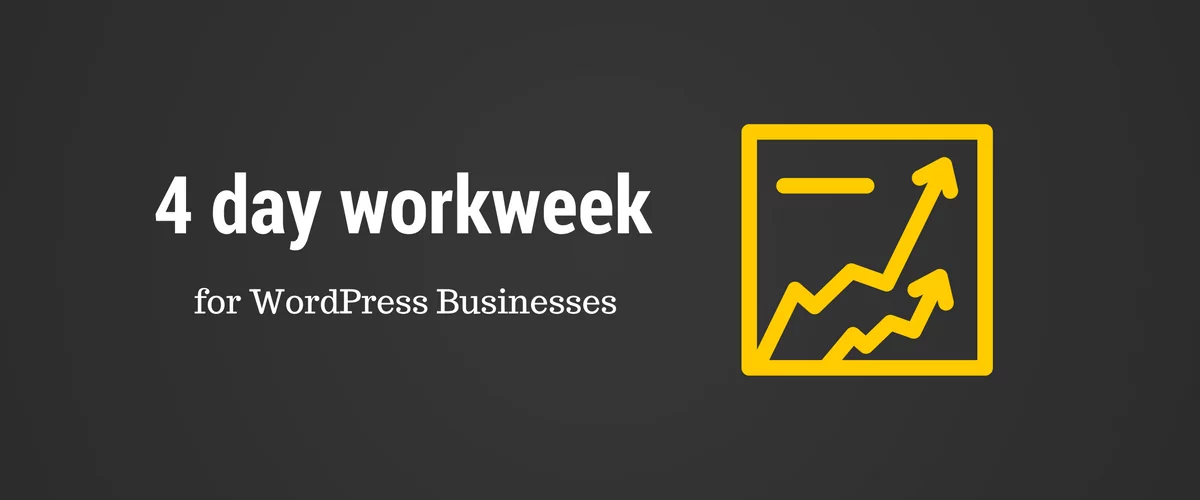 For almost 6 years now, our team has been working 4 days/week while also witnessing a gradual increase in our product business revenues ranging from 30% up to 80% on a yearly basis.
Related: From 0 to 4000$+/month with a new WordPress plugin
While working less was a scary thought for us in the beginning, it actually turned out to be one of the best moves we've made to improve both our lives and our business.
How it all began
It all started with a couple of research studies and articles we've bumped into that outlined the advantages of working only 4 days per week and extending your weekend.
2 days weekends are not enough for your mind to fully disconnect from work.
If you're a business owner, or any responsible individual for that matter, you'll want to finish all the things that have pilled up that week before the weekend. That means Fridays can turn into longer than average work days.
You will get home pretty late and tired. That leaves Saturday, which is basically the only day when you can fully disconnect from work.
But wait, there's also Sunday, right?
Not quite. Generally, on Sundays starting noon(ish), your mind will already start thinking about the work week ahead and the things that need to be shipped.
This is good actually, it means your mind is planning ahead, prioritizing even. But what it also means, it that your "switched off" period ends up consisting of one day.
What 4 day workweeks do is that they add an extra "switched off from work" day to your standard weekends. And from our experience, that can make all the difference in the world.
How we grew our WordPress business while working less
Switching to 4 day workweeks improves some key aspects required for business growth:
Better perspective
More free time from day to day tasks, means you'll have time to zoom out and look at the big picture.
Or as Michael Gerber would put it, less time working IN your business, means more time working ON your business.
If you don't work, it doesn't mean that your mind won't problem solve ways of improving your business, even if just for a couple of minutes a day.
Most ideas for improving something (life, business, health, relationships) come during off periods, generally vacations. You come back with a pile of things you want to implement. 4 day workweeks can make this happen on a weekly basis.
Focus
Focus is a key element in managing to work less hours, so make sure to plan your work days by removing or minimizing interruptions.
Even though all our team works in the same office, we try to minimize interruptions as much as we can. We use HipChat for internal communication, have a custom Issue Tracker for adding bugs/feature requests and assigning them to our team members, and clear processes for (almost)each department, which in our case consists of: Development, Support, Marketing and Administrative/HR.
Focus can and also should be applied to your business direction.
Around the time we decided to take Fridays off, our business revenue was split between services/consulting and products.
It was almost 50/50, with a little bit of extra cushion on the services side. On the long term, this wasn't working for us. We had two options, either split the business in two, with separate teams focusing on one thing only, or go all in on the product business and say no to money from services.
As you notice, we went for the latter, even if it was more risky as it would instantly cut our revenue in half. We were confident we could make it up if we focused only on building better products.
And we did. In less than one year our product revenue grew by 80%, almost compensating all the lost revenue from services.
Never saying no to money means saying yes to everything, and that can kill your business in the long run due to lack of focus.
Planning
When you have fewer hours in your work week, usually you tend to spend them more wisely (Parkinson's law at work). Planning ahead helps a lot.
In my case, writing down what I want to work on each week, makes me excited to get out of bed in the morning and do the work. I visualize the end result and remind myself how great I feel when I ship something.
Having a to-do list of what you're looking to achieve any specific week keeps you on track to reaching bigger business goals. Which leads us to…
Processes
Setting up structures is the only way you can achieve long-term goals. In order to grow any business beyond yourself, you'll need to automate and delegate tasks. This means processes.
Processes should always be clear and focus on what you're looking to achieve. Also, they should be improved constantly for maximum efficiency.
In our case, processes are ALWAYS work in progress. We're still experimenting and optimizing them gradually.
Processes help you achieve your business goals. To measure the success of processes you need to set goals and use metrics to see if they were met.
Let's say one goal is to grow your email subscribers list by 5% every month. You should implement a couple of experiments (like offering an incentive for those who subscribe, or using retargeting), and track which work and which fail. Then make sure the successful experiments become part of our ongoing operations.
We're still at the beginning of implementing and optimizing our processes for all departments, but I'm confident it helps our business. I'll make sure to share some actual data further down the line.
Happy teams
Working less generally means happy teams. And happy teams are more productive.
I also like to think that working 4 days weeks also helps with our team morale. On Monday we're quite excited to get to work.
So if you focus on results, not worked hours, you probably won't see any major differences between taking Fridays off and working a full week.
What to do with all that extra FREE time?
I suggest following Matt Mullenweg's advice:
Find three hobbies you love: one to make you money, one to keep you in shape, and one to be creative.
By working less, focusing more, setting up processes and cultivating happy teams, your business will probably take care of the first one. So look for ways to accomplish the remaining two.
Some challenges we faced when making the switch
Since we outlined the advantages or switching to a 4 days workweek, I want to focus a little on some of the challenges we faced along the way and lessons learned.
You'll get tempted to work longer hours
Especially at the beginning, I was really tempted to work longer hours. By doing so my work quality suffered and my productivity dropped significantly. Plus, I didn't enjoy it, so once I became aware of it I stopped.
Don't work longer hours to make up for your free day. That's a recipe for disaster. Four day work week is about doing less work. Period.
You should work harder, not longer. Focus helps with that.
What about product support?
Offering outstanding customer support for our plugins is a top priority and something we constantly push ourselves to achieve.
Working 4 days/weeks means that people asking for your help on Friday, will only get it on Monday. That's not ideal, to say the least. And this is one problem that was brought to our attention by our support team.
So, we came up with 3 options:
Communicate clearly our support schedule (ideally before the client makes the purchase), so that this is something we have both assumed.
Split our support team schedule so we end up covering 5 full support days, while each member is still working 4 days/week
Pay our support team extra hours if they decide to help our customers on Fridays
We found out that some of our support team members were actually keen to work a few extra hours on Friday and help our customers. So, in the end, we went for the last option.
It's important that this is not something enforced, but desired. Otherwise, option 1 or 2 will be much more healthy for your team happiness.
What if you're paid by the hour?
The short answer here is not something new: deliver great work and raise your prices. This way you'll earn the same while working less hours.
Making up for taking Fridays off can be done with a 25% increase in your current hourly rate. Let's say you're currently charging 60$/hour, this means increasing your rate to 75$/hour. Doesn't seem that much, does it?
Also keep in mind that an extra free day, adds more than 50% free time to your weekends. Time which can go into whatever makes you happy: spending more time with your family and friends, traveling, working out, learning a new language, starting a side project etc.
Final thoughts on 4 day workweeks
I think it's much easier for web-based companies to switch towards a 4 day workweek. Information work isn't like manufacturing. In our industry, I strongly believe that working more hours is not equal to more productivity.
Research shows that working less makes you happier. For us, it also meant growing our business by zooming out more often, focusing better, having happier teams that deliver quality work.
How do you feel about taking Fridays off? If you're already doing it, let us know how it affected your work in the comments section below.
If not, tell us what is the main challenge you think you'll face if you consider switching to a 4 day workweek?