There's been a lot of discussion regarding WordPress AMP particularly in the Advanced WordPress Facebook group.
With Accelerated Mobile Pages, Google promises instant loading times for readers since AMP pages are striped down of most of the markup and have limited or no javascript scripts loaded.
Some of the questions involved errors with existing plugins, but more importantly confusions with what WordPress AMP plugins should do. While the community was very helpful and answered these questions it's important to at least acknowledge and respond to these confusions:
"I'm putting the finishing touches to a WordPress template I designed and am in the process of getting it looking great for Mobile screens. Now that Google has released AMP for WordPress should I just install the AMP plugin rather than continue to fiddle with the code?"
"Accelerated Mobile Pages is a clear winner here because it creates AMP version of the home page and other standard pages along with posts. Whereas, AMP by Automattic creates AMP version of only posts."
First of, WordPress AMP plugins are not a replacement for a responsive website. It's simply another interface to read news articles and blog posts that Google will link to on it's search results.
Secondly the AMP implementation itself does not support any other kind of content besides "news articles". Where blog posts fall under.
If you have a Custom Post Type that serves a similar purpose as a news or blog article, you might consider AMP support for that CPT also.
Where AMP falls short
There are some issues with the format, more specifically from a moral point of view.
I think this article by Yoast emphasizes better the problems with the AMP format, but in short:
it restricts on what you can do and offer to YOUR readers over the internet
it benefits a few large companies
there are only 5 advertisement platforms currently supported, 2 owned by Google
not all analytics will work with AMP
mobile search results are influenced by the lack or presence of an AMP version of your articles
Regardless of these issues Google is pushing quite hard for Accelerated Mobile Pages to the point that mobile search results are influenced by the lack or presence of an AMP version of your articles.
WordPress AMP Plugins
When it comes to WordPress AMP plugins, there are four main things we need to consider:
the actual /amp version of your posts
integration with your SEO plugin so the AMP pages have the proper meta data attached to them
integration with your Google Analytics or Analytics software so you can track how much traffic your WordPress AMP versions are getting
Plugin for displaying AMP ads if you're a publisher

Developed by Automattic this plugin is a good plugin to add AMP support for your site.
Activating the plugin, all posts on your site get AMP-compatible versions, accessible by appending /amp/ to the end your post URLs.
A cool feature is that it uses the site logo defined in the customizer.
There are no settings. you get the bare minimum styling and besides the logo no branding options what so ever. Since the AMP project encourages form over function, this will work for most websites out there.

This plugin requires the AMP plugin to be installed, then extends upon it and offers 3 main features that are really important:
you can style the AMP article with your branding
analytics
allows you to serve Facebook and Google Adsense ads
Branding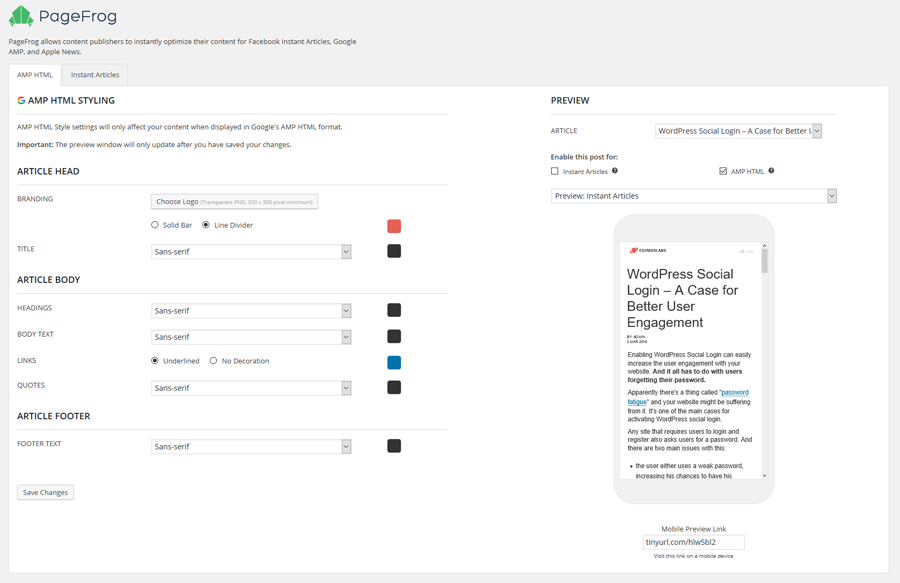 Styling wise, there's support for the logo, font choice between serif and sans-serif, plus a few color so at least we're using the brand's colors.
Analytics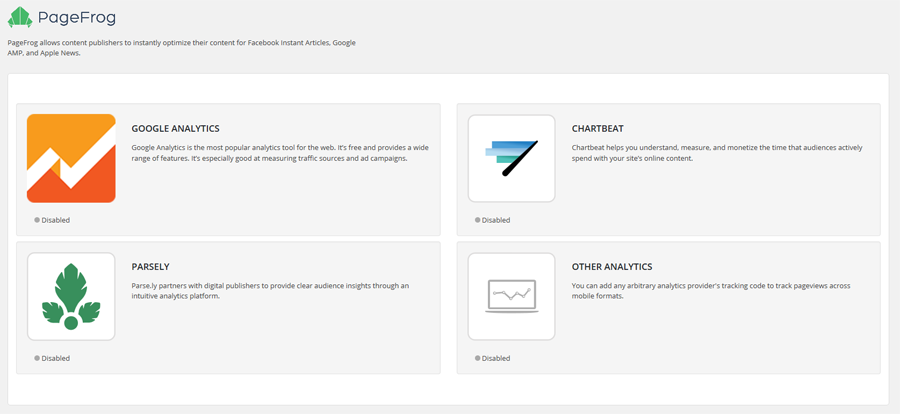 It's important to see what response our articles get from our readers and analytics is a must have for WordPress AMP articles.
Currently there's support for: Google Analytics, Chartbit, Parsly as well as the possibility to add a different AMP supported analytics tracking.
There is a way to do this via hooks and filters but unless you have a good reason to hard-code this, using the PageFrog plugins make a lot more sense.
Advertising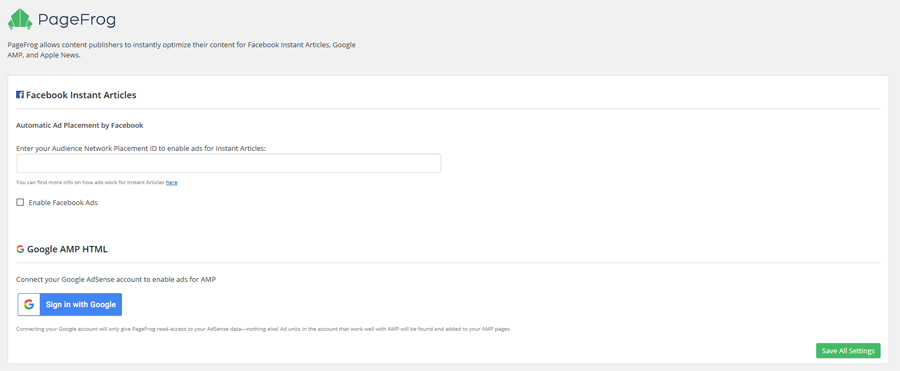 Lastly, adding ads thus getting revenue from your content is also possible, however the choices are limited. This is a limitation of the AMP format and I'm sure support for other ad networks will be available in the future.
Other features of the PageFrog WordPress AMP plugin are:

This plugin makes sure the default WordPress AMP plugin uses the proper Yoast SEO metadata. Without this, things like canonical links setup with Yoast SEO might not work correctly.
Currently I personally don't know of AMP support from other SEO plugins, however, if you know of any other ones, just leave a comment.
Other WordPress AMP Plugins
Conclusions
Regardless of what we think of the AMP project, it's here to stay and sites that write news or blog posts will need to have this enabled, or risk being penalized in mobile search results.
While the loading speed of AMP articles can not be dismissed, I personally find the limitations troubling and I'm not the only one.
We're giving up control over the interaction we want for our users to have with our website. And that alone is reason enough to pause and think about it.
Subscribe to get early access
to new plugins, discounts and brief updates about what's new with Cozmoslabs!