We are happy to announce that setting up a Private Website in WordPress is now easier than ever, with the help of Profile Builder plugin. This feature is available in all versions of the Profile Builder plugin.
If you're looking to make your website visible to members only, then this feature is for you. Keep in mind that this lets you create a private website, not a password-protected website or content with password protection. WordPress sites with password protection or password-protected content require users to enter a password whereas a private website is only viewable by authorized users i.e. users with the correct user role.
A lighter version of this would be restricting access to certain pages. Pages that are restricted won't show up in search engines like Google. In other words, they won't be indexed by search engines so unauthorized users won't be able to find the website's content by running a Google search.
To activate the option just go to Profile Builder -> Settings -> Private Website tab to configure the privacy settings. From there, select "Yes" for the "Enable Private Website" dropdown, then click "Save Changes". Once activated the entire website, including RSS Feeds and the REST API, will be available only to logged in users. Unauthorized users will automatically be redirected to a specific page, for example, the homepage or a web page with an error message.
WordPress private site use cases:
a personal site where you can share photos with your family members
a company website where team members can share resources
your own website i.e. a personal blogging site that you can use as a private diary if you're a blogger
an under construction website that is not yet fully ready for public viewing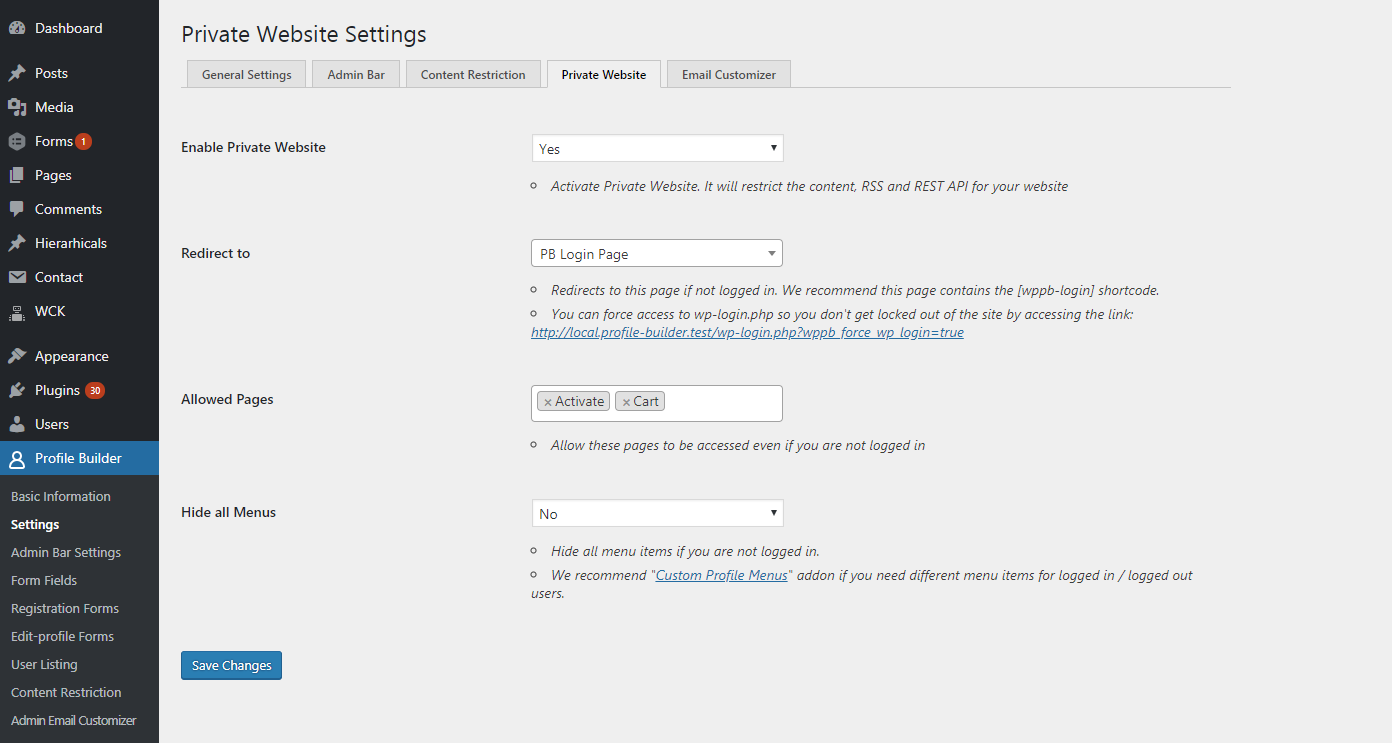 Here are a couple more recommendations to improve the user experience:
create a Login Page to your private site where you paste the [wppb-login] shortcode that creates a frontend login form so you can lead users away from the default WordPress login page (wp-login.php) and in the "Redirect to" dropdown select the created page.
create a Register Page where you paste the [wppb-register] shortcode to create a frontend registration form for new users. To allow non logged in users to access this page than you must add the page in the Allowed Pages multiple select. Users will need to register to gain access to the private site.
on the Login page if you don't want the visitors to see the menu structure of your site you can set the Hide all Menus setting to yes.
if you want to display just some of the menu items to the non logged in users and not hide them all you can use our "Custom Profile Menus" addon.
The Profile Builder plugin is compatible with most WordPress themes and website builders so you can customize your private site's design however you'd like. You can make your entire site private or a select few pages.
Ready to make your website private? If you want your WordPress website turned into a Private WordPress Website download and install Profile Builder.
Subscribe to get early access
to new plugins, discounts and brief updates about what's new with Cozmoslabs!