Skip to content
Happiness Engineer (Support Engineer)
Here at Cozmoslabs we focus on building software products, like Profile Builder, WordPress Creation Kit, Paid Member Subscriptions and TranslatePress.
As our WordPress plugins are doing really well and we've got others in the works, we are growing our team and are looking for a Happiness Engineer that will offer technical support to clients who use our plugins.
What we offer:
Competitive salary, based on your experience, skill set, and location;
We only work 4 days/week (Fridays off unless there's a national Holiday that week);
Flexibility regarding the work location;
A great and inspiring group of people to work with;
Lots of vacation time. Two weeks for Christmas, one for Easter + summer Holiday (also we're quite flexible throughout the year if you need time off).
So if you're a girl or a guy who:
Worked before with WordPress (you installed WordPress, created a site or maybe themes/plugins);
Understands how PHP works and experimented with it before;
Are willing to learn PHP and expand your technical skills;
Is knowledgeable in CSS, jQuery, JS;
Did support before, even if not technical and really liked it;
Communicates easily, likes being in contact with other people and is open to learn and develop herself or himself;
Has great written and verbal English skills;
Thinks problem-solving is exciting;
Has a self-driven work ethic and is a self-starter who loves taking initiative and seeing things through to completion.
Then check out what you could do:
Manage the support tickets, either answering customer questions directly or bringing in an appropriate member of the core development team when you cannot.
Moderating the support inbox, ensuring customers and potential customers receive responses within 24 hours of submission.
Testing bug reports locally and logging in our projects system, with appropriate detail and testing instructions, when a bug is confirmed as legitimate.
Pre-release QA testing — literally, just banging on the plugins to see what you can break and logging that accordingly.
Reviewing all the social media channels for relevant discussions and engaging in the conversation.
Helping run regular user testing sessions, gather feedback from the forums, and be the voice of the community
Creating hacks and code snippets to solve one off problems.
Creating tutorials, documentation, screen casts and other forms of materials to help guide people to success.
If you like graphics this is how your responsibilities will look: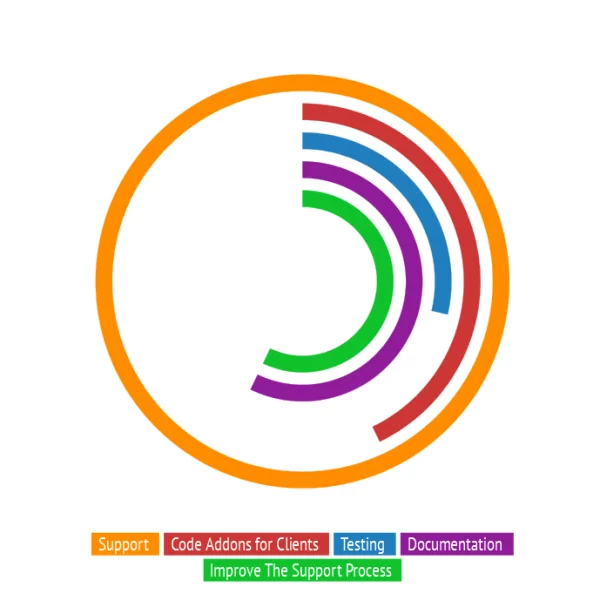 Location:
You'd have to be willing to come and work with us (at least a few days a week) in our office in Timisoara, Romania. We know working remotely is all the rage in the WordPress world these days, but we need someone to bounce ideas off and can do that more easily when we're in the same room.
How to apply
Complete the form below or send us an email at andreea@cozmoslabs.com with more details about yourself, your CV and/or portfolio related to above.
We look forward to getting in touch!
Happiness Engineer Application Form