The list of custom field types you can add to the user profile with Profile Builder has now expanded to include the WYSIWYG User Field.
Your users will now be able to add, edit and format their profile information making use of all the functionality of a Rich Text Editor. The same editor you've been used to when editing Posts and Pages in WordPress.
The WYSIWYG User Field is powered by WordPress default TinyMCE editor.
Creating a new WYSIWYG User Field
To add a WYSIWYG custom field to the user profile, simply go to Manage Fields tab in Profile Builder. Then, in the Fields drop-down, select the WYSIWYG field type.
After inserting a Field Title, decide if this field is required or not, and click "Add Field" to add this field to the user profile.
The WYSIWYG user field will now appear on both front-end Register and Edit-profile forms.
Please note: The "Add Media" button will appear only to logged in users, with the default role of Author or above.
For custom user roles the "Add Media" button will display only if those roles have the following capabilities (Upload files, Edit published pages, Edit other pages). This is the way the core WordPress TinyMCE works.
Displaying the WYSIWYG User Field
You can easily display the WYSIWYG content (as well as the rest of the user fields) in the front-end using the User Listing module.
You'll have access to a specific tag in the available variables list which can be used in the Single Userlisting template.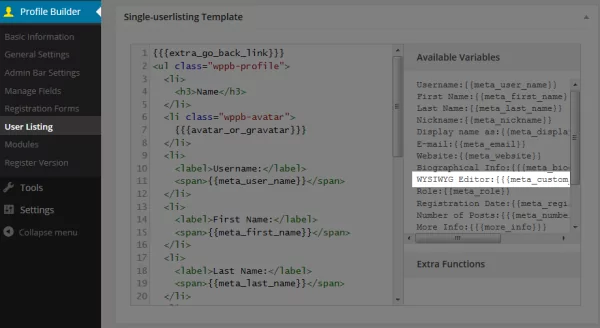 This will output all the HTML generated by the WYSIWYG field.
Note: The WYSIWYG field type is available in Profile Builder Hobbyist and Pro, starting from version 2.1.0.