Update 11.17.2010
The category image was removed and all thumbnails are now created using the Featured Image default functionality. If no Featured Image is added a default image appears in place.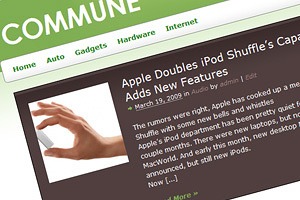 Simply put I have been lazy lately. I know this isn't the best way to sell my self but a little bit of honesty hasn't hurt anyone (or has it? ). So without further ado I here by present you Commune Child Theme based on Thematic!
As far as I know it's the first magazine like Thematic child theme released for free!
Is it a bird, is it a plane?
Hardly! Just a Thematic Child Theme with a twist!
There are many reasons why you should consider using the "Commune child theme" :
It's green
It's a Thematic Child Theme – this being said it has all the features Thematic has including fully widget-ized with widget areas above and below the content—and even in-between.
Lets you upload your own logo / banner image through an admin panel
Uses the Featured Image functionality
It was designed to work with the Tabbed Widget Plugin and WP-PageNavi plugin (update – Tabbed widgets doesn't currently work with WordPress 2.8)
The main menu displays all your categories and subcategories
Tested and works on all modern browsers: Firefox 3, IE7, Safari, Google Chrome
In order to install it you have to download the
Thematic Theme
(from which this child theme inherits all of the functionality), upload both themes (Commune and Thematic) to your server in the themes folder AND THEN ACTIVATE the Commune theme.
A small guide
There are basically three things to explain: adding your own logo, the Tabbed Widget and adding images to posts!
Adding your own logo
Commune features an Options page that allows you to upload your own logo or banner image. You need to go to the WordPress admin panel and under "Apperance -> Child Theme Options".
This is how the interface looks like:
The Tabbed Widget – update: it currently doesn't work with WordPress 2.8
To use the functionality of the Tabbed Widget Plugin you first need to download and install it!
Once that's out of the way select Appearance –> Tabbed Widgets. The interface gives you the possibility to create 8 Tabbed Widget areas, but in out case we'll use just one. In Tabbed Widget No. 1 select the widgets you want displayed. For the demo of the child theme Commune I used:
Recent Posts
Recent Comments
Tag Clouds
Search
Make sure you give a title to each individual widget or your users will only see 4 tabs.
Other settings you need to take into consideration are:
deselect show title (it's deselected by default)
select Style as: tabs
I've also uploaded an image with the settings for the Tabbed Widget Nr.1.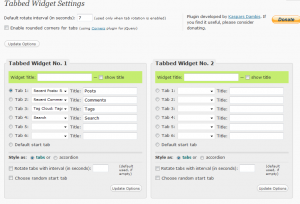 The next and last step is to head over to Appearance -> Widgets. Select the Primary Aside Widget, click Show and add Tabbed Widget 1 to it and save changes. After this you should have your Tabbed Widget displayed on the front-end of your blog in all it's glory!
Category and post images
Another key element of this theme is the way pictures are used and displayed. For this the Easy Peasy Images code by Andrew Rickmann was integrated into the theme code.
So for you to add a image to a post all you have to do is upload a nice looking image and that's all! You don't even have to include it in your content!
What this does is to get a list of all the images attached to a post. It then finds the first image with a sort order of 0 and displays it. By default all images have a sort order of zero unless you choose to reorder them. If you don't make any changes then it will find the first image. If you reorder them using drag and drop the first image in the list will have an order of 1 and you would need to change it to 0.
Default images by category
The theme will add a list of categories to the Media -> Library so that you can assign images to one or more categories. If the function doesn't find a post attachment with a sort order of 0 then it will default to the image attached to the category the post is in. Note: it will use the first category image it finds.
For more information on the usage you can see a video-tutorial over at Andrew Rickmann's web-site, www.wp-fun.co.uk
As always if you have any questions or if you find bugs please let me know! I appreciate every input!