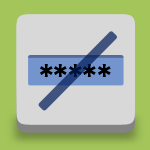 WordPress Passwordless Login is a plugin that allows your users to login without a password. It's as simple as installing it and adding a shortcode in a page or widget.
Download Passwordless Login from WordPress.org
These past months have been filled with security reports, articles and 0-day exploits. It's fair to say they had little to do with WordPress, but that's besides the point. What's certain is that we're now living in an increasingly technologically complex world and it's getting harder and harder to keep everything safe and secure.
This article draws it's inspiration from the Passwordless authentication: Secure, simple, and fast to deploy, an article published something like two weeks ago. It explains how to get passwordless login for node.js but more importantly, why you want passwordless login.
Username + passwords will probably not be replaced anytime soon. But that doesn't mean we can't come up with alternatives.
Everybody has a "friend" that uses the same password or some variation: the pass with numbers in it, the pass with capital letters, the pass with special characters in it, the pass with the year at the end in it, etc.
Lately there have been great solutions involving one time passwords like Persona from Mozilla. Whenever a user wants to log in, they receive a short-lived, one-time link with a token via email or text message.
There is also Clef that uses a QR code and also supports WordPress via a plugin
But all these are third party so let's look into building something native to WordPress.