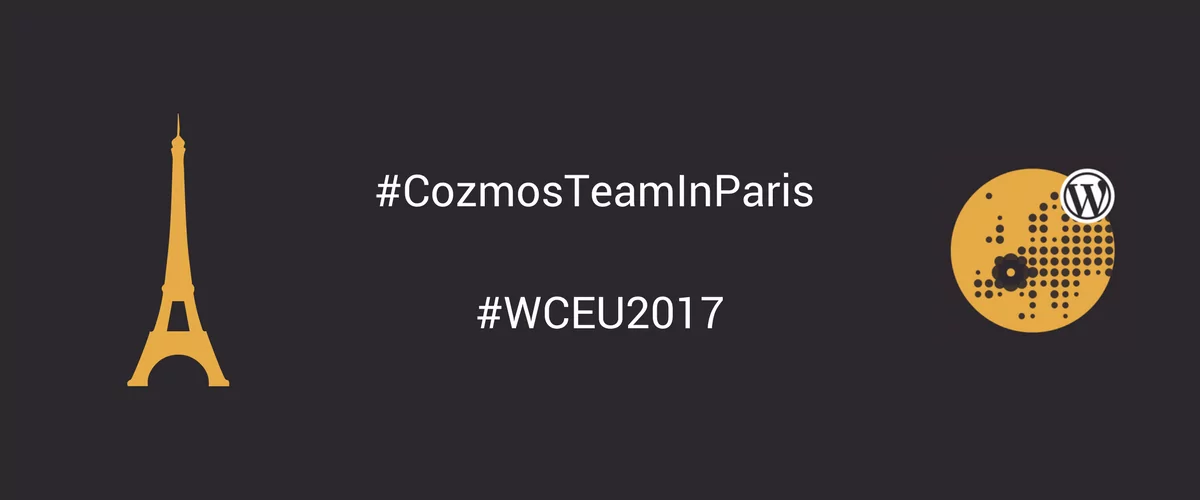 We just came back from WordCamp Europe 2017 that took place in Paris. Going to WordCamp Europe is a well-known tradition in our team, but unfortunately only half of the team could make it this year. But there is no reason to be sad, as 3/4 of us were first-time attendees.
It was an impressive journey filled with many interesting and challenging experiences. Below we gathered some of our key takeaways from the conference.
Looking ahead at the future of WordPress
We eagerly waited for Matt Mullenweg's Q&A session as we wanted to hear more about the Gutenberg Project that has been developed as the next generation of the WordPress editor.
.@photomatt previewing the upcoming Gutenberg Editor at @WCEurope. #WCEU pic.twitter.com/MnxIQWs5u0

— David Bisset (@dimensionmedia) June 17, 2017
The editor was released as a plugin and is currently in beta version. Gutenberg is designed as a clean and distraction-free interface, focused on creating blocks of content, each of them being independent. The goal of the project is to bring new functionality to writing content in WordPress.
Gutenberg hits 100+ downloads. The crowd goes wild. @photomatt also happy. 🙂 #WCEU pic.twitter.com/z9WiK9Ajy0

— David Bisset (@dimensionmedia) June 17, 2017
Our team already got the plugin installed in their testing sites and is currently playing with it. You may stay tuned for another article, focused on this topic. Also, the team behind Gutenberg is looking for feedback, so if you are thinking about testing the plugin and find issues, you can report them on GitHub or The WordPress Core.
Engage with the local WordPress community
We were impressed by two of the presentations that focused on the community and WordPress events, at the conference:
Since some time ago, we realized that our local community needs more encouragement and activity in this area. That's why this spring we already started reorganizing The WordPress Timisoara Meetup that had a first edition packed with three different topics: a panel dedicated to business that reunited some of the local WordPress business founders and co-founders, and two presentations, on "The good, the bad and the ugly about customer support for WordPress plugins" and "Using the WP Customizer for plugins UI".
Now, we are thinking about organizing the second meetup and keep it as a monthly event happening in our town.
Security as a mindset
One of our favorite talks was Mark Jaquith's one, with "Security is a process". He highlighted the importance of security in WordPress and how this should be integrated into all aspects of the development process. This comes from the fact that "tech is not static – is changing anytime" and therefore it may affect the functionalities of your product, as well it can bring security issues as well.
"Don't trust yourself. The code you wrote two years ago was a worse version of you." – Mark Jaquith
https://www.instagram.com/p/BVZoG1UBddY/?taken-by=cozmoslabs
Another two talks that I personally liked tackled business topics, such as:
"Ways You May Be Sabotaging Your Business + 2 Proven Ways to Succeed" – Joshua Strebel (founder of Pagely),
Joshua caught our attention with five short stories filled with examples from his career and closed his talk with two lessons that everyone can apply to their own business. One of them is to "Have patience and Iterate, Iterate, Iterate". And, the second one is to invest various resources and open opportunities for your team, as this can bring so much value, both to the team and business.
Inspiring talk by @strebel at WordCamp Europe. So happy to hear you live, Joshua! #wceu #paris #CozmosTeamInParis pic.twitter.com/ROWSRJKoXh

— Patricia Borlovan (@PaatriciaaB) June 16, 2017
"3 Gifts My Users Gave Me" – Alexandra Draghici (Product Owner at Captain Form)
Alexandra is a friend of us since Captain Form is part of the Timisoara's WordPress Community. We were glad to see her on stage delivering an inspiring presentation about three gifts in which users made her life better: The Gift of Building Solid Roadmaps, The Gift of Teaching Efficiently and The Gift of Working in a Happy Team.
"Marketing WooCommerce since July 2014" – Marina Pape
This was a summary talk pointing out the key lessons Marina learned while doing marketing for WooCommerce. Some of the topics I liked the most were about what worked on their content strategy, the importance of measuring impact and how WooCommerce handle the launch of new product, extensions, and features.
Above and Beyond the WordCamp Europe
We also had a great time in Paris, visiting some of the most known attractions, such as Tour Eiffel, La Basilique Sacre-Coeur, Le Musée des Armes, Le Château and Jardins de Versailles and also Le Musée du Louvre.
Here are photos from our adventure, flavored with some team quotations:
"WordCamp Europe is always a great experience where you actually get to feel the strength of the WordPress community. A lot of interesting talks, people and of course, as usual, the highlight being Matt's interview. " – Madalin Ungureanu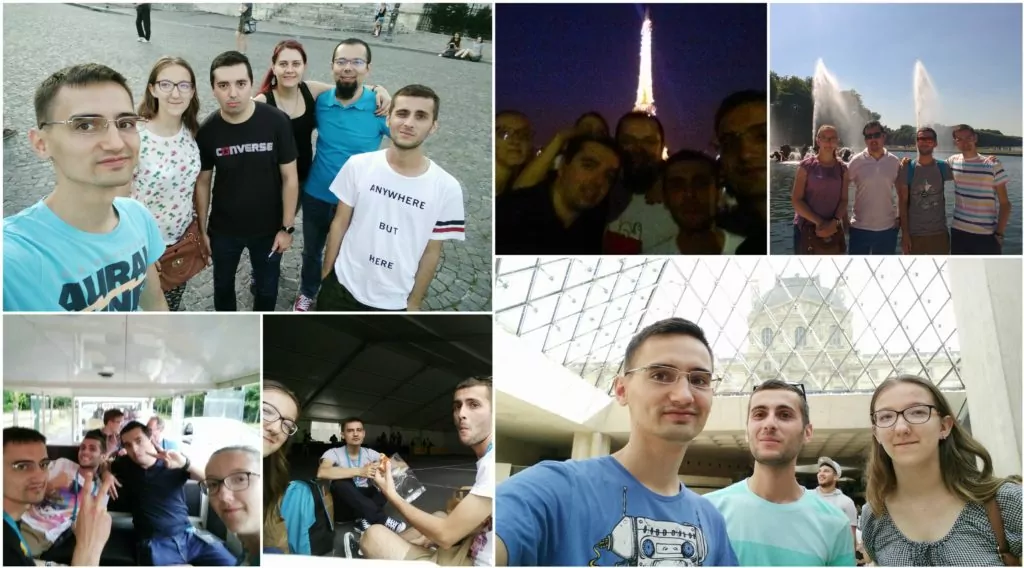 This was my first WordCamp and I'm glad I was able to see the faces behind the WordPress community. I enjoyed the inspiring talks and met awesome people. All of which took place in the perfect setting: Paris. – Razvan Mocanu
https://www.instagram.com/p/BVYPCB9BTjo/?taken-by=cozmoslabs
"WordCamp Paris was a great place for meeting people and learning new things. Belgrade, we're expecting the same next year !" – Georgian Cocora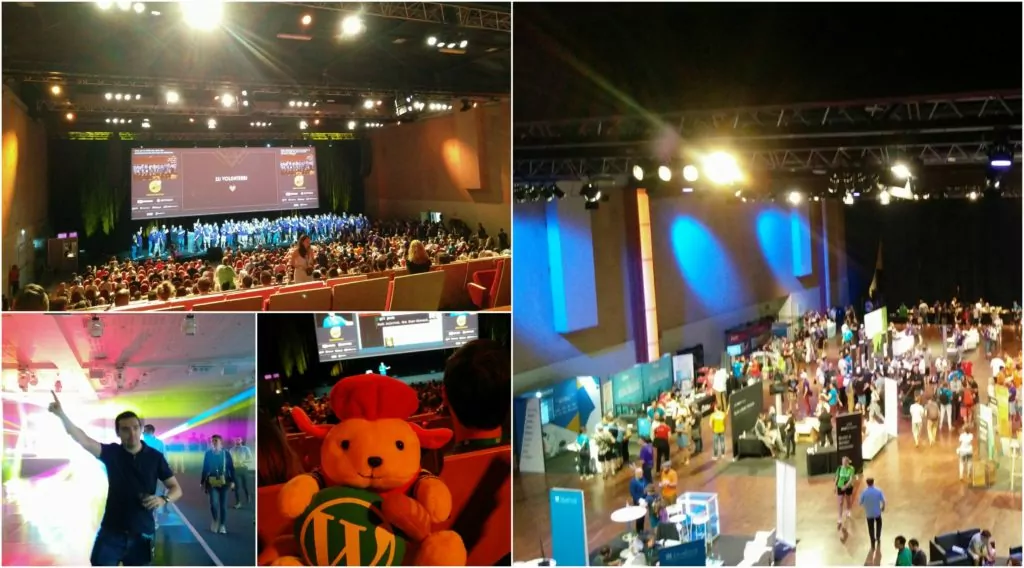 "WordCamp Europe 2017 edition was the first event I attended abroad and a great opportunity, from which I learned many new things. I was glad I could recognize some familiar faces from the WordPress Community and also make new friends. Can't wait for WordCamp Belgrade, next year!" – Patricia Borlovan
From WordCamp Europe 2017 back to Romania
Though the conference has ended and we came back to our daily office routines, sometimes our mind still gets caught in the memories we made there.
That's why right away after we came back we organized a team gathering and shared our fresh insights (and, of course, goodies) with everyone. There, we marked down some of the lessons we learned at WordCamp Europe and beyond. At this point, you have already checked them out above.