A new version of the Thematic Theme Framework just launched, now at increment 0.8 and the main feature is the threaded and paginated comments.
If you have child themes developed with ver. 0.7 chances are the 0.8 will brake it.
Changes had to be made to the sidebars (they are now future-proofed for further enhancements – like extra widget-ready areas in Child Themes) and the menu (if your Child Theme uses #menu in it's CSS to target the navigation menu you'll want to replace it with .menu, plus the globalnav filter was replaced with wp_page_menu). For more detailed explanations go over to Themeshaper, Ian has made a more detailed post about the changes.
I'm happy to say that I'm now part of the team that maintains Thematic. Although my contribution for this launch was rather small, it's good to know I could help. If you think you can contribute to the project go right ahead and ask Ian to let you in!
To coincide with the 0.8 Thematic launch I've created a new Child Theme. You can preview it and download it over at www.reflectionmedia.ro. I decided to launch this theme there and not on Cozmoslabs so I could bring a bit of attention and traffic over to my business.
Sufficient to say Thematic looks like it has a great future ahead of it. There are new options planed for the 0.9 version that will take it even further from a customization point of view.
I already have started work on another child theme that is due to be done somewhere in February, this time a magazine style one so I have for you a sneak peek of the new theme. Let me know what you think!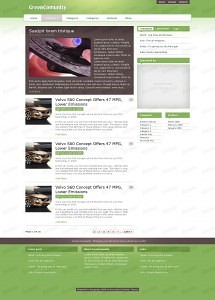 Subscribe to get early access
to new plugins, discounts and brief updates about what's new with Cozmoslabs!