Do you have users that would like to Log In and Register into your WordPress site by email? Knowing what a hurdle can be reminding a username, Profile Builder comes with a new feature to fix that issue.
Reckoning that an email address is unique and more personal than just a random user name and since we all want happy users, as owner of your WordPress site, you can make it easier for your users to Log In and register , by enabling this feature on your site.
To activate the Log In with email feature of the Profile Builder, you just have to download,install and activate the plugin, if you don't already have it.
As admin of your WordPress site, you have to enter the Dashboard menu, and select the Users field, and the Profile Builder subfield.
Now just go to the 'General Settings' field and all you have to do is to select from the tab the 'Allow Users to Log In with email" choice.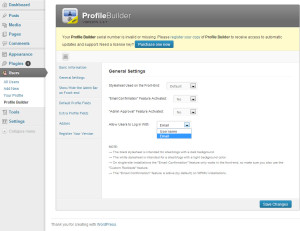 And that's it. What's left is letting your users be aware of the availability of the new option.
If it happens for you to be  an existing client of Profile Builder Pro you'll automatically have access to the new feature via Automatic Updates or you can download the latest version via the Account Page.
Subscribe to get early access
to new plugins, discounts and brief updates about what's new with Cozmoslabs!