During the last couple of months we received several requests from our friends and clients, mainly professional bloggers, who were permanently seeking solutions to expand their blog audience.
They wanted a tool to help them grow their reader base and make the content become more socially engaging. One of the things that got to our ears was a Q&A platform, with some built in game mechanics. A way in which the readers could interact by adding another type of content to the blog.
So the need was for a very simple way to create a Q&A website using WordPress. And this is how QandaPress was born.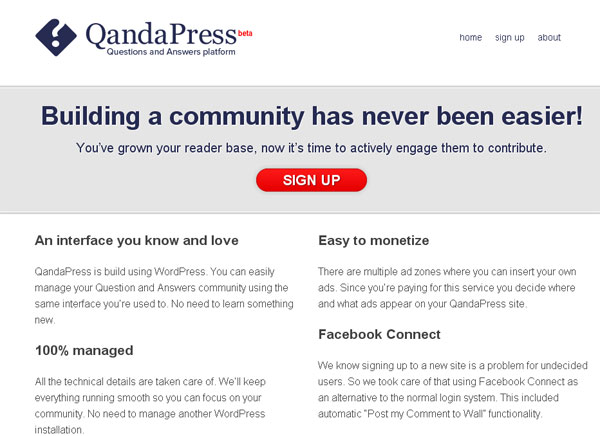 QandaPress makes it easy to build a community around your website. Here are some of its features:
It is built on WordPress, so learning something new is out of the question. You will manage your Q&A platform in a very familiar environment.
Easy to monetize. Multiple ad zones where you can insert your own ads.
Problem free. All technical details are taken care of. No need to manage another WordPress installation.
Scalable. Everything is run on our own super-optimized servers. You don't have to worry about downtime due to traffic spikes.
You can find some other cool features on the QandaPress website. Feel free to use the comment section and tell us what you think about it and what other features you would like to be added.
Also the first persons who will apply for the QandaPress private beta by December 1'st, will get an all time 30% discount subscription rate.
Subscribe to get early access
to new plugins, discounts and brief updates about what's new with Cozmoslabs!