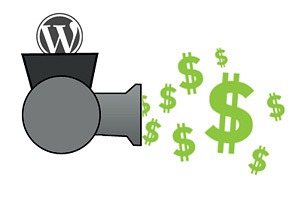 In a recent interview, Matt Mullenweg of Automattic, WordPress.com, the self-hosted version of WordPress, talked about the fact that WordPress now supports 14% of all websites in the world, approximately 1 in 6 globally.
WordPress is also available in 53 languages, making it a truly global platform for everything from blogging, publishing, using it as a CMS, building web-apps, creating social networks or forums, managing events, selling goods, sending newsletters and god knows what else!
If you're a WordPress expert, you're part of a rapidly growing market. In fact, over the last years, I've personally watched all sort for businesses grow from a 1 man boutique to big teams with big budgets and awesome products and services.
3 WordPress Business Ideas
You've all heard about the phrase "Ideas don't matter, only the execution" (in this or another form) and I'm sure it resonates with you as well.
Also, in the big and growing WordPress market, chances are someone else already thought of that AWESOME ideas you envisioned.
That being said, here are 3 ideas I thought about. 3 ideas that if executed properly they might even turn into a successful business (or they might not, so use with caution).
Help theme and plugin developers break out from WordPress market places like CodeCanyon or ThemeForest.
Here's the thing. Market places like the above can help you go from a being a WordPress developer into being a WordPress product builder.
However, as time passes by you realize:
YOU DON'T CONTROL THE PRICING OF YOUR OWN PRODUCT
YOU GIVE AWAY 30% or more of your hard earned money to the Market Place
you don't have a proper client list
the support is done via the Market Place (not brandable )
you don't have a proper update functionality for your theme or plugin (with serials and different version).
you can't easily up-sale existing clients
you probably don't have a mailing list with previous clients
you feel locked in (and you probably are)
Now, don't get me wrong, you do get a lot in return for that 30%. But just imagine if it didn't have to be this way. What if:
you get to price your product
you keep all the revenues
you build up your mailing list of people who previously bought from you
support is done on your site, with your rules
you have a proper update system with serial keys and limited usage and versions
you can easily up-sale existing clients
you get control back in your hands
The truth is, to build ALL of this is REALLY HARD (we've been building something along those lines for our own products for over a year and it still isn't up to scratch to what I wrote above).
So the idea is to build a platform (plugin or service) that solves all those problems in one single install or sign-up. NOT YET ANOTHER MARKET PLACE. Truth is, Easy Digital Downloads already took a stab at that problem, but there's definitely room for improvement.
Micro-Theme Pro Upgrades
Here's the thing. Up-selling from a free to a payed product can work really well if there is a good value/cost proposition.
What I envisioned was to create a series of really nicely designed themes, release them for free and add a cheap update ($2 for the "pro" version) that comes with some extra color themes and a few extra features features (like logo upload for example). Nothing extravagant (like 100 shortcodes and 30 pages with settings), nothing that could require a lot of support. Just a quick and simple path to upgrade and priced to move.
Here are some imagined numbers for this:
5000 downloads per week per theme
10 themes
a total of 50.000 downloads per week
$2 for the pro version of a theme
3% conversion rate => $3000 per week in sales
I know this is wishful thinking, that's why this is still at the idea stage, but wouldn't it be really cool if it were to happen?
After you get to 10 themes, you can just pause, issue minor updates and generally enjoy life.
The thing is, if I was retired and didn't have to work to pay the bills I would really go for this and try it out. It might, or might not work, but at least I would have have fun building all those themes.
Built a better template system for WordPress
I don't particularly dislike the WordPress template system but you can't help but wonder if it couldn't have been designed differently.
I'm quite comfortable with it, but when you're starting out it's just painful.
You might even say, "Well, now that's something you need to learn. Here's the X or Y awesome tutorials on the matter!"
But the truth is, those are just coping mechanisms. Just search google for "develop WordPress theme" and you'll find OVER 8 MILLION results!
Why does there have to be so many articles teaching you this? Are WordPress Templates really hard to understand?
Just imagine if:
it was easy to understand and use even by newbies
it was easy to teach
there weren't 18 default template files (without taking into account custom post types and taxonomies or custom page templates)
the WordPress loop was a lot simpler to understand and use and didn't require reading through pages of documentation.
you could overwrite templates through code (alright, you already can do that, but you can't hook your self into the loop)
the functions you need to work with to display your content are kept to a bare minimum (right now the number of template functions is really big. Add to that functions to get comments, authors, post data and what not and you need a bigger brain or a cheat-sheet to constantly check)
The good part is that there have been strives in this direction:
Views from OnTheGoSystems
Pods Framework for WordPress (they have templates that are easier to understand. However the plugin was built for developers)
ANY theme with it's own blocks builder.
You might say those are just themes that offer drag and drop support and layout builders. But the truth is they are FIXING the WordPress templates.
iThemes even tried to push for hooking into loop programably in order to help address this. Unfortunately their suggestion didn't took flight and was turned down from entering the core of WordPress.
Can you make money fixing the WordPress templates?
I'd say yes. The examples above are making money doing just that, but they didn't address the underlying issue. So they just treated the symptoms.
Unfortunately, this idea is most certainly doomed to fail because it's a problem nobody want's fixed
That's it folks!
Why did I let go of my precious ideas? Well, I've stopped believing in ideas. They are just fairy-tales without any real data to back them up. So use at your own risk. I'm not eligible for any damages that might happen if you go on and build on one of these ideas.
So you do you think? Can any of these ideas work or are they just wishful thinking? Do you have ideas like this of your own? Let me know in the comments.

Want more ideas for your WordPress Business?
Just subscribe to
wpMail.me
. A free WordPress Newsletter, once a week, with a round-up of WordPress news and articles.
PS: The ideas are my own. The structure and reasoning behind letting go of them were inspired by Amy Hoy's 30×500 course.
Subscribe to get early access
to new plugins, discounts and brief updates about what's new with Cozmoslabs!