Update 11.17.2010
The category image was removed and all thumbnails are now created using the Featured Image default functionality. If no Featured Image is added a default image appears in place.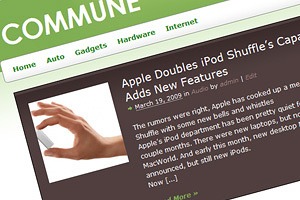 Simply put I have been lazy lately. I know this isn't the best way to sell my self but a little bit of honesty hasn't hurt anyone (or has it? ). So without further ado I here by present you Commune Child Theme based on Thematic!
As far as I know it's the first magazine like Thematic child theme released for free!
Is it a bird, is it a plane?
Hardly! Just a Thematic Child Theme with a twist!
There are many reasons why you should consider using the "Commune child theme" :
It's

green

It's a Thematic Child Theme – this being said it has all the features Thematic has including fully widget-ized with widget areas above and below the content—and even in-between.
Lets you upload your own logo / banner image through an admin panel
Uses the Featured Image functionality
It was designed to work with the Tabbed Widget Plugin and WP-PageNavi plugin (update – Tabbed widgets doesn't currently work with WordPress 2.8)
The main menu displays all your categories and subcategories
Tested and works on all modern browsers: Firefox 3, IE7, Safari, Google Chrome