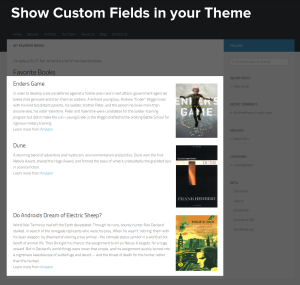 How to show custom fields in WordPress is one of the hardest thing to understand by non-technical users.
By default, WordPress gives you the possibility to add custom fields directly from the UI.
There are also a lot of plugins that let you add advanced custom fields like inputs, check-boxes, selects, etc.
However, almost all of those solutions fall short when it comes when you want to show custom fields in your template.
Show Custom Fields Using Code
The default way to show custom fields in WordPress would be to:
Open the single.php or page.php template file from your theme (via FTP or locally)
Find the_content function so you can list your custom fields after the actual content of the post or page
Use the get_post_meta function to list custom fields
It doesn't sound to complicated, but you've lost a non-technical user at opening single.php
This is how your page.php could look if you wanted to show two custom fields, book title and book ISBN code.
It's no rocket science and really simple to pull off.
The problem starts when you try to do more complicated stuff, like groups of custom fields (metaboxes), repeaters fields and groups, connect posts using custom fields.
Show custom fields using Swift Templates without code
Listing your custom fields in WordPress is one of the simplest way to transform your website from static pages to a proper CMS. You can use it for:
Adding extra information on your posts and pages
Showcasing your team
Listing testimonials
Simple property listing
Custom product pages
Custom landing pages
Listing company services
And pretty much anything that might require some extra information
It's possible to create all of the above without being a developer in three steps.